What We Offer
Opportunities and resources to help Duke Ph.D. students in the humanities and interpretive social sciences develop a versatile set of skills
VH@Duke Internship Program
Secure a competitive, paid semester-long or summer internship that will give you new perspective on research interests, or enable you to explore a potential career avenue.
Learn More
Doctoral Innovation Grants
Collaborate with your department's leadership to secure special grants to enhance academic training in your areas of focus.
Learn More
Customized, One-on-One Advising
Make an appointment with Dr. Maria LaMonaca Wisdom, Director for Graduate Student Advising and Engagement for the Humanities. Clarify your goals and gain perspective beyond the bounds of department, discipline, school, and university.
Learn More
Interdisciplinary project management
As a team leader for Bass Connections or Story +, work with faculty to supervise small, engaged teams of Duke undergraduates as they bring humanistic perspective and skills to bear on concrete problems and challenges.
Learn More
Resources: A Guided Tour
Learn about key resources at Duke and beyond that can help you cultivate versatility and launch your career.
Learn More
About VH@Duke
Versatile Humanists at Duke (VH@Duke) is supported by the National Endowment for the Humanities, the Duke Graduate School, and the Duke Provost's Office. Our mission is to prepare Duke graduate students to make a difference in their careers as humanists, whether inside or outside the academy. Our offerings are geared to help future Ph.D.s in the humanities and interpretive social sciences flourish—in higher education, government, business, the non-profit sector, or wherever their talents and inclinations might lead.
We believe that versatility is just as vital for successful careers within academia as beyond it. The many challenges now confronting higher education compel today's faculty members and administrators to work in teams, span boundaries, navigate diverse work cultures, and cultivate the habits of effective leadership.
Don't Miss
Ph.D. Innovation Grants
Departments in the humanities and interpretive social sciences can apply for up to $7,500 to help support efforts to develop and test curricular changes that enhance grad student preparation for careers inside and outside of academia.
Humanities Research and Transferable Skills for Ph.D. Students
Our April 26 panel of Ph.D. students will address the relationship between research activity and skill building—specifically, how their research engagements with Bass Connections, Humanities Labs, and Data+ honed project management skills that can transfer to myriad academic and nonacademic work settings.
Blog
Maria LaMonaca Wisdom, The Graduate School's new director of graduate student advising and engagement in the humanities, ruminates on the complexities of serving the career needs of graduate students, and she wants to hear your thoughts.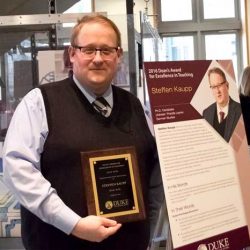 "My time as a PFF fellow has allowed me to gain insights about the day-to-day life as a professor: insights I would never have been able to make at my own institution; insights that prepared me well for making my own career choices."
Previous
Next