In 2015, Duke opened the Bolt, a physical space where students can go to play games and to explore virtual reality. The Bolt gaming room is managed by Housing, Dining, and Residence Life (HDRL) while the Bolt virtual reality (VR) room is managed by OIT. Both rooms are in Edens Quad on West Campus. (HDRL is kindly allowing us access to the gaming room specifically for this tour. Although the gaming and VR rooms in Edens are primarily for students, now is your chance to see what's there and–if you want–to try some of the equipment.
Presenter: Mark-Everett McGill (OIT)
Location: The Bolt – Edens 1C (directions), Room 112C
Cost: Free
When: Tuesday, June 13 – 2:00 PM to 3:00 PM (Optional hands-on opportunities from 3:00 PM to 4:00 PM.)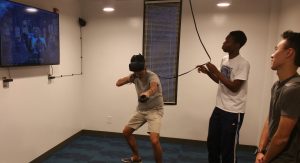 From 2:00-3:00, you can join a tour of the Edens gaming and VR facilities.
From 3:00-4:00, you will be able to try some of the equipment yourself (optional).
Registration for the hands-on experience is required. Send email to ddi-requests@duke.edu to register for a 10 minute hands-on slot.
 This event is open to all faculty, staff, and students, and is sponsored by the
Duke Digital Initiative (DDI). Light refreshments will be served.