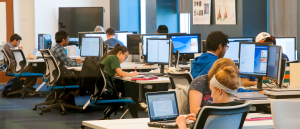 This Spring (starting January 26) the Data & Visualization Services Department will host a series of campus/community-oriented, informal sessions on the R programming language with the goal of providing a friendly environment for exploring the extensible capabilities of the R software environment. Beginner's are welcome, experts will be encouraged to share topical expertise.  Sessions will be held most Thursdays at noon in the Edge (Murthy Digital Studio), first floor Bostock Library. Bring your lunch (or not); cookies and juice will be provided. Details are available on github.
Data and Visualization Services also hosts a wide range of workshops covering basic data skills to data visualization as well as topics for different interests and skill levels. Upcoming workshops include:
ArcGIS
Graphic Design for Effective Diagrams
Introduction to Stata
Web Scraping, Gathering Webpage data parsing, and API's
Data Visualization with Excel
and more…
Workshop descriptions and registration information are available at: library.duke.edu/data/news  For questions, e-mail, askdata@duke.edu.