Are you looking for a job or internship and not convinced the resume, cover letter and networking are working for you? Do you have a project from your past or present that you want to share with others?
ECE + CS Student Showcase
January 18, 2017
10:30am – 2:30pm
Register here! http://bit.ly/ece_cs_showcase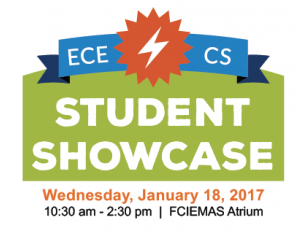 Show off a project in front of representatives from companies like IBM, Microsoft, NetApp, SAP and Google (each of whom attended last year).
Have your resume included in a book shared with all participating employers.
Attend an exclusive networking lunch for students, employers, and VIPs.
Get training to help confidently and clearly present your ideas.