Duke Software Licensing recently announced that Duke has entered into an Enterprise Term License Agreement with Adobe, Inc.  Read full details here. As part of this agreement, students can access Adobe software free of cost!  Learn how by following the step-by-step directions below.
1. Go to Adobe.com.
2. Click the sign in button (top right hand corner of the site) and an Adobe ID Sign in page will open.
3. Select "Sign In with an Enterprise ID," as shown below.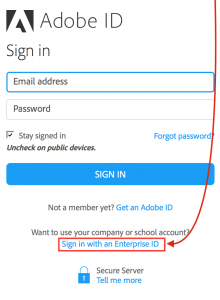 4. Once you are redirected to the Enterprise ID Sign in page, enter duke.edu into the "email address or domain name" box. Then, hit enter. Do not type in any password at this point.
5. Click "Sign In" to be directed to the Duke Web Authentication page. Enter your Duke NetID and password, and click "enter". This will redirect you to your Adobe Account.
6.  In order to download various Creative Cloud apps to your desktop, click on "Desktop Apps" in the left middle of the black box on the screen, and you will be redirected to the page below.
7, To download any of the available Creative Cloud desktop apps, click on the blue "download" button at the bottom of the specific app you want. The desktop download will begin, and you will be notified when your app is ready to use.
Need help? Contact the OIT Service Desk.
—-
The Creative Cloud suite consists of more than 30 desktop apps and 17 mobile apps ranging from photo editing software, to web design apps, to audio recording and mixing programs. All of the applications run on the desktop, so no internet connection is necessary, and new features are available to users as soon as they are released, through an online update. Many of the apps are available for mobile so that users can continue their work anytime, regardless of where they are. Adobe's "Creative sync" feature also provides continuity between phones, tablets, and desktops, so that you can pick up work on one device where you left off on another. Users can also share their work with anyone else who has a creative cloud account, making it easy for students to collaborate.
For a complete list of Creative Cloud apps, tutorials, and more information about their features, visit this link. Also, check out the lynda.com online training library for tutorials on all of the Adobe products.