Duke OIT recently launched a new feature that allows the Duke Community to print to Duke's public printers by sending an email from your mobile device. Follow the directions below or go to https://oit.duke.edu/comp-print/printing/ePrintMobile.php to get started. This is great for times when you need to print on the go!
To Send a Print Job via Email:
1. Compose a new email with the file you need to print included as an attachment. You will also have the option to print the body of the email if you choose. NOTE: The maximum size of each attachment is 10MB, each message is limited to 10 attachments, and each user can send a maximum of 100 emails per day.
2. Send your email to print-mobile-bw@duke.edu for BLACK AND WHITE jobs, or to print-mobile-clr@duke.edu for COLOR jobs.
3. You will receive an email confirmation once your job is ready to be printed.
NOTE:  If you want to use a different email address other than your Duke email address, you must register it with the Mobile Print system by sending a document to print from that address and then completing your email registration (once you receive back the directions).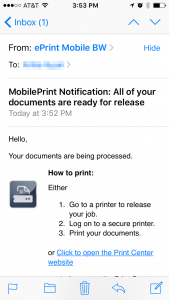 4. Go to any ePrint-enabled printer, swipe your DukeCard through the attached card reader, and select the job you want to print form the queue that appears on the screen.
For more details (including an iOS print option) and supported file types, visit: https://oit.duke.edu/comp-print/printing/ePrintMobile.php.