Welcome to S3E04 – Dean Ravi! In today's episode, we spotlight our incredible Vinik Dean of Engineering, Ravi V. Bellamkonda. Dean Ravi speaks on his philosophy and goals as Dean of Pratt, gives advice to undergraduate students, shares stories from his experience, and reflects on all he's accomplished in his nearly 5 years at the helm of Pratt. This feature episode comes just after Dean Ravi's announced departure from Duke in June 2021 to become provost and executive vice president of Emory University. We hope you enjoy this special conversation with Dean Ravi as much as we did!
View Additional Resources
---
Episode Contributors
This week's episode of This Engineering Life is a full-length feature on our very own Dean Ravi! We're so lucky to speak with our incredible dean before he departs Duke in June to serve as the provost and executive vice president of Emory University in Atlanta.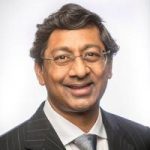 Ravi V. Bellamkonda, Ph.D. – Vinik Dean of the Pratt School of Engineering

Ravi V. Bellamkonda is the Vinik Dean of the Pratt School of Engineering at Duke University.
He is committed to fostering transformative research and pedagogical innovation as well as programs that create an entrepreneurial mindset amongst faculty and students. His current research explores the interplay of biomaterials and the nervous system for neural interfaces, nerve repair and brain tumor therapy.
Before coming to Duke, Bellamkonda served as the Wallace H. Coulter Professor and chair of the Department of Biomedical Engineering at Georgia Institute of Technology and Emory University.
A bioengineer and neuroscientist, Bellamkonda holds an undergraduate degree in biomedical engineering. His graduate training at Brown University was in biomaterials and medical science (with Patrick Aebischer), and his post-doctoral training at Massachusetts Institute of Technology focused on the molecular mechanisms of axon guidance and neural development (with Jerry Schneider and Sonal Jhaveri).
From 2014 to 2016, Bellamkonda served as president of the American Institute for Biological and Medical Engineering (AIMBE), the leading policy and advocacy organization for biomedical engineers with representation from industry, academia and government.
Bellamkonda's numerous awards include the Clemson Award for Applied Research from the Society for Biomaterials, EUREKA award from National Cancer Institute (National Institutes of Health), CAREER award from the National Science Foundation and Best Professor Award from the Georgia Tech Biomedical Engineering student body.