Home » Uncategorized (Page 2)
Category Archives:
Uncategorized
Highlights of the week:
Duke Heart Welcomes Moghaddam and Aslam
This weekend we are introducing two of our newest cardiology faculty members – Drs. Nima Moghaddam and M. Imran Aslam.
Former advanced heart failure and transplant fellow Nima Moghaddam, MD, joined the Duke Heart team on July 1 after completing his fellowship in Duke's Advanced Heart Failure and Transplant program. He will round on the Heart Failure and Transplant service as well as in the Cardiac Intensive Care Unit and will see patients in our transplant and biopsy clinics.
Born in Iran and raised in Canada, Moghaddam was drawn to medicine from an early age. He says he always admired his father, a cardiologist, and wanted to follow in his footsteps. He became fascinated with the physiology of the heart and liked the breadth of opportunities available within the cardiology specialty. Ultimately, he chose to focus his training on heart failure and transplantation because of the difference that can be made in helping the sickest of the sick.
"I've met so many great people, mentors, and leaders in heart failure and transplant here at Duke," Moghaddam said. "To me, it is the opportunity of a lifetime to work at a world-leading heart failure and transplant center. I am so happy to stay and continue to learn. This is where the cutting-edge of heart transplantation and cardiology is happening. On top of that, people have been very welcoming and friendly to me, my wife, and our newborn baby. It would be very hard to leave this place."
Moghaddam holds a BSc from York University in Toronto. He earned his MD at the University of British Columbia in Vancouver, where he also completed his internal medicine residency and trained in adult cardiology. He then moved to Durham for advanced heart failure and transplant fellowship.
He and his wife, Dr. Bahar Bahrani, have a nine-month-old son named Aiden. Bahar is on faculty in Duke's Department of Dermatology. Nima and Bahar both enjoy hiking and time outdoors. Nima says he's an extreme foodie — and having spent many years in British Columbia, really misses the sushi there. He says most people who know him know that he's a soccer fanatic – he says he follows every soccer league in the world. What some may not know, however, is that he played as a goalkeeper for the Persian Lions F.C., a semi-professional soccer team based in Toronto. He says his favorite team is the Premier League's Liverpool F.C.
For those who did not have the opportunity to work with Nima during his fellowship last year, please extend a warm welcome to him as one of our newest team members!
Imran Aslam, MD, joined the Duke Heart faculty as an assistant professor of medicine in cardiology on Sept. 1. He is an interventional and advanced heart failure and transplant cardiologist who comes to us from the University of Texas Health Science Center in San Antonio (UTHSCSA) where he was a faculty member for the past two years. He'll be on our VAD service and will see patients at Duke University Hospital and at Arringdon Clinic. 
Having grown up in Houston, where Texas Medical Center and MD Anderson Cancer Center (MDACC) are a major presence, he had opportunities to explore career opportunities in medicine while in high school. His school had partnerships with area hospitals, allowing students exposure to medical-based careers in a very customized way. Aslam was assigned a path through MD Anderson via a clinic focused on treating patients with gastric tumors. He says that for him, the timing was perfect. The MDACC team had just begun using a new drug, called imatinib (Gleevec), to treat cancer patients and it was completely changing their care and outcomes for the better. The experience piqued his interest – he became fascinated with learning how this and other drugs were developed, and who developed them. It was then he decided to go into medicine, ultimately becoming a physician-scientist.
Aslam holds a BS from the University of Houston and earned his MD from UTHSCSA. His original plan, he says, was to pursue a career in oncology, so he spent one of his medical school years as a Howard Hughes Medical Institute medical fellow at Oregon Health Science University in Portland, OR.
"As fate would have it, for that fellowship I was able to work in the laboratory of Dr. Brian Druker, the guy who developed Gleevec," says Aslam. "His story was so inspiring to me – something he did in his life as a physician-scientist was able to help an innumerable number of patients." Gleevec revolutionized the treatment of chronic myelogenous leukemia and helped establish targeted therapies as a pathway to treating cancer.
Aslam went on to internal medicine residency and ultimately decided to pursue fellowship training in cardiovascular disease, advanced heart failure and transplant cardiology, and interventional cardiology, all of which he completed at Johns Hopkins. He then joined the faculty at UTHSCSA and was glad to be near family once again. However, without a robust HF program there, he grew to miss taking care of VAD and transplant patients. He decided to seek out opportunities where he could use all of his skills in research and clinical care that he'd developed during his training. That search brought him to Duke.
On the clinical side, Aslam's expertise is in cardiogenic shock, mechanical circulatory support, and high-risk PCI. His research focus, which he developed at Hopkins, is on right ventricular dysfunction — in particular, heart failure with reduced ejection fraction. He plans to continue working in this area in larger animal models at Duke, as well as further investigating mitochondrial bioenergetic pathways in cardiac myocytes.
Aslam describes himself as a bit of a fitness nut and that he fits in daily exercise no matter what. In his free time, he enjoys hiking and traveling – especially with his brother who, he says, is the most well-traveled person he knows. So, when time permits and they can coordinate their schedules, they travel together to places that are generally off the beaten path. Their last trip was to the Arctic where they were able to hike and see polar bears. His passion, he says, is any trip that allows him to see new places and be physically active while doing it.
We are very happy to have him on our team. Please give Imran a warm welcome to Duke Heart!
Duke to Celebrate Robert Lefkowitz's 50 Years of Scientific Discovery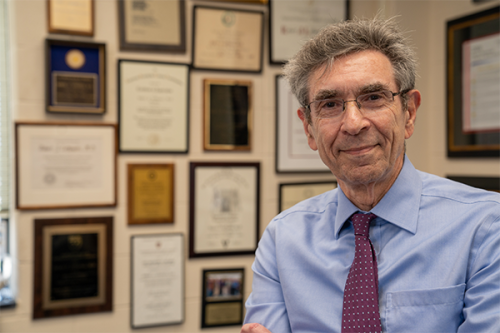 Duke University will honor Duke cardiologist and Nobel Prize winner Robert J. Lefkowitz's 50 years at Duke with a two-day symposium, "Celebrating Scientific Discoveries that Advance Human Health," to be held Oct. 2-3 at Page Auditorium.
The event will feature presentations from seven Nobel laureates, as well as sessions with University President Vincent E. Price, PhD; Mary E. Klotman, MD, executive vice president for health affairs and dean of the Duke University School of Medicine; former Duke basketball coach Mike Krzyzewski; and Lefkowitz, who received the 2012 Nobel Prize in chemistry with his former trainee Brian Kobilka, MD, now on faculty at Stanford Medicine.
Lefkowitz's trailblazing research on how cells communicate reshaped modern medicine. He revealed the workings of G-protein-coupled receptors that are relied on by almost half of the medications available today.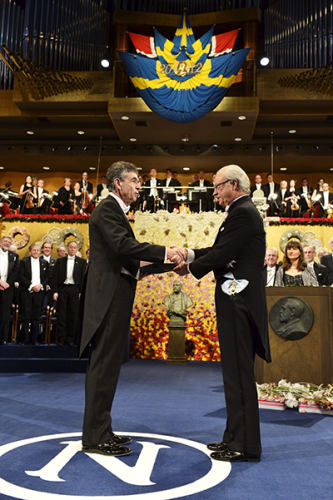 "This symposium is a wonderful opportunity to celebrate Bob Lefkowitz's many achievements and to learn about the latest advances in biomedical research," Price said. "His discoveries have made a difference in the lives of innumerable people, and the research that will be presented at this symposium also has the potential to improve the lives of people around the world." 
In addition to the Nobel Prize laureates, speakers will include top scientists from Duke and other universities who are working on biomedical research to advance the treatment of Alzheimer's disease, blood disorders, and heart disease.
Lefkowitz, who is the Chancellor's Professor of Medicine at the Duke University School of Medicine, has held a primary faculty appointment in cardiology since 1973; he maintains additional appointments in biochemistry, pathology, and chemistry, and is a long-time member of the Duke Cancer Institute. His research laboratory is housed within the Duke Cardiovascular and Research Center (CVRC).
"Bob Lefkowitz's pioneering work in the realm of cellular communication has left an indelible mark on the field of medicine," Klotman said. "His dedication to understanding the intricacies of cell receptors has paved the way for numerous medical breakthroughs, making him an indispensable figure in modern biomedical research."
Beyond his research, she added, "his lasting impact has also been through the generations of very talented scientists who have had the good fortune to call Bob their mentor." 
In an innovative move in 1974, Lefkowitz attached a radioactive isotope to a beta-blocker drug. This allowed him to track and identify an adrenaline receptor by monitoring the emitted radiation. It opened the door to understanding the functionality of such receptors.
Lefkowitz's discovery led to the subsequent realization that there is an entire family of similarly functioning receptors — the G-protein-coupled receptors. These receptors play a crucial role in cellular communication.
G-protein-coupled receptors are not just a matter of academic interest. Many medications leverage these receptors to exert their therapeutic effects. Lefkowitz's work has defined pharmaceutical advancements for decades.
Nobel laureates invited to join the symposium include cancer researcher Harold E. Varmus, MD, who earned the Nobel Prize in physiology or medicine in 1989; neurologist and biochemist Stanley Prusiner, MD, the 1997 Nobel Prize winner in medicine or physiology; Joseph Goldstein, MD, the 1985 Nobel Prize winner whose discoveries became the basis of statins, medications to treat high cholesterol; Peter Agre, MD, and Roderick MacKinnon, MD, who received the Nobel Prize in chemistry in 2003; and Kobilka, a physiologist who worked as a postdoctoral fellow with Lefkowitz while at Duke.
The event is open to faculty, staff, students, trainees, and the public. Visit the School of Medicine symposium webpage to see the full schedule and to register.
CDU Awarded IAC Accreditation in Vascular Testing
We are thrilled to announce that the Duke University Hospital Cardiac Diagnostic Unit (CDU) has achieved a significant milestone by obtaining reaccreditation from the Intersocietal Accreditation Commission (IAC) in Vascular Testing. This accreditation underscores the steadfast dedication of the CDU team to delivering top-tier cardiac diagnostic services while upholding the utmost standards in patient care.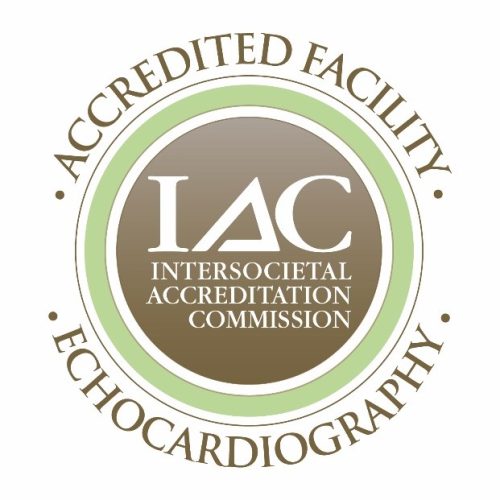 IAC accreditation certifies adherence to the stringent evaluation criteria set by the IAC. Through rigorous assessments and comprehensive reviews, our CDU has consistently showcased excellence in cardiac imaging services, positioning us as a leader in the industry. We are particularly proud to have been granted accreditation in two vital areas: Extracranial Cerebrovascular Testing and Peripheral Arterial Testing.
We extend our deepest appreciation to the entire CDU team for their unwavering dedication to quality and safety, and to ensuring their overall expertise as a team. It is their hard work and commitment that have propelled the CDU to this achievement.
"We are grateful to each of our patients and their referring physicians for the trust and confidence they have placed in our services," says Ashlee Davis, chief technologist for the DUH CDU. "Their unwavering support has been instrumental in our success."
Congratulations CDU Team – way to go!
Tannu to Receive ACC NC Grant
Duke cardiology fellow Manasi Tannu has been selected to receive a Disparities Research Grant from the American College of Cardiology's NC chapter. The grant will support her and her team's efforts to increase screening for peripheral artery disease (PAD) at historically black churches in the greater Durham area. 
The grant award will be officially announced and awarded to Tannu at the 2023 NC/SC Annual Conference next weekend (Sept. 22-24, 2023) at the Omni Grove Park Inn in Asheville, NC.
Congratulations, Manasi!
Recruiting Success for Step-Down Units
Members of our nursing leadership team represented Heart Services at a Duke University Health System specialty hiring event on Sept. 13. The team was successful in recruiting new hires for the step-down units! Shown here are Ally Shiveler, Kasey Williams, Ciarra Ashley, and Laura Dickerson.
Great work – we are grateful to each of you for spending time on recruiting, sharing your stories and enthusiasm for Duke Heart, and doing such a great job. Thank you!
Shout-out to Lewis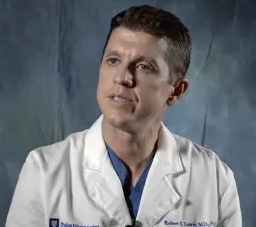 We received a note this week from David Gallagher, Chief Medical Officer, regarding feedback he received on electrophysiologist Rob Lewis, MD, via the Press Ganey/HCAHPS from an inpatient on the great care Lewis and his team delivered to them. 
"The surgical staff (especially the nurse anesthetist) were very upbeat, and really forestalled any pre-op tension. We joked around a little before I was sedated… Dr. Lewis was outstanding. I had no pain after my pacemaker insertion, to the surprise of the nursing staff (who were also wonderful). All in all, an excellent (and successfully therapeutic) experience." – a grateful patient, name withheld for privacy
Well-deserved kudos — nicely done, Rob!
EP's Haney Retires
We wished a warm farewell this week to EP nurse Marianne Haney, RN, CCRN, RCES, who began her career at Duke University Hospital in the Electrophysiology Lab in November 2003.
"Marianne has been the matriarch of our team, serving as charge nurse and preceptor for her colleagues," said Shawn Johnson, nurse manager of operations for Duke's Adult Cardiac Cath Labs. "She will be missed by all of us."
Commonly referred to as "Mrs. Haney," Marianne plans to spend her retirement traveling with her husband. As we understand it, their first journeys will take them to several of the great national parks in the U.S.
Her last day with Duke Health was Thursday, Sept. 14. The team celebrated her with a potluck breakfast, a cake, and her favorite lunch from Jimmy John's.
Thanks for all you have done for Duke Heart and our EP patients. We wish "Mrs. Haney" all the best and bid her bon voyage!
Upcoming Events & Opportunities
September is National AFib Awareness Month and Women in Medicine Month
Sept. 15 – Oct. 15 is National Hispanic Heritage Month.
Flu vaccination at Duke begins Sept. 21.
Masking for patients, visitors, and team members is now strongly recommended throughout all clinical areas during respiratory virus season (Sept. 15- Mar. 1, 2024).
Cardiology Grand Rounds
Sept. 19: ECS Wrap-up with Chris Granger. 5 p.m. In person or via Zoom.
CD Fellows Core Curriculum Conference
Sept. 20: DHP Case Presentation with Eric Xie. Noon. DMP 2W96
Sept. 22: HF/Txp Case Presentation with Husam Salah. Noon, via Zoom.
ICYMI: Medicine Grand Rounds, Sept. 8
Medicine Grand Rounds welcomed Gene Nichol, professor of law at the University of North Carolina at Chapel Hill on Sept. 8 for his lecture, Poverty and Equal Dignity in North Carolina. You may find the recording here.
DCRI Research Forum
Sept. 26: A fireside chat with NIMHD director Eliseo J. Perez-Stable, MD. Noon. Zoom only.
CME: Special Care for Pregnant Hearts, Sept. 20
A newly developed CME offering for OBGYNs, PCPs, family medicine physicians and anesthesiologists will take place Wed., Sept. 20 from 6:30 – 8:30. Special Care for Pregnant Hearts, a multi-disciplinary approach to pregnant patients with cardiovascular disease will be held virtually. Presenters include Drs. Jeff Federspiel, Cary Ward, Tori Spates, Sarah Snow, and Marie-Louise Meng.
To learn more and for registration, please visit https://obgyn.duke.edu/education-training/continuing-medical-education.
NCHA: Creating Healthier Communities, Part 1 (Urban), Sept. 26
The NC Healthcare Association will host a virtual town hall – "Creating Healthier Communities" – on Tuesday, Sept. 26 from 11 a.m.- 12 p.m. The town hall will focus on community benefits provided by North Carolina's hospitals and health systems, highlighting work with local employers, schools, faith organizations and other partners to build healthier, vibrant communities. Debra Clark Jones, Associate Vice President for Community Health at Duke Heath, will participate as a panelist with other healthcare leaders from around the state. Free. Register here.
Duke Football Healthcare Appreciation Day: Sept 30
Duke Football invites all Duke Health employees to Healthcare Appreciation Day on Saturday, September 30 when they take on Notre Dame in Wallace Wade Stadium! As a token of appreciation, all healthcare workers, families, and friends can purchase discounted tickets here: https://duke.is/9/ne4n
Sept. 30: Duke Football vs. Notre Dame. Time TBA.
Call for Applications: 2024 Leadership Programs
The Office for Faculty announced this week the call for applications for their 2024 Leadership Programs, including ADVANCE-UP, ALICE, DCLP, and LEADER. Click here to learn more. Applications are due Nov. 3.
Register Now: 15th Annual Pulmonary Hypertension Symposium
The 15th annual NC Research Triangle Pulmonary Hypertension Symposium will be held on Friday, November 17th at the Durham Convention Center. Faculty directors will be H. James Ford, MD, director of the PH program at UNC, and Terry Fortin, MD, co-director of the Pulmonary Vascular Disease Center at Duke. Registration is now open: https://duke.is/9/7rs5. Please join us!
Have news to share?
If you have news to share with the Pulse readership, please contact Tracey Koepke, director of communications for Duke Heart at tracey.koepke@duke.edu. We would love to hear about your latest accomplishments, professional news, cool happenings, and any events or opportunities that may be of interest to our Duke Heart family. Please call with any questions: 919-681-2868. Feedback on Pulse is welcome and encouraged. Submissions by Noon, on Wednesdays, to be considered for weekend inclusion.
Duke Heart in the News:
September 11 — David Harpole
Onc Live
Dr Harpole on Perioperative Durvalumab Plus Chemotherapy in EGFR-Mutated NSCLC
https://duke.is/b/4nth
September 11 — David Harpole
Targeted Oncology
No Benefit to Neoadjuvant Durvalumab/Chemo Followed by Adjuvant Durvalumab in EGFR+ NSCLC
https://duke.is/v/53rh
September 11 — Christina Wyatt (nephrology)
Healio/Nephrology
Women with health issues and CKD face complex challenges
https://duke.is/6/7jx4
September 13 — CTSI
NC Medical Society
Duke Announces Center for Precision Health to Transform Population Health, Patient Care
https://duke.is/4/z8ex
September 13 — Larry Jackson
Healio/Cardiology Today
Care, outcomes remain uneven amid growing atrial fibrillation burden in US
https://duke.is/9/hkx6