Chiefs Message:
We are excited to announce new surgical faculty this week and we will spend some time in the upcoming weeks introducing the new cardiology faculty.  Additionally, this week we have the bittersweet news of the retirement of Renee Story.  Finally, there are some amazing scientific projects the Cardiovascular group is leading from K23 grants with Jenn Rymer to the Center for Precision Health with Svati Shah as the leader.  Enjoy the updates.
Highlights of the week:
Smith, Lin Honored for Service to Duke Regional
Former Cardiovascular and Thoracic Surgery division chief Dr. Peter K. Smith and cardiothoracic surgeon Dr. Shu Lin were both honored this week by the leadership team of Duke Regional Hospital (DRH). The two were recognized with a hospital leadership recognition award for their more than 20 years of dedication to and support of the DRH CT Surgery Program.
The awards were presented to them on Wednesday, Sept. 6 by Dr. Adia Ross, chief medical officer for DRH. The event was held as part of the Duke1 Periop Session.
Smith and Lin have been instrumental in improving and expanding the heart surgery services available to patients at DRH.
Well-deserved accolades to two of our finest surgeons and leaders! Congratulations, Peter and Shu!
Patel, Bevers, and Salfity Will Join Duke CTS Faculty
We are pleased to announce the addition of three new faculty members to the Duke Division of Cardiovascular and Thoracic Surgery, Section of General Thoracic Surgery.
Kunal J. Patel, MD, PhD, will begin as Assistant Professor of Surgery on September 11. Dr. Patel comes to us from the University of Virginia, where he attended medical school and recently completed a Cardiothoracic Surgery Fellowship. Dr. Patel holds a PhD in Transplant Immunology from the Medical University of South Carolina, where he also completed his General Surgery Residency.
Kaitlin C. Bevers, MD, will join as Assistant Professor of Surgery beginning on October 1. Dr. Bevers recently completed a Thoracic Surgery Fellowship at Memorial Sloan Kettering Cancer Center. She attended Wayne State University School of Medicine, and completed her General Surgery Residency at the University of Colorado School of Medicine in Denver.
Hai V. Salfity, MD, MPH, will join as Assistant Professor of Surgery also beginning on October 1. Salfity returns to Duke after completing her Cardiothoracic Surgery Fellowship with us in 2021. Since then, she has most recently served as an Assistant Professor of Surgery at the University of Cincinnati. Dr. Salfity completed medical school and her surgical training at the Indiana University School of Medicine, from which she also holds a Master of Public Health degree.
"The addition of Drs. Patel, Bevers, and Salfity to our faculty reflect our commitment to growing Duke CT Surgery's renowned training programs and enhancing our ability to provide quality surgical care to patients in need," said Division Chief Dr. Edward Chen and Section Chief for General Thoracic Surgery, Dr. Thomas D'Amico in a joint email that was shared this week.
Please join us in welcoming all three of these exceptional physicians to our Duke CT Surgery team and to Duke Heart!
Rymer Receives NHLBI Research Career Development Award
Interventional cardiologist Jenn Rymer, MD, MBA, has received a Mentored Patient-Oriented Research Career Development Award (K23) from the National Heart, Lung, and Blood Institute (NHLBI). Her awarded project (effective July 27) is Implementation of a Medication Adherence Instrument among Patients with Symptomatic Peripheral Artery Disease after Peripheral Vascular Intervention. Her mentors will include Drs. Hayden Bosworth, Schuyler Jones, Tracy Wang, Ann Marie Navar, and Sharron Docherty.
The five-year NHLBI K23 award supports the career development of individuals with a clinical doctoral degree, who have the potential to develop into productive, clinical investigators, and who have made a commitment to focus their research endeavors on patient-oriented research.
Rymer will be studying methods to improve adherence and prescription of guideline-based and evidence-based medical therapies in patients with peripheral vascular disease here at Duke.
Peripheral artery disease (PAD) affects roughly 12 million Americans and accounts for over $21 billion in combined annual healthcare costs. For patients with PAD who undergo a peripheral vascular intervention (PVI) to improve quality of life and/or prevent limb loss, there are evidence-based, guideline-directed medical therapies that should be prescribed after the intervention. However, adherence to these therapies remains poor among this population of patients, placing them at an increased risk of limb loss, cardiovascular disease, and death. Rymer's research will work to leverage complementary methods in qualitative research, implementation science, and clinical trial design to examine the barriers to medication adherence and evaluate a potential tool that may facilitate improved communication between the clinic provider and patient about how to improve adherence to these therapies in patients with PAD who have undergone PVI.
Congratulations, Jenn!
Center for Precision Health Launched; Shah to Serve as Director
The Duke Clinical and Translational Science Institute this week announced the launch of the Center for Precision Health (CPH), a collaboration that will harness the power of genomic, biomarker, and health data to transform patient care and population health.
The Duke University School of Medicine has a rich history of translational discovery science leveraging genetics, genomics, and other -omic technologies coupled with data science and informatics. With continuing advances in genomics, biomarker technology, and computational biology alongside improvements in electronic health records and machine learning, the CPH will work to bridge discovery science with personalized patient care. 
"This collaborative effort will bring together researchers from across Duke that will enable us to improve patient care and help move more discoveries in basic and translational research into clinical care," said Mary E. Klotman, MD, executive vice president for health affairs and dean of the School of Medicine. "The Center for Precision Health is poised to become a powerhouse for genetic and genomic discovery, outreach, and education. I'm excited to see what the future holds."
Duke cardiologist Svati H. Shah, MD, MHS, Ursula Geller Distinguished Professor of Medicine, has been named director of the CPH. Julie Eckstrand, RPh, will serve as executive director.
To read the full announcement, please visit this page.
Congratulations, Svati!
Renee Story Retires After Three Decades of Service
We wished a fond farewell recently to long-time cardiology administrative assistant Renee Story. After more than 30 years of service at Duke Health, Story retired officially on Sept. 1. She was celebrated with a luncheon in her honor on August 31 at Bennett Point Grill in Durham.
A highly valued team member, Renee supported a number of faculty throughout her years with the Duke Heart team, including Drs. Richard Stack, Chris O'Connor, Joe Rogers, Jimmy Tcheng, Andrew Wang, and Chet Patel. Additionally, she helped support our Cardiology Grand Rounds program. All along the way, she demonstrated teamwork, professionalism, and a deep care for patients and their families – and always with a smile and warm welcome.
Although we will miss her, we are excited for her and all the future holds. Renee says she is looking forward to spending more time traveling with her husband, Randy, and to pursuing her interest in learning other languages.
We received some warm reflections about her over the past few weeks and wanted to share them here:
"Renee Story has been a valued, dedicated colleague for 3 decades.  Her work is superior in her conscientiousness and commitment to the highest quality.  She consistently maintains a positive, polite, and helpful demeanor, even with challenges.  Her interactions with all patients are always professional and respectful, and I've received many thanks and compliments from them. She is so experienced and effective that I take it for granted how she helps to keep the wheels on the track. I wish her a wonderful and well-deserved retirement with her family." – Andrew Wang, MD
"Renee was not only a wonderful staff assistant, she was truly one of the nicest people I have ever worked with!" – Richard Stack, MD
"It has been an absolute honor to work with Renee. She has been an extremely important member of our cardiology grand rounds team. She is always organized, efficient, kind, compassionate, and an excellent communicator. She also kept us on track to make sure we were always ahead of deadlines and that we had all the support we needed. We will certainly miss her but are excited for her to start this new chapter!" – Nishant Shah, MD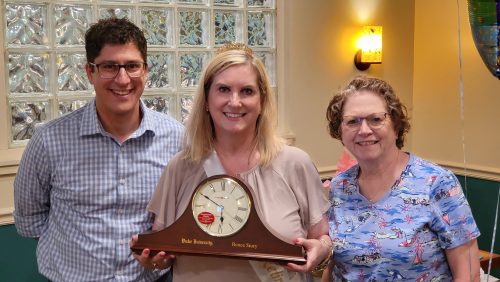 "Nishant and I have so appreciated the kindness, resourcefulness, and help that Renee gave us over the last few years doing Grand Rounds. These years were difficult scheduling talks with COVID limitations, but that didn't stop Renee from making it work! It was a challenging time, and Renee graciously and flexibly rolled with changes, helping with our many schedule changes. We don't give thanks enough to all the people behind the scenes doing the work to make our division run on a daily basis. Renee was always helpful and kind, and I congratulate her on her much-deserved retirement!" – Jennifer Rymer, MD   
"I have been quite fortunate to be able to count on Renee as my assistant for a substantial portion of my Duke career. Renee epitomizes the "best of Duke" – one of our unsung heroes who makes our enterprise hum. As a junior faculty member, Renee was the first individual to provide me with dedicated support. While at that point she had only been on staff for a short time, she amazed me with her command of the Duke environment. I learned quickly that I could count on her to expertly handle any situation, from the complexities of the interventional cardiology program to the coordination of my busy clinical schedule through the (then manual) processes for organizing travel – and everything in between. To me, she set the standard for effectiveness, efficiency, and reliability. She amazed me with her ability to anticipate not just my needs and wishes, but all those who called upon her for support. She remained a terrific resource to me even as her work responsibilities transitioned to becoming responsible for the entire division. So you can imagine how thrilled I was to be rejoined with Renee over 5 years ago as my administrative assistant. Renee – please know that you made a difference, that you helped shape Duke into the preeminent cardiology division in the country, and that you will be truly missed!  Best wishes as you embark on the next phase of your life's journey." — Jimmy Tcheng, MD
"Renee is an exceptional professional. She started out working with Richard Stack and then joined up with my group. We were both young at Duke and we really grew as a team. I remember being struck by how professional she was. The way she approached her work and the way she interacted with other people – it's not something you learn in school; I think you learn it from your parents more than anything else. Her professionalism in demeanor and her communication really enhanced our team's ability to be successful. She was often the frontline person for the Heart Center and for the division of cardiology – she was the initial point of contact for a lot of important interactions. Not just with faculty and other team members, but with patients. She was very good with patients. This may be one of her most memorable attributes – sometimes she helped just by providing a listening ear and kind voice to patients who were in distress. She was also very good at communicating with other professionals outside the institution. We had a lot of activities with the NIH, the FDA, and other academic institutions. During that time, she got to know key people and worked with them very well. In turn, they knew her and knew that she was a member of the team representing the Heart Center and the division in a very positive way. They knew they were in good hands if Renee was helping them." – Chris O'Connor, MD
"Renee has provided over 30 years of service for Duke and the Division of Cardiology. Over this time Renee has been committed to supporting her faculty and worked diligently to keep us organized and prepared for our clinical and academic pursuits.  As our roles and priorities change, Renee has continually evolved with us to ensure we are keeping up, not forgetting anything, or trying to do too many things all at once! She does this with a smile and caring approach which puts everyone at ease. Without a doubt, Renee has been an integral part of the success of Duke Heart by working behind the scenes for others to be successful. I will miss working with her and wish her the best in a well-deserved retirement. – Chet Patel, MD  
Congratulations, Renee! You will be missed!
Registration Now Open for 15th Annual Pulmonary Hypertension Symposium
The 15th annual NC Research Triangle Pulmonary Hypertension Symposium will be held on Friday, November 17th at the Durham Convention Center. Faculty directors will be H. James Ford, MD, director of the PH program at UNC, and Terry Fortin, MD, co-director of the Pulmonary Vascular Disease Center at Duke. Registration is now open: https://duke.is/9/7rs5. Please join us!
Consumer Engagement Opportunity: Heart Walk
If you or your team would be interested in space for patient education or consumer outreach at the upcoming Triangle Heart Walk on Oct. 8, please reach out to Tracey Koepke, director of communications for Duke Heart, by Sept. 15. We may have space available for you in our Duke Health sponsorship tent! This can be a great way to engage with consumers from across the Triangle regarding our service offerings.
Note: you must be able to send a representative (or two) who can be at the sponsorship tent while it's open. If interested, email tracey.koepke@duke.edu.
Upcoming Events & Opportunities
September is National AFib Awareness Month!
It's Vascular Nurses week (Sept. 10-16)
It's International Housekeeping and Environmental Services week (Sept. 10-16)
Flu vaccination at Duke begins Sept. 21.
Cardiology Grand Rounds
Sept. 12: Wrap up from ESC Around Heart FID with Robert Mentz. 5 p.m. DN 2002 and via Zoom:  https://duke.is/2/rvp4
Medicine Grand Rounds
Sept. 15: Heart Transplant at Duke: Tradition and Innovation with Chet Patel. 8 a.m. DN 2002 and via Zoom.
DCRI Research Forum
Sept. 26: A fireside chat with NIMHD director Eliseo J. Perez-Stable, MD. Noon. Zoom only.
This week: Duke Financial Fitness Week
Free informational seminars are open to all Duke employees for Duke's annual Financial Fitness Week. Duke HR annually offers the opportunity to learn more about retirement readiness, making informed financial decisions, and unlocking the potential for financial freedom. The full schedule of events and registration links are available at this link: https://duke.is/c/qc2t.
CME: Special Care for Pregnant Hearts, Sept. 20
A newly developed CME offering for OBGYNs, PCPs, family medicine physicians and anesthesiologists will take place Wed., Sept. 20 from 6:30 – 8:30. Special Care for Pregnant Hearts, a multi-disciplinary approach to pregnant patients with cardiovascular disease will be held virtually. Presenters include Drs. Jeff Federspiel, Cary Ward, Tori Spates, Sarah Snow, and Marie-Louise Meng.
To learn more and for registration, please visit https://obgyn.duke.edu/education-training/continuing-medical-education.
Duke Football Healthcare Appreciation Day: Sept 30
Duke Football invites all Duke Health employees to Healthcare Appreciation Day on Saturday, September 30 when they take on Notre Dame in Wallace Wade Stadium! As a token of appreciation, all healthcare workers, families, and friends can purchase discounted tickets here: https://duke.is/9/ne4n
Sept. 30: Duke Football vs. Notre Dame. Time TBA.
SOM Academic New Faculty Orientation: Oct. 16 & 17
If you were hired in the past 3 years and haven't attended New Faculty Orientation yet, please plan to attend. While content specifically targets newer faculty, all are welcome and many topics are applicable to all faculty, regardless of career stage. Event will be held in the Trent Semans Center and is hosted by the Duke School of Medicine.
To see the agenda and learn more, visit: https://medschool.duke.edu/about-us/faculty-resources/faculty-development/our-programs/school-medicine-academic-new-faculty.
To register: https://dukefacdev.wufoo.com/forms/qr1ae7g1aoyckd/
Questions? Contact the School of Medicine Office for Faculty at facdev@dm.duke.edu.  
Have news to share?
If you have news to share with the Pulse readership, please contact Tracey Koepke, director of communications for Duke Heart at tracey.koepke@duke.edu. We would love to hear about your latest accomplishments, professional news, cool happenings, and any events or opportunities that may be of interest to our Duke Heart family. Please call with any questions: 919-681-2868. Feedback on Pulse is welcome and encouraged. Submissions by Noon, Wednesdays, to be considered for weekend inclusion.
Duke Heart in the News:
September 7 — Stephen Greene and Hubert Haywood (IM residency)
tctMD
Hospital at Home Strategy Could Disrupt 'Low-Value' Care for Worsening HF
https://duke.is/z/8np6
September 7 — Duke University
Love to Know
Try Nightly Walks for an Easy Way to Step Up Your Health & Happiness
https://duke.is/m/xsqj