Highlights of the week:
Duke, UNC-Chapel Hill Awarded up to $50 Million from the FDA for New Research Center; Mentz to Serve as co-PI
Duke University and the University of North Carolina at Chapel Hill will receive up to $50 million over five years from the U.S. Food and Drug Administration. The money will be used to establish the Research Triangle Center of Excellence in Regulatory Science and Innovation (CERSI). The center also includes collaborations with North Carolina State University and North Carolina Central University.
Triangle CERSI, the newest of five CERSIs nationally, will work with FDA scientists to perform scientific research to support the FDA's needs.
The three principal investigators from Duke are Susan Halabi, PhD, James B. Duke Distinguished Professor of biostatistics and bioinformatics and co-chief for the division of biostatistics at Duke University School of Medicine; Robert Mentz, MD, associate professor of medicine in cardiology and in population health sciences, and chief of the heart failure section of Duke Cardiology; and Ehsan Samei, PhD, Reed and Martha Rice Distinguished Professor of Radiology at Duke University and chief imagining physicist for Duke University Health System.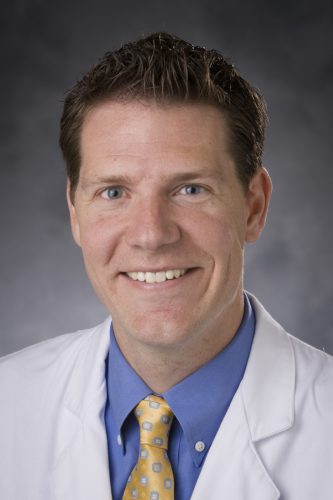 They will co-lead the new Triangle CERSI and collaborate with regulators, academia, and industry stakeholders to meet the FDA's need for the most current scientific knowledge.
"We are uniquely positioned to leverage the tremendous strengths of Duke's trial and observational research infrastructure, machine learning, statistical knowledge, in silico trials, and imaging expertise to answer meaningful questions for patients and other key stakeholders," Mentz said.
The Triangle CERSI will include, but is not limited to, faculty from the UNC Eshelman School of Pharmacy, UNC School of Medicine, UNC Gillings School of Global Public Health, UNC School of Data Science and Society, Duke University School of Medicine, Duke University Pratt School of Engineering, Duke University's Center for Virtual Imaging Trials, the Duke Clinical Research Institute, the Colleges of Engineering and Veterinary Medicine at N.C. State, the NCCU College of Health and Sciences, NCCU College of Arts, Social Sciences and Humanities, the NCCU Biomanufacturing Research Institute and Technology Enterprise  and the NCCU Julius L. Chambers Biomedical and Biotechnology Research Institute.
"The Triangle CERSI is a significant opportunity for our scholarly communities to curate and direct our intelligence towards addressing an important societal need for proficient and efficient regulatory approval and oversight," Samei said.
The center will provide new infrastructure and tools to shorten the drug and device development process, to advance public health, and to inform regulatory decision making and guidance documents that complements and enhances other CERSIs.
"The Triangle CERSI will equip the FDA with tools to overcome the challenges of the 21st century drug and device development process in order to rapidly advance public health interests," Halabi said.
The 38 projects proposed in the grant application include statistical methodology, machine learning and artificial intelligence, imaging, pediatric pharmacology, and safety assessments.
New Thoracic Surgery Roles for Hartwig, Klapper
We are pleased to share a transition of leadership within Duke's Division of Cardiovascular and Thoracic Surgery. Effective immediately, Matt Hartwig, MD, MHS, will serve as Surgical Director of Lung Transplantation, and Jacob Klapper, MD, will serve as Associate Surgical Director of Lung Transplantation.
Hartwig has spent the entirety of his career at Duke. He began his internship with Duke Surgery in 2001, and completed his residency in both General Surgery and Cardiothoracic Surgery here. He previously served in the role of Surgical Director for Lung Transplantation from 2015-2017. He also serves as Program Director for the Minimally Invasive Thoracic Surgery Fellowship program, a position he has held since 2015; he is an Executive Committee Member for the Duke Transplant Center, and Surgical Director of the Esophageal Center at Duke, and is a member of the Perioperative Executive Committee
Klapper completed his cardiothoracic surgery fellowship at Duke from 2011 through 2014. After a short departure to the Medical University of South Carolina, we were fortunate to recruit him back to Duke — he rejoined us as Associate Professor of Surgery in 2016. 
"The Duke Lung Transplant Program boasts one of the highest lung transplant volumes in the US.  John "Jack" C. Haney, MD, played a major role in this program's success, and we are extremely grateful to Jack for his leadership and dedication while serving as Surgical Director," said Edward P. Chen, MD, chief of the Division of Cardiovascular and Thoracic Surgery. "We wish him the absolute best as he assumes the role of Chair of Cardiothoracic Surgery at Mayo Clinic in Jacksonville, FL at the end of September."
The leadership announcement was made by Chen on Thursday. Please join us in congratulating Matt and Jacob on their new appointments!
Brenman Joins Duke Heart Team
We are pleased to welcome Gabi Brenman to Duke Heart's administrative leadership team. Brenman has been working with Duke's Performance Services team since 2019, supporting Heart and Oncology since 2021. Originally from Chapel Hill, NC, Brenman has her master's and bachelor's degrees in Industrial and Systems Engineering from North Carolina State University.
She has recently supported several important initiatives at Duke including re-vamping the VAD Joint Commission data reporting, serving as project manager for the CACHE Prostate project, and assessing Respiratory Therapy workflow opportunities. In her new role, Brenman will partner closely with Jill Engel and Maria Carroll on Duke Heart & Vascular special projects, strategy and growth.
A fun fact about her is she loves to travel, and recently visited Iceland. We are thrilled to formally welcome Gabi to our team!
Duke CDU Awarded IAC Accreditation for the 23rd Year
The DUH Cardiac Diagnostic Unit is proud to announce that it has been granted Intersocietal Accreditation Commission (IAC) accreditation for the 23rd consecutive year, demonstrating excellence in echocardiography. This recognition is a testament to Duke's unwavering commitment to providing high-quality cardiac diagnostic services and upholding the highest standards of patient care.
IAC accreditation serves as a mark of distinction, affirming that the CDU has met and surpassed stringent evaluation criteria set forth by the IAC. Through rigorous assessments and comprehensive reviews, our facility has consistently demonstrated excellence in cardiac imaging services, placing us at the forefront of the industry. The CDU was awarded accreditation in Transthoracic Echo, Transesophageal Echo, as well as Stress Echo.
We extend our heartfelt appreciation to our entire team for their unwavering dedication and expertise. Additionally, we thank our patients and referring physicians for their trust and confidence in our services. The CDU team is committed to raising the bar in cardiac diagnostic excellence, ensuring that each patient receives the best care possible at Duke. We are grateful to be recognized again by the IAC.
Way to go CDU team!
Upcoming Events & Opportunities
CD Fellows Core Curriculum Conferences
July 19: Rapid Fire ECG with Thomas Bashore. Noon, Zoom only.
July 21: Basics of Heart Failure with Stuart Russell. Noon, Zoom only.
Cardiology Grand Rounds is on hiatus for the summer. We'll be back in the fall!
15th Annual NC RTP Pulmonary Hypertension Symposium
The 15th annual NC Research Triangle Pulmonary Hypertension Symposium will be held on Friday, November 17th at the Durham Convention Center. Faculty directors will be H. James Ford, MD, director of the PH program at UNC, and Terry Fortin, MD, co-director of the Pulmonary Vascular Disease Center at Duke.
Have news to share?
If you have news to share with the Pulse readership, please contact Tracey Koepke, director of communications for Duke Heart at tracey.koepke@duke.edu. We would love to hear about your latest accomplishments, professional news, cool happenings, and any events or opportunities that may be of interest to our Duke Heart family. Please call with any questions: 919-681-2868. Feedback on Pulse is welcome and encouraged. Submissions by Noon, Wednesdays, to be considered for weekend inclusion.
Duke Heart in the News:
July 8 — Salvatore Pizzo, Svati Shah, Paul Ferrell, Kristi Oristian (Pathology; Pharmacology & Cancer Biology)
Independent Tribune (Hickory, NC)
MURDOCK Study samples speed heart failure discovery
https://duke.is/w/gtmr
July 10 — Adam DeVore
Healio/Cardiology
With heart transplant advances, a quest for 'holy grail' of tolerance, improved outcomes
https://duke.is/p/nch2
July 11 — Hayden Bosworth & Colleen Burke (Population Health)
Healio/Cardiology
Veterans with CVD from historically redlined neighborhoods have elevated risk for events
https://duke.is/w/4hp5
July 11 — Robert Mentz
WRAL (Raleigh/Durham)
FDA awards $50 million to Triangle universities for joint work on drug development process, regulatory oversight, public health information
https://duke.is/6/us64
July 11 — Robert Mentz
WNCN – CBS17 (Raleigh/Durham)
UNC, Duke getting $50M from FDA to create new research center
https://duke.is/p/frjw
July 12 — Robert Mentz
HCP Live
Foundations of Quadruple Therapy in Heart Failure
https://duke.is/j/grha
July 12 — Duke Health/Duke University Hospital
Becker's Hospital Review
100 hospitals and health systems with great heart programs | 2023
https://duke.is/y/9xsq
July 12 — Adam DeVore
Healio/Cardiology
'Access to care is key': Closing the race disparity gap in heart transplant
https://duke.is/r/qn2u
July 12 — Joseph Turek
Fort Worth Star-Telegram
11-month-old's partial heart transplant makes history in Texas. How doctors did it
https://duke.is/m/7rx2
July 13 — Hayden Bosworth (Population Health)
STAT News
Living in a historically redlined area linked to worse heart health, study finds
https://duke.is/z/nh4j
July 13 — Hayden Bosworth (Population Health)
PBS News Hour
Legacy of redlining linked to poor heart health among veterans, study finds
https://duke.is/c/2nbv
July 13 — Ehsan Samei (Radiology) & Susan Halabi (Biostatistics)
WTVD (Raleigh/Durham)
FDA gives $50M to Duke, UNC to establish world-class public health research center
https://duke.is/8/sxuy