ISHLT & Joint Meeting Held for ASCI, AAP, and APSA

Several large meetings were being held this weekend, including The International Society for Heart and Lung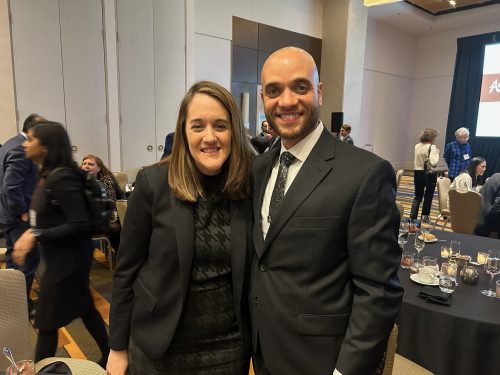 Transplantation (ISHLT) and the Joint Meeting of ASCI, AAP and APSA. We are still gathering information and illustrations from these sessions and will do a report-out on them next week, but we want to give a big shout-out to Jonathan Piccini and Gerald Bloomfield. They were both inducted as new members of ASCI this weekend – congratulations! Also, Jenn Rymer received an ASCI '30 in their 30s' award, which we announced earlier this year.
We look forward to celebrating the great presentations made by our Duke colleagues!
HCLC Spring Meeting Held
The Duke Heart Center Leadership Council held its Spring meeting on Friday, April 21. Presenters included Neha Pagidipati who spoke about the Cardiometabolic Clinic, Kevin Harrison and Chad Hughes who spoke about structural heart disease and aortic disease, and Adam Williams, who presented on the Duke Heart for Honduras program and also on the research he is doing on the regeneration of heart cells.
Harrison, Shaw Named Associate Program Directors, Duke Cardiovascular Disease Fellowship Program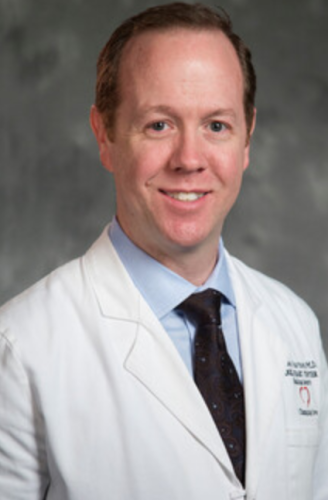 We are thrilled to share that Drs. Rob Harrison and Nishant Shah have accepted positions as
associate program directors (APD) for Duke's cardiovascular disease fellowship program. The news was announced this week by program director, Dr. Anna Lisa Chamis. Please join us in congratulating Rob and Nishant on their new roles, which are effective immediately.
Chamis and the Duke Heart leadership team are grateful and pleased with the work that Drs. Neha Pagidipati and Rob Mentz have done as the APDs for the past five years. Chamis also thanks the members of the fellowship APD selection committee for their time and diligence.
Congratulations, Rob and Nishant!
Analysis on HF Outcomes Disparities Published in JAMA Cardiology
Congratulations to cardiology fellow Jamie Diamond and her co-authors! Their study was published this week and has been incredibly well-received by the HF research community!
Black adults with heart failure have higher population-level mortality than white adults with the same condition. Their study, published this past week in JAMA Cardiology, compared the quality of care for heart failure patients at hospitals with a high proportion of Black patients compared to those hospitals without such a population. It found that quality of heart failure care is largely similar at hospitals caring for high proportions of Black patients compared with other hospitals, though with a few remaining targets for improvement. The study suggests that this disparity in heart failure outcomes stems from inequities outside the hospital, such as at the public health level, where factors like inequitable care access and other social determinants of health come into play.
Quality of Care and Clinical Outcomes for Patients With Heart Failure at Hospitals Caring for a High Proportion of Black Adults appears in JAMA Cardiology and can be accessed here: https://duke.is/p53h3
Dr. Jamie Diamond is the first author of the study and a heart failure & transplant cardiology fellow at Duke Health. She said the results point to a need to take a deeper look at root causes.
Congratulations, Jamie and team!
ICYMI: AFib, Central Retinal Artery Occlusion Findings Featured in Podcast
The Stroke Alert Podcast for April 2023 features an article recently published in Stroke, "Examining the Association Between Hospital-Documented Atrial Fibrillation and Central
Retinal Artery Occlusion" by corresponding author Brian MacGrory and first author Jay B. Lusk. , an MBA. MacGrory is an associate professor in neurology and in ophthalmology at Duke; he specializes in stroke and vascular neurology. Lusk is an MD/MBA student at Duke. Additional Duke co-authors include Hussein Al-Khalidi, Emily O'Brien, Jon Piccini, Irene Song, Shakthi Unnithan, and Ying Xian.
To listen to the episode, please visit https://duke.is/gx8kq.
Launched by Stroke in 2021, the monthly Stroke Alert Podcast begins each episode by posing key takeaway questions from featured articles in the current issue of the journal. This is followed by a brief summary and analysis of these articles, as well as an interview with the author of one of these featured articles or with one of the Stroke editors.
To stream the Stroke Alert Podcast online, please visit https://strokealert.libsyn.com. To subscribe on Apple Podcasts or Google Podcasts, visit https://www.ahajournals.org/str/podcast.
Shout-out to Agarwal & 2F/2G Team!
Richa Agarwal and our team in 2F/2G received some wonderful feedback via the Press Ganey survey system last week.
A grateful patient wrote, "The most organized and flow of services for medical treatment I have ever experienced. Everything was explained to me of where to go and what to expect. I liked the online sign-in and information available after the tests were performed. All the personal were very professional and friendly, and I love Dr. Agarwal's personable manner."
Great job, Richa! We're so glad to have you on our Duke Heart team! Our 2F/2G team is amazing!
Kudos to Rendall!
We received a terrific note about Duke APP Dave Rendall this week!
"Congratulations! You are being recognized for the outstanding services you provide to our Duke patients! The PDC Patient
Relations team was made aware of the below compliment on 4/17/23 from a patient who remains anonymous referring to her positive experience with you in March of 2023. I hope you take a moment to recognize the difference you are making in the lives of those you serve. Thank you for all you do. It has been my pleasure to recognize you as a Duke Service Champion and share with our PDC leadership. Best wishes to you! — Tamara Griffin, Duke Health Private Diagnostic Clinics Integration
"David Rendall was excellent. He listened to all my concerns and health with each one of them totally. He explained so much about my condition in easy to understand language. He was patient, kind, seemed very knowledgeable and seemed to really care about my health and my understanding of what I needed to do. I appreciated the education he gave me. He did not seem rushed and was glad to make sure I was satisfied with having all my questions answered. He was great and I am so grateful for such good medical help!!!!!! He was the best!" – name withheld for privacy.
Great work, Dave! This is well-deserved!
Postponed: DCRI Research Forum with Special Guest Jon Scheyer
The Duke Clinical Research Institute has postponed the DCRI Research Forum planned for April 25, featuring a fireside chat with Duke Men's Basketball head coach Jon Scheyer. A new date has not yet been selected. The DCRI planning team apologizes for any inconvenience and hopes you'll plan to join the event once a new date is established.
This Week: Inaugural DOM Research Day
The Duke Department of Medicine will hold their inaugural Research Day on Friday, April 28, 2023, at the Trent Semans Center in the Great Hall from 8 a.m. until 1:30 p.m.
This event is for all departmental faculty, clinical and postdoctoral fellows, residents, medical students, and research staff. Lunch is included. For questions regarding Research Day contact Saini Pillai, MBA. A copy of the agenda can be found here.
Sudarshan Rajagopal, MD, PhD, associate professor of cardiology and a PI in the Duke Cardiovascular Research Center is one of four presenters during the faculty speaker session. Rajagopal will discuss recent research from his lab that demonstrates new modes of signaling by receptors and its potential impact on drug development. Definitely something to check out!
Better Together: A Culture Campaign
Hopefully many of you were able to participate in the on-demand sessions for the new DUHS Culture Campaign, Better Together. What does it mean to become better together? It means defining our culture — who and how we want to be. We're looking at ourselves in the mirror, keeping what we like, and intentionally setting aside the rest, and designing a new path where everyone feels heard, valued, seen, and respected. Watch this short video to learn more.
Another opportunity for participation will take place next month from May 19-25. Stay tuned for more information and links to the online survey.
Click here for a fact sheet to learn more.
Quick Reminders & Updates
In light of the decreased community incidence of Covid-19 infections and a robust supply of PPE, DUHS has moved to Tier 1 status as of last week.
April 23-29 is Patient Experience Week. We hope everyone can take a moment to celebrate and honor our Duke Health patients who trust us with their care. It's also a time to reflect on the impact each of us have on Duke Health's ability to provide exceptional care to our community and to each other. Activities, a Zoom background, and more is available here — https://duke.is/8v5pu . It's worth checking out – please join DUHS and the PDC in working to cultivate kindness throughout the Duke Health system!
April 24-May 1 is Transplant Nurses Week
Wednesday, April 26 is Administrative Professionals Day
Coming in May: National Nursing Month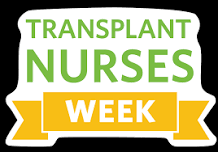 Upcoming Events & Opportunities
Cardiology Grand Rounds
April 24: Renal Sympathetic Denervation: Update on Clinical Trials and Future Steps with Dmitriy N. Feldman, Weill Cornell Medical College. 5 p.m., DN 2002 and via Zoom.
April 25: Regulatory Guidance for Cardiovascular Outcomes Trials of Antihyperglycemic Agents: Connecting the Past with the Future with Darren K. McGuire, University of Texas Southwestern Medical Center & Parkland Health and Hospital System; Deputy Editor, Circulation. 5 p.m., DN 2002 and via Zoom. 
ICYMI: Links to Recent CGRs
April 11: April 11: Jessica Duran, Multimodality Imaging in MINOCA.
Medicine LEADS
April 25: Duke Medicine LEADS with Paul Aronowitz, Health Sciences Clinical Professor of Medicine for the Department of Medicine at UC Davis School of Medicine. Dr. Aronowitz will be presenting "Clinical Images Problem Solving" with faculty discussants Drs. Nishant Shah, Eileen Maziarz, and Talal Dahhan. 12-12:45 p.m. in DMP 2W93.
New funding opportunity: Fund to Retain Clinical Scientists at Duke
The Office for Faculty Development has announced a new funding opportunity for eligible junior faculty members. A brief, no-commitment, e-mail stating your intent to apply is due May 1.
The School of Medicine Office for Faculty and Office of Physician-Scientist Development are now accepting applications for the Fund to Retain Clinical Scientists at Duke. Supported by awards from the American Heart Association, Doris Duke Charitable Foundation and Dean Mary Klotman, the Fund provides supplements of up to $30,000-$50,000 to clinician-scientists with significant caregiving responsibilities. Supplements are for 1 year. This application cycle is for funding from July 1, 2023-June 30, 2024.
Fund supplements are designed to address the critical challenge of working to establish research independence during periods when caregiving needs may be least flexible. Awards can be used in a variety of ways to support the applicant's scholarly work. Possible uses of funds include:
Research support personnel (e.g. clinical research coordinator or technician)
Duke Office of Clinical Research (DOCR) services
Biostatistical support
Other "extra hands" support as proposed by the applicant
Applicants must be junior faculty (medical instructor, assistant professor, or associate professor within 1 year at that rank) with an MD, PhD, or DO degree and a primary faculty appointment in a School of Medicine department. They must have existing funding for their research, including salary support, and at least 50% protected time for research. All applicants must demonstrate a compelling need for the supplement that is related to being a caregiver. Applicants whose caregiving needs were caused or exacerbated by the COVID-19 pandemic are encouraged to apply and state this clearly in their application. Click here for complete program information, eligibility criteria, and application instructions.
Applications are online and include 1) an application form, 2) statement of individual need rooted in caregiving responsibilities, 3) research plan, 4) biosketch, 5) proposed budget for the supplement, 6) chair/chief letter of support. Departmental contributions are expected, and the letter of support should outline any matching funds or other additional supports being provided to the applicant. Matching funds will be viewed favorably by the selection committee. Applications are due May 15, 2023.
Applicants and selected scholars will be strongly encouraged to enroll in the OPSD Scholars program led by Dr. Gbadegesin. Scholars will receive access to additional mentoring, grant writing, and executive coaching support.
Please e-mail OPSD to let us know you plan to apply. This e-mail can be very brief and is non-binding. This email with intent to apply is due May 1.
Questions? Contact OPSD@dm.duke.edu.
Deadline approaching: The Mario Family Foundation Award
Training the next generation of biomedical researchers is an important core mission of the Department of Medicine. We admit the most promising, dedicated fellows into our programs, and provide experiences that will allow them to put their passion for medicine to work. These fellows will be tomorrow's leaders in science and medicine. The Mario Family Foundation has generously supported this mission to support junior investigators in training to make the transition to become independent scientists and planning for their first extra-mural funding.
The Department of Medicine is accepting applications from fellows in specialty training for the Mario Family Foundation Award, which funds two patient-oriented research (clinical or translational) proposals for one year of funding.  The total funding for all proposal expenses is $35,000.
Applications must be submitted electronically no later than Monday, May 1, 2023, 5p.m.
Applications will be peer reviewed by a panel of senior scientists from the Department of Medicine.  Proposals will be judged on scientific-merit, rigor, and quality of project.  Our intent is to complete reviews and start funding by July 1, 2023.
Additional details and application information can be found on the Mario Family Foundation Award webpage. For project-related questions, please contact Saini Pillai, MBA, Senior Program Coordinator, Chair's Office.
2023 Loan Repayment Program to Promote Diversity and Inclusion in Medicine
The Duke Department of Medicine has announced the 2023 Loan Repayment Program to Promote Diversity and Inclusion in Medicine (LRPDIM). This award is part of a series of mentored career development opportunities offered by the Department of Medicine and is designed to fund members of groups underrepresented in medicine who, as a group, are disproportionately impacted by student loans. This financial burden impedes the retention, recruitment, and diversification of research faculty in our department.
We encourage investigators from diverse racial and ethnic backgrounds who are under-represented in Medicine to consider applying. The LRPDIM award repays up to $50,000, annually for up to two years, of a researcher's qualified educational debt in return for a commitment to engage in research.  Up to two applicants will be funded (July 1, 2023, through June 30, 2025).  The award recipient must remain a full-time employee of the DOM to receive the full amount of the award. Award funds are not restricted and can be used at the awardee's discretion. If the research commitment is not met, recipients must pay back the amount awarded.
The 2023 LRPDIM Award application deadline is May 12, 2023, at 5 p.m.  Eligibility criteria, detailed information about the Award, and the application form are available on the DOM Loan Repayment Program to Promote Diversity and Inclusion website. For program-related questions, please contact Kimberly Dorman, Special Assistant to the Vice Chair for Faculty Development and Diversity in the Chair's Office.
Cardiac Safety Research Consortium Think Tank Meeting, June 7
The Cardiac Safety Research Consortium will hold a Think Tank meeting on June 7. The event,  CSRC Think Tank: Update on Regulatory Status of Hypertension, Biomarkers and Arrhythmia Monitoring in Clinical Trials will be held at the FDA.
In Session 1, these leading industry professionals will speak on panels discussing:
Regulations for ECG/QT
The double-negative conundrum
Alternative methods for assay sensitivity assessment in routine Phase 1 QT Studies
Covid-19 and prolonged QT
In Session 2, we will discuss:
Small increases in blood pressure and CV risk I
Intermittent versus chronic use hypertension drugs
In Session 3, the meeting faculty will dive into:
In Session 4, the panelists will discuss hot topics in the field such as:
Biologics/cardiomyopathy and vaccine development
MACE
Gene therapies
Wearables
The event will include professionals from FDA Regulatory, Cardiac Safety Consultants, Ltd., Eli Lilly, Richmond Pharmacology, University of Connecticut, Stanford University, University of Pennsylvania, Cleveland Clinic, Clario, Mass General, DSI, Penn Medicine, and UCSF.
There is a registration fee for attendance, for academics it is $275. Registration and more information is available here: https://cardiac-safety.org/
The meeting will be held in person; a recording of the meeting and slide presentations will become available a month after the event occurs.
Have news to share?
If you have news to share with the Pulse readership, please contact Tracey Koepke, director of communications for Duke Heart at tracey.koepke@duke.edu. We would love to hear about your latest accomplishments, professional news, cool happenings, and any events or opportunities that may be of interest to our Duke Heart family. Please call with any questions: 919-681-2868. Feedback on Pulse is welcome and encouraged. Submissions by Noon, Wednesdays, to be considered for weekend inclusion.
Duke Heart in the News:
April 13 — William Kraus
AARP
Cómo 2 minutos de ejercicio pueden ayudarte a vivir más tiempo
https://duke.is/gzh4e
April 14 — Kathryn Pollak
Cardiovascular Business
A simple way to help cardiologists communicate with patients
https://duke.is/7jyak
April 17 — Pamela Douglas
Drugs.com
Daily Statin Reduces the Risk of Cardiovascular Disease in People Living with HIV, Large NIH Study Finds
https://duke.is/mn5fw
April 19 — Manesh Patel
Time
What to Know About Damar Hamlin's Heart Event, Commotio Cordis
https://duke.is/p84fd
April 19 — Harry Severance
Medpage Today
Suits vs Scrubs: The Evolving Healthcare Workplace
https://duke.is/4eggz
April 19 — Conrad Hodgkinson
Medical Xpress
A second chance for a healthy heart: Using cellular reprogramming to eliminate scar tissue
https://duke.is/29nc9
April 19 — Conrad Hodgkinson
News Medical Life Sciences
Mice study reveals a way to turn back the clock after heart attack
https://duke.is/gyja7
April 20 — Conrad Hodgkinson
Technology Networks
Reverting Adult Cardiac Fibroblasts to Their Neonatal Phenotype Improves Reprogramming Efficacy
https://duke.is/9umwx
April 20 — Conrad Hodgkinson
StudyFinds.org
Second chance at life: Scientists find way to make damaged hearts young again
https://duke.is/vub4w
April 20 — Stephen Greene
HCP Live
Optimal Uptake of SGLT2 Inhibitors Could Prevent or Postpone 7 Million Heart Failure Events Over 3 Years
https://duke.is/z33ra
April 20 — Pamela Douglas
WNCN CBS-17, Raleigh-Durham
New research shows benefit of statins for people with HIV
https://duke.is/mcfb7
*clip begins @ 16:42:00; story also carried by WBTW-TV CBS-13, Myrtle Beach
Division of Cardiology Publications Indexed in PubMed March 31 – April 6, 2022
Avezum Á, Oliveira GBF, Oliveira H, Lucchetta RC, Pereira VFA, Dabarian AL, D O Vieira R, Silva DV, Kormann APM, Tognon AP, De Gasperi R, Hernandes ME, Feitosa ADM, Piscopo A, Souza AS, Miguel CH, Nogueira VO, Minelli C, Magalhães CC, Morejon KML, Bicudo et al. Hydroxychloroquine versus placebo in the treatment of non-hospitalised patients with COVID-19 (COPE – Coalition V): A double-blind, multicentre, randomised, controlled trial. Lancet Reg Health Am 2022 Jul;11:100243. PM: 35378952.
Bishawi M, Lee FH, Abraham DM, Glass C, Blocker SJ, Cox DJ, Brown ZD, Rockman HA, Mao L, Slaba TC, Dewhirst MW, Truskey GA, Bowles DE. Late onset cardiovascular dysfunction in adult mice resulting from galactic cosmic ray exposure. iScience 2022 Mar 16;25(4):104086. PM: 35378858.
Coylewright M, Dodge SE, Bachour K, Hossain S, Zeitler EP, Kearing S, Douglas PS, Holmes D, Reddy VY, Nair D. Women in procedural leadership roles in cardiology: The Women In Local Leadership (WILL) observational study. Heart Rhythm 2022 Apr;19(4):623-629. PM: 34923161.
Dong OM, Poonnen PJ, Winski D, Reed SD, Vashistha V, Bates J, Kelley MJ, Voora D. Cost-Effectiveness of Tumor Genomic Profiling to Guide First-Line Targeted Therapy Selection in Patients With Metastatic Lung Adenocarcinoma. Value Health 2022 Apr;25(4):582-594. PM: 35365302.
Dzau VJ, Ellaissi WF, Krishnan KRR, Balatbat CA. How Academic Health Systems Can Be Ready for the Next Pandemic. Acad Med 2022 Apr 1;97(4):479-483. PM: 34966030.
Khan MS, Segar MW, Usman MS, Singh S, Greene SJ, Fonarow GC, Anker SD, Felker GM, Januzzi JL, Butler J, Pandey A. Frailty, Guideline-Directed Medical Therapy, and Outcomes in HFrEF: From the GUIDE-IT Trial. JACC Heart Fail 2022 Apr;10(4):266-275. PM: 35361446.
Martin CK, Höchsmann C, Dorling JL, Bhapkar M, Pieper CF, Racette SB, Das SK, Redman LM, Kraus WE, Ravussin E. Challenges in defining successful adherence to calorie restriction goals in humans: Results from CALERIE™ 2. Exp Gerontol 2022 Jun 1;162:111757. PM: 35240264.
Morrill J, Qirko K, Kelly J, Ambrosy A, Toro B, Smith T, Wysham N, Fudim M, Swaminathan S. A Machine Learning Methodology for Identification and Triage of Heart Failure Exacerbations. J Cardiovasc Transl Res 2022 Feb;15(1):103-115. PM: 34453676.
Rao VN, Fudim M, Wang J. Beyond the Anatomy of Renal Nerves: Functional Diversity of Renal Nerves. J Cardiovasc Transl Res 2022 Feb;15(1):27-28. PM: 35212975.
Tobin RS, Cosiano MF, O'Connor CM, Fiuzat M, Granger BB, Rogers JG, Tulsky JA, Steinhauser KE, Mentz RJ. Spirituality in Patients With Heart Failure. JACC Heart Fail 2022 Apr;10(4):217-226. PM: 35361439.
Vinson AJ, Singh S, Chadban S, Cherney D, Gaber O, Gill JS, Helgeson E, Herzog CA, Jardine M, Jha V, Kasiske BL, Mannon RB, Michos ED, Mottl AK, Newby K, Roy-Chaudhury P, Sawinski D, Sharif A, Sridhar VS, Tuttle KR, Vock DM, Matas A. Premature Death in Kidney Transplant Recipients: The Time for Trials is Now. J Am Soc Nephrol 2022 Apr;33(4):665-673. PM: 35292438.
Xiong X, Nazo N, Revoori R, Rajagopal S, Sparks MA. G protein- and -arrestin Signaling Profiles of Endothelin Derivatives at the Type A Endothelin Receptor. Kidney360 2021 May 17;2(7):1124-1131. PM: 35368349.
Xu H, Granger BB, Drake CD, Peterson ED, Dupre ME. Effectiveness of Telemedicine Visits in Reducing 30-Day Readmissions Among Patients With Heart Failure During the COVID-19 Pandemic. J Am Heart Assoc 2022 Apr 5;11(7):e023935. PM: 35229656.