Highlights of the week:
Tong Named Recipient of Inaugural STS/WTS Award
Congratulations to Betty Tong, MD! Tong has been named one of three inaugural recipients of the Extraordinary Women in Cardiothoracic Surgery Award. The news was announced yesterday, Jan. 21, 2023 during the 59th annual meeting of the Society of Thoracic Surgeons (STS) being held Jan. 21-23 at the Hilton Bayfront in San Diego.
The award, which is co-sponsored by the STS and Women in Thoracic Surgery, was established to recognize outstanding women surgeons specializing in the cardiothoracic space. The award celebrates those who have achieved excellence and innovation in clinical practice and who demonstrate integrity, leadership, mentorship, creativity, and advocacy on behalf of the specialty, patient population or fellow surgeons and trainees.
"Please join me in congratulating our own Dr. Betty Tong for winning this inaugural award," said Dr. Edward P. Chen, chief of the division of cardiovascular and thoracic surgery at Duke. "This is a tremendous honor led by the WTS and STS in recognizing the outstanding achievements of women thoracic surgeons. We are truly blessed and privileged to have Dr. Tong on our faculty at Duke."
Tong is an associate professor of surgery in the division of cardiovascular and thoracic surgery at Duke, and a member of the Duke Cancer Institute. Fellow inaugural recipients of the award include Leah Backhus, MD, thoracic surgeon at Stanford Medicine, and Jennifer Ellis, MD, thoracic surgeon at NYU Langone Health.
Shown in images are members of the Duke CT Surgery team at STS, Tong speaking at the STS award presentation, and the three recipients of the inaugural award – (L-R) Drs. Backhus, Ellis, and Tong.
Well-deserved, Betty! You truly are a rock-star mentor, surgeon, and colleague. Congratulations!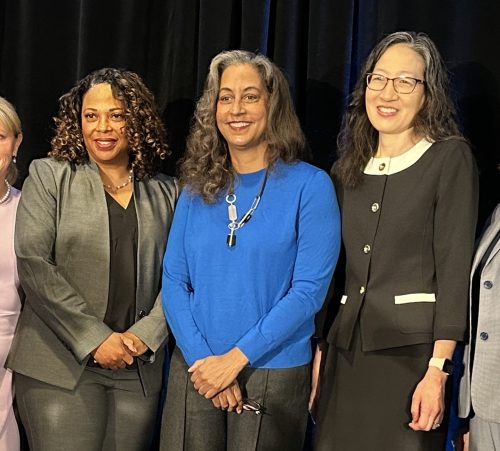 Smith to Present STS Lillehei Lecture
Former cardiovascular and thoracic division chief Peter K. Smith, MD, will present the C. Walton Lillehei Plenary Lecture tomorrow, 9 a.m. PST, at STS 2023 in San Diego. Congratulations, Peter!
Palma to Receive ASE Teaching Award
We learned this week that Richard Palma, Program Director and Clinical Coordinator of the Cardiac Ultrasound Certificate Program at Duke, will join Madhav Swaminathan among the distinguished awardees at the American Society of
Echocardiography 2023 Scientific Sessions. Palma has been named the recipient of ASE's 2023 Cardiovascular Sonographer Distinguished Teacher Award.
The award will be formally announced during ASE's annual awards presentations at the 34th Annual Scientific Sessions on Saturday, June 24, 2023, at Gaylord National Resort, National Harbor, in Prince George's County, MD.
Palma is an Advanced Cardiac Sonographer and teaches echocardiography to students, staff, and Duke Cardiology fellows. He is internationally known as an educator of echocardiography and ultrasound physics (ESP Ultrasound).
This is the second national teaching award for Palma. In 2011 he was named recipient of the Society of Diagnostic Medical Sonography's Distinguished Educator award.
Congratulations, Richie – this is well-deserved!
Deadlines Approaching for SOM Faculty Award Noms
Nominations and Applications for the 2023 School of Medicine Faculty Awards are now open.
The Faculty Awards are a wonderful opportunity to highlight the outstanding work conducted at Duke. The Office for Faculty is now accepting nominations and applications for the following 2023 faculty awards:
Leonard Palumbo Jr., MD Faculty Achievement Award – Nomination Deadline: January 31, 2023
Leonard B. Tow Humanism in Medicine Award – Nomination Deadline: January 27, 2023
Excellence in Professionalism Award – Nomination Deadline: February 10, 2023
Research Mentoring Awards – Nomination Deadline: February 20, 2023
Ruth and A. Morris Williams Faculty Research Prize – Application Deadline: February 28, 2023
To learn more, visit https://duke.is/4hqkb. Questions? Please contact Jennifer Meyer Dare, jennifer.meyer-dare@duke.edu. Nominations and applications should be submitted via email to facdev@dm.duke.edu.
Adult Heart Stepdown Hiring Event – Feb. 1
Know someone who would make a great team member in Duke Heart? We have an opportunity for them to learn more about us! Our adult heart stepdown units, in partnership with Duke Health HR, will hold a hiring event on Wed., Feb. 1. Registration is required.
Interested parties can register to join our drop-in Duke Health event 8 a.m. to 2 p.m. Wednesday, February 1, to learn more about a career filled with purpose and opportunity on the Heart Adult Stepdown Units at Duke University Hospital.
At the event, they will have the opportunity to tour Duke University Hospital; learn about the many benefits of working in our health system; and meet recruiters and hiring managers for a potential same day offer.
Please share! Registration is via Qualtrics.
Upcoming Events & Opportunities
Cardiology Grand Rounds
Jan. 24: CGR is cancelled for this week.
Medicine Grand Rounds
Jan. 27: CHIP Focus Group Presentation with cardiovascular fellow Jessica Regan and hematology-oncology fellow Bennett Caughey. 8 a.m. via Zoom or in person, Duke North 2002.
Feb.17: Topic TBD with Hyung (Harry) Jin Cho of NYU Langone Health, a 2023 Joseph C. Greenfield Visiting Professor. 8 a.m. via Zoom or in person, Duke North 2002.
DOM Clinical Research Resource Fair  
Wednesday, January 25, 6th Floor, Trent Semans Building
The DOM Clinical Research Units (CRUs), which include Heart Center, Medicine and Oncology clinical research, invite faculty, fellows, residents and trainees to a clinical research resources fair to help connect you directly to resources available at Duke.
While information will be available on tables all day, representatives from each group will be available to informally meet with you in two open sessions: 8:30-10 am and 1-2:30 pm. CRU personnel hope you will consider joining for one of these sessions so you can meet those who support your clinical research work.
A light breakfast, coffee and juice will be provided during the morning session and after-lunch snacks will be available for the afternoon session. Additionally, all attendees will be entered into a drawing for a Starbucks gift card.
February is Heart Month
Feb. 3: National Wear Red Day. We encourage everyone to wear red on Friday, Feb. 3 to show our support for heart health overall, but especially to support women and cardiovascular disease awareness. Get your red gear ready!
Have news to share?
If you have news to share with the Pulse readership, please contact Tracey Koepke, director of communications for Duke Heart at tracey.koepke@duke.edu. We would love to hear about your latest accomplishments, professional news, cool happenings, and any events or opportunities that may be of interest to our Duke Heart family. Please call with any questions: 919-681-2868. Feedback on Pulse is welcome and encouraged. Submissions by Noon, Wednesdays, to be considered for weekend inclusion.
Duke Heart in the News:
January 17 — Nishant Shah
Healio/Cardiology
Bromocriptine appears to drop BP, improve arterial stiffness in teens with type 1 diabetes
https://duke.is/rbqxq
January 17 — Robert Mentz
NIH/News Release
Comparison of diuretics shows no difference in heart failure survival
https://duke.is/5gzkr
January 17 — Nima Moghaddam
Healio/Cardiology
Most patients admitted for acute HF qualify for guideline-directed quadruple therapy
https://duke.is/ndmcx
January 17 — Magnus Ohman
Medscape/The Bob Harrington Show
The Career Pivot: Leaving Clinical Medicine for a While — or for Good
https://duke.is/be7r6
January 18 — Richard Shannon
Becker's Hospital Review
The top items on 5 chief medical officers' to-do lists
https://duke.is/zmcge
January 18 — Robert Mentz
Medical Dialogues
Furosemide and Torsemide Equally Effective in Improving Survival Among Patients with Heart Failure: JAMA
https://duke.is/6r7eb
January 18 — Robert Mentz
Patient Care Online
Comparison of Loop Diuretics Shows No Difference in Heart Failure Survival
https://duke.is/pbct7
January 18 — Robert Mentz
Medscape
Clarity on Torsemide vs Furosemide in HF: TRANSFORM-HF Published
https://duke.is/4tyvw
January 19 — Susanna Naggie and Adrian Hernandez
The Atlantic
Trying to Stop Long COVID Before It Even Starts
https://duke.is/9uq8a
January 19 — Robert Mentz
U.S. News & World Report/HealthDay News*
Is There a Best Diuretic Drug for Heart Failure?
https://duke.is/25mmy
*also carried by additional 146 news outlets including in Atlanta, Chicago & San Francisco markets
January 19 — Richard Shannon
Becker's Hospital Review
Band-Aid solutions won't bring nurses back to the bedside, Duke Health's Dr. Richard Shannon says
Division of Cardiology Publications: December 14, 2022–January 10, 2023
Akinmolayemi O, Ozdemir D, Pibarot P, Zhao Y, Leipsic J, Douglas PS, Jaber WA, Weissman NJ, Blanke P, Hahn RT. Clinical and Echocardiographic Characteristics of Flow- Based Classification Following Balloon-Expandable Transcatheter Heart Valve in PARTNER Trials. JACC Cardiovasc Imaging 2023;16(1):1-9. PM: 36599555.
Alenezi F, Alajmi H, Agarwal R, Zwischenberger BA. Role of cardiac magnetic resonance (CMR) in planning ventricular septal myomectomy in patients with hypertrophic obstructive cardiomyopathy (HOCM). J Card Surg 2022;37(12):4186-4189. PM: 36434805.
Almas A, Awan S, Bloomfield G, Nisar MI, Siddiqi S, Ahmed A, Ali A, Shafqat SH, Bhutta ZA, Mark DB, Douglas P, Bartlett J, Jafar TH, Samad Z. Opportunities and challenges to non-communicable disease (NCD) research and training in Pakistan: a qualitative study from Pakistan. BMJ Open 2022;12(12):e066460. PM: 36535721.
Bagai A, Ali FM, Gregson J, Alexander KP, Cohen MG, Sundell KA, Simon T, Westermann D, Yasuda S, Brieger D, Goodman SG, Nicolau JC, Granger CB, Pocock S. Multimorbidity, functional impairment, and mortality in older patients stable after prior acute myocardial infarction: Insights from the TIGRIS registry. Clin Cardiol 2022;45(12):1277-1286. PM: 36317424.
Bashir M, Jubouri M, Chen EP, Mariscalco G, Narayan P, Bailey DM, Awad WI, Williams IM, Velayudhan B, Mohammed I. Cardiothoracic surgery leadership and learning are indispensable to each other. J Card Surg 2022;37(12):4204-4206. PM: 36345687.
Bonaca MP, Szarek M, Debus ES, Nehler MR, Patel MR, Anand SS, Muehlhofer E, Berkowitz SD, Haskell LP, Bauersachs RM. Efficacy and safety of rivaroxaban versus placebo after lower extremity bypass surgery: A post hoc analysis of a "CASPAR like" outcome from VOYAGER PAD. Clin Cardiol 2022;45(12):1143-1146. PM: 36251249.
Carlisle MA, Shrader P, Fudim M, Pieper KS, Blanco RG, Fonarow GC, Naccarelli GV, Gersh BJ, Reiffel JA, Kowey PR, Steinberg BA, Freeman JV, Ezekowitz MD, Singer DE, Allen LA, Chan PS, Pokorney SD, Peterson ED, Piccini JP. Residual stroke risk despite oral anticoagulation in patients with atrial fibrillation. Heart Rhythm O2 2022;3(6Part A):621-628. PM: 36589908.
Chaudhry SP, DeVore AD, Vidula H, Nassif M, Mudy K, Birati EY, Gong T, Atluri P, Pham D, Sun B, Bansal A, Najjar SS. Left Ventricular Assist Devices: A Primer For the General Cardiologist. J Am Heart Assoc 2022;11(24):e027251. PM: 36515226.
Choi J, Lee S, Motter JN, Kim H, Andrews H, Doraiswamy PM, Devanand DP, Goldberg TE. Models of depressive pseudoamnestic disorder. Alzheimers Dement (N Y) 2022;8(1):e12335. PM: 36523848.
Chugunov IA, Mareev YV, Fudim M, Mironova NA, Mareev VY, Davtyan RV. [Cardiac contractility modulation in heart failure with reduced ejection fraction treatment]. Kardiologiia 2022;62(11):71-78. PM: 36521047.
Coniglio AC, Kittipibul V, Pelligra R, Richardson ES, Holley CL, Fudim M. One Small Step for a Patient, One Giant Leap for Orthostatic Hypotension. Cureus 2022;14(11):e31612. PM: 36540476.
Cox CE, Gu J, Ashana DC, Pratt EH, Haines K, Ma J, Olsen MK, Parish A, Casarett D, Al-Hegelan MS, Naglee C, Katz JN, O'Keefe YA, Harrison RW, Riley IL, Bermejo S, Dempsey K, Johnson KS, Docherty SL. Trajectories of Palliative Care Needs in the ICU and Long-Term Psychological Distress Symptoms. Crit Care Med 2023;51(1):13-24. PM: 36326263.
Cremer PC, Geske JB, Owens A, Jaber WA, Harb SC, Saberi S, Wang A, Sherrid M, Naidu SS, Schaff H, Smedira NG, Wang Q, Wolski K, Lampl KL, Sehnert AJ, Nissen SE, Desai MY. Myosin Inhibition and Left Ventricular Diastolic Function in Patients With Obstructive Hypertrophic Cardiomyopathy Referred for Septal Reduction Therapy: Insights From the VALOR-HCM Study. Circ Cardiovasc Imaging 2022;15(12):e014986. PM: 36335645.
de la Espriella R, Cobo M, Santas E, Verbrugge FH, Fudim M, Girerd N, Miñana G, Górriz JL, Bayés- Genís A, Núñez J. Assessment of filling pressures and fluid overload in heart failure: an updated perspective. Rev Esp Cardiol (Engl Ed) 2023 Jan;76(1):47- 57. PM: 35934293.
Eiger DS, Inoue LYT, Li Q, Bardy G, Lee K, Poole J, Mark D, Samad Z, Friedman D, Fishbein D, Sanders G, Al-Khatib SM. Factors and outcomes associated with improved left ventricular systolic function in patients with cardiomyopathy. Cardiol J 2022;29(6):978-984. PM: 33438181.
Essien UR, Chiswell K, Kaltenbach LA, Wang TY, Fonarow GC, Thomas KL, Turakhia MP, Benjamin EJ, Rodriguez F, Fang MC, Magnani JW, Yancy CW, Piccini JP. Association of Race and Ethnicity With Oral Anticoagulation and Associated Outcomes in Patients With Atrial Fibrillation: Findings From the Get With The Guidelines-Atrial Fibrillation Registry. JAMA Cardiol 2022;7(12):1207-1217. PM: 36287545.
Garcia A, Lee J, Balasubramanian V, Gardner R, Gummidipundi SE, Hung G, Ferris T, Cheung L, Desai S, Granger CB, Hills MT, Kowey P, Nag D, Rumsfeld JS, Russo AM, Stein JW, Talati N, Tsay D, Mahaffey KW, Perez MV, Turakhia MP, Hedlin H, Desai M. The development of a mobile app-focused deduplication strategy for the Apple Heart Study that informs recommendations for future digital trials. Stat (Int Stat Inst) 2022;11(1):e470. PM: 36589778.
Haddad F, Cauwenberghs N, Daubert MA, Kobayashi Y, Bloomfield GS, Fleischman D, Koweek L, Maron DJ, Rodriguez F, Liao YJ, Moneghetti K, Amsallem M, Mega J, Hernandez A, Califf R, Mahaffey KW, Shah SH, Kuznetsova T, Douglas PS. Association of left ventricular diastolic function with coronary artery calcium score: A Project Baseline Health Study. J Cardiovasc Comput Tomogr 2022;16(6):498-508. PM: 35872137.
Haji M, Lopes VV, Ge A, Halladay C, Soares C, Shah NR, Longenecker CT, Lally M, Bloomfield GS, Shireman TI, Ross D, Sullivan JL, Rudolph JL, Wu WC, Erqou S. Two decade trends in cardiovascular disease outcomes and cardiovascular risk factors among US veterans living with HIV. Int J Cardiol Cardiovasc Risk Prev 2022;15:200151. PM: 36573195.
Harrington J, Granger CB. Bleeding and risk for future cardiovascular events in patients with atrial fibrillation on oral anticoagulation: major bleeding is a major problem. Eur Heart J 2022;43(47):4909-4911. PM: 36380455.
Hassan-Tash P, Ismail U, Kirkpatrick IDC, Ravandi A, Jassal DS, Hiebert B, Kass M, Krasuski RA, Shah AH. Correlation of Impedance Cardiography-Derived and Cardiac Magnetic Resonance-Derived Stroke Volumes. Curr Probl Cardiol 2023;48(2):101457. PM: 36273652.
Hochman JS, Anthopolos R, Reynolds HR, Bangalore S, Xu Y, O'Brien SM, Mavromichalis S, Chang M, Contreras A, Rosenberg Y, Kirby R, Bhargava B, Senior R, Banfield A, Goodman SG, Lopes RD, Pracoń R, López-Sendón J, Maggioni AP, Newman JD, Berger JS, Sidhu MS, White HD, Troxel AB. Survival After Invasive or Conservative Management of Stable Coronary Disease. Circulation 2023;147(1):8-19. PM: 36335918.
Jackson LR, Holmqvist F, Parish A, Green CL, Piccini JP, Bahnson TD. Safety of continuous left atrial phased-array intracardiac echocardiography during left atrial ablation for atrial fibrillation. Heart Rhythm O2 2022;3(6Part A):673-680. PM: 36589913.
Karatela MF, Fudim M, Mathew JP, Piccini JP. Neuromodulation therapy for atrial fibrillation. Heart Rhythm 2023;20(1):100-111. PM: 35988908.
Kiernan K, Dodge SE, Kwaku KF, Jackson LR, Zeitler EP. Racial and ethnic differences in implantable cardioverter-defibrillator patient selection, management, and outcomes. Heart Rhythm O2 2022;3(6Part B):807-816. PM: 36589011.
Kotecha D, DeVore AD, Asselbergs FW. Fit for the future: empowering clinical trials with digital technology. Eur Heart J 2023;44(1):64-67. PM: 36369983.
Krychtiuk KA, Granger CB. In older men, an invitation for comprehensive CV screening did not reduce death at 5.6 y. Ann Intern Med 2022;175(12):JC140. PM: 36469924.
Krychtiuk KA, Rader DJ, Granger CB. RNA-targeted therapeutics in cardiovascular disease: the time is now. Eur Heart J Cardiovasc Pharmacother 2022;9(1):94-99. PM: 36138490.
Laffin LJ, Bruemmer D, Garcia M, Brennan DM, McErlean E, Jacoby DS, Michos ED, Ridker PM, Wang TY, Watson KE, Hutchinson HG, Nissen SE. Comparative Effects of Low-Dose Rosuvastatin, Placebo, and Dietary Supplements on Lipids and Inflammatory Biomarkers. J Am Coll Cardiol 2023;81(1):1-12. PM: 36351465.
Maron MS, Masri A, Choudhury L, Olivotto I, Saberi S, Wang A, Garcia-Pavia P, Lakdawala NK, Nagueh SF, Rader F, Tower-Rader A, Turer AT, Coats C, Fifer MA, Owens A, Solomon SD, Watkins H, Barriales-Villa R, Kramer CM, Wong TC, Paige SL, Heitner SB, Kupfer S, Malik FI, Meng L, et al. Phase 2 Study of Aficamten in Patients With Obstructive Hypertrophic Cardiomyopathy. J Am Coll Cardiol 2023;81(1):34-45. PM: 36599608.
Marquis-Gravel G, Boivin-Proulx LA, Huang Z, Zelenkofske SL, Lincoff AM, Mehran R, Steg PG, Bode C, Alexander JH, Povsic TJ. Femoral Vascular Closure Devices and Bleeding, Hemostasis, and Ambulation Following Percutaneous Coronary Intervention. J Am Heart Assoc 2023;12(1):e025666. PM: 36583436.
Marx N, Cheng AYY, Agarwal R, Greene SJ, Abuhantash H. Heart failure with reduced ejection fraction and the intersection of cardio-renal-metabolic medicine #CaReMe. Eur Heart J Suppl 2022;24(Suppl L):L29-L37. PM: 36545231.
Mc Causland FR, Singh AK, Claggett BL, Carroll K, Wittes J, McMurray JJV, Perkovic V, Snapinn S, Lopes RD, Solomon SD. Daprodustat and On-Treatment Cardiovascular Events in Chronic Kidney Disease. Reply. N Engl J Med 2022;387(26):2482- 2485. PM: 36577112.
Metra M, Pagnesi M, Claggett BL, Díaz R, Felker GM, McMurray JJV, Solomon SD, Bonderman D, Fang JC, Fonseca C, Goncalvesova E, Howlett JG, Li J, O'Meara E, Miao ZM, Abbasi SA, Heitner SB, Kupfer S, Malik FI, Teerlink JR. Effects of omecamtiv mecarbil in heart failure with reduced ejection fraction according to blood pressure: the GALACTIC-HF trial. Eur Heart J 2022;43(48):5006-5016. PM: 35675469.
Minhas AMK, Abramov D, Chung JS, Patel J, Mamas MA, Zieroth S, Agarwal R, Fudim M, Rabkin DG. Current status of perioperative temporary mechanical circulatory support during cardiac surgery. J Card Surg 2022;37(12):4304-4315. PM: 36229948.
Minhas AMK, Jain V, Li M, Ariss RW, Fudim M, Michos ED, Virani SS, Sperling L, Mehta A. Family income and cardiovascular disease risk in American adults. Sci Rep 2023;13(1):279. PM: 36609674.
Mohebi R, Liu Y, Felker GM, Prescott MF, Piña IL, Butler J, Ward JH, Solomon SD, Januzzi JL. Prediction of Left Ventricular Ejection Fraction Change Following Treatment With Sacubitril/Valsartan. JACC Heart Fail 2023;11(1):44-54. PM: 36599549.
Mohebi R, Liu Y, Felker GM, Prescott MF, Ward JH, Piña IL, Butler J, Solomon SD, Januzzi JL. Heart Failure Duration and Mechanistic Efficacy of Sacubitril/Valsartan in Heart Failure With Reduced Ejection Fraction. J Card Fail 2022;28(12):1673-1682. PM: 36122820.
O'Brien EC, Mulder H, Jones WS, Hammill BG, Sharlow A, Hernandez AF, Curtis LH. Concordance Between Patient-Reported Health Data and Electronic Health Data in the ADAPTABLE Trial. JAMA Cardiol 2022;7(12):1235-1243. PM: 36322059.
Paluch AE, Bajpai S, Ballin M, Bassett DR, Buford TW, Carnethon MR, Chernofsky A, Dooley EE, Ekelund U, Evenson KR, Galuska DA, Jefferis BJ, Kong L, Kraus WE, Larson MG, Lee IM, Matthews CE, Newton RL, Nordström A, Nordström P, Palta P, Patel AV, Pettee Gabriel K, Pieper CF, et al. Prospective Association of Daily Steps With Cardiovascular Disease: A Harmonized Meta-Analysis. Circulation 2023;147(2):122-131. PM: 36537288.
Park S, Ma Z, Zarkada G, Papangeli I, Paluri S, Nazo N, Rivera-Molina F, Toomre D, Rajagopal S, Chun HJ. Endothelial β-arrestins regulate mechanotransduction by the type II bone morphogenetic protein receptor in primary cilia. Pulm Circ 2022;12(4):e12167. PM: 36532314.
Patel SM, Qamar A, Giugliano RP, Jarolim P, Marston NA, Park JG, Blazing MA, Cannon CP, Braunwald E, Morrow DA. Association of Serial High-Sensitivity Cardiac Troponin T With Subsequent Cardiovascular Events in Patients Stabilized After Acute Coronary Syndrome: A Secondary Analysis From IMPROVE-IT. JAMA Cardiol 2022;7(12):1199-1206. PM: 36260325.
Peters AE, Mentz RJ, Sun JL, Harrington JL, Fudim M, Alhanti B, Hernandez AF, Butler J, Starling RC, Greene SJ. Patient-reported and Clinical Outcomes Among Patients Hospitalized for Heart Failure With Reduced Versus Preserved Ejection Fraction. J Card Fail 2022;28(12):1652-1660. PM: 35688408.
Piccini JP, Russo AM, Sharma PS, Kron J, Tzou W, Sauer W, Park DS, Birgersdotter-Green U, Frankel DS, Healey JS, Hummel J, Koruth J, Linz D, Mittal S, Nair DG, Nattel S, Noseworthy PA, Steinberg BA, Trayanova NA, Wan EY, Wissner E, Zeitler EP, Wang PJ. Advances in Cardiac Electrophysiology. Circ Arrhythm Electrophysiol 2022;15(12):e009911. PM: 36441565.
Popovic B, Ducrocq G, Elbez Y, Bode C, Mehta SR, Pollack CV, Sabate M, Rao SV, Parkhomenko A, Feldman LJ, Sayah N, Sabatine MS, Steg PG. Clinical Significance of Culprit Vessel Occlusion in Patients With Non-ST-Elevation Myocardial Infarction Who Underwent Percutaneous Coronary Intervention. Am J Cardiol 2023;188:95-101. PM: 36493607.
Ramaker ME, Corcoran DL, Apsley AT, Kobor MS, Kraus VB, Kraus WE, Lin DTS, Orenduff MC, Pieper CF, Waziry R, Huffman KM, Belsky DW. Epigenome-wide Association Study Analysis of Calorie Restriction in Humans, CALERIETM Trial Analysis. J Gerontol A Biol Sci Med Sci 2022;77(12):2395-2401. PM: 35965483.
Reynolds HR, Diaz A, Cyr DD, Shaw LJ, Mancini GBJ, Leipsic J, Budoff MJ, Min JK, Hague CJ, Berman DS, Chaitman BR, Picard MH, Hayes SW, Scherrer-Crosbie M, Kwong RY, Lopes RD, Senior R, Dwivedi SK, Miller TD, Chow BJW, de Silva R, Stone GW, Boden WE, Bangalore S, O'Brien SM, et al. Ischemia With Nonobstructive Coronary Arteries: Insights From the ISCHEMIA Trial. JACC Cardiovasc Imaging 2023;16(1):63- 74. PM: 36115814.
Sandhu A, Varosy PD, Du C, Aleong RG, Tumolo AZ, West JJ, Tzou WS, Curtis JP, Freeman JV, Friedman DJ, Hess PL. Device-Sizing and Associated Complications With Left Atrial Appendage Occlusion: Findings From the NCDR LAAO Registry. Circ Cardiovasc Interv 2022;15(12):e012183. PM: 36472194.
Schwamm LH, Kamel H, Granger CB, Piccini JP, Katz JM, Sethi PP, Sidorov EV, Kasner SE, Silverman SB, Merriam TT, Franco N, Ziegler PD, Bernstein RA. Predictors of Atrial Fibrillation in Patients With Stroke Attributed to Large- or Small-Vessel Disease: A Prespecified Secondary Analysis of the STROKE AF Randomized Clinical Trial. JAMA Neurol 2023;80(1):99-103. PM: 36374508.
Sinha SS, Bohula EA, Diepen SV, Leonardi S, Mebazaa A, Proudfoot AG, Sionis A, Chia YW, Zampieri FG, Lopes RD, Katz JN. The Intersection Between Heart Failure and Critical Care Cardiology: An International Perspective on Structure, Staffing, and Design Considerations. J Card Fail 2022 ;28(12):1703-1716. PM: 35843489.
Tamirisa KP, Al-Khatib SM. Sex Differences in Sustained Ventricular Arrhythmias: A Continuing Dialogue. JACC Clin Electrophysiol 2022;8(12):1563-1565. PM: 36543506.
Vaduganathan M, Claggett BL, Jhund P, de Boer RA, Hernandez AF, Inzucchi SE, Kosiborod MN, Lam CSP, Martinez F, Shah SJ, Desai AS, Hegde SM, Lindholm D, Petersson M, Langkilde AM, McMurray JJV, Solomon SD. Time to Clinical Benefit of Dapagliflozin in Patients With Heart Failure With Mildly Reduced or Preserved Ejection Fraction: A Prespecified Secondary Analysis of the DELIVER Randomized Clinical Trial. JAMA Cardiol 2022;7(12):1259-1263. PM: 36190011.
Vardeny O, Fang JC, Desai AS, Jhund PS, Claggett B, Vaduganathan M, de Boer RA, Hernandez AF, Lam CSP, Inzucchi SE, Martinez FA, Kosiborod  MN, DeMets D, O'Meara E, Zieroth S, Comin-Colet J, Drozdz J, Chiang CE, Kitakaze M, Petersson M, Lindholm D, Langkilde AM, McMurray JJV, et al. Dapagliflozin in heart failure with improved ejection fraction: a prespecified analysis of the DELIVER trial. Nat Med 2022;28(12):2504-2511. PM: 36522606.
Whellan D, McCarey MM, Chen H, Nelson MB, Pastva AM, Duncan P, Mentz RJ, Kitzman DW, Reeves G, Reed SD. Quality of Life Trajectory and Its Mediators in Older Patients With Acute Decompensated Heart Failure Receiving a Multi-Domain Rehabilitation Intervention: Results From the Rehabilitation Therapy in Older Acute Heart Failure Patients Trial. Circ Heart Fail 2022;15(12):e009695. PM: 36345825.
Wilcox JE, Al-Khatib SM. Personalizing Risk Assessment for Sudden Cardiac Death in Heart Failure: A Dream or a Reality? JACC Heart Fail 2023;11(1):55-57. PM: 36599550.
Williams AM, Shah NP, Rosengart T, Povsic TJ, Williams AR. Emerging role of positron emission tomography (PET) imaging in cardiac surgery. J Card Surg 2022;37(12):4158-4164. PM: 36345705.
Yang M, Butt JH, Kondo T, Jering KS, Docherty KF, Jhund PS, de Boer RA, Claggett BL, Desai AS, Hernandez AF, Inzucchi SE, Kosiborod MN, Lam CSP, Langkilde AM, Martinez FA, Petersson M, Shah SJ, Vaduganathan M, Wilderäng U, Solomon SD, McMurray JJV. Dapagliflozin in patients with heart failure with mildly reduced and preserved ejection fraction treated with a mineralocorticoid receptor antagonist or sacubitril/valsartan. Eur J Heart Fail 2022;24(12):2307-2319. PM: 36342375.
Ye F, Nelson MB, Bertoni AG, Ditzenberger GL, Duncan P, Mentz RJ, Reeves G, Whellan D, Chen H, Upadhya B, Kitzman DW, Pastva AM. Severity of functional impairments by race and sex in older patients hospitalized with acute decompensated heart failure. J Am Geriatr Soc 2022;70(12):3447-3457. PM: 36527410.
York M, Douglas PS, Damp JB, Fraiche AM, Gillam LD, Hayes SN, Rzeszut AK, Sulistio MS, Wood MJ. Professional Preferences and Perceptions of Cardiology Among Internal Medicine Residents: Temporal Trends Over the Past Decade. JAMA Cardiol 2022;7(12):1253-1258. PM: 36223091.