Highlights of the week:
Duke Designated as Platinum Level Center of Excellence for ECLS
We're proud to formally announce that Duke has been named a Platinum Level Center of Excellence for Extracorporeal Life Support (ECLS) by the Extracorporeal Life Support Organization (ELSO). Duke is one of only 50 centers around the world at the platinum level, ELSO's top designation.
The ELSO Award for Excellence in Life Support recognizes ECLS programs worldwide that distinguish themselves by having processes, procedures and systems in place that promote excellence and exceptional care in extracorporeal membrane oxygenation (ECMO). This designation represents our commitment to exceptional patient care, and demonstrates to others our assurance of high quality standards, the use and upkeep of specialized equipment and supplies, defined patient protocols, and advanced education of all team members.
We have an exceptional ECMO team at Duke — they are leaders nationally and internationally, elevating the care available to our Duke Heart patients and their family members.
Shown here are many of the teams that comprise our ECMO program. The official award was presented to our team by Dr. Robert H. Bartlett, who is credited with developing ECMO and is known informally as "the grandfather of ECMO". (He is an emeritus professor of surgery at the University of Michigan Medical School, but please note the Duke hat he is sporting!)
Congratulations to our entire ECMO team, including Desiree Bonadonna, director of Duke's ECLS program; Drs. Jacob Klapper, Jacob Schroder, and Craig Rackley, medical directors for Adult ECMO; Dr. Caroline Ozment, medical director for Pediatric ECMO; our CTOR team, our cardiac anesthesia and critical care teams, Duke Life Flight, our Respiratory Therapy ECMO specialists team, our perfusion team members, and all who support them — way to go!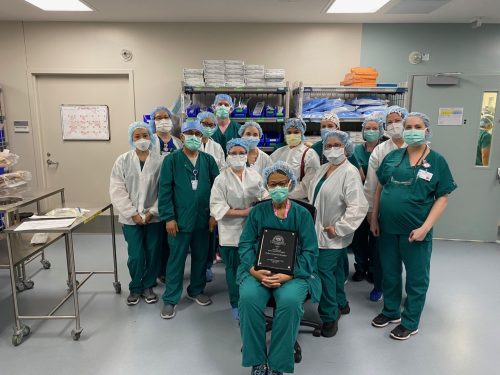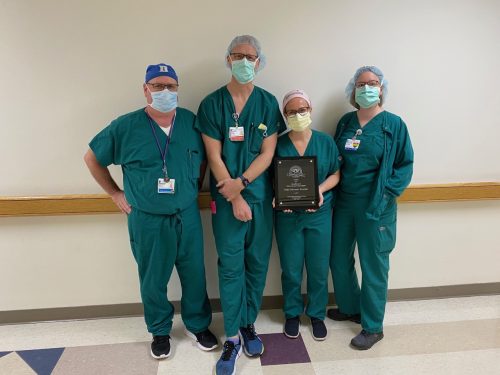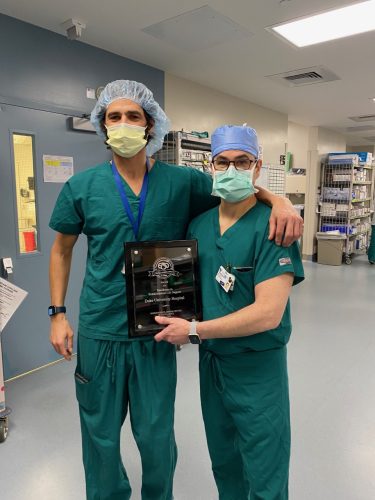 Swaminathan to Receive ASE award
We learned this week that Dr. Madhav Swaminathan, professor of anesthesiology at Duke, has been named the recipient of American Society of Echocardiography's (ASE) 2023 Outstanding Achievement in Perioperative Echocardiography Award.
The award will be formally announced during ASE's annual awards presentations and Edler Lecture session at the 34th Annual Scientific Sessions on Saturday, June 24, 2023, at Gaylord National Resort, National Harbor, in Prince George's County, MD. The award itself will be presented on June 25 during the Annual Research Awards Gala.
Past recipients of this award from Duke Health include Drs. Joe Kisslo, Solomon Aronson and Jonathan Mark.
Congratulations, Madhav – this is well-deserved!
Keenan, Selvaraj Win Duke HCLC Innovation and Collaboration Awards
Congratulations to cardiothoracic surgeon Jeffrey Keenan, MD, and cardiologist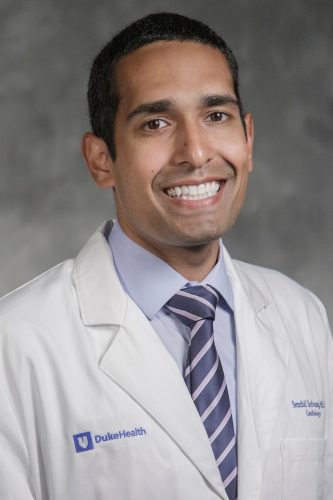 Senthil Selvaraj, MD. The two have won Duke Heart Center Leadership Council Innovation and Collaboration Awards.
The HCLC awards are available to Early Career Faculty in cardiology and cardiothoracic surgery (defined as within 10 years of completing training). Each award provides one year of salary support and/or research program support in the amount of $40,000. Selected applicants gave presentations to the HCLC during their November, 2022 meeting.
Awardees were selected by the HCLC and notified via letter by Duke Heart Center co-directors, Drs. Manesh Patel and Edward P. Chen.
Keenan's winning project is "A Translational Approach Towards Addressing Challenges in Heart Transplantation." His mentors include Drs. Dawn Bowles and Carmelo Milano.
Selvaraj's winning project is "Myocardial Fuel Consumption in Heart Failure with Preserved Ejection Fraction." Co-investigators for his project include Drs. Marat Fudim and Svati Shah.
Congratulations, Jeff and Senthil!
Shah, Safdar Win DOM 'Duke It Out!' Teaching Competition
Nishant Shah and internal medicine resident Komal Safdar won the 3rd annual 'Duke It Out!'  resident teaching competition held by the Department of Medicine on Thursday, Jan. 12. The duo won with a chalk talk presentation on basic fundamentals of ECMO.
The competition features three senior assistant residents (the "contestants") who give an 8-10 minute chalk talk to guide audience knowledge acquisition on a narrow, focused topic of the contestant's choice. Each contestant is paired with a Teaching Coach. Together, they develop a chalk talk for the competition.
Shah and two other faculty members were nominated by current members of the internal medicine residency program to serve as coaches. The coaches are selected for being extraordinary teachers — "Med-Ed Rockstars" — with great chalk talk skills.
The coach-resident team competes with the other coach-resident teams on who can give the best chalk talk. The coach's role is to help provide guidance and mentorship to the resident on creating the best possible chalk talk.
Judges for the competition were Dr. Kathleen Cooney, Dr. Lisa Criscione-Schreiber, Dr. Ann Cameron Barr (Duke it Out! creator, and a SEEDS and rheumatology fellow), Dr. Micah Schub (SEEDS and nephrology fellow), and David Stevens (DUSOM class of 2024, executive board of the Careers in Internal Medicine Interest Group).
Congratulations, Nishant and Komal!
Nominations Open for SOM Faculty Awards
Nominations and Applications for the 2023 School of Medicine Faculty Awards are now open.
The Faculty Awards are a wonderful opportunity to highlight the outstanding work conducted at Duke. The Office for Faculty is now accepting nominations and applications for the following 2023 faculty awards:
Leonard Palumbo Jr., MD Faculty Achievement Award – Nomination Deadline: January 31, 2023
Leonard B. Tow Humanism in Medicine Award – Nomination Deadline: January 27, 2023
Excellence in Professionalism Award – Nomination Deadline: February 10, 2023
Research Mentoring Awards – Nomination Deadline: February 20, 2023
Ruth and A. Morris Williams Faculty Research Prize – Application Deadline: February 28, 2023
To learn more, visit https://duke.is/4hqkb. Questions? Please contact Jennifer Meyer Dare, jennifer.meyer-dare@duke.edu. Nominations and applications should be submitted via email to facdev@dm.duke.edu.
Adult Heart Stepdown Hiring Event – Feb. 1
Know someone who would make a great team member in Duke Heart? We have an opportunity for them to learn more about us! Our adult heart stepdown units, in partnership with Duke Health HR, will hold a hiring event on Wed., Feb. 1. Registration is required.
Interested parties can register to join our drop-in Duke Health event 8 a.m. to 2 p.m. Wednesday, February 1, to learn more about a career filled with purpose and opportunity on the Heart Adult Stepdown Units at Duke University Hospital.
At the event, they will have the opportunity to tour Duke University Hospital; learn about the many benefits of working in our health system; and meet recruiters and hiring managers for a potential same day offer.
Please share! Registration is via Qualtrics.
DOM Clinical Research Resource Fair
The DOM Clinical Research Units (CRUs), which include Heart Center, Medicine and Oncology clinical research, invite faculty, fellows, residents and trainees to a clinical research resources fair to help connect you directly to resources available at Duke.
The DOM Clinical Research Resource Fair will be held on the 6th floor of Trent Semans on Wednesday, January 25th. While information will be available on tables all day, representatives from each group will be available to informally meet with you in two open sessions: 8:30-10 am and 1-2:30 pm. CRU personnel hope you will consider joining for one of these sessions so you can meet those who support your clinical research work.
Some contributors to the event include central support staff from the CRUs such as Assistant Research Practice Managers (ARPMs), Research Practice Managers (RPMs), and finance leadership. Other SOM resources represented include staff from OASIS, contracts and DOMRA, CTSI resources, CRU statisticians, several DOCR directors including clinical operations, data, PACE, DEPRU and Research@Pickett.
While registration is not required, it will help event planners confirm expected numbers and allows them to send you a calendar invitation.
A light breakfast, coffee and juice will be provided during the morning session and after-lunch snacks will be available for the afternoon session. Additionally, all attendees will be entered into a drawing for a Starbucks gift card. (Sweet!)
Please complete the registration survey by January 19th so they are prepared for your visit!
Upcoming Events & Opportunities
Cardiology Grand Rounds
Jan. 17: 2023 CPT Evaluation and Management Changes with Laura Bushong, associate compliance officer, Duke PDC. 5 p.m., Zoom.
Medicine Grand Rounds
Jan. 27: CHIP Focus Group Presentation with cardiovascular fellow Jessica Regan and hematology-oncology fellow Bennett Caughey. 8 a.m. via Zoom or in person, Duke North 2002.
Feb.17: Topic TBD with Hyung (Harry) Jin Cho of NYU Langone Health, a 2023 Joseph C. Greenfield Visiting Professor. 8 a.m. via Zoom or in person, Duke North 2002.
February is Heart Month
Feb. 3: National Wear Red Day. We encourage everyone to wear red on Friday, Feb. 3 to show our support for heart health overall, but especially to support women and cardiovascular disease awareness. Get your red gear ready!
PERS 2023 Training Schedule Announced
Duke Health is committed to creating an environment where all team members feel physically and psychologically safe, as we prioritize high-quality safe, equitable patient care.
This course is recommended for all DUHS leaders in supervisor and above roles. Leaning includes actionable leadership skills, engagement strategies, and how to communicate clearly even when asked tough questions.
Registration is required. Please see flyer for more information.
Have news to share?
If you have news to share with the Pulse readership, please contact Tracey Koepke, director of communications for Duke Heart at tracey.koepke@duke.edu. We would love to hear about your latest accomplishments, professional news, cool happenings, and any events or opportunities that may be of interest to our Duke Heart family. Please call with any questions: 919-681-2868. Feedback on Pulse is welcome and encouraged. Submissions by Noon, Wednesdays, to be considered for weekend inclusion.
Duke Heart in the News:
January 7 — Manesh Patel
El Ciudadano (Argentina)
https://duke.is/ztp7w
January 10 — Daniel Friedman
Healio/Cardiology
Posterior wall isolation does not improve outcomes in ablation for persistent AF
https://duke.is/mw7ua
January 10 — Harry Severance
Medpage Today
Yet Another Issue Is Disrupting the Healthcare Workplace
https://duke.is/76cpa
January 11 — Shahzeb Khan
Healio/Cardiology
In HF, possible longer-term benefits emerge with remote management strategy
https://duke.is/g5pu7
January 12 — James Lane (psychiatry)
Prevention
17 Ways to Lower Your Blood Pressure Naturally, According to Experts
https://duke.is/bn7vg
January 12 — Duke Health
Cardiovascular Business
Cardiologists push for a more diverse, inclusive healthcare workforce
https://duke.is/c9te8