Chief's message:
Thanksgiving is a time where we get to spend time hopefully recharging and in the presence of friends and family contemplating the people and things we are grateful for in our lives.  It is also a time of traditions with the familiarity of food, family, and often sporting events.  This year I was again able to be a referee in the annual Thanksgiving day Turkey Bowl played between the medicine residents representing the VA Hospital and Duke Hospital  (VA Jets vs. Duke Marines).  This annual flag football game has been a tradition for nearly 50 years
(Harvey Cohen – pictured helping with the Coin Toss in the Turkey Hat is checking on the actual first game (1973 or 1974).  As every year, the goal is the have a good time, avoid all injuries, and identify a winner for bragging rights over the next year.  Additionally, the game allows families in town, dogs, kids, and others to come and see our tradition. Over the last 10-15 years the game has gotten much more serious (wrist bands with plays), set plays, positions, and variety of tactics to help conduct a good game.  In 2020 it was a softball game and is now back to flag football.   Despite the world cup, Duke Basketball, NFL and College games, this is one of the more entertaining and generally close events of the Thanksgiving weekend
activities.  This year it reminded me of the special place we have in Academic Medical Centers – in the ability to interact and train the next generation of leaders, residents, fellows, and junior faculty that quickly become the day to day fabric of Duke.  Many of the sideline cheering squads, referees, team coaches (Dr. G) and others have been part of or have influenced generations of residents playing in these games. The last few years of pandemic, consolidation and strains on our health systems have worked to put tremendous stress on our faculty, residents, fellows and staff.   These times of interreacting outside the hospital, getting to do things not directly related to our day to day activities serve as important moments for our teams to be together and appreciate each other.  Hopefully, we will continue to find venues for these types of activities with each other.  Oh, and as to the outcome of the game: 14-14 Tie on a last second Hail Mary touchdown from the VA to end the game as the clock ran out.
Importantly, we are also grateful during this time and the upcoming holidays for our staff and faculty/fellows/residents that help care for our patients in the hospital.  In this version of the pulse you will some photos below of our staff and others seen around town.
Highlights of the week:
Chet Patel Accepts New Role as Associate Vice Chair, Strategic Physician Relations
Congratulations to Chet Patel, MD! He will soon serve as associate vice chair for strategic physician relations for the Duke Department of Medicine. The announcement was made on Wednesday, Nov. 23 by Dr. Kathleen Cooney, chair, Department of Medicine. Her statement reads:
"Over the past five years, the Department of Medicine has been working coordinately with Duke University Health System and the PDC to extend our clinical practice into Wake County and other strategic areas. This work is very different from our usual clinical operations/quality management and requires strategic thinking as well as close collaboration with internal and external groups.  I am pleased to announce that Chet Patel, MD, our current Vice Chair of Clinical Affairs, has accepted a new leadership position within the Department of Medicine as Associate Vice Chair, Strategic Physician Relations.
Dr. Patel's new responsibilities will include supporting the implementation of the clinical strategic plan for the Department with a focus on internal and external partnerships. He will represent the Department of Medicine in agreements with external entities by coordinating efforts with the DUHS strategic planning office. He will also focus on facilitating communication to physicians about specialty services and procedures provided at DUHS while streamlining those efforts. In this role he will report to the Vice Chair for Clinical Affairs.
Dr. Patel will transition to this new role once a new Vice Chair for Clinical Affairs has been selected. A search to fill the Vice Chair role will begin on Monday, November 21 led by David D'Alessio, MD, chief, Endocrinology, Metabolism, and Nutrition. Candidates interested in the role of Vice Chair for Clinical Affairs are asked to email a brief letter of intent and an updated CV to emelia.dunston@duke.edu by Wednesday, December 21.
View the job description, duties and responsibilities here. Additional position details will also be sent in a subsequent email message for those interested in the role."
We are excited for you, Chet!
Tong, Zwischenberger Featured in WTS Oracle
Duke Heart's Betty Tong, MD and Brittany Zwischenberger, MD are featured in the latest issue of Oracle, an annual magazine produced by Women in Thoracic Surgery. The article is about Lise Tchouta, a 4th year General Surgery resident at Columbia University Medical Center and recent recipient of the Brigid Scanlan Traveling Mentorship Award. Tchouta chose to spend four weeks at Duke under the mentorship of Tong and Zwischenberger; the article speaks to the importance of mentorship and increasing the number of women in the field.
It's a terrific piece in a powerful edition of Oracle. Well worth the read (p. 22)!
Both Allan Kirk, MD and Edward P. Chen, MD chimed in on the piece.
"Congratulations on such a wonderful story," said Kirk. "Thanks for projecting the progressive side of Duke CT Surgery and helping move us to a better future."
"Great job Betty and Brittany in attracting future female CT surgeons to Duke, Chen added."
The importance of mentors can never be overstated. Way to go!
Loring Awarded Pilot Study Grant
Zak Loring, MD has been awarded a Durham VA Health Services Research & Development ADAPT COIN pilot study grant for his proposal Improving Disparities in Atrial Fibrillation Care Through ECG-based Machine Learning Risk Models. This is a 1-year preliminary project award worth $50,000 aimed at enhancing healthcare equity.
We also learned that Loring has passed his boards. Great news all around, Zak! Congratulations!!!
In Gratitude to Our Many Teams!
We hope each of you enjoyed the holiday. Thank you to all of our many team members who cared for patients on our units over the holiday weekend. We hope you've had some time to decompress and relax! We've had an amazing year of accomplishments. Thank you for all that you do.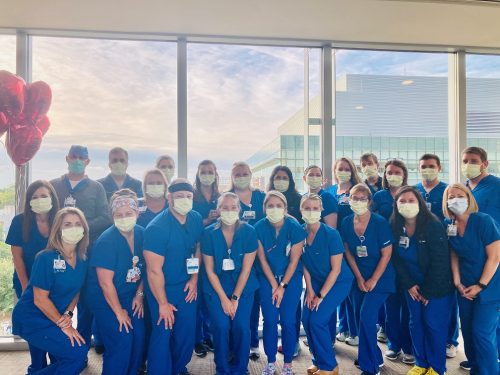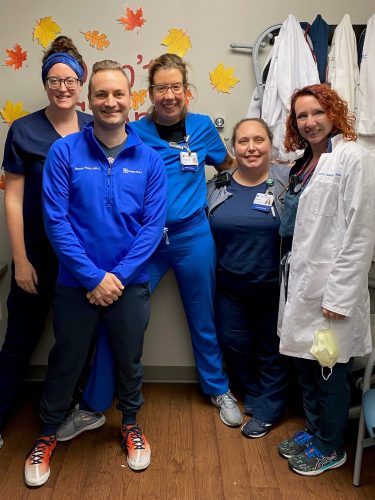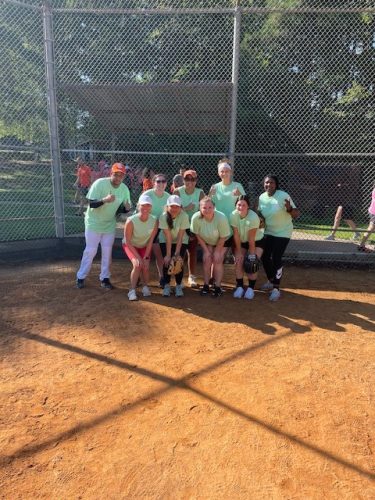 Reminder: ORA Holiday Deadlines
The Office of Research Administration (ORA) will operate with a reduced staff during the holiday season to allow team members time to recharge.  To help ORA respond as timely as possible to your needs, please plan in advance based on the following:
Picture of the Week
Seen in the Cameron Crazie section of the Duke Basketball game
Last two weeks of December
For any transactions with due dates between December 19 – January 2, please have submitted in ready-form to ORA by Thursday, December 15 to ensure there is adequate time and staffing to respond to your needs.
Please note: the next NIH SBIR/STTR deadline is Jan. 5, 2023, and the internal deadline is 8 a.m. on Dec. 28, 2022. Because this deadline falls in the last two weeks in December when ORA will be operating with reduced staff and because these award mechanisms are usually complex and require careful institutional coordination before submission:
Please complete Intent to Submit for all planned SBIR/STTR applications no later than Dec. 5, 2022; and
Please plan to route a submission-ready application no later than Dec. 15, 2022; if more time is needed, please submit a late waiver request so that ORA can plan for appropriate coverage to support these applications.
For anything submitted in the last two weeks of December that can wait until after the holiday break, ORA will be back up to speed with a full team on Jan. 3, 2023 and will look forward to managing all pending issues at that time.
Additional Reminders:
It is vital that we all remain vigilant with masking, hand hygiene, PPE, and other safe behaviors to prevent the spread of infection. Please pay special attention to the proper wearing and securing of gowns and be mindful of PPE compliance. Thank you for all you do to keep everyone safe and healthy.
Upcoming Events & Opportunities
Cardiology Grand Rounds
November 29: No CGR this week.
CME & Other Events
Call for abstracts: 2023 Duke Health Quality and Safety Conference
The virtual poster submission period for the 2023 Duke Health Quality and Safety Conference is now open. The deadline for submission is Wednesday, Dec. 14. The 2023 Conference will be held the weeks of March 13 and 20, with an in-person event on Thursday, March 23.
For more information and to submit your abstract, please click here.
Have news to share?
If you have news to share with the Pulse readership, please contact Tracey Koepke, director of communications for Duke Heart at tracey.koepke@duke.edu. We would love to hear about your latest accomplishments, professional news, cool happenings, and any events or opportunities that may be of interest to our Duke Heart family. Please call with any questions: 919-681-2868. Feedback on Pulse is welcome and encouraged. Submissions by Noon, Wednesdays, to be considered for weekend inclusion.
Duke Heart in the News:
November 8 — Pamela Douglas
Cardiovascular Business
VIDEO: PRECISE trial shows cardiac CT with FFR-CT significantly improves patient outcomes
https://duke.is/9mu94
November 9 — Manesh Patel
Everyday Health
Dietary Supplements Don't Lower 'Bad' Cholesterol, Study Finds
https://duke.is/b9nq6
November 9 — W. Schuyler Jones
Medpage Today
Surgery Bests Endovascular Therapy for Most Limb-Threatening Ischemia Patients
https://duke.is/cfvgf
November 10 — Neha Pagidipati
Medscape
Remote Care May Help Curb High Blood Pressure, High Cholesterol
https://duke.is/5cnhr
November 10 — Robert Mentz
Pharmacy Pratice News
No Efficacy Difference Between 2 Common Loop Diuretics
https://duke.is/nyw3x
November 10 — Renato Lopes
Medscape
No Benefit of Rivaroxaban in COVID Outpatients: PREVENT-HD
https://duke.is/r6wzq
November 11 — Jennifer Rymer
tctMD
Cangrelor After Ticagrelor Pretreatment in ACS Might Be OK: SWAP-5
https://duke.is/8buun
November 11 — Kevin Hill (pediatric cardiology)
EMJ
Methylprednisolone in Infants Undergoing Cardiopulmonary Bypass Surgery
https://duke.is/phvjj
November 11 — Kevin Hill
tctMD
STRESS Shows 'Borderline Results' for Methylprednisolone in Infant Cardiac Surgery
https://duke.is/gkspc
November 11 — Neha Pagidipati
Patient Care
Fully Remote Intervention for Hypertension, Lipids Proves Feasible, Successful in Large, Diverse Health Care Network
https://duke.is/65dnu
November 14 — Jennifer Li and Kevin Hill (peds cardiology)
Diagnostic and Interventional Cardiology
Largest Randomized Trial Evaluates Steroids for Infant Heart Surgery
https://duke.is/mvvtt
November 14 — Renato Lopes
Healio/Cardiology Today
Trial does not support routine antithrombotic use in ill outpatients with COVID-19
https://duke.is/7mrd3
November 14 — Manesh Patel
tctMD
Drug Preconditioning Before CABG, Valve Surgery Shows Promise: START
https://duke.is/v3sss
November 15 — Christopher Granger
tctMD
Many STEMI Patients Not Treated Within National Time Goals
https://duke.is/gwwct
November 17– Duke Clinical Research Institute
Practical Cardiology
Almost 1 in 3 High-Risk AFib Patients Not Receiving Anticoagulation
https://duke.is/9augu
November 17 — Jonathan Piccini
Healio/Cardiology Today
Botulinum toxin injection does not prevent postoperative AF: NOVA
https://duke.is/2pk25
November 18 — Jonathan Piccini
Medscape
Neurotoxin to Avert Postoperative AF: Patient Selection Clues in NOVA
https://duke.is/4svy7
November 21 — Josef Turek and the Sinnamon family
KFVS-CBS12 Cape Girardeau (MO)
18-month old medical miracle from world's first heart-thymus procedure
https://duke.is/p4n3a
November 21 — Manesh Patel
Parallax by Ankur Kalra
EP 80: AHA's Scientific Sessions: Science, Innovation and Community With Dr Manesh Patel
https://duke.is/6jwkw
November 22 – Stephen Greene
Healio/Cardiology Today
Low household income may predict higher risk for 30-day HF readmission
https://duke.is/5knzk
November 23 — Jonathan Piccini
Medscape
Factor Xa Inhibitors Tied to Interstitial Lung Disease in AF
https://duke.is/rtw5h