Highlights of the week:
Veterans Day Weekend
We hope you're all enjoying the weekend. With more than 1200 veterans on our extended team throughout DUHS, and so many of our Duke Heart team members caring for veterans at the Durham VAMC, we thank all those who have served in the U.S. military. Whether their service occurred during a time of war or time of peace, and regardless their length of service, we will always be indebted to veterans and their families for all they've given to the U.S.
Celebrating Tracy Wang, MD
It's hard to believe, but Tracy Wang's last official day with us at Duke was Monday, Nov. 7. As we mentioned in Pulse several weeks ago, Wang is headed to the Patient Centered Outcomes Research Institute (PCORI) to serve as their Chief of Comparative Effectiveness Research.
We had the opportunity to speak with Tracy about her time at Duke, what she has valued most, and what she's looking forward to with her new position.
"The skills and experience that I've acquired over the last 20 years or so at Duke is one of the beauties about being a faculty member at Duke. We have the freedom to pick and choose what kind of questions we want to answer," Wang said. "I believe it's one of the most grounding aspects of what we do. Many of us are clinicians in addition to researchers, and we try to answer questions that are really meaningful to clinical care. I'll very much draw on that as I think about the future of research in my new role. I've had so many amazing mentors and role models here and I've had the pleasure of working with so many statistical and methodological experts as well. I have a solid grounding in knowing good science, recognizing it, and being able to think about ways in we could affect change within the field. There is so much innovation happening at Duke. The sentiment here is very much about progress — not doing the same thing over and over again. We're always learning and innovating – we want to know how we can do something better the next time. This spirit of innovation, I think, is really key to any leader within a research field. We're not trying to do the same thing every day, we're trying to continuously improve how we think about the conduct of research. These are important aspects of Duke that have shaped both my experience and who I am as a clinician scientist."
A lot of what PCORI is trying to do, according to Wang, is take a look at therapies that are already approved, and try to figure out which therapies best serve patient needs.
"One of the key missions PCORI has is to stay very patient-focused," Wang said. "We need to have a finger on the pulse of what patients and patient stakeholders feel are important questions to answer. It's also about making sure that we're good stewards of the funding and ensuring that the type of science we fund is impactful and done in as efficient a manner as possible. I'll also help guide how to think about investing in research, so that strategically we make the best use of the resources we have."
Wang says her time at Duke has prepared her well for the role at PCORI.
"Duke is one of the most collaborative and creative leaders within clinical research," she added. "It's our spirit of collaboration and innovation that sets us apart from many other research entities out there. And, I think, we broadly recognize that even though there's a lot of excellence within our group at Duke, we can always learn from others. We know that when we work with others, we are in a much better position to get the job done and to shape the future of medicine. This is definitely one of the strengths of being at Duke and one of the grounding characteristics of our faculty here. This is the type of spirit that I would like to hopefully extend to other groups out there through "the sauce," if you will, that PCORI provides in trying to get all the players in the field to be able to collaborate and form partnerships more effectively so that we can be more innovative about our methods.
"What I'm looking forward to at PCORI is having the ability to really scale out this process on a more national and international scale. So rather than thinking about individual projects, I'll be thinking about a whole portfolio of comparative effectiveness research that we can and should be doing.
"As much as I love what I do at Duke, this is what really attracted me to PCORI. I'll have an opportunity to really have some influence on clinical research – from the type of research being done, to how it can be done, to how we can disseminate the results more effectively. How do we go back to our roots – to what patients need and want? Being able to work on these questions on a much more national scale is what really appealed to me."
Wang received the 2022 Outstanding Lifetime Achievement Award from the American Heart Association's Council on Quality of Care and Outcomes Research (QCOR) last May. The award was presented to her during the QCOR Scientific Sessions held in Reston, VA. A tribute video was created specifically for her QCOR award and it's worth checking out if you didn't get a chance to see it back in May. A link to it can be found here.
While a lifetime achievement award from QCOR is an incredible honor, Wang says she considers her greatest achievement to be the success of her mentees.
"I am most proud of the talent that I've hopefully coached along. One of the things I'm really going to miss about Duke is the really incredible folks here that are in various phases of their career, especially those who are at earlier stages. I really enjoy working with these amazing young minds! To be able to stop and think about what they're interested in and help them work towards something that is satisfying for them, to help them grow skills that will be helpful to them as time goes on, and then watching them far surpass me in terms of where they've gone and what they've done. I've mentored almost 40 individuals since I started on faculty in 2008. it's kind of nice to be able to work alongside some of the people I've helped train and have them 'show me up' on a daily basis. It makes me extraordinarily happy when they do that! It's also nice to see mentees that have left Duke and gone on to flourish at other places. Bar none, that's the achievement I am most proud of.
Over the course of her many years at Duke, a large number of people have had the opportunity to work with and learn from Tracy. We reached out to several of them for thoughts on her and her lasting legacy. Here is what they had to say:
"Tracy is an amazing cardiologist, investigator, colleague, and person. She has tremendous insight into tough clinical research issues and usually finds the simplest and most effective solutions. She is always willing to help colleagues without seeking credit. A fantastic mentor to many, I will truly miss her no-nonsense good humor, humility and zest. Tracy is a treasure so I hope she remains part of our Duke family while surely being hugely successful in shaping the nation's outcomes research agenda at PCORI." — Pamela S. Douglas, MD
"It is impossible to outline all the ways that Tracy has mentored me through the years. She met with me as an intern, and I began working with her at that time. She has given me so many opportunities, from learning how to work with industry to running analyses and projects independently. Her advice through the years has been invaluable. She was instrumental in helping me transition from a fellow to a faculty member. Tracy has mentored countless fellows and early career faculty at both Duke and more widespread through her significant work with the AHA. Her impact on health outcomes research at the DCRI is widespread and is one of the most talented people I have ever worked with in her ability to formulate scientific questions and develop the appropriate methodology to answer those questions. She has successfully mentored me through two career development awards and many other successful grant applications. She quickly turned from a mentor to a close friend. I will miss her so much, but can't wait to see what she will accomplish through her work at PCORI." — Jenn Rymer, MD
"Tracy is a great clinician, researcher and teacher that we rarely see. While many could have focused on themselves, Tracy wasn't in that mold. She constantly had a string of mentees advancing their careers in a "pay it forward" manner. Beyond that she is a great friend to many. Just as she has had an impact on Duke and DCRI, it will be great to see how she has an impact on PCORI and the nation's portfolio of comparative effectiveness research. We certainly need better answers and all of us will benefit from her leadership there shaping the questions and delivering clear answers with high-quality research." — Adrian Hernandez, MD
Shown here are photos from a farewell celebration for Tracy that was held on the patio at Tobacco Road Sports Cafe in Durham on Oct. 6.
She summed up her feelings about leaving with a Chinese saying:
長江後浪推前浪,世上新人隨舊人
Chang jiang hou lang tui qian lang shi shang xin ren suay jiu ren
"Translated, this means 'Just as the waves of the Yangtze River behind drive on those ahead, so does each new generation replace the old one,'" she added. "While leaving is bittersweet for me and many others, I remain optimistic and excited about the future of Duke as the next generation at Duke has so much talent and potential."
You will be missed here at Duke, Tracy! We are extremely proud of you and happy that you're not going far — you'll always be a part of the Duke Heart family.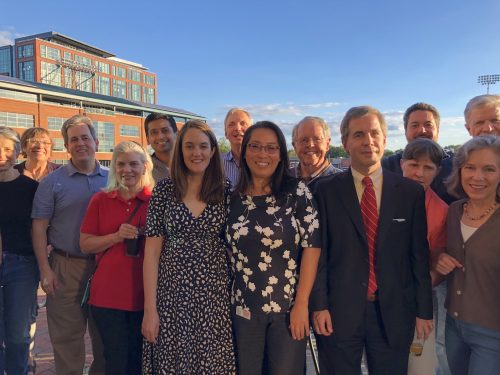 Scientific Sessions Wrap-Up
The 2022 American Heart Association Scientific Sessions concluded earlier this past week, yet our celebration of the great work you've done continues:
AHA.22 LBCT: Chest Pain Patients Benefit from Precision Diagnostic Testing Approach
A study comparing two approaches for diagnosing heart disease found that a risk analysis strategy is superior to the usual approach of immediately performing functional tests or catheterization for low- to intermediate-risk patients with new-onset chest pain.
Presented Nov. 6 at the American Heart Association's 2022 Scientific Sessions, the study bolsters a risk-analysis strategy that either defers testing among low-risk patients, or uses coronary computed tomography angiography (CTA), a CT scan with a contrast agent to assess for blockages.
The risk analysis approach has been outlined in guidelines and is championed as a means of reducing often unnecessary and costly tests. It has never been tested rigorously in a randomized trial, however, and its clinical application has lagged without definitive evidence of its effectiveness compared to various functional stress tests.
"New onset chest pain is a common clinical problem that involves a lot of testing, work and expense," said study lead Pamela S. Douglas, MD, the Ursula Geller Professor of Research in Cardiovascular Diseases at Duke University School of Medicine and a member of the Duke Clinical Research Institute.
"Our study provides evidence that, among low-risk patients, the tests will likely be negative for coronary artery disease and patients will go on to do well," Douglas said. "As a result, we should be deferring testing in these low-risk people."
Douglas and colleagues enrolled more than 2,100 patients across the U.S. and Europe with new-onset chest pain in the PRECISE clinical trial. Participants' average age was 58, with roughly equal numbers of men and women.
Half of the patients were randomly assigned to receive usual testing — including stress echocardiogram, nuclear stress test, stress MRI or catheterization — which physicians selected at their discretion.
The other half of participants were randomized to the precision strategy, which uses a pre-test probability assessment to guide next steps, including deferred testing or CTA, with selective use of image analysis software to determine the significance of any blockages.
Within both groups, about 21% of symptomatic patients were assessed to be at low risk of heart disease. Of these low-risk patients in the usual testing group, 86% underwent some sort of test, compared to 37% in the precision strategy group.
The primary focus was whether, within a year, there were any differences between the two diagnostic approaches for any combination of the following outcomes: deaths from any cause, nonfatal myocardial infarction, or catheterizations that did not show blockages and may have been unnecessary.
The researchers found that the precision strategy substantially reduced the incidence of the composite endpoint compared to the usual stress testing approaches.
To provide a full picture of clinical value, the investigators balanced this demonstrated effectiveness with examination of any safety concerns. There were no differences in death or the composite of death and myocardial infarction, but there was a small, non-significant difference in nonfatal myocardial infarction in the precision group.
"In stable, symptomatic patients with suspected heart disease who physicians feel require testing, a precision strategy incorporating a set of actions based on guideline recommendations, will improve outcomes compared to usual testing," Douglas said.
In addition to Douglas, study authors include Michael G. Nanna, Michelle D. Kelsey, Eric Yow, Daniel B. Mark, Manesh R. Patel, Campbell Rogers, James E. Udelson, Christopher B. Fordyce, Nick Curzen, Gianluca Pontone, Pál Maurovich-Horvat, Bernard De Bruyne, John P. Greenwood, Victor Marinescu, Jonathon Leipsic, Gregg W. Stone, Ori Ben-Yehuda, Colin Berry, Shea E. Hogan, Bjorn Redfors, Ziad A. Ali, Robert A. Byrne, Christopher M. Kramer, Robert W. Yeh, Beth Martinez, Sarah Mullen, Whitney Huey, Kevin J. Anstrom, Hussein R. Al-Khalidi, and Sreekanth Vemulapalli, for the PRECISE Investigators.
The study received funding from HeartFlow, a medical technology company.
AHA.22: Additional Presenters and Session Moderators
Jonathan Piccini presented results from the phase-2, dose-ranging NOVA study. The team found no significant differences in the rate of postoperative atrial fibrillation (POAF) in cardiac surgery patients who received either 125U or 250U doses of botulinum toxin type A (AGN-151607) compared with placebo. Piccini noted that subgroup analyses suggested a lower rate of POAF and rehospitalization in patients undergoing isolated CABG and in patients older than 65 years who received 125U of AGN-151607. He added that the mechanism of AFib suppression with botulinum toxin may be related to both direct autonomic influences and decreased inflammation.
Cardiovascular surgeon Brittany Zwischenberger presented several sets of findings across Sessions including "Keep the Guidelines for Radial Artery Grafts in CABG Surgery" during the Consensus and Controversies: Debating the 2021 ACC/AHA/SCAI Guidelines for Coronary Revascularization session held Saturday, Nov. 5, and "Highlights and Controversies from 2021 Guidelines on Coronary Artery Revascularization" during the Update on 2022 Cardiovascular Clinical Guidelines session held on Monday, Nov. 7.  Zwischenberger also served as session moderator for New Insights – Cardiac Surgery held Sunday, Nov. 6.
New Duke Heart faculty member Senthil Selvaraj is senior author on findings presented on Monday at AHA. His team's study was simultaneously published in JACC: Basic to Translational Science. Their paper is "Metabolomic Signatures of Myocardial Glucose Uptake on Fluorine-18 Fluorodeoxyglucose Positron Emission Tomography." Co-authors include Svati H. Shah, Mahesh K. Vidula, Daniel P. Kelly, Zoltan Arany, Kenneth B. Margulies, Thomas P. Cappola, and Paco E. Bravo.
Finally, Manesh Patel and Kelly Arps were the featured guests in a Twitter Spaces held Tuesday, Nov. 8 on Twitter. Patel and Arps did a recap of some of the most notable findings presented at Scientific Sessions. The event was recorded, but a link has not yet been made available. Once it is, we'll post it here in Pulse.
Our team received a great deal of news coverage this year. Please visit the News section below to check it out. We truly had an outstanding presence at Sessions this year. We look forward to 2023!
Mark Serves as Guest Lecturer for AKUPI-NCD
Dan Mark, MD, was invited to discuss landmark studies in cardiovascular disease at a research certification course held recently as part of the Aga Khan University Pakistan Initiative for Non-Communicable Diseases (AKUPI-NCD) Research Training Program. The course audience consisted of aspiring and early career researchers from across Pakistan.
AKUPI-NCD was created to address a critical gap in the response to the NCD epidemic. The Aga Khan University partnered with Duke University to design a comprehensive, integrated, multi-disciplinary training program to prepare the next generation of leaders in NCD research. The program, focused on cardiovascular and cerebrovascular diseases and their shared risk factors, is funded by a research training grant by the U.S. National Institutes of Health via the Fogarty International Center.
Great work!
Huber Presents CGR
We welcomed Kurt Huber for Cardiology Grand Rounds on Tuesday evening, Nov. 8. His talk was entitled, "The Paradigm Shift of DAPT after ACS." Huber is vice-dean of research at Sigmund Freud University for Medicine in Vienna, Austria, and chair of acute and interventional cardiology at the Wilhelminenspital.
Thanks to all who joined us!
Future Relocation of DN 7100 for Renovations
The Duke North 100 Tower is in the process of being renovated. Eventually, Duke University Hospital unit 7100 will be relocated to allow for renovations which will occur sometime after the start of the year.  Once we receive additional information as to the timeline and where 7100 is relocating, updates will be provided.
Shout-out to 7W & 3300!
Our teams on 7W and 3300 received a kudos at DUH on Nov. 8 for achieving 100% compliance for hand hygiene and PPE use. Way to go!
Thanksgiving Edition of Pulse
In this season of gratitude, who or what within Duke Heart (or beyond) are you particularly grateful for this year? We are offering a way to acknowledge those who've been a big support or help to you over the past year. Send your shout-outs and kudos to Tracey Koepke by Tuesday, November 22 and we'll include them in our Thanksgiving issue of Pulse on Sunday, Nov. 27. We look forward to shout-outs and gratitude galore!
Additionally, as we move into the holiday season, please let us know if your team or unit within Duke Heart will be doing anything special to celebrate — perhaps you'll be adopting a family in need? Hosting a food drive? If you'd like others to join your effort, or if you would just like to showcase what you'll be doing (or what you did) in Pulse, let us know! We'll issue the newsletter through December 18th, then we'll be taking our annual break for two weeks. Pulse will resume on Sunday, Jan. 8, 2023. As always, email your items to tracey.koepke@duke.edu.
Webex User Accounts Decommission Notice
Duke Health is decommissioning Webex User Accounts effective Wednesday, Feb. 1, 2023, and will shift to Zoom for conferencing and collaboration needs. This decision was based on a significant decline in Webex usage and will allow for consolidation of technology support. Current Webex users can use this three-month window to explore Zoom, which offers a user-friendly experience for conferencing needs.
Webex user accounts will be decommissioned and Webex Recordings will no longer be available. Duke Health recommends downloading Webex recordings prior to Feb 1. 2023.
While Webex will remain available until February, Webex users are encouraged to start using Zoom as soon as possible to ensure a smooth transition. Duke Health will still have the ability to join a Webex Meeting as a "GUEST".
Note: Cisco Webex Rooms/Devices will NOT be impacted. Cisco Webex Rooms/Devices will remain registered to the Cisco Webex Control Hub (Cloud)
If you have questions or concerns, visit the IT Portal and click on Create a New Request in the Popular Items section to open a request, or contact the Duke Health Service Desk at 919-684-2243.
Duke Angel Network is now Duke Capital Partners
On Wednesday, Nov. 9, Duke Angel Network rolled out a new name and website.
Duke Capital Partners is the early-stage venture investing arm of Duke University, helping to connect Duke alumni investors with Duke-affiliated early-stage companies. Duke Capital Partners provides capital and expertise to help Duke start-ups, and features one of Duke's most innovative experiential learning opportunities for students. As one of the largest and oldest university investment entities of its kind, Duke Capital Partners consistently places among the top five in North America.
It is hoped that faculty, students, and alumni will find Duke Capital Partners to be an exciting new way to engage with the university and its entrepreneurial community.
Link for Real Talk with Craig Albanese
If you missed last week's Real Talk with Craig Albanese, MD, MBA, Executive Vice President and Chief Operating Officer of Duke University Health System, please click here to learn more about how the expertise and dedication of our financial care counselors have allowed DUHS to provide more than $141 million in direct financial assistance to patients every year. The incredible work this team does every day makes a huge difference to our patients and their families.
CulturePulse 2022 — Be Heard
The Culture Pulse survey link will remain open through Nov. 16; CulturePulse is a way for team members to share their feedback about what's going well and what could be improved at Duke Health. Please participate and encourage your team members to do so as well. You will receive automatic reminders about the survey until you complete it or it closes. This is a great opportunity for all of us to have our voices heard.
This Week: Matters of Grief Symposium 2022
The Duke Health Office of Culture and Well-being is offering a Grief Symposium 2022 on Tues., Nov. 15 and a panel discussion on Wed., Nov. 16. Please consider joining for one or more events (most are virtual) in which they and participants will explore the many aspects of grief, including common grief reactions, how to support those who are grieving, professional grief, grief around loss of function or role, disenfranchised grief, rituals that may help us in the grieving process, and how to turn grief into positive action. Register here (please use your Duke e-mail to complete your registration).
Grief Symposium: Tues., Nov. 15, noon-2 p.m.
Grief Panel Discussion: Wed., Nov. 16, 1-2 p.m.
Small Group Interactive Activities including Somatic Body Work, Narrative Writing, Mandala Art, and Restorative Circles for Personal Grief, Pet Grief, and Gun Violence: Wed-Fri, Nov. 16-18.
To learn more, please visit: https://cultureandwellbeing.dukehealth.org/grief-toolkit-symposium. A link to last year's symposium is available on that page.
Reminder! ORA Holiday Deadlines
The Office of Research Administration (ORA) will operate with reduced staff during the holiday season. Please plan in advance based on the following:
Thanksgiving Day and the Friday After
If you need something processed BEFORE the Thanksgiving holiday, please have it submitted in ready-form to ORA by Thursday, November 17. Otherwise, if it can wait, ORA will process the following week (beginning November 28).
Last two weeks of December
For any transactions with due dates between December 19 – January 2, please have submitted in ready-form to ORA by Thursday, December 15 to ensure there is adequate time and staffing to respond to your needs.
Please note: the next NIH SBIR/STTR deadline is Jan. 5, 2023, and the internal deadline is 8 a.m. on Dec. 28, 2022. Because this deadline falls in the last two weeks in December when ORA will be operating with reduced staff and because these award mechanisms are usually complex and require careful institutional coordination before submission:
Please complete Intent to Submit for all planned SBIR/STTR applications no later than Dec. 5, 2022; and
Please plan to route a submission-ready application no later than Dec. 15, 2022; if more time is needed, please submit a late waiver request so that ORA can plan for appropriate coverage to support these applications.
ORA will be back up to speed with a full team on Jan. 3, 2023 and will look forward to managing all pending issues at that time.
Additional Reminders:
Upcoming Events & Opportunities
Cardiology Grand Rounds
November 15: AHA Recap with Manesh Patel, L. Kristin Newby, Robert Mentz and Pamela Douglas. 5 p.m., Webex only. https://duke.is/pqv6g.
November 22: Fellow presentation with Ali Corley. 5 p.m., Webex. Watch your email for the link.
CME & Other Events
November 14: Prostate Cancer & CVD Symposium, Webinar 4. Final of a four-part webinar series. Collaboration between the International Cardio-Oncology Society & Duke Heart. Noon, Eastern. Free. To register visit https://duke.is/ptjbs.
Call for abstracts: 2023 Duke Health Quality and Safety Conference
The virtual poster submission period for the 2023 Duke Health Quality and Safety Conference is now open. The deadline for submission is Wednesday, Dec. 14. The 2023 Conference will be held the weeks of March 13 and 20, with an in-person event on Thursday, March 23.
For more information and to submit your abstract, please click here.
Have news to share?
If you have news to share with the Pulse readership, please contact Tracey Koepke, director of communications for Duke Heart at tracey.koepke@duke.edu. We would love to hear about your latest accomplishments, professional news, cool happenings, and any events or opportunities that may be of interest to our Duke Heart family. Please call with any questions: 919-681-2868. Feedback on Pulse is welcome and encouraged. Submissions by Noon, Wednesdays, to be considered for weekend inclusion.
Duke Heart in the News:
November 5 — Betty Tong
WNCN CBS-17
Health experts urge screening for lung cancer for early detection
https://duke.is/5dz6a
November 5 — Robert Mentz
Medpage Today
Furosemide Holds Up to Newer, Stronger Loop Diuretic During HF Hospitalization
https://duke.is/n3qy8
*also carried by 3 additional outlets
November 5 — Robert Mentz
tctMD
TRANSFORM-HF: Torsemide No Better Than Furosemide for Hospitalized HF
https://duke.is/pmzgz
*also carried by 11 additional industry & scientific outlets
November 5 — Robert Mentz and Manesh Patel
Healio/Cardiology
Loop diuretic choice does not reduce all-cause death in HF: TRANSFORM-HF
https://duke.is/9zbfd
*also carried by Newsbreezer
November 5 — Robert Mentz
Medscape
No Survival Advantage for Either Torsemide or Furosemide in HF: TRANSFORM-HF
https://duke.is/24psp
*also carried by 4 additional industry & scientific outlets
November 5 — Manesh Patel
tctMD
Pemafibrate Fails to Lower CVD Risk in Patients With High Triglycerides: PROMINENT
https://duke.is/z5fg9
November 5 — Robert Mentz
Archynetys.com
Furosemide tolerates new, a lot more potent loop diuretics in hospitalized heart failure
https://duke.is/gvfdh
November 5 — Robert Mentz
ACC.org
Torsemide Comparison With Furosemide for Management of Heart Failure – TRANSFORM-HF
https://duke.is/vecc9
November 6 — Robert Mentz
News-Medical.net
Two heart failure therapies prove to be nearly identical in reducing death
https://duke.is/m9q9m
*also carried by 2 additional industry & scientific outlets
November 6 — Robert Mentz
Pharmacy Times
Trial Finds No Benefit with Torsemide Versus Furosemide in Heart Failure
https://duke.is/4we3g
November 6 — Kevin Hill
Medpage Today
Definitive Answer on Steroids for Infant Heart Surgery Falls Short
https://duke.is/w2pny
*also carried by 4 additional outlets
November 6 — Kevin Hill
Healio/Cardiology Today
Methylprednisolone does not reduce odds of poor outcomes in infant heart surgery
https://duke.is/6tpe6
November 6 — Kevin Hill
AHA Newsroom
Steroids during surgery may not be helpful for infants having heart bypass
https://duke.is/puftb
November 6 — Pamela Douglas
tctMD
PRECISE CT-Based Strategy Allows Clinicians to 'Do Less' for Stable Chest Pain
https://duke.is/5ye8w
November 6 — Pamela Douglas
Healio/Cardiology
Precision testing strategy strongly benefits stable patients with suspected CAD
https://duke.is/nschn
*also carried by Knowledgia News
November 6 — Pamela Douglas
Postsus (Spain)
Los pacientes con dolor torácico se benefician del enfoque de pruebas diagnósticas de precisión
https://duke.is/baes8
*also carried by 9 additional industry & scientific outlets
November 6 — Pamela Douglas
HeartFlow
Late-breaking Data Demonstrate AHA/ACC Guideline-directed CCTA ± FFRCT Precision Pathway is Superior to Traditional Testing
https://duke.is/4cq2c
*also carried by 38 additional industry & scientific outlets
November 6 — Pamela Douglas
News-Medical.net
New risk analysis strategy benefits chest pain patients compared to the usual testing approach
https://duke.is/9vzcg
November 6 — Pamela Douglas
AHA Newsroom
Personalized evaluation for chest pain effective, may eliminate unnecessary testing
https://duke.is/j3zkj
*also carried by 7 additional industry & scientific outlets
November 6 — Pamela Douglas
CRTOnline.org
Test Stratification Based on CAD Risk Reduces Need for Catheterization vs. Usual Testing in Patients with Chest Pain – PRECISE Trial
https://duke.is/gm23p
November 6 — Manesh Patel
Healio/Cardiology
VIDEO: Takeaways from AHA 2022 with Manesh R. Patel
https://duke.is/bcc6t
November 6 — Pamela Douglas
Applied Radiology
Risk-Analysis Strategy Best Approach for New-Onset Chest Pain Patients
https://duke.is/ygzbu
November 7 — Stephen Greene
Biospace.com
Cytokinetics Presents New Data at the American Heart Association Scientific Sessions 2022
https://duke.is/vwpyr
*also carried by 4 additional industry & scientific outlets
November 7 — Pamela Douglas
Cardiovascular Business
AI-powered CCTA outperforms usual care when evaluating stable chest pain
https://duke.is/rbcv4
*also carried by Roxx Cloud
November 7 — Stephen Greene
AJMC
Dr Stephen J. Greene: New VICTORIA Trial Data Show Benefit to Vericiguat In-Hospital Initiation
https://duke.is/n67n5
November 7 — Robert Mentz
Medical Dialogues
Torsemide Does Not Confer Any Survival Benefit Over Furosemide in HF: TRANSFORM HF Trial
https://duke.is/zxe4e
November 7 — Jonathan Piccini
tctMD
Botulinum Toxin Injections No Help for Postoperative AF: NOVA
https://duke.is/chpzs
November 7 — Manesh Patel
U.S. News & World Report
Experimental Pill May Be New Way to Control Cholesterol
https://duke.is/wdf73
*also carried by 249 additional outlets including by HealthDay, United Press International and in Chicago, Houston & Philadelphia
November 7 — Vishal Rao
tctMD
New Tool Assesses Risk in Acute HF Then Suggests Next Steps, Cutting Later Events
https://duke.is/jbq87
November 7 — Duke University (PRECISE study)
Spectrum News Carolinas
Strategy for diagnostic testing benefits chest pain patients
https://duke.is/rkexa
(*clip begins @ 11:00:25)
November 7 — Kevin Hill
Medscape
Steroids Fail to Deliver Clear Benefits in Infant Heart Surgery
https://duke.is/5qbuq
November 7 — Pamela Douglas
MDedge
Precision CAD testing shows 70% cut in composite risk at 1 year
https://duke.is/vm6jx
November 8 — Robert Mentz
UPI
Switching diuretics may not make a difference in treating heart failure
https://duke.is/z6sc6
November 8 — Robert Mentz
U.S.News & World Report
Study Compares 2 Common Diuretics Used in Heart Failure
https://duke.is/8duxp
November 8 — Pamela Douglas
Medpage Today
Precision Medicine Strategy Reduced Testing in Patients With Chest Pain
https://duke.is/cc68r
November 8 — Renato Lopes
Medpage Today
Anticoagulation Again Flops for Outpatient COVID-19
https://duke.is/6kdnc
November 9 — Jonathan Piccini
Medpage Today
Can Botox for the Heart Ward Off Afib After Cardiac Surgery?
November 11 — Vishal Rao
Healio/Cardiology
In-hospital peer-to-peer consult may improve guideline-directed therapy in HFrEF
Division of Cardiology Publications Indexed in PubMed October 27 – November 9, 2022
Adamson C, Kondo T, Jhund PS, de Boer RA, Cabrera Honorio JW, Claggett B, Desai AS, Alcocer Gamba MA, Al Habeeb W, Hernandez AF, Inzucchi SE, Kosiborod MN, Lam CSP, Langkilde AM, Lindholm D, Bachus E, Litwin SE, Martinez F, Petersson M, Shah SJ, Vaduganathan M, Nguyen Vinh P, Wilderäng U, Solomon SD, McMurray JJV. Dapagliflozin for heart failure according to body mass index: the DELIVER trial. Eur Heart J 2022 Nov 1;43(41):4406-4417. PM: 36029309.
Batra G, Lindbäck J, Becker RC, Harrington RA, Held C, James SK, Kempf T, Lopes RD, Mahaffey KW, Steg PG, Storey RF, Swahn E, Wollert KC, Siegbahn A, Wallentin L. Biomarker-Based Prediction of Recurrent Ischemic Events in Patients With Acute Coronary Syndromes. J Am Coll Cardiol 2022 Nov 1;80(18):1735- 1747. PM: 36302586.
Blumenthal JA, Smith PJ, Jiang W, Hinderliter A, Watkins LL, Hoffman BM, Kraus WE, Mabe S, Liao L, Davidson J, Sherwood A. Exercise and Escitalopram in the Treatment of Anxiety in Patients with Coronary Heart Disease: One Year Follow- Up of the UNWIND Randomized Clinical Trial. J Cardiovasc Dev Dis 2022 Sep 22;9(10):320. PM: 36286272.
Butler J, Anker SD, Lund LH, Coats AJS, Filippatos G, Siddiqi TJ, Friede T, Fabien V, Kosiborod M, Metra M, Piña IL, Pinto F, Rossignol P, van der Meer P, Bahit C, Belohlavek J, Böhm M, Brugts JJ, Cleland JGF, Ezekowitz J, Bayes-Genis A, Gotsman I, Goudev A, Khintibidze I, Lindenfeld J, Mentz RJ, Merkely B, Montes EC, Mullens W, Nicolau JC, Parkhomenko A, Ponikowski P, Seferovic PM, Senni M, Shlyakhto E, Cohen-Solal A, Szecsödy P, Jensen K, Dorigotti F, Weir MR, Pitt B. Patiromer for the management of hyperkalemia in heart failure with reduced ejection fraction: the DIAMOND trial. Eur Heart J 2022 Nov 1;43(41):4362-4373. PM: 35900838.
Butt JH, Kondo T, Jhund PS, Comin-Colet J, de Boer RA, Desai AS, Hernandez AF, Inzucchi SE, Janssens SP, Kosiborod MN, Lam CSP, Langkilde AM, Lindholm D, Martinez F, Petersson M, Shah SJ, Thierer J, Vaduganathan M, Verma S, Wilderäng U, Claggett BC, Solomon SD, McMurray JJV. Atrial Fibrillation and Dapagliflozin Efficacy in Patients With Preserved or Mildly Reduced Ejection Fraction. J Am Coll Cardiol 2022 Nov 1;80(18):1705- 1717. PM: 36041668.
Campbell MM, Benjamin DK, Mann TK, Fist A, Blakemore A, Diaz KS, Kim H, Edwards LJ, Rak Z, Brookhart MA, Moore Z, Tilson EC, Kalu I, Boutzoukas AE, Moorthy GS, Uthappa D, Scott Z, Weber DJ, Shane AL, Bryant KA, Zimmerman KO. Test-to-Stay After SARS-CoV-2 Exposure: A Mitigation Strategy for Optionally Masked K-12 Schools. Pediatrics 2022 Nov 1;150(5):e2022058200. PM: 35971240.
Diamond J, DeVore AD. New Strategies to Prevent Rehospitalizations for Heart Failure. Curr Treat Options Cardiovasc Med 2022;24(12):199-212. PM: 36164396.
Dunbar TK, Olsen MK, Yang H, Kennedy D, Jackson LR, Thomas KL, Alkon A, Prose NS, Pollak KI. Characteristics Associated with Burnout among Cardiologists in an Academic Medical Setting: Baseline Survey Results from a Communication Coaching RCT. Behav Sci (Basel) 2022 Sep 27;12(10):362. PM: 36285931.
Fitch KV, McCallum SA, Erlandson KM, Overton ET, Zanni MV, Fichtenbaum C, Aberg JA, Fulda ES, Kileel EM, Moran LE, Bloomfield GS, Novak RM, Pérez-Frontera S, Abrams-Downey A, Pierone G, Kumarasamy N, Ruxrungtham K, Mngqibisa R, Douglas PS, Ribaudo HJ, Grinspoon SK. Diet in a global cohort of adults with HIV at low-to- moderate traditional cardiovascular disease risk. AIDS 2022 Nov 15;36(14):1997-2003. PM: 35876637.
Freedman NJ. From Colon to Aortic Aneurysm: Trek of the Treg. JACC Basic Transl Sci 2022 Sep 26;7(9):948- 950. PM: 36317127.
Fudim M, Shahid I, Emani S, Klein L, Dupuy- McCauley KL, Zieroth S, Mentz RJ. Evaluation and Treatment of Central Sleep Apnea in Patients with Heart Failure. Curr Probl Cardiol 2022 Dec;47(12):101364. PM: 35995244.
Gargiulo G, Giacoppo D, Jolly SS, Cairns J, Le May M, Bernat I, Romagnoli E, Rao SV, van Leeuwen MAH, Mehta SR, Bertrand OF, Wells GA, Meijers TA, Siontis GCM, Esposito G, Windecker S, Jüni P, Valgimigli M. Effects on Mortality and Major Bleeding of Radial Versus Femoral Artery Access for Coronary Angiography or Percutaneous Coronary Intervention: Meta-Analysis of Individual Patient Data From 7 Multicenter Randomized Clinical Trials. Circulation 2022 Nov;146(18):1329-1343. PM: 36036610.
Metkus TS, Baird-Zars VM, Alfonso CE, Alviar CL, Barnett CF, Barsness GW, Berg DD, Bertic M, Bohula EA, Burke J, Burstein B, Chaudhry SP, Cooper HA, Daniels LB, Fordyce CB, Ghafghazi S, Goldfarb M, Katz JN, Keeley EC, Keller NM, Kenigsberg B, Kontos MC, Kwon Y, Lawler PR, Leibner E, Liu S, Menon V, Miller PE, Newby LK, O'Brien CG, Papolos AI, Pierce MJ, Prasad R, Pisani B, Potter BJ, Roswell RO, Sinha SS, Shah KS, Smith TD, Snell RJ, So D, Solomon MA, Ternus BW, Teuteberg JJ, van Diepen S, Zakaria S, Morrow DA. Critical Care Cardiology Trials Network (CCCTN): a cohort profile. Eur Heart J Qual Care Clin Outcomes 2022 Oct 26;8(7):703-708. PM: 36029517.
Minhas AMK, Jain V, Maqsood MH, Pandey A, Khan SS, Fudim M, Fonarow GC, Butler J, Khan MS. Non-Alcoholic Fatty Liver Disease, Heart Failure, and Long-Term Mortality: Insights From the National Health and Nutrition Examination Survey. Curr Probl Cardiol 2022 Dec;47(12):101333. PM: 35901855.
Myhre PL, Prescott MF, Claggett B, Felker GM, Butler J, Piña IL, Maisel AS, Williamson KM, Ward JH, Solomon SD, Januzzi JL. Comparative Effect of Angiotensin Receptor Neprilysin Inhibition on B-type Natriuretic Peptide Levels Measured by Three Different Assays: The PROVE-HF Study. Clin Chem 2022 Nov 3;68(11):1391-1398. PM: 36103292.
Park DY, Hanna JM, Kadian S, Kadian M, Jones WS, Damluji AA, Kochar A, Curtis JP, Nanna MG. In-hospital outcomes and readmission in older adults treated with percutaneous coronary intervention for stable ischemic heart disease. J Geriatr Cardiol 2022 Sep 28;19(9):631-642. PM: 36284680.
Salah HM, Verma S, Santos-Gallego CG, Bhatt AS, Vaduganathan M, Khan MS, Lopes RD, Al'Aref SJ, McGuire DK, Fudim M. Sodium-Glucose Cotransporter 2 Inhibitors and Cardiac Remodeling. J Cardiovasc Transl Res 2022 Oct;15(5):944-956. PM: 35290593.
Siddiqi TJ, Ahmed A, Greene SJ, Shahid I, Usman MS, Oshunbade A, Alkhouli M, Hall ME, Murad MH, Khera R, Jain V, Van Spall HGC, Khan MS. Performance of current risk stratification models for predicting mortality in patients with heart failure: a systematic review and meta-analysis. Eur J Prev Cardiol 2022 Nov 8;29(15):2027-2048. PM: 35919956.
Siddiqi TJ, Khan Minhas AM, Greene SJ, Van Spall HGC, Khan SS, Pandey A, Mentz RJ, Fonarow GC, Butler J, Khan MS. Trends in Heart Failure-Related Mortality Among Older Adults in the United States From 1999-2019. JACC Heart Fail 2022 Nov;10(11):851-859. PM: 36328654.
Srinivasan ES, Wang TY, Rapoport A, Erickson MM, Abd-El-Barr MM, Shaffrey CI, Than KD. Minimally invasive lateral retroperitoneal transpsoas approach for lumbar corpectomy and fusion with posterior instrumentation. Neurosurg Focus Video 2022 Jul 1;7(1):V7. PM: 36284723.
Tomaszewski WH, Waibl-Polania J, Chakraborty M, Perera J, Ratiu J, Miggelbrink A, McDonnell DP, Khasraw M, Ashley DM, Fecci PE, Racioppi L, Sanchez-Perez L, Gunn MD, Sampson JH. Neuronal CaMKK2 promotes immunosuppression and checkpoint blockade resistance in glioblastoma. Nat Commun 2022 Oct 29;13(1):6483. PM: 36309495.
Vaduganathan M, Claggett BL, Jhund P, de Boer RA, Hernandez AF, Inzucchi SE, Kosiborod MN, Lam CSP, Martinez F, Shah SJ, Desai AS, Lindholm D, Petersson M, Langkilde AM, McMurray JJV, Solomon SD. Estimated Long-Term Benefit of Dapagliflozin in Patients With Heart Failure. J Am Coll Cardiol 2022 Nov 8;80(19):1775-1784. PM: 36041669.
Vaios EJ, Batich KA, Buckley AF, Dunn-Pirio A, Patel MP, Kirkpatrick JP, Goudar R, Peters KB. Addendum: Resolution of radiation necrosis with bevacizumab following radiation therapy for primary CNS lymphoma. Oncotarget 2022 Oct 20;13:1165. PM: 36289014.
White EJ, Susman SJ, Bouffler A, Leahy JC, Griffin SM, Christenson R, Newby LK, Gordee A, Kuchibhatla M, Limkakeng AT. Predictors of Stress-Delta High-Sensitivity Troponin T in Emergency Department Patients Undergoing Stress Testing. Cureus 2022 Sep 26;14(9):e29601. PM: 36321030.
Yazdi D, Patel S, Ozonat K, Fudim M, Smith S, Centen C. Feasibility of a Cardiac Scale in Measuring Blood Pressure. J Cardiovasc Transl Res 2022 Oct;15(5):1212-1214. PM: 35396626.