Updates of the week:
Chancellor Washington to Leave Leadership Roles June 30
Most of you have heard the news regarding Dr. Washington's decision to step down from his roles at Duke University and Duke University Health System. In case you missed his formal message to the Duke Health team, which was issued on Wednesday, Oct. 26, we are reprinting it here.
Dear Colleagues,
Since April 2015, I have had the great honor and privilege to serve as your Chancellor for Health Affairs at Duke University and President and CEO of the Duke University Health System. Now in my eighth year, I have decided I will step down from these roles at the end of this academic year, June 30, 2023. A formal announcement about my decision and transition plans will be forthcoming from President Vincent Price today.
Serving with you in these leadership roles has unquestionably been the best professional experience I have enjoyed in my life. Words really cannot adequately convey the emotions I am feeling at this time as I share this decision with you. Suffice it to say that I am currently overwhelmed with a sense of heartfelt gratitude.
From that first spring in Durham when you so warmly welcomed Marie and me to the Duke community, all the way up to today, I have felt your unwavering support and been emboldened by it. Your tremendous talent, creativity, deep sense of caring, dedication, and can-do attitude have bolstered and empowered my leadership tenure. Together, we have indeed advanced health, as we have elevated our excellence and amplified Duke Health's impact locally and globally. And, because of you, Duke Health is strongly positioned to continue thriving — innovating and leading in the decades ahead. I am very proud of our extraordinary accomplishments, and I am confident in a bright future for us all as we continue to distinguish Duke Health as a leader among the very top academic health systems in the world.
Most importantly, I want to thank you! Thank you for all you have given to me. Thank you for all you have given to each other, our patients and their loved ones, and our communities.
For those of you who are wondering why now, my decision is principally driven by my desire to devote more attention to my personal life. Last month, I turned 72 years-of-age. Young! Earlier this month, Marie and I celebrated 40 years of marriage, and we are thrilled about spending more time together. And as some of you know, we have a new granddaughter. I imagine that this personal renewal will be invigorating.
At the same time, I also believe that institutional renewal is good. In fact, in dynamic industries and organizations such as ours with rapid, dramatic change afoot, renewal is a constant imperative. We have an exceptionally strong team across Duke Health, and continued renewal at the top will only enhance the remarkable achievements and significant contributions we are already making.
Looking ahead over the next eight-plus months, please know that I am still all-in with you as we continue to advance Duke Health: Onward. Upward. Beyond. You can count on me to sprint right up to the hand-off of my leadership baton next June. My excitement and energy today are as high as when I arrived in April 2015.
With deep gratitude and admiration,
Eugene Washington, MD
Chancellor for Health Affairs, Duke University
President and CEO, Duke University Health System
Welcoming Newest Faculty Members
We are pleased to have a number of new faculty members on the Duke Heart team. Earlier this summer Zak Loring and Michelle Kelsey joined the faculty as assistant professors of medicine in cardiology after the completion of their fellowship training. Ziv Beckerman also joined our team in July as a faculty member in the division of cardiovascular and thoracic surgery. Since then, we've added four additional team members: Bharathi Upadhya, Senthil Selvaraj, Girish Kalra and Deepa Upadhyaya.
This week we're highlighting Bharathi Upadhya.
Upadhya Joins Duke Heart Team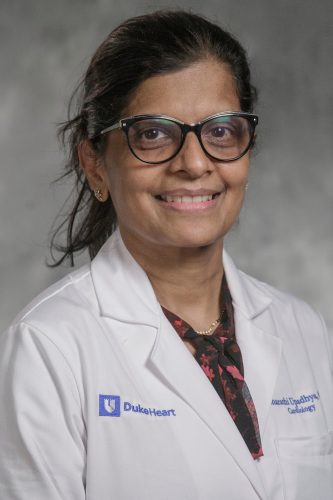 Bharathi Upadhya, MD, officially joined the Duke Heart team on Aug. 22 as associate professor of medicine in cardiology. She is the newest member of our adult congenital heart disease team and will see patients at Duke Cardiology Arringdon.
Upadhya says she is most excited about joining the Duke Heart team because of the professional growth and learning opportunities available here. With congenital heart disease patients living longer, the field of care is growing and offers great opportunity, especially at a large and varied program like Duke. She says she enjoys treating patients with challenging conditions such as chromosomal abnormalities and muscular dystrophy.
"These patients really need attentive care, which I enjoy providing," said Upadhya. "Initially, this was not an area of interest for me, but when I learned more about the association of these chromosomal issues to cardiovascular defects, I became quite dedicated to this area. I am equally fascinated by the hemodynamics of congenital heart disease."
She is particularly enthusiastic about working with and learning from Tom Bashore and Rich Krasuski, she says. "There is no end to learning and growing, no matter how old you get it should never stop."
"I most enjoy the long-lasting relationships that can be built with patients, especially those with congenital heart disease," she adds. "I typically become their primary care provider and I do everything I can for them. They come to feel like family or lifelong friends to me."
Born in Karnataka, India, Upadhya earned her MBBS at Mysore Medical College followed by residency training at Vijaya Nagar Institute of Medical Science — both in India. In the U.S., she completed residency at Wake Forest University School of Medicine (WFUSOM), and a fellowship in cardiology at Penn State Hershey Medical Center.
"My father's dream for me was to become a doctor. He really wanted me to help people and saw that I would be good at it," Upadhya says. "I specifically chose cardiology due to our family history. My mom's eldest sister died due to heart disease back in India. At that time, we didn't have as much access to treatment options or support. I believe her death could have been prevented and this is what drove my interest toward cardiology."
Her parents, she adds, are her greatest mentors. "All that I am is because of them," says Upadhya. "When I came to the U.S. for
fellowship, my mom and dad came here from India. My mom, who could not even speak English, came and stayed for two years just to help me. They have sacrificed greatly for me and I am so thankful to them."
Prior to coming to Duke, she was associate professor of medicine in cardiology at WFUSOM, where she joined the faculty in 2010. While at Wake Forest Baptist Health, she helped launch a congenital heart program in partnership with pediatric cardiologist Derek Williams, MD. She earned numerous awards for teaching excellence and was the Arnold P. Gold Foundation's 2017 recipient of the Leonard Tow Humanism Award. She currently serves as an ad hoc reviewer for more than a dozen journals and is a member-at-large for the American Society of Echocardiography's membership committee.
Upadhya is a clinical investigator with board certification in Cardiovascular Medicine, Echocardiography, Nuclear Cardiology, and Adult Congenital Heart Disease. Her research has spanned a wide range of topics in cardiovascular medicine including medical imaging-related projects and cardiac rehabilitation, heart failure with preserved ejection fraction, exercise physiology, and aging.
Bharathi's husband, Sudarshan Upadhya, PhD, MBA, is co-founder of Aestas Pharma, Inc., based here in Durham. They have two children. Their son is a senior at Duke University, and their daughter is in the 6th grade. Outside of medicine, Bharathi has learned Bharatanatyam, a classical dance of India. She has a strong interest in music and is a trained vocalist of Hindustani classical music. She is currently learning a different form of classical Indian music with her daughter.
We are so pleased to have Bharathi on the Duke Heart team! Please give her a warm welcome, if you have not yet had the opportunity to do so.
Caregiving Conference Held Oct. 28
The Duke Caregiver Community Event was held Friday, Oct. 28 at the Sheraton Imperial Hotel in Durham. Nishant Shah, Laura Blue and Stephanie Barnes served as speakers for the event. Dakota Bentz and Henry Delgado Alvia were wellness clinic volunteers. There was a fantastic turnout with over 500 attendees.
Thanks to those from Duke Heart who participated!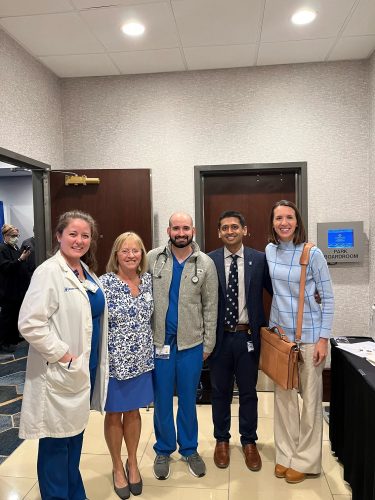 CulturePulse 2022 is Coming This Week — Be Heard
All Duke Health team members will receive information about and a link to the 2022 CulturePulse survey on Wednesday, Nov. 2. The brief survey is confidential, mobile-friendly, and simple to complete. Questions will cover your sense of belonging, safety, and well-being, as well as the strength of your teams and management. The goal is to maintain what's going well and adjust what could be better.
The survey link will remain open through Nov. 16; you can also find it via the QR code you'll see on digital signage and printed flyers around Duke.
CulturePulse is a way for team members to share their feedback about what's going well and what could be improved at Duke Health. Please participate and encourage your team members to do so as well. This is a great opportunity for all of us to have our voices heard.
NIH Data Management and Sharing Policy
The National Institutes of Health (NIH) will require all grants submitted on or after Jan. 25, 2023 to include a Data Management and Sharing Policy. As part of this policy, all new NIH funding mechanisms that produce research data will need to document a two page Data Management and Sharing Plan (DMSP), which will be considered a term and condition of the award. This plan needs to be submitted when applying for funding. Researchers should plan and budget for the management and sharing of data.
To assist faculty in the DOM in meeting this requirement, there will be a DOM Research Quality Town Hall, led by the Duke Office of Scientific Integrity, on Nov. 8, 2022 from 12-1 p.m.
The Town Hall will cover resources at Duke to help faculty meet this requirement. RCR200 credit will be given for those attending the full one-hour meeting. The meeting will be recorded for those unable to attend, but RCR credit is only available for those who attend the live meeting.
To attend this Town Hall and submit your questions regarding the NIH DMSP, please register at the following link: Town Hall on Data Management and Sharing Policy.
ICYMI: Anti-Ableist Advocacy: Lunsford Aims to Change the Conversation Around Disability
He didn't always have an awareness of it or a word for it, but Christopher Lunsford, MD, was affected by ableism throughout his
life. It affected how he coped with the challenges that came with being hard of hearing since birth and having a speech impediment. It wasn't always easy to make his way in a world that focuses mostly on the experiences of people who can hear and speak clearly.
Going on rounds during medical school proved especially difficult. The noisy nature of hospitals with multiple people speaking at once — sometimes in masks — made it extremely hard for Lunsford to know what his attending physicians, patients, and classmates were saying. He said he found himself working twice as hard just to keep up. He did ask for and receive accommodations, but it was a cumbersome process, and ultimately, the accommodations were not helpful. He simply chose to "grin and bear" it.
Now he realizes the pressure to minimize his issues was due to ableism. He also has come to understand that not only is it okay to ask for accommodation, but it's also important to look at changing systems that lead to inequitable learning environments and patient care settings.
"Rounds is possibly the worst possible way for a person who is hard of hearing to learn," said Lunsford, an assistant professor in the Department of Orthopaedic Surgery as well as the Department of Pediatrics. "The number one 'coping skill' that I was given was to minimize the challenge and to make it go away just by ignoring the negative impacts of it. I did not even process it as a systematic failure. At the time, I thought I should have never complained in the first place: 'I'll be fine, I'll figure it out.' I now process it differently in the hope that it helps make me a better advocate."
This feature story from Duke SOM's Magnify continues here. It's worth reading.
Call for abstracts: 2023 Duke Health Quality and Safety Conference
The virtual poster submission period for the 2023 Duke Health Quality and Safety Conference is now open. The deadline for submission is Wednesday, Dec. 14. The 2023 Conference will be held the weeks of March 13 and 20, with an in-person event on Thursday, March 23.
For more information and to submit your abstract, please click here.
Reminder: Early Voting, 2022 Election
The one-stop early voting period in North Carolina opened on Thursday, Oct. 20 and runs through Saturday, Nov. 5. During early voting, voters may cast a ballot at any early voting site in their county and would-be voters may same-day register and vote. Durham residents have the opportunity to vote at Duke University's early voting site on campus in Karsh Alumni Center (2080 Duke University Rd, Durham, NC 27708). Multiple early voting sites are available in Durham, Wake, Orange, Person, and Alamance counties. Early voting locations in each county can be found on the NC State Board of Elections website.
Voters who choose to vote by mail may request an absentee ballot until Tuesday, Nov. 1 at 5 p.m. All absentee ballots must be postmarked by 5 p.m. on Election Day and received by Nov. 14 at 5 p.m. Voters who have already requested an absentee ballot may drop it off at any early voting site in-person, either for themselves or a close relative. Absentee ballots may also be returned to the local board of elections office or a designated drop-off site by 5 p.m. on Election Day. Voters can make sure their absentee ballot was received by using Ballottrax, an absentee ballot tracking site operated by the State Board of Elections.
Election Day is Tuesday, Nov. 8 and a list of polling locations can be found here. Visit the State Board of Elections website or vote.duke.edu for additional information.  For those of you going to AHA this upcoming weekend, be sure to get out and vote as the meeting is close to election day.  The early voting areas in Durham have the weight times on line.
Additional Reminders:
Upcoming Events & Opportunities
Cardiology Grand Rounds
November 1: No CGR this week.
CME & Other Events
November 4: 14th Annual NC Research Triangle Pulmonary Hypertension Symposium. 7 a.m.-4 p.m. This will be an in-person event at the Durham Convention Center. Registration required. To learn more and register, visit: https://duke.is/jag2b
November 5: Duke Annual Reception at AHA.22. Grand Horizon C, Marriott Marquis Chicago. 5:30 – 8:30 p.m. Questions? Contact Elizabeth Evans or Willette Wilkins.
November 8: Election Day. Please vote!
November 8: DOM Research Quality Town Hall. Topic: 2023 NIH Data Management and Sharing Policy. 12-1 p.m. via Zoom. Register here. You must register to receive the Zoom link for the event.
November 14: Prostate Cancer & CVD Symposium, Webinar 4. Final of a four-part webinar series. Collaboration between the International Cardio-Oncology Society & Duke Heart. Noon, Eastern. Free. To register visit https://duke.is/ptjbs.
Have news to share?
If you have news to share with the Pulse readership, please contact Tracey Koepke, director of communications for Duke Heart at tracey.koepke@duke.edu. We would love to hear about your latest accomplishments, professional news, cool happenings, and any events or opportunities that may be of interest to our Duke Heart family. Please call with any questions: 919-681-2868. Feedback on Pulse is welcome and encouraged. Submissions by Noon, Wednesdays, to be considered for weekend inclusion.
Duke Heart in the News:
October 20 — Adrian Hernandez and Susanna Naggie
U.S. News & World Report
Study Debunks Use of Antidepressant Luvox as COVID Treatment
https://duke.is/6mc7p
October 24 — Duke Clinical Research Institute
Becker's Hospital Review
Ivermectin doesn't accelerate COVID-19 recovery, study suggests
https://duke.is/45qj9
October 24 — Duke University (DCRI)
CNBC
Ivermectin — a drug once touted as a Covid treatment by conservatives — doesn't improve recovery much, clinical trial finds
https://duke.is/9hz2e
October 25 — Marat Fudim
mHealth Intelligence
How Wearables Can Enhance Cardiac Care, Boost Patient Engagement
https://duke.is/2vzug
October 25 — Anne Ford (obstetrics/gynecology)
verywellhealth.com
Are Hot Flashes Bad for Your Heart?
Division of Cardiology Publications Indexed in PubMed October 21-26, 2022
Assimon MM, Pun PH, Al-Khatib SM, Brookhart MA, Gaynes BN, Winkelmayer WC, Flythe JE. The modifying effect of the serum-to-dialysate potassium gradient on the cardiovascular safety of SSRIs in the hemodialysis population: a pharmacoepidemiologic study. Nephrol Dial Transplant 2022 Oct 19;37(11):2241-2252. PM: 35793567.
Assimon MM, Pun PH, Wang L, Al-Khatib SM, Brookhart MA, Weber DJ, Winkelmayer WC, Flythe JE. Letter to the editor. Kidney Int 2022 Nov;102(5):1191-1192. PM: 36272744.
Bose S, Yao H, Huang Q, Whitaker R, Kontos CD, Previs RA, Shen X. Using genetically encoded fluorescent biosensors to interrogate ovarian cancer metabolism. J Ovarian Res 2022 Oct 20;15(1):114. PM: 36266675.
Damluji AA, Tehrani B, Sinha SS, Samsky MD, Henry TD, Thiele H, West NEJ, Senatore FF, Truesdell AG, Dangas GD, Smilowitz NR, Amin AP, deVore AD, Moazami N, Cigarroa JE, Rao SV, Krucoff MW, Morrow DA, Gilchrist IC. Position Statement on Vascular Access Safety for Percutaneous Devices in AMI Complicated by Cardiogenic Shock. JACC Cardiovasc Interv 2022 Oct 24;15(20):2003-2019. PM: 36265932.
Naggie S, Boulware DR, Lindsell CJ, Stewart TG, Gentile N, Collins S, McCarthy MW, Jayaweera D, Castro M, Sulkowski M, McTigue K, Thicklin F, Felker GM, Ginde AA, Bramante CT, Slandzicki AJ, Gabriel A, Shah NS, Lenert LA, Dunsmore SE, Adam SJ, DeLong A, Hanna G, Remaly A, Wilder R, Wilson S, Shenkman E, Hernandez AF. Effect of Ivermectin vs Placebo on Time to Sustained Recovery in Outpatients With Mild to Moderate COVID- 19: A Randomized Clinical Trial. JAMA 2022 Oct 25;328(16):1595-1603. PM: 36269852.
Perkovic V, Blackorby A, Cizman B, Carroll K, Cobitz AR, Davies R, DiMino TL, Jha V, Johansen KL, Lopes RD, Kler L, Macdougall IC, McMurray JJV, Meadowcroft AM, Obrador GT, Solomon S, Taft L, Wanner C, Waikar SS, Wheeler DC, Wiecek A, Singh AK. The ASCEND-ND trial: study design and participant characteristics. Nephrol Dial Transplant 2022 Oct 19;37(11):2157-2170. PM: 34865143.
Salah HM, Goldberg LR, Molinger J, Felker GM, Applefeld W, Rassaf T, Tedford RJ, Mirro M, Cleland JGF, Fudim M. Diaphragmatic Function in Cardiovascular Disease: JACC Review Topic of the Week. J Am Coll Cardiol 2022 Oct 25;80(17):1647- 1659. PM: 36265961.
Shahid RA, Vigna SR, Huang MN, Gunn MD, Liddle RA. Nicotinic stimulation of splenic T cells is protective in endoscopic retrograde cholangiopancreatography- induced acute pancreatitis in mice. Am J Physiol Gastrointest Liver Physiol 2022 Nov 1;323(5):G420-G427. PM: 36126221.
Wand AL, Russell SD, Gilotra NA. Ambulatory Management of Worsening Heart Failure: Current Strategies and Future Directions. Heart Int 2021 Jun 7;15(1):49-53. PM: 36277316.
Wendell D, Jenista E, Kim HW, Chen EL, Azevedo CF, Kaolawanich Y, Alenezi F, Rehwald W, Darty S, Parker M, Kim RJ. Assessment of papillary muscle infarction with dark-blood delayed enhancement cardiac MRI in canines and humans. Radiology 2022 Nov;305(2):329-338. PM: 35880980.