Highlights of the week:
Rymer Honored with Linnemeier Young Investigator Award at TCT2022
Jennifer Rymer, MD, MBA, MHS, the John Bush Simpson assistant professor of medicine, was honored at this year's Transcatheter Cardiovascular Therapeutics (TCT) Conference as the recipient of the Thomas J. Linnemeier "Spirit of Interventional Cardiology" Young Investigator Award.
The award was announced Sept. 19 in Boston at TCT which was held in conjunction with the Cardiovascular Research Foundation (CRF). The award was presented by CRF leader Gary S. Mintz, MD, and David J. Cohen, MD, MSc, St. Francis Hospital, and CRF Director of Clinical and Outcomes Research.
"I am deeply honored," said Rymer after the award ceremony. "The other
finalists are so accomplished, and I am so honored to be considered for this award. I want to thank all of my mentors at Duke, Dr. Mehran, and also 'Women as One'. I would not be here had it not been for those folks who have believed in me forever. I really appreciate them and all of their guidance and mentorship over the years."
"What a thrilling moment to see Dr. Jennifer Rymer receive the TCT 2022 Young Investigator Award," said Roxana Mehran, MD, TCT course co-director and professor of medicine at Icahn School of Medicine at Mount Sinai, New York.
"There is no one more deserving than Dr. Rymer for all of her relentless work in diversity, inclusion and mentorship," said Mehran. "She is a dynamo, and someone to look out for, as she has already risen as a star, and is sure to shine for many, many more years."
The presenters summarized the award's history and significance, and recognized the other finalists who were considered for the award: Eric Alexander Secemsky, MD, MSc, who serves as the primary vascular interventionalist at Beth Israel Deaconess Medical Center in Boston, MA; and Janarthanan Sathananthan, MBChB, MPH, a clinical interventional cardiologist at St. Paul's Hospital and Vancouver General Hospital in Vancouver, Canada.
Mintz acknowledged past winners of the award, saying "It is simply an outstanding group of investigators, almost all who are now faculty at TCT."
Rymer has published 70 peer-reviewed publications, 41 as first author. She is an early career academic interventional cardiologist who performs complex coronary and peripheral vascular procedures with a research focus in acute coronary syndromes and patients with severe claudication and chronic limb-threatening ischemia. Further, she performs intravascular imaging for every PCI.
"Competition was stiff, as all of the finalists are incredibly deserving, and it was a very difficult decision," added Cohen.
Way to go, Jenn! Well deserved!
Keenan Joins Duke Heart's Cardiothoracic Faculty
The Division of Cardiovascular and Thoracic Surgery announced this week that Dr. Jeffrey E. Keenan will join their faculty effective October 10, 2022.
Keenan graduated from the University of Maryland School of Medicine in 2011 where he was elected to the AOA medical honor society. He then matriculated to the surgery residency program at Duke. He graduated from the general surgery program in 2018 and achieved certification from the American Board of Surgery in 2019. He completed subspecialty training in cardiothoracic surgery in 2020.
During his training at Duke, Keenan spent two years supported by an NIH F32 National Research Service Award in order to investigate mitochondrial function and oxidative stress in the failing heart.
After completing his training at Duke in 2020, Keenan joined the faculty at the University of Washington in Seattle. He achieved certification from the American Board of Thoracic Surgery in 2021.
Keenan practices as an adult cardiac surgeon with a subspecialty focus in heart transplantation and mechanical circulatory support. He will return to Duke as an assistant professor of surgery in the Department of Surgery, Division of Cardiovascular and Thoracic Surgery. Keenan aims to build a translational research program centered around the optimization of organ preservation and early allograft function in heart transplantation as well as innovating strategies to improve the surgical care of advanced heart failure and cardiogenic shock patients.
We are very pleased he is coming back to Duke! Jeff and his wife, Allison have four children — Quinn, who is seven, and Emerson, Louis, and Norah, their four-year-old triplets. All are excited to once again make Durham their hometown.  Please join us in welcoming Jeff and his family back to Duke!
Three Slots Remaining! Photography Fundraiser to Support Heart Walk
Stephanie Barnes is offering family photography sessions as part of a Duke Heart fundraiser in
support of the American Heart Association's Triangle Heart Walk and Team Got Heart!. We have three openings available for Sunday, Oct. 16. Don't miss out!
Location is Fearrington Village in Chapel Hill. Sessions are 15 minutes. Cost is $150, all of which goes to our fundraiser. Registration is required.
This is a great opportunity to get your holiday family photos done ahead of Thanksgiving. Can be couples, just your kids, small families of 2-4, maybe even have your pets with you! You will receive full access and rights to all of your digital photos via a private web portal. Expect about 20 photos total.
Sign up here: https://www.signupgenius.com/go/409054DA9A623A2F49-photography1
If you have questions, please send an email to: Got Heart Fundraiser/Photoshoot.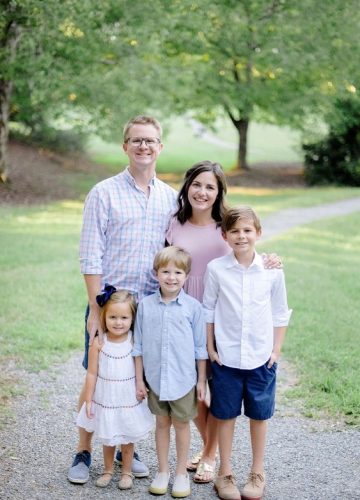 Nursing Open House Held
We had a great turnout for our Duke Heart RN Recruitment Open House on Thursday, Sept. 29. Our nursing teams did an outstanding job of hosting nearly 50 interested applicants. We had several dozen nurses who were unable to attend in person but who expressed interest in learning more.
We are grateful to all who contributed their time and energy for unit tours, shadowing experiences, networking and interviewing – and in publicizing our event. Thank you to all who stopped by to meet nurses who are interested in joining the Duke Heart team. Your support is part of what makes this a great place to work!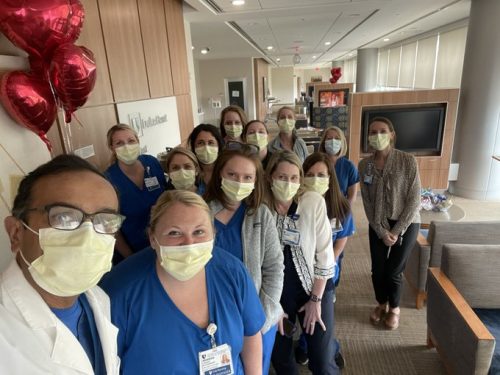 ICYMI: DHIP Town Hall
The latest Duke Health Integrated Practice Town Hall was held on Wednesday, Sept. 28. We appreciate the 400+ team members who joined us online! Leadership provided an update on the progress to date, shared the list of Strategic & Operational Transition Committee members, reviewed benefits changes for those most impacted by the change, and answered questions our team members submitted ahead of the session. You can find the recording here on Warpwire: https://duke.is/gqy7e
You can find the most up-to-date information on the DHIP site: https://dhip.org. In the coming weeks, updates on the work of each Strategic & Operational Transition Committee will also be posted there. Please consider joining any of the Strategic & Operational Transition Committee as a Participant to receive updates directly in your inbox; this is also the best way to provide input to the Committee.
If you have any questions, please email DHIP@duke.edu.
Thank you for your engagement and feedback as we build a Duke Health Integrated Practice that is prepared to welcome everyone.
New Leadership Development Opportunity via Duke AHEAD
Duke AHEAD has announced a new leadership development opportunity for emerging health professions education leaders: Leadership Onboarding for Educators Accelerator Program (LEAP). This program is designed for faculty members who are leading education programs, courses, or curriculum. LEAP is a 3 month on-boarding program and includes topics such as:
Negotiation
Budget management
Leading or teaching a multigenerational group
Developing a strategic plan for your program
Managing difficult situations and conversations
Promoting yourself and your ideas with competent humility
Networking at Duke
Promoting DEI in teaching, hiring, and communication
The inaugural program will be limited to 20 participants. You may self-nominate on the application form link below; a letter of support is required from your direct report.
All sessions will be virtual, and will be held from 4:00 -6:00 pm.
The six sessions are scheduled on Thursdays (1/26/23, 2/9/23, 3/9/23, 3/23/23, 4/13/23, and 4/27/23).
There is NO charge for the program, but applicants should commit to attending all sessions.
This leadership onboarding complements other leadership opportunities noted throughout Duke. Many clinical departments also offer leadership training; LEAP is geared toward those faculty who will be teaching learners or developing programming for learners in clinical or research settings.  For a list of other leadership development opportunities around Duke, please visit here:
Application Deadline is November 2.
APPLY NOW via Qualtrics: https://duke.is/6hg8g.
Additional questions? Please reach out to mailto:dukeahead@duke.edu.
See also: https://dukeahead.duke.edu/blog/application-cycle-now-open-leadership-onboarding-educators-accelerator-program-leap.
Additional Reminders:
Nominations are open for 2022-23 Duke Presidential Awards: https://duke.is/pambd.
The DUHS annual flu vaccination campaign is underway and will continue until mid-November. Vaccination sites for faculty and staff can be found here: https://flu.duke.edu/vaccination/employees/
On October 1, Duke Health launched our first comprehensive Team Member Referral Program. Team members at Duke University Health System and Duke University who refer qualified candidates for any posted clinical or non-clinical positions at https://careers.dukehealth.org/ may be eligible for a monetary bonus and prizes.
Open Enrollment is October 17-28. This is your opportunity to review your medical, dental, vision, and reimbursement account benefit elections and make any changes necessary to ensure your choices continue to meet your needs. Watch your email and home mail delivery for more information.
Upcoming Events & Opportunities
Cardiology Grand Rounds
October 4: Transcatheter Tricuspid Therapy with Paul Sorajja of the Minneapolis Heart Institute Foundation and Abbott Northwestern Hospital, Allina Health Minneapolis Heart Institute, Minneapolis. 7 a.m., Webex and in person (Duke North 2003)
CME & Other Events
October 14: Cardio-Oncology in the Era of Precision Medicine. Symposium to be held at the J.B. Duke Hotel, Durham, NC. Registration is open: https://bit.ly/CardioOnc22. Email Beth Tanner with questions: beth.tanner@duke.edu.
October 17-28: Open Enrollment period for 2023 for all Duke faculty and staff.
October 28: Duke Caregiver Community Event, in-person conference. Details here: https://duke.is/nzbcp.
November 4: 14th Annual NC Research Triangle Pulmonary Hypertension Symposium. 7 a.m.-4 p.m. This will be an in-person event at the Durham Convention Center. Registration required. To learn more and register, visit: https://duke.is/jag2b
November 14: Prostate Cancer & CVD Symposium, Webinar 4. Final of a four-part webinar series. Collaboration between the International Cardio-Oncology Society & Duke Heart. Noon, Eastern. Free. To register visit https://duke.is/ptjbs.
Have news to share?
If you have news to share with the Pulse readership, please contact Tracey Koepke, director of communications for Duke Heart at tracey.koepke@duke.edu. We would love to hear about your latest accomplishments, professional news, cool happenings, and any events or opportunities that may be of interest to our Duke Heart family. Please call with any questions: 919-681-2868. Feedback on Pulse is welcome and encouraged. Submissions by Noon, Wednesdays, to be considered for weekend inclusion.
Duke Heart in the News:
September 23 — Marat Fudim
News & Observer
People hospitalized with COVID-19 may have higher heart failure risk, Duke study says
https://duke.is/mpnnp
September 23 — Marat Fudim
WPTF 680 AM
Some COVID patients at increased risk for heart failure
https://duke.is/6bh5c
(*clip begins @ 15:52:59)
September 23 — Derek Chew
tctMD
Most Patient-Reported Outcome Measures in CVD Fall Short
https://duke.is/pg4zg
September 26 — Marat Fudim
South China Morning Post
People hospitalised with Covid-19 may have higher heart failure risk: study
https://duke.is/4kgn8
September 29 — John Alexander
Medscape
PROACT Xa Trial of Apixaban With On-X Heart Valve Stopped
https://duke.is/8gh6h
September 29 — Jonathan Piccini
Medscape/The Bob Harrington Show
Do Older vs Younger Docs Treat Atrial Fibrillation Differently?
https://duke.is/2kxz9
September 27 — Tony Gutierrez
Univision
Septiembre es el mes de la concienciación sobre la arteriopatía periférica
https://duke.is/rc4xz