Highlights of the week:
Triangle Heart Walk Held Today!
The American Heart Association Triangle Heart Walk was held today at PNC Arena. We had amazing weather and a really great turnout – it could not have been better! Thank you to all of you who have helped support us throughout our effort on behalf of DUHS. We had a sea of Duke Blue at the Walk. It was so much fun to see people in person, enjoying the weather and one another's company.  We appreciate our Heart Walk Chair Richard Shannon who helped organize the Duke Fundraising.Thanks to all who joined us!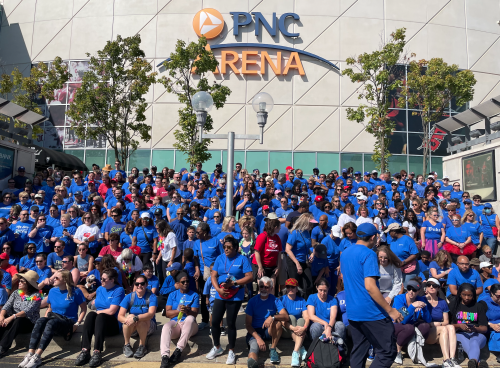 As we've been saying, this annual Walk is a great opportunity to come together to celebrate one another, to represent Duke Health, and to reinvigorate the commitment we have for living a heart-healthy lifestyle. What we haven't pointed out is that this is the largest sponsorship that Duke Health maintains annually. Not only does Duke have one of the biggest teams out there each year, but we often come in as a top organization for fundraising.
Most of you know that some of these funds come back to Duke in terms of research funding – and that is a great reason to fundraise! More importantly, patients and their family members are invited to the Walk every year. At every Heart Walk held nationally, there is always a "survivor's" tent — and many of our cardiovascular, stroke and pulmonary patients and their family members come out to the walk to celebrate their lives with us. For them to see members of our Duke Heart team and the larger DUHS community out in force – walking to support them and the AHA — is incredibly important.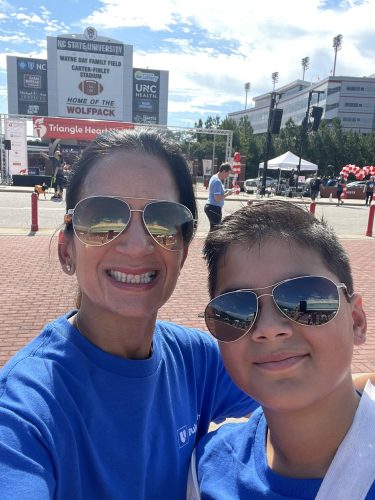 We are so appreciative of all those who helped with planning, those who served as team captains, and those who raised valuable funds. We are proud of the Duke Heart team each and every day – thanks for making this a great place for patients to receive some of the best cardiovascular care in the world and for making it a very special place to work.
In case you're wondering, it is not too late to donate to DUHS's Heart Walk teams. We have until the end of October to collect donations – and every dollar counts, so please consider!
Duran Receives CLCD Travel Grant for AHA Sci Sessions
Jessica Duran, MD has been awarded an AHA travel grant for the upcoming AHA Scientific Sessions 2022 in
Chicago, IL where her abstract was accepted as an oral presentation entitled, Abnormal Exercise Electrocardiography with Normal Stress Echocardiography is Associated with Increased Subclinical Coronary Atherosclerosis: Insights From the Project Baseline Health Study.
Duran has earned a 2022 Council on Clinical Cardiology (CLCD) Underrepresented Racial and Ethnic Groups Travel Grant. This award proudly supports the research efforts of early career investigators and trainees.
She will be acknowledged as a Travel Grant recipient at the CLCD dinner on Saturday, Nov. 5 at the Hyatt Regency McCormick.
Way to go, Jessie!
Fudim Delivers Cardiology Grand Rounds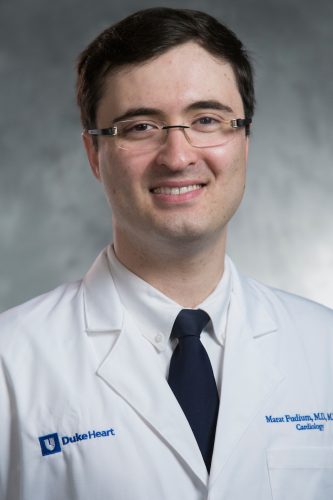 Marat Fudim gave a terrific presentation on heart failure and pressure management on Tuesday evening. It was a great tour through our understanding of volume, pressure, and innovative therapies for patients with Heart Failure.
Still Time! Photography Fundraiser to Support Duke's Heart Walk Effort!
Join Stephanie Barnes for a fall mini-photography session fundraiser in support of the American Heart Association Triangle Heart Walk and Team Got Heart. Several slots remain!
Dates: October 9 and 16, 2022 at Fearrington Village in Chapel Hill. Each session will be 15 minutes. Cost is $150, all of which goes to our fundraiser. Registration is required.
This is a great opportunity to get your holiday family portraits done ahead of Thanksgiving. Can be couples, just your kids, small families of 2-4, maybe even have your pets with you! You will receive full access and rights to all of your digital photos via a private web portal. Expect about 20 photos total.
Sign up here: https://www.signupgenius.com/go/409054DA9A623A2F49-photography1
EDS NOTE: Stephanie is a very talented photographer and this is a great price for a private photo shoot. This is an excellent opportunity to support the AHA Heart Walk by supporting our Got Heart team. You'll get some beautiful photographs of people you love and they will make great gifts!
A big shout-out to Stephanie for donating her time and energy to this cause. If you have questions, please send an email to: Got Heart Fundraiser/Photoshoot. Sample photos shown here are used with client permission.
This week: Nursing Open House, Sept. 29
It's nearly here! Duke Heart's nursing team is hosting an open house on Thursday, Sept. 29 for new and experienced nurses as part of our recruitment efforts. The Open House will allow participants to take part in unit tours, shadowing and interviews.
Interested participants can meet our Duke Heart nursing staff and leaders anytime between 8 a.m. and 5 p.m. in Duke Medicine Pavilion. Greeters will be located at the front entrance (near valets) to meet attendees and direct them to the event throughout the day.
Please share this information with anyone you think might be a good candidate for us! They can register by scanning the QR code shown here.
Additional Reminders:
The last week of September is the last week of Atrial Fibrillation Awareness month! Hug and thank an EP team member when you see them!
The DUHS annual flu vaccination campaign is underway and will continue until mid-November. Vaccination sites for faculty and staff can be found here: https://flu.duke.edu/vaccination/employees/
The Duke Health Integrated Practice (DHIP) Town Hall will be held this week — 7 a.m. on Wednesday, Sept. 28. This will be a Duke Health community-wide event. Questions you would like answered during the Town Hall can be sent ahead of time to DHIP@duke.edu.
Open Enrollment is October 17-28. This is your opportunity to review your medical, dental, vision, and reimbursement account benefit elections and make any changes necessary to ensure your choices continue to meet your needs. Watch your email and home mail delivery for more information.
Upcoming Events & Opportunities
Cardiology Grand Rounds
September 27: Mortality & Morbidity with Jennifer Rymer and Nishant Shah. 5 p.m. Webex and in person (Duke North 2002)
October 4: Transcatheter Tricuspid Therapy with Paul Sorajja of the Minneapolis Heart Institute Foundation and Abbott Northwestern Hospital, Allina Health Minneapolis Heart Institute, Minneapolis. 7 a.m., Webex and in person (Duke North 2003)
CME & Other Events
September 28: DHIP Town Hall. 7 a.m. Links/location sent via email.
September 29: Nursing Open House. Duke Heart's nursing team is hosting an Open House as part of recruitment efforts. 8 a.m. – 5 p.m., DMP. To register: https://duke.is/mhah5
October 14: Cardio-Oncology in the Era of Precision Medicine. Symposium to be held at the J.B. Duke Hotel, Durham, NC. Registration is open: https://bit.ly/CardioOnc22. Email Beth Tanner with questions: beth.tanner@duke.edu.
October 17-28: Open Enrollment period for 2023 for all Duke faculty members and staff.
October 28: Duke Caregiver Community Event, in-person conference. Details here: https://duke.is/nzbcp.
November 4: 14th Annual NC Research Triangle Pulmonary Hypertension Symposium. 7 a.m.-4 p.m. This will be an in-person event at the Durham Convention Center. Registration required. To learn more and register, visit: https://duke.is/jag2b
November 14: Prostate Cancer & CVD Symposium, Webinar 4. Final of a four-part webinar series. Collaboration between the International Cardio-Oncology Society & Duke Heart. Noon, Eastern. Free. To register visit https://duke.is/ptjbs.
Have news to share?
If you have news to share with the Pulse readership, please contact Tracey Koepke, director of communications for Duke Heart at tracey.koepke@duke.edu. We would love to hear about your latest accomplishments, professional news, cool happenings, and any events or opportunities that may be of interest to our Duke Heart family. Please call with any questions: 919-681-2868. Feedback on Pulse is welcome and encouraged. Submissions by Noon, Wednesdays, to be considered for weekend inclusion.
Duke Heart in the News:
September 16 — Robert Keenan (rheumatology)
Rheumatology Advisor
Link Between Gout and Cardiovascular Events – An Interview With Robert Keenan, MD
https://duke.is/y4ya2
September 16 — Duke University Hospital
CBS17.com/WNCN
Duke Undiagnosed Diseases Network Center uncovers rare conditions, set to lose funding after 2024
https://duke.is/rsh4m
September 16 — Michael Carboni and Joseph Turek
Geo News/geo.tv
Doctors optimistic after world's first partial heart transplant on newborn
https://duke.is/5e4rv
September 17 — Joseph Turek
WPTF News Radio 680
https://duke.is/nqh5u
September 18 — Owen Monroe (patient/HIPAA on file)
WKRC CBS-12/Cincinnati
https://duke.is/p647j
(*clip begins @06:53:28)
September 20 — Joseph Turek, Michael Carboni and Monroe family
Tribune News Service
Duke doctors perform world's first partial heart transplant on NC newborn
https://duke.is/45gnq
September 21 — Wayneho Kam (neurology)
Medpage Today
Making Low-Dose tPA Work for Japanese DOAC Users With Ischemic Stroke
https://duke.is/9hmjr
September 21 — Duke Health
Becker's Hospital Review
Duke: Healthcare worker burnout rose to 40% during pandemic
https://duke.is/2vmt3
September 22 — Brian Sexton
Public Radio East (Eastern NC)
Duke experts measure doctor and nurse burnout
https://duke.is/gb7uc
September 22 — Manesh Patel
WRAL/FOX 50
https://duke.is/vtxbn
(*clip begins @ 09:11:20)