Chief's message:
Hope you all had some time with family and had a happy new year.  We know the upcoming weeks and months will be challenging to all of us, including many of our colleagues, staff, faculty and fellows in healthcare.  We appreciate the continued diligence across the Heart Center in helping care for our patients and each other.
Highlights of the week:
Kudos Across Duke Heart & to Center of Excellence Staff!
The latest surge in COVID-19 infections has posed great challenges across all areas of Duke Heart and we recognize how stressful this has been to each member of our team and to our colleagues across the Health System. We appreciate the flexibility our entire team is showing and your willingness to support one another. THANK YOU for all that you're doing.
The Duke Heart Leadership team has check-ins throughout the day to monitor and assess needs during this rapidly changing situation. If you are in need of resources, supplies or other support please do not hesitate to reach out to us. We will do everything we can to get you what you need as soon as possible.
The leadership team for Duke Heart is deeply grateful for all efforts across the Heart Center as we respond to the current surge in infections and the impact that is having on staffing levels. We especially want to thank Joe Kelly, Melissa Williams and the full Center of Excellence team for stepping up, saying 'yes', and mobilizing their team to help.
After a big increase in the number of Duke Health employees who have been out sick with COVID, nurses across the health system — including a number of nurses from the Duke Heart Center of Excellence — who do not work directly in patient care settings are assisting with efforts to return employees to work. They have been making calls to employees and screening them for suitability to return to work. They are collaborating closely with the Employee Occupational Health and Wellness (EOHW) team to apply the latest recommendations on reducing the risk of infectious spread in the workplace. Employees with active symptoms which are not improving are being re-assigned to an EOHW case manager.
Again, thank you for all that you're doing. We will continue to support one another and our patients and we will get through this, together. Keep up the outstanding work!
Heart Transplants Hit 116 for Year; Further Reduction in Wait Times Noted
Our Duke Heart Transplant team completed a remarkable 116 heart transplants in 2021 and the latest Scientific Registry of Transplant Recipients (SRTR) report — released on Thursday, January 6 — shows excellent outcomes as well as a reduction in our median wait times.
"We continue to have year over year growth and this past year was our highest ever at 116 total heart transplants," says Adam DeVore, medical director, Duke Heart Transplantation Program. "Our wait times have been the lowest in the southeast for a while and a lot of that is due to the DCD program and changes around that. We have also seen an increase in referrals from other transplant centers throughout the region, which we attribute to our ability to get patients transplanted faster as well as good outcomes."
Based on data reported to SRTR from October 2018 through December 31, 2021, Duke's median wait time has decreased by 57 percent.
"Our highest ever volume, with continued excellent results, reflects the amazing work by the entire team, says Jacob Schroder, MD, surgical director, Duke Heart Transplantation Program and Co-Director, Cardiothoracic Surgical Intensive Care Unit. "We continue to be leaders, and innovators, in advanced heart failure therapies, not only in the U.S. but the world. 116 is just the beginning."
DeVore says it's important to recognize that these results are not just the result of the transplant program, but the efforts of all members across Duke Heart Center.
"The transplant program itself is a huge team made up of people from surgery, anesthesia and cardiology and the latest data demonstrates the hard work of our team across those areas," DeVore added. "However, this is also very much a celebration of the Heart Center. These patients go to the Echo lab, they get MRIs, they go to the Catheterization lab, they sometimes come into the Health System because they need an EP procedure… and then maybe at some point they need a transplant. So, not only is this great news for the heart transplant program, but it's a reflection of the work done across Duke Heart."
We could not have said it better. Impressive work, across the board. Congratulations, team!
Bryner Named Assistant Program Director, CT Surgery Residency Program
We are pleased to share that Ben Bryner has been named the new assistant program director of our Cardiothoracic Surgery Residency Program.
In a note to the cardiothoracic faculty in December, Dr. Edward P. Chen, chief of the division, commented: "During his time on faculty, Dr. Bryner has proven to be a tireless educator committed to providing our resident learners with a rich and comprehensive training experience. We look forward to his leadership in our training program as well as his development of creative and innovative methods to further advance and improve upon our education mission. Dr. Bryner will continue the tradition of excellence in this role established by his predecessor, Dr. Brittany Zwischenberger. I would also like to express my sincere gratitude to Dr. Zwischenberger for her devoted service to our residency program over the last several years."
Congrats, Ben!
Gutierrez Selected for ACC Emerging Faculty Leadership Academy
Congratulations to Tony Gutierrez! He was recently notified of his selection from a competitive group of candidates to participate
in the 2022 American College of Cardiology's Rick Nishimura, MD, MACC and Patrick T. O'Gara, MD, MACC Emerging Faculty Leadership Academy. The leadership course will be held May 1-3 at Heart House in Washington, DC.
Well deserved!
Snider Named President-Elect of AmSECT
Duke Heart perfusionist William Scott Snider has been named President-Elect of the American Society of Extracorporeal Technology (AmSECT) Board of Directors. The term begins in April. Snider currently serves on the Board as Treasurer. He also chairs AmSECT's Perfusion Without Borders subcommittee.
We asked him recently about his experiences with AmSECT and his commitment to volunteering:
"Like a lot of society volunteers, I became a member of AmSECT as a student and watched from a distance for a long time — not really understanding all that a professional society can mean or the long history behind it and the many volunteers who spend hours upon hours of time in the pursuit of professional excellence within our profession," Snider says. "As I have become more involved over the years, I have gained a better appreciation for all of these things and am very grateful for all that has been done to grow our field and keep it strong. I volunteer because it's very exciting to me to be a small part of that big vision.
"My path in AmSECT and my career at Duke began at almost the same time, and each have rewarded me in very similar ways. Each day I'm humbled by the quality of character of each of the nurses, doctors and allied health professionals that I work with. The vision statement of Duke, 'to educate and discover,' is very similar to the mission statement of AmSECT. For more than 50 years, they have been driven by a goal to support our workforce as they support their patients. It's a vision that's shared by everyone who dedicates their life to healthcare. What makes it so gratifying is doing it together, as a team. If there was one thing that I could share about why I value both AmSECT and Duke, it would be because of the truly remarkable, conscientious, professional, motivated people that I've met along the way. They continue to inspire me, and I'm so fortunate to be a part of it all."
Congratulations, Scott!
Kisslo Spring Courses Announced
The 2022 spring session dates of the echocardiography course led by Joe Kisslo have been released. The Echo Techs Anatomic & Computer Dissections Course will be held on Saturday, Feb. 5 (Basic) and Saturday, Feb. 12 (Intermediate) for fellows, echo techs and attendings.
Registration is required. Seats fill fast and space is limited. Boxed breakfast/lunch will be provided (as allowed per Covid restrictions). If you would like more information or want to register, please email Dawne Smith. A calendar invitation to confirm registration will be sent to you or you may be added to a waitlist if the sessions are filled. First time participants are given priority. Please let her know if you have taken the course before. If you register and your plans change, please cancel as soon as possible by declining the calendar invite or contacting Dawne so that the open seat can be offered to someone on the waitlist.
The Basic Course on Feb. 5 will take place in the Duke South Amphitheater located across from the Duke South cafeteria entrance. The Intermediate Course on Feb. 12 will take place in the Main Lecture Hall in the Searle Center. Directions for access will be provided closer to the course date. Questions? Dawne can be reached at 919-668-1524 or dawne.t.smith@duke.edu.
Coston & Team Place in Top 4, NurseHack4Health
Congratulations to Kimberly Coston, one of our amazing nurses on 3300, and to her 'Knightingale' team members for placing among the top four teams in the November NurseHack4Health hackathon sponsored by Johnson & Johnson. Coston collaborated with the other healthcare professionals on her team (located throughout the world) and worked on a project to combat nursing burnout.
Team Knightingale
Project title: Solving for nurse burnout, which has been exacerbated by COVID-19, with cloud-based software for hospitals and facilities to assess, reaffirm and reset nurses' mental health.
Track: Diversity in Practice and Care
Team Members: Ryan Etzel, Layne Price, Sharonda Davis, Pak Chau, Rachel Harper, Kimberly Coston, Rob McKenna and Rashna Batliwala
"We are so proud to have Kimberly on our 3300 team!" says Courtney Stierwalt, clinical lead RN for 3300.
Designed to give nurses the unique opportunity to create solutions for challenges that directly impact them and their profession, the weekend-long virtual hackathon was themed "building a sustainable nursing workforce of the future" and was a direct response to the urgent need to recruit and retain a diverse nursing workforce as a nursing shortage accelerates around the country. Nursing turnover is reaching nearly 20 percent per year, leading to a risk of decreased stability and quality in patient care and increasing health system costs.
Over the course of 48 hours, a diverse audience of innovators, including registered nurses, physicians, academics, nursing students, developers and design experts from 38 states and over 40 countries came together to focus on developing solutions for long-standing foundational challenges in the nursing workforce.
Nicely done, Kimberly!
Kudos to all Cardiology Fellows!
We were sent a wonderful note by Anna Lisa Chamis ahead of the holidays – it was sent to the entire team of cardiology fellows from Jacob Schroder.
"I just wanted to write you all a note expressing my gratitude for the amazing job you guys do on a daily basis.
Year in, year out, the CV fellow group is hands down the best in the hospital. For most other specialties, I often skip the trainees and go straight for attending-to-attending communication. Cardiology is different, though. Most of the time, I see the CV fellows as more of an ally and equal and will seek them out first. Not to mention, for our trainees, the cardiology fellows are a huge resource. I still remember being the surgical intern covering 31/3300. Dan Bensimon, a fellow at that time, was the person I called constantly for CV issues. Saved my life. And I know for my wife, Vanessa, that person was one Chet Patel (!) and she felt the same way.
Being a fellow is often a daunting and thankless job. But…
Keep doing what you are doing, you have a significant role in how well our patients do
Call any time day or night
Come visit any time in the OR, especially when you are bored, curious, or want to see how we deal with one of your patients!
Happy New Year!!! 2022 is going to be off the hook." — JNS
"Thank you so much for taking the time to write this thoughtful feedback about and to the cardiology fellows. Our cardiology fellows (and faculty!) are truly lucky to learn from and collaborate with the best CT surgeons anywhere. #ilovedukeheart" — Anna Lisa
The Duke Heart team is truly special — please keep that gratitude flowing! Sharing with one another how much you appreciate and value your teammates is important, especially during these challenging times. We love sharing your uplifting notes and kudos in Pulse. Keep up the great work, everyone!
Kudos to the Duke Electrophysiology Team
We received a warm note from a grateful patient family member during the holiday season. They wrote:
"Hi Dr. Piccini, Our family is deeply grateful for your care of our beloved family member over the weekend. You inspired a great deal of confidence regarding his care plan, which greatly reduced his stress while hospitalized. Being an ever proud Frenchman, he was very pleased about your experiences with and fond feelings for France. Thanks to you and your team, he will be returning home in better condition than he left. We would like to wish you and your family un Joyeux Noel!" – grateful family member (names withheld to maintain confidentiality)
And this related note to the team from Diane Sauro, "Thank you all for the exceptional work you do every day. We appreciate all you do for your patients and the team." — Diane
Great work, Jon and team!
Kudos to Kesler!
A grateful patient took some extra time last month to speak with James Mills and send a follow-up note about Autumn Kesler, nurse practitioner, via MyChart:
"When you hired Autumn you hit a grand slam completely out of the park! She is great!" – grateful patient
According to Cheri Wills, Health Center Administrator for Duke Cardiology of Raleigh, "Autumn has only been with our clinic since March 2021 and fit in immediately. She is wonderful in so many ways and we are fortunate to have her as part of our team."
Way to go, Autumn!
Heart Services Holiday Open House
The Heart Services Leadership team held a holiday open house on Wednesday, Dec. 22 on the 8th floor of the HAFS building. A good time was had by all – thank you to those of you who were able to stop by and celebrate the season with us!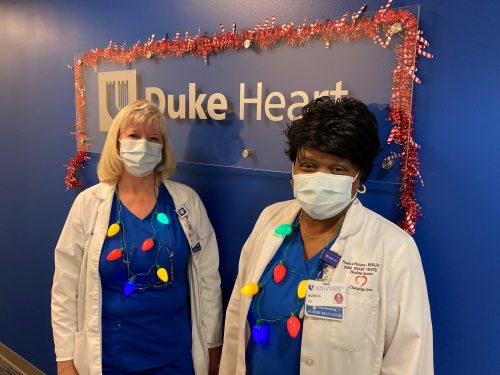 COVID-19 Update
You can quickly access the latest Clinical Operations updates regarding COVID-19 as well as the most recent DUHS Leadership Virtual Town Hall recordings here: https://covid-19.dukehealth.org.
Reminder: All Duke University Health System (DUHS) and Private Diagnostic Clinic (PDC) team members, regardless of work location, are required to receive and provide documentation of a completed COVID-19 booster vaccination by 10 a.m. on Tuesday, Feb. 15, 2022, or within 28 days of their eligibility under CDC and state guidelines. More details are available in this email that was sent to all staff on Tuesday, Dec. 28.
Upcoming Events & Opportunities
Cardiology Grand Rounds
January 11: Telehealth to Improve Functional Status and Quality of Life in Veterans with Peripheral Artery Disease with Tony Gutierrez. 5 p.m. via Webex.
January 18: The Ultimate 'Anti-Racism Statement' Medicine Can Make is to Diversify its Ranks with Quinn Capers, IV of the University of Texas Southwestern Medical Center. 5 p.m. via Webex.
MLK Commemoration 2022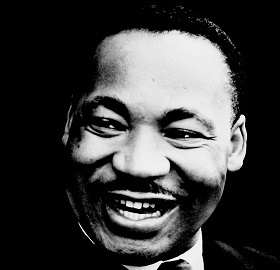 Sunday, Jan. 16: How Long Must We Wait: Striving For the Beloved Community. The 2022 MLK keynote address will be given by historian and social activist, Keeanga-Yamahtta Taylor on Sunday, Jan. 16 at 3 p.m. at Duke Chapel. [UPDATE (1/14/22): This even will be virtual due to weather.] In addition, several community service opportunities are scheduled for the week of MLK Day. You can find more information about the main ceremony and service opportunities on the Duke MLK Commemoration website (https://mlk.duke.edu/). The Commemoration Service is free and open to the public. In accordance with Duke University COVID-19 mitigation policies, all guests must wear a mask at all times when indoors regardless of vaccination status. Parking will be available to all guests at the Bryan Center Garage free of charge.
Dzau Distinguished Lecture in Global Health
Wednesday, Jan. 26:  Restoring Global Solidarity on the Road to Pandemic Recovery — A Conversation with Dr. Agnes Binagwaho and Dr. Paul Farmer. Noon – 1:30 p.m., Zoom. Registration required: https://bit.ly/3tbw7SM.
Global health crises require global responses. But in the effort to control COVID-19, rising tides of nationalism have threatened collective action and deepened health inequities for many countries. In the face of these challenges to global health solidarity, the Duke Global Health Institute presents a probing discussion with two of the world's preeminent global health experts – Dr. Agnes Binagwaho and Dr. Paul Farmer – on how the world failed to cooperate to fight the pandemic and how to chart a new vision to achieve health equity.
This interactive webinar will span two continents, with our featured speakers appearing at the University of Global Health Equity in Butaro, Rwanda. Dr. Gavin Yamey, professor of the practice of global health and public policy, will moderate the conversation from Duke, fielding questions from the online audience. Attendees will join using Zoom webinar, space permitting.
Duke Well-Being Ambassador Virtual Course
January 11 – March 15: The Well-being Essentials for Learning Life-Balance (WELL-B) weekly webinar series begins January 11, 2022 at 3 p.m. EST. For only one hour a week for 10 weeks (with an optional 11th week for sharing content with colleagues), healthcare workers can learn about the science and practice of well-being from Dr. Bryan Sexton, Dr. Carrie Adair, and Dr. Kyle Rehder. These strategies can enhance your well-being, and through sharing, the well-being of your co-workers. Available to all Duke Health employees and those outside of Duke as well. More information: bit.ly/dukewellb. Offered by the Duke Center for Healthcare Safety and Quality.
Call for Applicants: 2022 AAMC Early-Career Women Seminar
The Department of Medicine and Program for Women in Internal Medicine (PWIM) are pleased to announce sponsorship for one faculty member to attend the in-person AAMC Early-Career Women Seminar on July 19-22, 2022. This popular and highly interactive seminar provides women at the assistant professor level with foundational leadership knowledge and skills to help achieve career goals and thrive as successful leaders in academic medicine and science. If interested in being considered for sponsorship, please send an email to Kimberly Dorman (kimberly.dorman@duke.edu) by January 31, 2022. Members of the office of the Vice-Chair for Faculty Development and Diversity (Drs. Laura Svetkey and Daniella Zipkin) will select one faculty member to nominate to attend and will notify the applicant by email.
Duke Research Week 2022
January 31 – February 4: Registration is now open for Duke Research Week 2022. Join us virtually for a week-long celebration of research underway at Duke! There is an excellent lineup of faculty lectures, panel discussions, "flash talks" with graduate students, trainees and postdoctoral fellows, and guest presenters for the Robert J. Lefkowitz, MD, Distinguished Lecture and Daubechies Lecture. Check out the full agenda here: https://dukeresearchweek.vfairs.com/en/#distinguishedlectures
National Wear Red Day
Friday, Feb. 4: National Wear Red Day. Help increase awareness of the impact cardiovascular disease has on all of us — wear red on Friday, Feb. 4! We would love to have individual and team photos of you sporting your awareness gear to share in Pulse!!
Newly Announced CME
April 23: Duke Sports Cardiology & Sudden Death in Athletes Symposium with course directors Jim Daubert and Bill Kraus. Virtual. For information or to register, contact Christy Darnell christy.darnell@duke.edu or 919-880-8686.
Postponed: Evening with Heart Benefitting Marfan
Due to the latest COVID surge, An Evening with Heart to benefit the Marfan Foundation has been postponed to Thursday, May 5. Location remains the same: The Maxwell in Raleigh, NC. The event will include a silent auction, cocktails, heavy hors d'oeuvres and entertainment. Proceeds will benefit The Marfan Foundation. For information please visit: https://bit.ly/3cHIBYD.
Have news to share?
If you have news to share with the Pulse readership, please contact Tracey Koepke, director of communications for Duke Heart at tracey.koepke@duke.edu. We would love to hear about your latest accomplishments, professional news, cool happenings, and any events or opportunities that may be of interest to our Duke Heart family. Please call with any questions: 919-681-2868. Feedback on Pulse is welcome and encouraged. Submissions by Noon, Wednesdays, to be considered for weekend inclusion. 
Duke Heart in the News:
December 19 — Svati Shah
Healio/Cardiology Today
AHA to fund research on long-term impact of COVID-19 on heart, brain health
https://bit.ly/33686Sa
December 22 — Manesh Patel
Medscape
Apixaban: The 'Anticoagulant of Choice' for AF
https://www.medscape.com/viewarticle/965390#vp_1
December 22 — Manesh Patel
tctMD
Correction Issued for Controversial Study Linking COVID-19 Vaccines to ACS Risk
https://bit.ly/3F8NQfR
December 26 — Harry Severance
ACEP eNow
Top 5 Articles of 2021: How the COVID-19 mRNA Vaccines Work, and Some Current Concerns
https://bit.ly/3zNl9nK
December 27 — Jennifer Rymer
Healio/Cardiology Today
Racial gap remains in invasive management for patients with MI with chronic kidney disease
https://bit.ly/3FaYzqa
December 30 — Sana Al-Khatib
Healio/Cardiology
The Take Home: AHA Scientific Sessions
https://bit.ly/3f2P5CL
December 30 — Tristram Bahnson
Healio/Cardiology Today
Catheter ablation outcomes in patients with AF vary by age: CABANA
https://bit.ly/3F7vITG
December 31 — Jennifer Rymer and Manesh Patel
HCP Live
The Best from AHA & TCT 2021 with Jennifer Rymer, MD
https://bit.ly/3F5xS65
Division of Cardiology Publications Indexed in PubMed December 16-22, 2021
Boakye E, Kwapong YA, Obisesan O, Ogunwole SM, Hays AG, Nasir K, Blumenthal RS, Douglas PS, Blaha MJ, Hong X, Creanga AA, Wang X, Sharma G. Nativity-Related Disparities in Preeclampsia and Cardiovascular Disease Risk Among a Racially Diverse Cohort of US Women. JAMA Netw Open 2021;4(12):e2139564. PM: 34928357.
Carnicelli AP, Owen R, Pocock SJ, Brieger DB, Yasuda S, Nicolau JC, Goodman SG, Cohen MG, Simon T, Westermann D, Hedman K, Andersson Sundell K, Granger CB. Atrial fibrillation and clinical outcomes 1 to 3 years after myocardial infarction. Open Heart 2021;8(2):e001726. PM: 34911791.
Fanaroff AC, Li S, Marquis-Gravel G, Giri J, Lopes RD, Piccini JP, Wang TY. Atrial Fibrillation and Coronary Artery Disease: A Long-Term Perspective on the Need for Combined Antithrombotic Therapy. Circ Cardiovasc Interv 2021;14(12):e011232. PM: 34932388.
Franklin JM, Platt R, Dreyer NA, London AJ, Simon GE, Watanabe JH, Horberg M, Hernandez A, Califf RM. When Can Nonrandomized Studies Support Valid Inference Regarding Effectiveness or Safety of New Medical Treatments? Clin Pharmacol Ther 2022;111(1):108-115. PM: 33826756.
Friedman DJ, Emerek K, Sørensen PL, Graff C, Loring Z, Jackson KP, Polcwiartek C, Singh JP, Kisslo J, Søgaard P, Atwater BD. Relationship Between Electrical and Mechanical Dyssynchrony and Outcomes Among Patients Undergoing Cardiac Resynchronization Therapy. Circ Arrhythm Electrophysiol 2021;14(12):e010217. PM: 34843407.
Fudim M, Wojdyla DM, Alexander JH, Goodman SG, Mehran R, Windecker S, Aronson R, Vinereanu D, Halvorsen S, Bahit MC, Granger CB, Lopes RD. Efficacy and Safety of Antithrombotic Therapy in Patients With Atrial Fibrillation, Recent Acute Coronary Syndrome, or Percutaneous Coronary Intervention and a History of Heart Failure: Insights From the AUGUSTUS Trial. J Am Heart Assoc 2021 Dec 21;10(24):e023143. PM: 34873913.
Fuery MA, Chouairi F, Natov P, Bhinder J, Rose Chiravuri M, Wilson L, Clark KA, Reinhardt SW, Mullan C, Miller PE, Davis RP, Rogers JG, Patel CB, Sen S, Geirsson A, Anwer M, Desai N, Ahmad T. Trends and Outcomes of Cardiac Transplantation in the Lowest Urgency Candidates. J Am Heart Assoc 2021;10(24):e023662. PM: 34743559.
Greene SJ, Butler J, Fonarow GC. Contextualizing Risk Among Patients With Heart Failure. JAMA 2021;326(22):2261-2262. PM: 34779819.
Hegde SM, Lester SJ, Solomon SD, Michels M, Elliott PM, Nagueh SF, Choudhury L, Zemanek D, Zwas DR, Jacoby D, Wang A, Ho CY, Li W, Sehnert AJ, Olivotto I, Abraham TP. Effect of Mavacamten on Echocardiographic Features in Symptomatic Patients With Obstructive Hypertrophic Cardiomyopathy. J Am Coll Cardiol 2021;78(25):2518-2532. PM: 34915982.
Kolupoti A, Fudim M, Pandey A, Kucharska-Newton A, Hall ME, Vaduganathan M, Mentz RJ, Caughey MC. Temporal Trends and Prognosis of Physical Examination Findings in Patients With Acute Decompensated Heart Failure: The ARIC Study Community Surveillance. Circ Heart Fail 2021;14(12):e008403. PM: 34702047.
Lunsford-Avery JR, Engelhard MM, Navar AM, Kollins SH. Author Correction: Validation of the Sleep Regularity Index in Older Adults and Associations with Cardiometabolic Risk. Sci Rep 2021;11(1):24398. PM: 34916542.
Lunyera J, Diamantidis CJ, Bosworth HB, Patel UD, Bain J, Muehlbauer MJ, Ilkayeva O, Nguyen M, Sharma B, Ma JZ, Shah SH, Scialla JJ. Urine tricarboxylic acid cycle signatures of early-stage diabetic kidney disease. Metabolomics 2021;18(1):5. PM: 34928443.
Marquis-Gravel G, Hammill BG, Mulder H, Roe MT, Robertson HR, Wruck LM, Sharlow A, Harris DF, Pohlman FW, Hernandez AF, Jones WS. Validation of Cardiovascular End Points Ascertainment Leveraging Multisource Electronic Health Records Harmonized Into a Common Data Model in the ADAPTABLE Randomized Clinical Trial. Circ Cardiovasc Qual Outcomes 2021;14(12):e008190. PM: 34886680.
Murray EM, Whellan DJ, Chen H, Bertoni AG, Duncan P, Pastva AM, Kitzman DW, Mentz RJ. Physical Rehabilitation in Older Patients Hospitalized with Acute Heart Failure and Diabetes: Insights from REHAB-HF. Am J Med 2022;135(1):82-90. PM: 34516959.
Ross M, Henao R, Burke TW, Ko ER, McClain MT, Ginsburg GS, Woods CW, Tsalik EL. A comparison of host response strategies to distinguish bacterial and viral infection. PLoS One 2021;16(12):e0261385. PM: 34905580.
Simon GE, Bindman AB, Dreyer NA, Platt R, Watanabe JH, Horberg M, Hernandez A, Califf RM. When Can We Trust Real-World Data To Evaluate New Medical Treatments? Clin Pharmacol Ther 2022;111(1):24-29. PM: 33932030.
Simon GE, Platt R, Watanabe JH, Bindman AB, John London A, Horberg M, Hernandez A, Califf RM. When Can We Rely on Real-World Evidence to Evaluate New Medical Treatments? Clin Pharmacol Ther 2022;111(1):30-34. PM: 33895994.
Singh AK, Carroll K, McMurray JJV, Solomon S, Jha V, Johansen KL, Lopes RD, Macdougall IC, Obrador GT, Waikar SS, Wanner C, Wheeler DC, Więcek A, Blackorby A, Cizman B, Cobitz AR, Davies R, DiMino TL, Kler L, Meadowcroft AM, Taft L, Perkovic V. Daprodustat for the Treatment of Anemia in Patients Not Undergoing Dialysis. N Engl J Med 2021;385(25):2313-2324. PM: 34739196.
Singh AK, Carroll K, Perkovic V, Solomon S, Jha V, Johansen KL, Lopes RD, Macdougall IC, Obrador GT, Waikar SS, Wanner C, Wheeler DC, Więcek A, Blackorby A, Cizman B, Cobitz AR, Davies R, Dole J, Kler L, Meadowcroft AM, Zhu X, McMurray JJV. Daprodustat for the Treatment of Anemia in Patients Undergoing Dialysis. N Engl J Med 2021;385(25):2325-2335. PM: 34739194.
Watanabe JH, Simon GE, Horberg M, Platt R, Hernandez A, Califf RM. When Are Treatment Blinding and Treatment Standardization Necessary in Real-World Clinical Trials? Clin Pharmacol Ther 2022;111(1):116-121. PM: 33829639.
Division of Cardiology Publications Indexed in PubMed Dec 23, 2021-Jan 5, 2022
Ariss RW, Minhas AMK, Issa R, Ahuja KR, Patel MM, Eltahawy EA, Michos ED, Fudim M, Nazir S. Demographic and Regional Trends of Mortality in Patients With Acute Myocardial Infarction in the United States, 1999 to 2019. Am J Cardiol 2022;164:7-13. PM: 34857365.
Bekfani T, Hamadanchi A, Ijuin S, Bekhite M, Nisser J, Derlien S, Westphal J, Bogoviku J, Morris DA, Fudim M, Braun-Dullaeus RC, Möbius-Winkler S, Schulze PC. Relation of left atrial function with exercise capacity and muscle endurance in patients with heart failure. ESC Heart Fail 2021;8(6):4528-4538. PM: 34726343.
Breathett KK, Xu H, Sweitzer NK, Calhoun E, Matsouaka RA, Yancy CW, Fonarow GC, DeVore AD, Bhatt DL, Peterson PN. Is the affordable care act medicaid expansion associated with receipt of heart failure guideline-directed medical therapy by race and ethnicity? Am Heart J 2022;244:135-148. PM: 34813771.
Chew DS, Li Z, Steinberg BA, O'Brien E, Pritchard J, Bunch TJ, Mark DB, Patel MR, Nabutovsky Y, Greiner MA, Piccini JP. Association between economic and arrhythmic burden of paroxysmal atrial fibrillation in patients with cardiac implanted electronic devices. Am Heart J 2022;244:116-124. PM: 34800369.
Do WL, Nguyen S, Yao J, Guo X, Whitsel EA, Demerath E, Rotter JI, Rich SS, Lange L, Ding J, Van Den Berg D, Liu Y, Justice AE, Guan W, Horvath S, Assimes TL, Bhatti P, Jordahl K, Shadyab A, Valencia CI, Stein AD, Smith A, Staimez LR, Conneely K, Narayan K. Associations between DNA methylation and BMI vary by metabolic health status: a potential link to disparate cardiovascular outcomes. Clin Epigenetics 2021;13(1):230. PM: 34937574.
Fudim M, Borges-Neto S. Utility of diastolic dyssynchrony in the setting of cardiac resynchronization therapy. J Nucl Cardiol 2021;28(6):2644-2646. PM: 31512196.
Gaudino M, Di Franco A, Alexander JH, Bakaeen F, Egorova N, Kurlansky P, Boening A, Chikwe J, Demetres M, Devereaux PJ, Diegeler A, Dimagli A, Flather M, Hameed I, Lamy A, Lawton JS, Reents W, Robinson NB, Audisio K, Rahouma M, Serruys PW, Hara H, Taggart et al. Sex differences in outcomes after coronary artery bypass grafting: a pooled analysis of individual patient data. Eur Heart J 2021;43(1):18-28. PM: 34338767.
Goldstein SA, Krasuski RA. Pulmonary Hypertension in Adults with Congenital Heart Disease. Cardiol Clin 2022;40(1):55-67. PM: 34809917.
Huang MN, D'Anniballe VM, Gunn MD. Monocytes as a Cellular Vaccine Platform to Induce Antitumor Immunity. Methods Mol Biol 2022;2410:627-647. PM: 34914073.
Krasuski RA. Pulmonary Hypertension. Cardiol Clin 2022;40(1):xi-xii. PM: 34809921.
Pagidipati NJ, Phelan M, Page C, Clowse M, Henao R, Peterson ED, Goldstein BA. The importance of weight stabilization amongst those with overweight or obesity: Results from a large health care system. Prev Med Rep 2021;24:101615. PM: 34976671.