Chief's message: Cardiac Sonographers graduation, Digital European Society of Cardiology Meeting and other highlights.
This weekend I had the pleasure of attending the graduation of the first Duke Cardiac Sonographers certificate program – a program many years in the making.  The program originally conceived of by Joe Kisslo was never put into place until we had the fortune of recruiting both Anita Kelsey and Richie Palma from Connecticut – where they had run a successful training course for many years.  We will have the official write up of it next week – but I include a few photos I took here.  The school, training, and CDU work by this group is a testament to the teamwork, quality, and long-standing desire to continue to strive for excellence in imaging that Joe Kisslo and others have embedded at Duke.  More to come on this accomplishment, but I wanted to include a few photo's here as it was great to see the first class graduate.
Additionally, this weekend had the start of the European Society of Cardiology meeting with several important studies and highlights.  Some of our key faculty presentations are below, and we have several more to come.  My vote for the most impactful trial to human health is the Salt Substitution study (SSaSS) where 600 villages in China were cluster randomized to getting usual salt (100% Sodium Chloride) or salt substitute (75% sodium chloride and 25% potassium chloride- KCl).  The Salt Substitute reduced cardiovascular events and reduced mortality by 12%.  Although our sources of salt are different in the US, we will quickly be hearing about how this type of substitution should be considered and tested in our communities to improve health through BP improvement and CV event reduction.  Other key findings from the ESC were around new therapies for patients with heart failure with preserved ejection fraction (heart failure with normal heart function) – EMPERIOR-Preserved, the testing of short course Dual Anti-platelet therapy in patients with high bleeding risk post MI (1 vs. 3 months) – MASTERDAPT.  This study showed no difference in clinical outcomes, less bleeding with 1 month (mostly in patients not on oral anti-coagulants).  Our own Magnus Ohman writes the editorial in the New England Journal for this trial (you will see the link below).  Additionally, important studies around managing atrial fibrillation both with exercise to prevent AF, anticoagulation in patients identified by screening and the benefit or lack thereof of routine screening for subclinical AF, and the benefit of prolonged anticoagulation post COVID-19 hospitalization by Renato Lopes and colleagues in Brazil were all presented.  Lots of great science, and I know many of our faculty were up early hours on the weekend to present in the European time zone.  Congratulations to all of our faculty, colleagues and collaborators who continue to help us advance the field of cardiovascular medicine.
Highlights of the week:
ESC Congress 2021: The Digital Experience
The European Society of Cardiology's ESC Congress 2021 is underway (Aug. 27-30)! Duke presenters include include Jonathan Piccini, Renato Lopes, Sana Al-Khatib, Pamela Douglas, Manesh Patel and Adrian Hernandez and many others.
Note, the below links will only work for those who have registered (and it's not too late to do so!)
On-Demand Content:
ePoster: Efficacy and safety of vericiguat in patients with HFrEF treated with sacubitril/valsartan: results from the VICTORIA trial
Adrian F Hernandez, MD, MHS
ePoster: Hemoglobin, anemia, and clinical outcomes in vericiguat global study in subjects with heart failure with reduced ejection fraction (VICTORIA)
Adrian F Hernandez, MD, MHS
ePoster: Vericiguat and health status outcomes in heart failure with reduced ejection fraction: Insights from the VICTORIA trial
Adrian F Hernandez, MD, MHS
Sessions:
August 27, Will computers interpret all cardiac imaging?
Pamela S Douglas, MD, MACC, FASE, FAHA
August 27, Late-Breaker: Two-Year Outcomes with Leadless Pacing- Micra CED Results
Jonathan P Piccini, MD, MHS, FHRS
August 28, Evolving Cardiovascular risk: Your patient's past, present and future
Manesh R Patel, MD
August 28, Satellite Session: Building the evidence base for cardiac interventions in non-valvular atrial fibrillation
Renato D Lopes, MD, PhD
Remaining sessions include:
August 30 (2:15-3:00 a.m., on Live Abstracts: COVID-19 2), Live Abstract: COVID-19 and cardiovascular pharmacotherapy
Renato D Lopes, MD, PhD
August 30 (2-2:45 a.m., on Channel 5: Coronary Artery Disease), Great Debate: rise of the machines? – human vs. artificial intelligence for ECG interpretation
Sana M Al-Khatib, MD, MHS
August 30 (8:30-9:00 a.m., in Exhibit Hall B2), PRONOUNCE: comparing cardiovascular safety of degarelix vs. leuprolide in patients with advanced prostate cancer and cardiovascular disease
Renato D Lopes, MD, PhD
Congratulations to all the presenters.
NIH Funding Awarded to Piccini, Mathew
Congratulations to Jonathan Piccini and Joseph Mathew! They were notified this week by the National Institutes of Health/National Institute on Aging that their project, Neurocognition and Greater Maintenance of Sinus Rhythm in AF (NOGGIN AF), has been selected for award funding. The award is for $740,086 effective Sept. 1.
Piccini, Mathew and team will be using functional MRI and other cognitive testing to examine the hypothesis that catheter ablation leads to better preservation of brain function.
Nafissi Abstract Selected for 2021 NCYIF
Congratulations to Navid Nafissi, fellow in our Advanced Training in Cardiology fellowship program – his abstract, Integration of Electronic Health Records with Genetics in Monogenic Electrophysiologic Disorders, has been selected for presentation at the 17th Annual Northwestern Cardiovascular Young Investigators' Forum (NCYIF) being held at The Omni Chicago Hotel, October 14-16, 2021, in Chicago, IL. His mentor is Svati Shah.
The event is presented by Northwestern University Feinberg School of Medicine and Creative Educational Concepts, Inc., and supported by an independent educational grant from AstraZeneca.
Congratulations Navid!
Gail Cox Retirement Party Held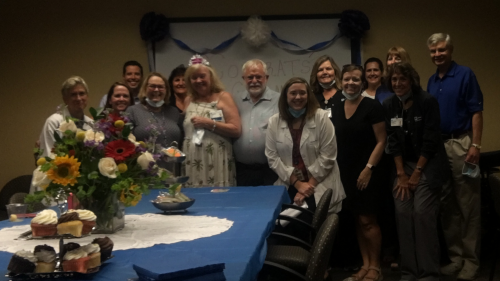 The Duke Cardiology at Southpoint team celebrated with nurse clinician Gail Cox on Friday, August 27. Cox recently announced her retirement from Duke and we know she will be missed by many!
"Gail is a great nurse who always provided compassionate care for our patients.  She was also a trail blazer for the nurse clinician role with dual inpatient rounding and outpatient roles, which has evolved over the years." — Carolyn Lekavich, PhD
"Gail is one of the longest serving nurse clinicians in Duke Cardiology. She started as nurse in the late 1980s on 7100. Her initial nurse clinician job was with Dr. Tom Wall and she worked with him on both the wards and in the clinic. When Tom left to take on a new position as a cardiologist in Greensboro, she was assigned to work with me. We worked together for over 25 years and Gail was a very thoughtful and caring nurse clinician in the clinic.
She was deeply involved with all her patients and they loved her back.  An example of how much she connected with her patients came when she got remarried a number of years ago. At least 20 patients who Gail had helped came to her wedding! A true testament to her skill of connecting with our patients. I still see many patients who would like to get a 'Gail update.'"
— Magnus Ohman, MD
"She has spent over 20 years with Duke Cardiology in support of various attendings including myself, Magnus and initially Tom Wall. Her experience and expertise in delivering patient-centered care through her role as a nurse clinician (a role she both defined and embodied) will be irreplaceable.  She will be deeply missed by all of our patients, the staff at Southpoint and mostly myself." — Mike Blazing, MD
Thank you, Gail, for the great patient care and support you've given over the years!
ICYMI: Ohman NEJM Editorial
The New England Journal of Medicine posted an editorial by E. Magnus Ohman on August 28. "The Evolving Post-PCI Antithrombotic Therapies" is available for viewing here: https://www.nejm.org/doi/full/10.1056/NEJMe2112747
Congratulations, Magnus!
CTICU APP Team Receives Preceptor Award
Our Cardiothoracic Intensive Care Unit Advance Practice Provider team has been awarded the 2021 Acute Care Preceptor Award from the Duke University School of Nursing MSN Program.
The award notification states:
"Due to your impressive leadership, scholarly success, and commitment to DUSON's students and core values, and your ability to model effective teamwork while making our students feel part of the team is appreciated. As a team, you collectively worked to ensure our students had quality critical care experiences that not only reinforced what they learned in class, but informed their own practice as well. In a high stress environment, you showed the importance of grace under fire and treating patients with dignity and respect. Thank you for all of your efforts to help our students learn and grow as healthcare providers."
Way to go — congratulations to all!
2021 Heart Walk Seeking Team Captains, Walkers
Recruitment for team captains and walkers is underway! Duke Heart is proud to again be sponsoring and participating in the Triangle Heart Walk, which is scheduled for Sunday, October 10. Due to pandemic circumstances, this year you can decide your walking path. The American Heart Association will have "pop-up" start lines at various locations throughout the Triangle (exact locations to be announced later) or you can choose to walk on your own, wherever is most convenient to you! The 2021 Heart Walk will offer maximum flexibility but remains focused on improving health of residents in the Triangle and to raising funds for lifesaving research.
The Heart Walk is a great way to put yourself and your health first. This year, an activity tracker has been built into the Heart Walk App, which goes live 30 days before the event (Sept. 10). Let's see who can get the most minutes and be at the top of the leaderboard!
You can start your own team or join an existing one. Registration is quick and easy: simply visit triangleheartwalk.org/dukehealth2021. If you have any questions or need help, feel free to email Kimberly Burrows, senior director of development for the Triangle AHA, at kimberly.burrows@heart.org.
Celebration Held for McKinney
Thanks to all who were able to join us in celebrating with Heather McKinney. Her last day at Duke was Friday, August 27. McKinney is headed to Duke Lifepoint Healthcare's Maria Parham Health in Henderson, NC, to serve as ICU/PCU Director.
Well-Being Resources Available
Over the past year and a half, the COVID pandemic has taken a toll on our mental and emotional health. Now more than ever, many people are experiencing increased feelings of burnout, depression and anxiety. We realize this is also true for many of our team members, especially those on the front lines caring for patients.
Caring for our patients, their loved ones and each other starts with caring for yourself. The ongoing challenges of the COVID pandemic are real. Please consider taking advantage of the many tools that are available to help manage feelings of burnout, anxiety and grief.
Duke's Personal Assistance Service offers a variety of programs. The Business Health Services program is available for Duke Raleigh Hospital and Wake County-based team members. This coping card, developed by the Duke Center for Healthcare Safety & Quality includes practical, at-a-glance strategies, as well as additional well-being resources and contact phone numbers.
Thank you for the incredible care and compassion you provide to our patients, their loved ones and each other every day. Please remember to also take care of yourself.
Upcoming Events & Opportunities
Cardiology Grand Rounds
September 14: CGR Kick-off event: A Few Things I've Learned Along the Way with Robert J. Lefkowitz, MD, James B. Duke Professor of Medicine; Professor of Biochemistry and Chemistry; Investigator, Howard Hughes Medical Institute. 5 p.m., Webex.
September 21: ESC 2021 Recap with Bernard Gersh (Mayo Clinic) and Christopher Granger. 5 p.m., Webex.
September 28: Hypertrophic Cardiomyopathy Guidelines and Treatment Update with Andrew Wang. 7:15 a.m., Webex.
Upcoming Duke Heart CME
October 8: Duke Heart Failure Symposium: The Leading Edge of Heart Failure Management. Course directors are Richa Agarwal and Robert Mentz. 12 – 4:30 p.m. Zoom Webinar. To learn more and to register, please visit: http://duke.is/Q1sBtf
November 5: 13th Annual NC Research Triangle Pulmonary Hypertension Symposium. Course directors are H. James Ford (UNC) and Terry Fortin. 8:30 a.m. to 4:20 p.m. Morning case-based workshops will be live, in person at Durham Convention Center (subject to change pending pandemic conditions). Masks and COVID vaccination required. Afternoon portion will be held via Zoom. For more information and to register, please visit: https://bit.ly/3DrZwuv.
MDEpiNet Predictable and Sustainable Implementation of National Cardiovascular Registries (PASSION CVR): Registry-Supported Prospective Trials: What are we missing?
September 9:  Part 1: Exploring Predicates and Lessons Learned. Noon – 5 p.m. ET. Virtual.
Join us for this Virtual Mini-Think Tank to explore opportunities, challenges, and lessons learned related to the uptake and adoption of registry-supported trials infrastructure! To register, please visit: https://duke.qualtrics.com/jfe/form/SV_b3Egi7WMPhsG8MS
Meeting Objectives:      
This collaborative, pre-competitive think tank aims to:
Part I (September 9th):
to provide a forum for frank discussion of predicates and "lessons learned" including operational barriers such as logistical, technical, fiscal and conceptual issues across key stakeholders
to develop themes for focused Working Groups going forward
Part II (Date TBD):
to target specific operational barriers with solution-oriented working groups tasked to define and develop concrete deliverables on a 12 month timeline in parallel with more aspirational deliverables of future import
to develop prospective study "use-case" opportunities leveraging prospective studies targeting regulatory- or clinical best practice- evidence collections
Have news to share?
If you have news to share with the Pulse readership, please contact Tracey Koepke, director of communications for Duke Heart at tracey.koepke@duke.edu. We would love to hear about your latest accomplishments, professional news, cool happenings, and any events or opportunities that may be of interest to our Duke Heart family. Please call with any questions: 919-681-2868. Feedback on Pulse is welcome and encouraged.
Duke Heart in the News:
August 20 — Andrew Langstrom
Healio/Cardiology
AHA issues recommendations on pediatric genetic testing for heritable CVDs
http://duke.is/mIuSj2
August 20 — Andrew Langstrom
ClinicalOmics.com
AHA Provides its First Guidance on Cardiac Genetic Testing in Children
http://duke.is/Az78Y4
August 20 — Andrew Langstom
ScienceDaily
Cardiovascular disorder genetic testing in children presents unique challenges
http://duke.is/VbwW6H
*carried by 12 additional news outlets
August 20 — Andrew Langstrom
Heart.org
Genetic testing in children for heart disorders should be family-centered, include counseling
http://duke.is/Va14pg
August 23 — Robert Lefkowitz
Clear+Vivid with Alan Alda
Robert Lefkowitz: A Soldier of Science
http://duke.is/gFyVkm
August 24 — Manesh Patel
HCPLive
FDA Approves Rivaroxaban for Post-LER Patients with Peripheral Artery Disease
http://duke.is/387Nq3
August 24 — Christopher Granger
U.S. News & World Report
AHA News: Cardiac Arrest Program May Improve Bystander CPR But Not Survival in Black People
https://bit.ly/3krGKuw
*article appears in 21+ news outlets
August 25 — Paul Wischmeyer (Anesthesiology/Critical Care)
Popular Science
Increasing protein intake could help patients recover from the ICU
August 27 — James Blumenthal (Psychiatry)
Medscape
Antidepressant, Exercise Help Combat Anxiety in Coronary Heart Disease
https://www.medscape.com/viewarticle/957364
Division of Cardiology Publications Indexed in PubMed August 19-25, 2021
Alba GA, Atri D, Darbha S, Singh I, Tapson VF, Lewis MI, Chun HJ, Yu YR, Maron BA, Rajagopal S. Chronic Thromboembolic Pulmonary Hypertension: the Bench. Curr Cardiol Rep 2021;23(10):141. PM: 34410515.
Bertges DJ, Eldrup-Jorgensen J, Drozda J, Jones WS, Sedrakyan A, Krucoff MW, Cronenwett JL. Toward a better system for the sustainable development of objective performance goals for peripheral vascular interventions. J Vasc Surg 2021;74(3):1013-1014. PM: 34425943.
Greene SJ, Fonarow GC. Clinical inertia and medical therapy for heart failure: the unintended harms of 'first, do no harm'. Eur J Heart Fail 2021;23(8):1343-1345. PM: 34184376.
Jones WS, Wruck LM, Hernandez AF. Aspirin Dosing in Cardiovascular Disease. Reply. N Engl J Med 2021;385(8):765. PM: 34407354.
Matusov Y, Singh I, Yu YR, Chun HJ, Maron BA, Tapson VF, Lewis MI, Rajagopal S. Chronic Thromboembolic Pulmonary Hypertension: the Bedside. Curr Cardiol Rep 2021;23(10):147. PM: 34410530.
Neshteruk CD, Zizzi A, Suarez L, Erickson E, Kraus WE, Li JS, Skinner AC, Story M, Zucker N, Armstrong SC. Weight-Related Behaviors of Children with Obesity during the COVID-19 Pandemic. Child Obes 2021;17(6):371-378. PM: 33902326.
Ponikowski P, Alemayehu W, Oto A, Bahit MC, Noori E, Patel MJ, Butler J, Ezekowitz JA, Hernandez AF, Lam CSP, O'Connor CM, Pieske B, Roessig L, Voors AA, Westerhout C, Armstrong PW. Vericiguat in patients with atrial fibrillation and heart failure with reduced ejection fraction: insights from the VICTORIA trial. Eur J Heart Fail 2021;23(8):1300-1312. PM: 34191395.
Rosario KF, DeVore AD. Can we prevent infections in patients with left ventricular assist devices? Eur J Heart Fail 2021;23(8):1416-1418. PM: 34132005.
Valle JA, Li Z, Kosinski AS, Nelson AJ, Vemulapalli S, Cleveland J, Fullerton D, Messenger JC, Rove JY, Bricker RS, Bradley SM, Masoudi FA, Yeh RW, Armstrong EJ, Waldo SW, Carroll JD. Dissemination of Transcatheter Aortic Valve Replacement in the United States. J Am Coll Cardiol 2021;78(8):794-806. PM: 34412813.
Voors AA, Mulder H, Reyes E, Cowie MR, Lassus J, Hernandez AF, Ezekowitz JA, Butler J, O'Connor CM, Koglin J, Lam CSP, Pieske B, Roessig L, Ponikowski P, Anstrom KJ, Armstrong PW. Renal function and the effects of vericiguat in patients with worsening heart failure with reduced ejection fraction: insights from the VICTORIA (Vericiguat Global Study in Subjects with HFrEF) trial. Eur J Heart Fail 2021;23(8):1313-1321. PM: 33999486.
Zhang Y, Kontos CD, Annex BH, Popel AS. A systems biology model of junctional localization and downstream signaling of the Ang-Tie signaling pathway. NPJ Syst Biol Appl 2021;7(1):34. PM: 34417472.