Highlights of the week:
Welcome New Cardiology Fellows
This week, we welcomed 10 cardiology fellows to the Duke Cardiovascular Disease fellowship. They are all incredibly talented and have accomplished so much already. We are excited to work with them, get to know them, and watch their careers unfold!
Shown L-R are: Sara Coles; Willard Applefield; Manasi Tannu; Ijeoma Eleazu; Nkiru "Kiki" Osude; Balim Senman; Ilya Shadrin; Lonnie Sullivan; M. Shahzeb Khan, and V. Mark Kittipibul.
Please give them a warm welcome when you see them!
Cardiovascular & Thoracic Surgery Residents, Fellows Celebrated
Congratulations to our incredible residents and fellows who wrapped up their training with us in May:
Hai Viet-Nguyen Salfity, MD, MPH, Thoracic Surgery Residency Program. She is headed to the University of Cincinnati Medical School, Cincinnati, OH.
Robert Patrick Davis, MD, Thoracic Surgery Residency Program. He is heading to Yale in New Haven, CT.
Charles Wojnarski, MD, Thoracic Surgery Residency Program. He is heading to Virginia Mason Hospital in Seattle, WA.
Eriberto Michel, MD, Thoracic Transplant and Advanced Cardiac Surgery Fellowship. He is headed to Massachusetts General Hospital in Boston, MA.
John M. Trahanas, MD, Advanced Aortic and Endovascular Surgery Fellowship. He is headed to Vanderbilt Medical School of Medicine in Nashville, TN.
Shown L-R are: E. Michel; J. Trahanas; H. Salfity (front); R. Patrick Davis (rear) and C. Wojnarski; with B. Zwischenberger, associate program director; J. Haney, program director; E. Chen, division chief; B. Tong, associate program director; and P. Smith, former division chief.
We are so excited for you! Best wishes as you embark on the next phase of your careers.
Rao Appointed VISN 6 Cardiology Lead
We are pleased to share that Sunil V. Rao, professor of medicine in cardiology at Duke and section chief of cardiology at the Durham Veterans Affairs Medical Center, has been appointed as the Cardiology Lead for the VA's Virtual Integrated Service Network (VISN) 6!
The Veterans Health Administration is the largest integrated health care system in the U.S. and is comprised of 18 VISNs. VISN 6 is the VA's Mid-Atlantic Health Care Network, which includes 7 inpatient Veterans Affairs Medical Centers, 7 VA outpatient clinics, and 30 Community-based outpatient clinics in North Carolina and Virginia.
"It is an honor to do this work and it's a natural progression of the work that all of us at the VA have been doing," says Rao. "We've got a great team at the Durham VA and everyone is interested in increasing the level of care we're providing."
Cardiovascular care is a big proportion of the care the VA delivers both on an inpatient and outpatient basis, according to Rao. Because there are a lot of complexities within the scope of cardiovascular services provided, there had become a need to have someone who could serve in a coordinating role in order to improve care delivery to veterans across the VISN.
Rao credits his team at the VA and the strong partnership with Duke as the academic partner for the Durham VAMC, for their ability to provide extraordinary care to veterans.
"We've been able to develop treatment pathways – frequently in coordination with Duke –particularly as it relates to the things that the VA just can't offer, like transplantation and advanced heart care therapies," says Rao. "To serve as the cardiology lead for the VISN, for me, this is a chance to bring the work that our team at the VA has done and introduce it to a broader audience and try and make cardiology care around the entire VISN more efficient and to increase access to care for veterans."
According to Rao, he and others within the VISN will be working to identify and address gaps in care for cardiology patients. Their goal is for patients in VISN 6 to get access to the top notch care they need in the places nearest them, and, when necessary, to more efficiently coordinate care with sites in Durham, Richmond or Asheville in the event that more advanced care is needed.
"I think for all of us, it's really an honor to be able to serve people who have served their country and that is what keeps us dedicated to the VA," says Rao. "I'm looking forward to seeing how we can elevate the level of care within the VA system both in NC and Virginia. I'm really looking forward to working with the entire team at the VISN level to try and do that."
Congratulations, Sunil!
Piccini and Duke EP Launch DEFINE AFib Trial with Medtronic
Congratulations to Jon Piccini and the Duke EP team for enrolling one of the first two patients into the DEFINE AFib clinical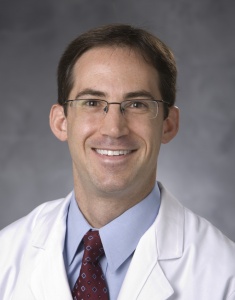 trial, a research study funded by Medtronic. Using data collected from Medtronic's LINQ family of insertable cardiac monitors (ICMs), the study aims to address unanswered questions around atrial fibrillation (AF) burden and its impact on patient outcomes, quality of life, and healthcare utilization. This is the first app-based research study for Medtronic.
Piccini enrolled Duke's first patient on June 21. A second patient was enrolled the same day at Florida Electrophysiology Associates in Atlantis, FL.
DEFINE AFib will be conducted remotely through the new Medtronic Discovery App in coordination with U.S. sites that will collectively enroll approximately 5,000 patients. Study participants will include patients age 22 or older who have a history of AF, an iPhone device (iOS version 13 or higher), and one of the LINQ family of ICMs, among other criteria. The study will incorporate both device data and patient-reported data derived from scheduled patient surveys and the HealthKit — coupled with electronic health record information about medications and previous cardiac procedures — to provide comprehensive, actionable insights. Through a machine learning approach, aggregated study data will be leveraged to enable improved AF management in the future.
"When it comes to managing atrial fibrillation, there is not a 'one-size-fits-all' approach, and the hope is that DEFINE AFib may give us the tools to help personalize AF management based on a patient's individual health profile and physiology," said Piccini, associate professor of medicine and director of electrophysiology at Duke, who is also chair of the DEFINE AFib Steering Committee. "DEFINE AFib will harness the power of digital health to make fundamental discoveries about how we can manage atrial fibrillation better in each and every one of our patients."
Congratulations, Jon and team!
Shout-out to DeVore & Karra
We received the following note this week from our anesthesiology colleague Yuriy Bronshteyn:
"Hi, I'm an intensivist-anesthesiologist here at Duke and wanted to recognize two of your faculty for their dedication and patient-centric care: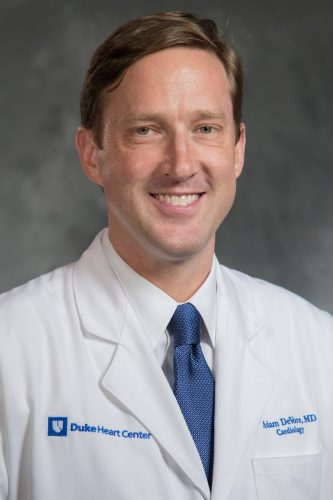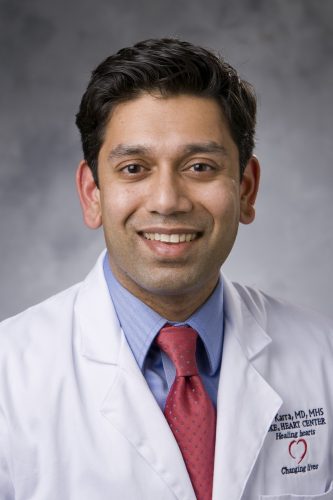 Last week, a patient who lives 4+ hours away came to our anesthesia pre-op clinic anticipating surgery the next day for a slow-growing cancer. Unfortunately, her EKG showed some concerning findings so her surgeon asked that the cancer surgery by postponed pending a cardiology evaluation. The patient was distraught and asked only that her cardiology workup happen at Duke the next day since she was already staying at a local hotel overnight and that she would have difficulty returning to Duke later. At 5:30 p.m., Dr. DeVore – while wrapping up a busy clinic day – personally scoured the cardiology schedules and found a slot for the patient the next day with Dr. Karra.  Dr. Karra then generously agreed to see the patient and proceeded to take excellent care of her.
Dr. DeVore and Dr. Karra went above and beyond to help a patient who was at risk of falling through the cracks of the healthcare system. And at a time when the patient was dealing with the emotional consequences of a cancelled cancer surgery. It is acts like this that make Duke an exceptional place to work and receive care.
Thank you to Dr. DeVore and Dr. Karra!" — Yuriy
We agree! Nicely done, Adam and Ravi!
Have news to share?
If you have news to share with the Pulse readership, please contact Tracey Koepke, director of communications for Duke Heart at tracey.koepke@duke.edu. We would love to hear about your latest accomplishments, professional news, cool happenings, and any events or opportunities that may be of interest to our Duke Heart family. Please call with any questions: 919-681-2868. Feedback on Pulse is welcome and encouraged.
Duke Heart in the News:
June 29 — L. Kristin Newby
Mirage News
More than $11 million in research grants awarded for scientific exploration of disparities in cardio-oncology
https://bit.ly/3hkTL7K
June 29 — Raymond Kim
Diagnostic Imaging
Cardiac MRI Picks Up Myocarditis in Patients Fully Vaccinated for COVID-19
https://bit.ly/2TwVv5S
June 30 — Susan Dent (medical oncology)
Health Day
AHA News: Women With Heart Failure From Breast Cancer Treatment May Fare Better Than Previously Thought
https://bit.ly/3hvnoDs
June 30 — Keisha Bentley-Edwards (internal medicine)
Triangle Tribune
'Denomination matters' in Black-focused faith-based health programs
https://bit.ly/3qRO3i4
July 1 — Han Kim
Physician's Weekly
Covid-19: New Reports of Vaccine Linked Myocarditis
https://bit.ly/2V40Thk
Division of Cardiology Publications Indexed in PubMed June 24-30, 2021
Curtis LH, Hoffman MN, Califf RM, Hammill BG. Life expectancy and voting patterns in the 2020 U.S. presidential election. SSM Popul Health 2021;15:100840. PM: 34169139.
Hamo CE, Abdelmoneim SS, Han SY, Chandy E, Muntean C, Khan SA, Sunkesula P, Meykler M, Ramachandran V, Rosenberg E, Klem I, Sacchi TJ, Heitner JF. OUTpatient intravenous LASix Trial in reducing hospitalization for acute decompensated heart failure (OUTLAST). PLoS One 2021;16(6):e0253014. PM: 34170908.
Hoffmann U, Lu MT, Foldyna B, Zanni MV, Karady J, Taron J, Zhai BK, Burdo T, Fitch KV, Kileel EM, Williams K, Fichtenbaum CJ, Overton ET, Malvestutto C, Aberg J, Currier J, Sponseller CA, Melbourne K, Floris-Moore M, Van Dam C, Keefer MC, Koletar SL, et al. Assessment of Coronary Artery Disease With Computed Tomography Angiography and Inflammatory and Immune Activation Biomarkers Among Adults With HIV Eligible for Primary Cardiovascular Prevention. JAMA Netw Open 2021;4(6):e2114923. PM: 34185068.
Lopes RD, de Barros E Silva PGM, Furtado RHM, Macedo AVS, Ramacciotti E, Damini LP, Bronhara B, Cavalcanti AB, Rosa RG, Azevedo LCP, Veiga VC, Machado FR, Ritt LE, Martins PA, Alexander JH, Avezum A, Berwanger O, et al. Randomized clinical trial to evaluate a routine full anticoagulation Strategy in Patients with Coronavirus Infection (SARS-CoV2) admitted to hospital: Rationale and design of the ACTION (AntiCoagulaTlon cOroNavirus)-Coalition IV trial. Am Heart J 2021;238:1-11. PM: 33891907.
Malian HM, Smith PJ, Hoffman B, Jiang W, Ammerman K, Kraus WE, Hinderliter A, Sherwood A, Blumenthal JA. Effects of Acute Exercise on Anxiety Ratings in Patients With Coronary Heart Disease and Elevated Anxiety. J Cardiopulm Rehabil Prev 2021;41(4):277-281. PM: 34158457.
Singh H, Mehta RH, O'Neill W, Kapur NK, Lalonde T, Ohman M, Ghiu I, Chen-Hsing Y, Dutcheshen K, Schreiber T, Rosman H, Kaki A. Clinical features and outcomes in patients with cardiogenic shock complicating acute myocardial infarction: early vs recent experience with impella. Am Heart J 2021;238:66-74. PM: 33848505.
Vogel RF, Delewi R, Angiolillo DJ, Wilschut JM, Lemmert ME, Diletti R, van Vliet R, van der Waarden NWPL, Nuis RJ, Paradies V, Alexopoulos D, Zijlstra F, Montalescot G, Krucoff MW, van Mieghem NM, Smits PC, Vlachojannis GJ. Pharmacodynamic Effects of Pre-Hospital Administered Crushed Prasugrel in Patients With ST-Segment Elevation Myocardial Infarction. JACC Cardiovasc Interv 2021;14(12):1323-1333. PM: 34167672.