Highlights of the week:
Duke Highlights, ACC 2021 – part 2!
We closed out ACC.21 earlier this week with lots of great presentations, including:
Melissa Daubert had a poster presentation: Impact of Postpartum BP Screening on Clinical Outcomes in Women with Hypertensive Disorders of Pregnancy
Key findings:
Early postpartum BP screening was performed in a minority of women with HDP, but was associated with greater detection of CV risk factors and CV disease.
Over 1/3 of women with HDP developed ≥ 1 new CV risk factor within 5 years of delivery.
Further study is needed to optimize preventive Figure 2 CV care in high-risk women with HDP.
Adam DeVore presented Effect of a Hospital and Post-discharge Quality Improvement Intervention on Clinical Outcomes and
Quality of Care for Patients With Heart Failure With Reduced Ejection Fraction on behalf of the CONNECT-HF investigators and committees. Their conclusion: "In this cluster-randomized trial of hospitals treating patients after a hospitalization for HFrEF, a hospital and post-discharge quality improvement intervention that focused on clinician education and audit and feedback of HF quality of care did not meaningfully improve HF outcomes or care above current quality improvement efforts."
Clinical implications:
Major gaps in guideline-directed care remain

Low rates of ACEI/ARB/ARNI, evidence-based beta-blocker, and MRA

New approaches are needed to improve care above current quality improvement efforts for patients with HFrEF

HF rehospitalization or death: 39% over 12 months of follow-up
Fragmented nature of HF care in the US apparent during the study
Renato Lopes presented The Coalition ACTION Trial, a Randomized Clinical Trial To Evaluate a Routine Full Anticoagulation Strategy In Patients With Coronavirus Infection (SARS-CoV-2) Admitted To Hospital. The presentation received a good amount of news coverage (see below). Lopes and colleagues conducted the ACTION trial to determine whether a therapeutic anticoagulation strategy based on rivaroxaban improved outcomes in patients with elevated D-dimer levels hospitalized with COVID-19 compared with a prophylactic anticoagulation strategy.
Neha Pagidipati presented Caring for Women With Familial Hypercholesterolemia Through Pregnancy during the Applying the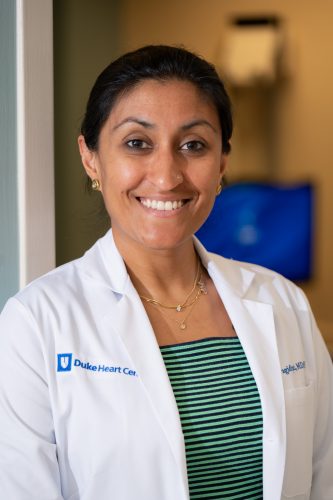 Guidelines for Lipid Management in Special Populations session.
Key findings:
As screening for FH increases, clinicians will increasingly encounter women with FH who become pregnant
Lipids normally increase in pregnancy; in FH, the absolute increase is greater
Pregnancy is not associated with risks to mothers with FH, however may be associated with risks to fetus
Statins are NOT recommended during pregnancy

Need more studies on what the risks actually are

Colsevelam is approved during pregnancy, but use is limited by side-effects
This area is woefully understudied — need more data to drive evidence-based practice for both mothers and their children
J.D. Serfas, a fellow in our Adult Congenital Heart Disease Program, served on the ACC.21 planning committee for the Adult Congenital and Pediatric Cardiology section and primarily designed the section, "Controversies in Interventional and Surgical Management of Congenital Heart Disease."
Serfas was involved in the planning of several Fellows-in-Training sessions, and helped facilitate the FIT Mix-and-Mingle and Fellows-in-Training Networking Events. He also co-designed and co-moderated the session Art with Heart: Tales of Creativity in Cardiology, a podcast-style session that included conversations with Doug Zipes, Suzie Brown Sacks, Nazanin Moghbeli, and Kedar Sankholkar, all of whom have integrated careers in the arts or entertainment with active cardiology careers.
Serfas presented the case of a patient with d-transposition of the great arteries after atrial switch repair with advanced heart failure requiring LVAD support in the session "Challenges of Transplantation in Congenital Heart Disease Patients: Ethics, Listing Strategy & MCS."
Additionally, he had a poster presentation: Racial and Ethnic Disparities in Location of Death Among Adult Congenital Heart Disease Patients.
Key findings:
Minority patients with ACHD are less likely to die at home or with hospice and more likely to die in a hospitalized setting than non-Hispanic White patients, and that structured programs to address these racial disparities in end-of-life care in ACHD are needed.
Olivia Dong, a post-doctoral research fellow working with Deepak Voora, earned first place in the ACC.21 Young Investigator Competition in Outcomes Research. She presented, One-year cost-effectiveness of CYP2C19-guided P2Y12 inhibitors de-escalation and escalation in Veterans undergoing percutaneous coronary intervention.
Key takeaway:
In Veterans with acute coronary syndromes who have undergone percutaneous coronary intervention, CYP2C19-guided P2Y12 inhibitor selection can improve cardiovascular outcomes and lower costs for the Veterans Health Administration within 12 months of implementation.
"I'm very grateful I had the opportunity to share this research at the ACC.21 conference," said Dong. "This achievement would not have been possible without the unwavering support from my primary mentor, Dr. Deepak Voora, and my amazing research collaborators– Dr. Kevin Friede (Duke Cardiology Fellow), and Dr. Catherine Chanfreau-Coffinier (Veterans Affairs PHASER Data Core Director)."
Dong is currently completing a post-doctoral T32 NHGRI fellowship in genomic medicine research through the Duke Center for Applied Genomics and Precision Medicine and the Durham VA Health Care System. She will graduate in June. Well done, Olivia – congratulations!
Congratulations to all faculty and fellows who participated in ACC.21 this year – you're doing remarkable work!
Shout-out to Respiratory Care Services
We were delighted and not at all surprised to learn of the generosity of our Respiratory Care Services team, led by Charlotte Reikofski, in helping support Duke Health by preparing supplies for India. The team gathered resuscitators, oxygen masks, filters and more for shipment to New Delhi – an effort spearheaded by anesthesiologist Madhav Swaminathan, clinical director of CT Anesthesia and Critical Care Medicine.
To read more about the effort, please visit: Duke Health Sends Supplies to India to Assist with Covid-19 Crisis.
Way to go, Respiratory Care team!!!
Moments to Movement – May 25th
Recently, Chancellor Washington shared an update with all Duke Health staff regarding the upcoming anniversary of our Moments to Movement initiative. Locations across Duke Health are planning time for all to stand together in observance of this important day and reflect upon our progress and prepare us for the work to come. Here are a few ways you can participate in the Stand for Peace this week.
Across Duke Health, many of us will take a one-day pause from non-essential meetings to allow our faculty and staff extra space and time to have conversation or to participate in one of the planned observances.
Stand for Peace: 7 a.m. – 9 a.m. and 2 p.m. – 4 p.m.; Duke Medicine Circle (grassy area in front of Duke South Clinics). This event is for all Duke Health faculty, staff and students working on campus; Create individual signs for display; sign the Duke Health Anti-racism Pledge
M2M Virtual Tea for the Soul: 7 a.m., 10 a.m., and 2 p.m., via Zoom. Guided reflection, relaxation for all Duke Health faculty, staff and students; each session will last 15 minutes. Participants are encouraged to bring their own tea. Click here to join. Hosted by Chaplain Services.
Revisiting Black Man in a White Coat: 3:00 p.m. – 3:45 p.m.; Register or read more here. All are invited to join Chancellor A. Eugene Washington and Associate Professor Damon Tweedy for a special conversation as they revisit Black Man In A White Coat — Tweedy's 2015 bestselling book examining the difficult and often contradictory terrain of race and medicine.
Collective Breath for Justice:  4 p.m. – 4:45 p.m.; via Zoom. The Duke School of Medicine Office of Diversity & Inclusion will lead a virtual event to reflect, connect and share in a collective breath for justice. It will include a nine minute and 29 second silent vigil. Join here.
Senior leadership for Duke University Hospital and DUHS are committed to supporting everyone who wants to participate in one of these events. They ask that you please coordinate with your manager so that as many team members as possible are able to join in these activities while maintaining patient safety.
Thank you for everything you do every day to care for our communities. We are proud of each of you for your commitment to eliminating health disparities and standing against racial inequality and injustice.
COVID-19 Updates:
All the latest official DUHS information regarding coronavirus/COVID-19 response at the following locations:
Upcoming Opportunities/Save the Date:
Virtual PMWC: Precision Medicine in the Era of a Pandemic Recovery
June 14-18 – Precision World Medicine Conference. Registration is free and open to all. https://www.pmwcintl.com/covid/
Duke University Chancellor Emeritus Dr. Ralph Snyderman will lead a panel discussion on Personalized, Proactive Value-Based Care: Emerging New Models.
The confluence of the growth of chronic diseases, the impact of COVID, the emergence of new technologies, and the impact of value-based reimbursement are driving major innovations and changes in care delivery. Proactive, personalized, precision, population-based and digitally supported care is emerging and heralding new approaches to health care. This session will capture the elements of these changes and the dynamics of the forces that are driving them. Perspective from care innovators, large providers and payers will be discussed by the following key opinion leaders:
Patrick  Conway, CEO of Care Solutions, Optum
Jaewon Ryu, President and Chief Executive Officer, Geisinger
Rodney Hochman, President & CEO, Providence St. Joseph Health
Marc Harrison, President and CEO, Intermountain Healthcare
Have news to share?
If you have news to share with the Pulse readership, please contact Tracey Koepke, director of communications for Duke Heart at tracey.koepke@duke.edu. We would love to hear about your latest accomplishments, professional news, cool happenings, and any events or opportunities that may be of interest to our Duke Heart family. Please call with any questions: 919-681-2868. Feedback on Pulse is welcome and encouraged. 
Duke Heart in the News:
May 15 — W. Schuyler Jones
Associated Press
Heart study: Low- and regular-dose aspirin safe, effective
https://bit.ly/3bARUtt
*story carried by 425 news outlets
May 15 — W. Schuyler Jones
Medpage Today
Baby Aspirin on Par With Full Dose to Prevent Repeat Heart Events
https://bit.ly/3wgN2BE
May 15 — W. Schuyler Jones
tctMD
High- and Low-Dose Aspirin Equivalent in ASCVD: ADAPTABLE
May 17 — Renato Lopes
tctMD
ACTION: Full-Dose Rivaroxaban Doesn't Help in Hospitalized COVID-19
https://www.tctmd.com/news/action-full-dose-rivaroxaban-doesnt-help-hospitalized-covid-19
May 17 — W. Schuyler Jones
HealthDay
ACC: 81-mg, 325-mg Aspirin Similarly Effective in ASCVD
https://bit.ly/3yklkFV
May 17 — Renato Lopes
Healio/Cardiology
ACTION: Rivaroxaban-based anticoagulation strategy fails to improve outcomes in COVID-19
https://bit.ly/2S421QC
May 17 — Adam DeVore
Medpage Today
Stubborn Gaps in Heart Failure Persist Despite Clinician Education, Feedback
https://bit.ly/3hBG7yT
May 17 — Adam DeVore
Healio/Cardiology
Hospital, post-discharge quality improvement intervention failed to improve HFrEF outcomes
https://bit.ly/3u3TSbU
May 17 — Manesh Patel and W. Schuyler Jones
HCPLive
VOYAGER PAD with Manesh Patel, MD, and Schuyler Jones, MD
https://bit.ly/3fu7QP9
May 18 — W. Schuyler Jones
WNDU-NBC-16 (South Bend, IN)
Study finds low-dose and regular-dose aspirin perform the same for heart health
https://bit.ly/3eVWTqG
*carried by 17 additional news outlets
May 18 — W. Schuyler Jones and Renato Lopes
Medical Dialogues
Study Cautions Against Use of Oral Anticoagulants in Admitted COVID Patients, ACC 2021
https://bit.ly/3foK86M
May 18 — Adam DeVore
AJMC
Hospital Quality Program for Heart Failure Patients Fails to Improve Outcomes
https://bit.ly/3wgCVg0
May 18 — W. Schuyler Jones
USNews.com
Low- or High-Dose, Aspirin Brings Similar Protection Against Heart Disease: Study
https://bit.ly/3bGIuMT
May 18 — Renato Lopes
HCP Live
Rivaroxaban Linked to Increased Bleeding Among Hospitalized COVID-19 Patients
https://bit.ly/3u6M9tD
May 18 — Manesh Patel
Medium.com
The Extra Extra Life Conversations, Part Two
https://bit.ly/3hDFQLH
Division of Cardiology Publications Indexed in PubMed May 6–19, 2021
Caughey MC, Vaduganathan M, Arora S, Qamar A, Mentz RJ, Chang PP, Yancy CW, Russell SD, Shah SJ, Rosamond WD, Pandey A. Racial Differences and Temporal Obesity Trends in Heart Failure with Preserved Ejection Fraction. J Am Geriatr Soc 2021;69(5):1309-1318. PM: 33401338.
Daubert MA, Yow E, Barnhart HX, Piña IL, Ahmad T, Leifer E, Cooper L, Desvigne-Nickens P, Fiuzat M, Adams K, Ezekowitz J, Whellan DJ, Januzzi JL, O'Connor CM, Felker GM. Differences in NT-proBNP Response and Prognosis in Men and Women With Heart Failure With Reduced Ejection Fraction. J Am Heart Assoc 2021:e019712. PM: 33955231.
Gaeta S, Bahnson TD, Henriquez C. High-Resolution Measurement of Local Activation Time Differences From Bipolar Electrogram Amplitude. Front Physiol 2021;12:653645. PM: 33967825.
Greene SJ, Butler J, Spertus JA, Hellkamp AS, Vaduganathan M, DeVore AD, Albert NM, Duffy CI, Patterson JH, Thomas L, Williams FB, Hernandez AF, Fonarow GC. Comparison of New York Heart Association Class and Patient-Reported Outcomes for Heart Failure With Reduced Ejection Fraction. JAMA Cardiol 2021;6(5):522-531. PM: 33760037.
Greene SJ, Mentz RJ, Limkakeng AT, Irons T, Truong T, Green CL, Nowak C, Blumer V, Pang PS. Comparison of Dyspnea Measurement Instruments in Acute Heart Failure: The DYSPNEA-AHF Pilot Study. J Card Fail 2021;27(5):607-609. PM: 33091609.
Harris Walker G, Gonzalez-Guarda R, Yang Q, Shah S, Prvu Bettger J. Socio-ecological perspective on factors influencing acute recovery of younger stroke survivors: A mixed methods study. J Adv Nurs 2021:10.1111/jan.14778. PM: 33650219.
Hurst JH, Liu Y, Maxson PJ, Permar SR, Boulware LE, Goldstein BA. Development of an electronic health records datamart to support clinical and population health research. J Clin Transl Sci 2020;5(1):e13. PM: 33948239.
Kelsey MD, Granger CB. LOW-HARM score predicted mortality in patients hospitalized with COVID-19 in Mexico. Ann Intern Med 2021:10.7326/ACPJ202105180-059. PM: 33939489.
Lala A, Mentz RJ. Reaping from Reciprocity: the Mentor-Mentee Relationship. J Card Fail 2021;27(5):507-508. PM: 33962740.
Lopes RD, Thomas L, Di Fusco M, Keshishian A, Luo X, Li X, Masseria C, Friend K, Mardekian J, Pan X, Yuce H, Jones WS. Clinical and Economic Outcomes Among Nonvalvular Atrial Fibrillation Patients With Coronary Artery Disease and/or Peripheral Artery Disease. Am J Cardiol 2021;148:69-77. PM: 33667438.
Mann DL, Felker GM. Mechanisms and Models in Heart Failure: A Translational Approach. Circ Res 2021;128(10):1435-1450. PM: 33983832.
Parikh PB, Bhatt DL, Bhasin V, Anker SD, Skopicki HA, Claessen BE, Fonarow GC, Hernandez AF, Mehran R, Petrie MC, Butler J. Impact of Percutaneous Coronary Intervention on Outcomes in Patients With Heart Failure: JACC State-of-the-Art Review. J Am Coll Cardiol 2021;77(19):2432-2447. PM: 33985688.
Peri-Okonny PA, Wang J, Gosch KL, Patel MR, Shishehbor MH, Safley DL, Abbott JD, Aronow HD, Mena-Hurtado C, Jelani QU, Tang Y, Bunte M, Labrosciano C, Beltrame JF, Spertus JA, Smolderen KG. Establishing Thresholds for Minimal Clinically Important Differences for the Peripheral Artery Disease Questionnaire. Circ Cardiovasc Qual Outcomes 2021:120007232. PM: 33947205.
Povsic TJ, Sanz-Ruiz R, Climent AM, Bolli R, Taylor DA, Gersh BJ, Menasché P, Perin EC, Pompilio G, Atsma DE, Badimon L, DeMaria AN, Hare JM, Henry TD, Janssens S, Kastrup J, Torella D, Traverse JH, Willerson JT, Fernández-Avilés F. Reparative cell therapy for the heart: critical internal appraisal of the field in response to recent controversies. ESC Heart Fail 2021;8(3):2306-2309. PM: 33652498.
Prado GM, Mahfoud F, Lopes RD, Moreira DAR, Staico R, Damiani LP, Ukena C, Armaganijan LV. Renal denervation for the treatment of ventricular arrhythmias: A systematic review and meta-analysis. J Cardiovasc Electrophysiol 2021;32(5):1430-1439. PM: 33724602.
Rao VN, Kelsey MD, Kelsey AM, Russell SD, Mentz RJ, Patel MR, Fudim M. Acute cardiovascular hospitalizations and illness severity before and during the COVID-19 pandemic. Clin Cardiol 2021;44(5):656-664. PM: 33682157.
Rettmann ME, Holmes Iii DR, Monahan KH, Breen JF, Bahnson TD, Mark D, Poole J, Ellis AM, Silverstein A, Al-Khalidi HR, Lee KL, Robb RA, Packer DL. Treatment-Related Changes in Left Atrial Structure in Atrial Fibrillation: Findings from the CABANA Imaging Substudy. Circ Arrhythm Electrophysiol 2021:10.1161/CIRCEP.120.008540. PM: 33848199.
Sharma G, Douglas PS, Hayes SN, Mehran R, Rzeszut A, Harrington RA, Poppas A, Walsh MN, Singh T, Parekh R, Blumenthal RS, Mehta LS. Global Prevalence and Impact of Hostility, Discrimination, and Harassment in the Cardiology Workplace. J Am Coll Cardiol 2021;77(19):2398-2409. PM: 33985685.
Sun H, Hodgkinson CP, Pratt RE, Dzau VJ. CRISPR/Cas9 Mediated Deletion of the Angiotensinogen Gene Reduces Hypertension: A Potential for Cure? Hypertension 2021;77(6):1990-2000. PM: 33813849.