Chief's message: Transitions and Accomplishments
It's understandable that great institutions produce faculty and fellows that garner national attention and eventually leave to lead and areas of importance in medicine around the world.  However, this fact does not make it any less bittersweet when we have one of great colleagues leave to pursue other opportunities.   This was the case this week as we had a celebration grand rounds for Joe Rogers, someone who has been a clinician scientist for Duke Heart, and a leader for our institution on many fronts including cardiovascular medicine, the department of medicine, the PDC, and most recently as CMO of the health system.  The grand rounds we had reminded me of the times we as faculty and fellows could tell stories, share accomplishments, and most importantly thank each other for the roles that we play in each other's lives.  Hopefully as we move towards more in person interaction, we can have grand rounds and get togethers where some of that can be done again.  Joe has certainly played an important role in many lives at Duke Heart will be missed by many.
I wanted to also highlight for all of our faculty, fellows, and friends of Duke Heart that this week we will have the national American College of Cardiology meeting (virtually).  We have an enormous number of scientific presentations by our faculty and fellows, and we will ensure that next Sunday that we have a mothers' day edition of the pulse with updates of all the great science our group is playing a role in developing and discovering.
Highlights of the week:
Rogers Celebrated During Special CGR
A special Cardiology Grand Rounds was held via Zoom on Thursday, April 29 to celebrate Joe Rogers and all he has meant to us in Duke Heart – including his many accomplishments across his 16 year career at Duke. Rogers was celebrated as an extraordinary mentor, leader, clinician, researcher, and as someone who exemplifies the very best of Duke. He was recognized as dedicated to inclusivity – as someone who helped everyone to feel welcome and that their voice mattered. We are truly blessed to have worked with him and he will be deeply missed. Stories and anecdotes from across the years were shared by Carmelo Milano, Jacob Schroder, Chet Patel, Adam DeVore, Bradi Granger, Jennifer Lewis, Mona Fiuzat, Chris O'Connor, Robert Mentz, Marc Samsky, Mike Felker, Adrian Hernandez and several others.
Joe is heading to Texas Heart Institute this month to join their team as President and Chief Executive Officer. We wish him all the best!
Perfusion Team Recognized with AmSECT's Inaugural Pillar Award
Duke Perfusion Services has been named one of the inaugural recipients of the Pillar Award for Perfusion Excellence by the American Society of Extracorporeal Technology (AmSECT). Awardees are being recognized for their programmatic dedication to excellence as well as professional standards across four categories or "pillars" — quality, community, responsibility, and education.
"We are so fortunate at Duke to have such an outstanding team of perfusionists who support our cardiothoracic faculty at the highest level possible all while embracing the core values encompassing this award," said Edward P. Chen, MD, Chief of the Division of Cardiovascular and Thoracic Surgery. "It is a true privilege to have them on the Duke Heart Team."
With thirty-four perfusionists, Duke Heart offers one of the largest and best trained perfusion teams in the U.S. Each member of the team is certified by the American Board of Cardiovascular Perfusion, licensed by the North Carolina Medical Board, and most hold advanced degrees and credentials. In addition to proficiency in cardiopulmonary bypass (operating the heart-lung machine during cardiothoracic surgery), Duke perfusionists specialize in order to support a variety of needs across the hospital. Duke offers a dedicated team of pediatric perfusionists, as well as a team to support heart surgery at Duke Regional Hospital. There is a team that specializes in Extra-Corporeal Life Support (ECLS) assisting with cannulating and retrieving patients from referring hospitals; there is a team that provides apheresis in the OR, and a team trained in use of the Transmedics Organ Care System, increasing the donor pool for Duke's Heart Transplant program.
"Perfusionists have a distinct role," says Desiree Bonadonna, chief of Perfusion Services at Duke. "I don't think many people are aware of the full scope of our practice. In the operating room we run cardiopulmonary bypass which is quite complex and responsible for the patient's circulation, respiratory function, and anesthesia and drug delivery while the surgeon is operating on the heart or lung. We have expertise in ventricular assist devices, extracorporeal membrane oxygenation (ECMO), really anything that involves pumping blood or perfusing organs, such as specialized chemo delivery systems used in surgical oncology cases. We are invested in education, research and quality improvement work and we are doing it in the high volume, high performance space of Duke Heart. We are very excited to be one of the first programs recognized with a Pillar award."
Members of the Duke Perfusion team are regularly invited to present at national conferences, and a number of perfusion schools send their students here to learn from the Duke team.
"On behalf of the Cardiothoracic Anesthesiology and Critical Care faculty, I would like to extend a big round of applause and heartfelt congratulations to our Duke Perfusion family on their receipt of the inaugural 2021 AmSECT Pillar Award, said Mihai V. Podgoreanu, MD, chief of Cardiothoracic Anesthesiology. "Founded on a tradition of excellence, this program has continued to expand and perform outstandingly in supporting the ever-increasing clinical needs of extracorporeal technology both in the operating rooms and intensive care units. Through leadership, patient-centeredness, innovation, ownership, meticulous attention to quality improvement and collaboration, this talented and passionate group of professionals is contributing 24/7 to life-changing procedures, shaping the next generations of perfusionists and cardiovascular physician trainees through education and simulation, and generating new research knowledge. Bravo!"
Criteria for the award included demonstration of a clear management structure; well-developed protocols and procedures; an onboarding and orientation process; quality assurance standards and processes, and a professional commitment to the field. At Duke, each member of the perfusion team is also a member of a professional organization or society for the advancement of the field of perfusion – this way they are always learning and contributing.
"The value of our perfusion team to patient care at Duke cannot be underestimated or overstated," adds Andrew J. Lodge, MD, Medical Director of Quality and Safety for Children's Surgery. "I have been saying for years that the Duke Perfusion team is consistently the best group of individuals with whom I have had the pleasure to work. Their various sections have been characterized by excellent leadership and outstanding clinical skills.
"To a person, the perfusionists with whom I've worked, particularly on the pediatric and ECMO teams, have been exemplary colleagues. Additional words I would use to describe them are compassionate, dedicated, professional, driven, and ambitious. Not only are they great educators, they are always striving to learn themselves. They are on the cutting edge of technology, and allow us to offer the best available treatments for our patients. They are tireless workers and always up for a challenge. It comes as no surprise to me that the Duke Perfusion team has received a national award for excellence. It is surely well-deserved."
Please join us in congratulating our entire team of perfusionists on their Pillar Award for Perfusion Excellence, particularly since today launches National Perfusion Appreciation Week (May 2-8). Congratulations and keep up the great work! 
Coniglio to Serve as Chief Cardiology Fellow, 2021-2022
Amanda Coniglio has been elected by her peers to serve as Duke's chief cardiology fellow for 2021-2022. The announcement was made Friday evening by Anna Lisa Crowley, program director for the cardiology fellowship program.
As some of you may know, Amanda grew up in Richmond, Virginia before moving to upstate New York for high school. She attended Elon University here in North Carolina for her undergraduate degree. She returned to New York for medical school at the University of Rochester. There, she met her now husband, Andrew, and they couples-matched at the University of North Carolina Chapel Hill for residency. After completing residency, we were fortunate that Amanda switched to the darker blue for her cardiovascular disease fellowship training at Duke. She is completing advanced heart failure and transplant fellowship training this year before rejoining cardiovascular disease fellowship for a year of research in July. She is interested in familial cardiomyopathy and is planning to spend her research year working with Svati Shah and learning clinical genetics. Amanda is very honored to be elected as the chief fellow and is excited to work with all the fellows!
Please join us in congratulating and welcoming Amanda to this new role!
Shout-out to Friede!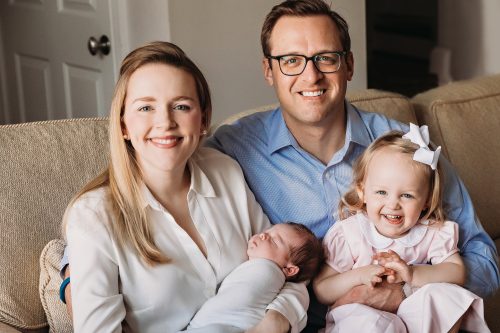 The following message from Anna Lisa Crowley was shared with the fellows and faculty on Friday evening:
"As Amanda Coniglio transitions to her new role as chief cardiology fellow during May, I want to take an opportunity to give a big THANK YOU to Kevin Friede who has been spectacular this year during unprecedented challenges.  Kevin helped us implement new virtual lectures, end of year fellows' banquet, recruitment, and a holiday talent show! In addition, Kevin was a clear and calm voice for the fellows. He helped us re-imagine the CICU fellow experience, arranged COVID and overnight coverage, and many other things I have not listed here.
He navigated all these new challenges while working in the lab, studying and passing the ever-shifting CV ABIM exam, and welcoming a new daughter, Celia, to his family.
We are fortunate that Kevin will stay on at Duke next year as an interventional fellow.
Please join me in thanking Kevin for his dedication to the fellowship! Attached is a photo of Kevin, his wife, Dr. Schell Bressler, and daughters Elizabeth and Celia, taken after Celia was born last fall."
Well done, Kevin!
Kudos to Harrison, Hughes & Glower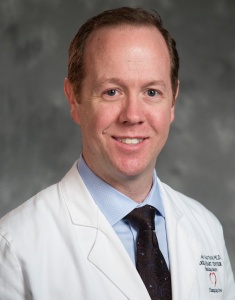 In a note from Lisa Clark Pickett, Chief Medical Officer for Duke University Hospital, we learned of recent patient compliments for three of our faculty members. The compliments were submitted to Duke via recent Patient Satisfaction Surveys.
"I thank God for Dr. Glower— he saved my life. Everything about my stay was excellent. Everyone had my best interests at heart." – Grateful patient, name withheld
"Excellent facility & hospital – best decision to use Duke.  Doctors were great and very thankful for them*." – Grateful patient, name withheld (*Dr. Robert Harrison & *Dr. Chad Hughes)
Pickett added, "You and your team clearly made an impact on this person. Thank you for your dedication to excellence!"
Medicine Grand Rounds with Lefkowitz
For anyone who missed Bob Lefkowitz's terrific presentation "A Tale of Two Callings" during last week's Medicine Grand Rounds, you can view a recording of the event here: https://warpwire.duke.edu/w/tasFAA/.
Picture of the Week – Mike Sketch's pen found in the Duke Cath lab
I was in the Duke Cath Lab on Friday and found this pen in the duke cath lab.  On inquiring, I learned it was Mike Sketch's unicorn to-do list pen.  It's a pretty cool pen and we have it kept for Mike in the lost and found.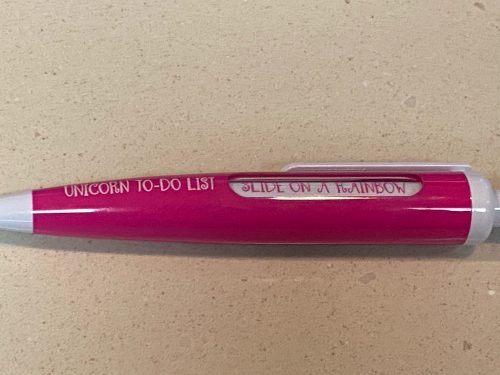 Celebrating Our Nurses: Nominations Are Open!
In recognition of National Nurses Week (May 6-12) the Department of Medicine Well-Being Committee hosts "Celebrating Our Nurses." From today until May 12, all members of the Department of Medicine can use this link to nominate nurses for their contributions and describe how they emulate the Duke Health values of Excellence, Integrity, Teamwork, Respect, and Innovation.
The Committee will communicate each nomination to the individual nurse and their manager, display nominations on a virtual bulletin board, and feature the campaign on the Department of Medicine Twitter feed. There is no limit to the number of nurses one person can nominate, and you can nominate a nurse from any location (i.e. clinic, inpatient, research).
This year more than any other, it is important to recognize the inspiring work done by our nursing colleagues and their important role in the care of our patients.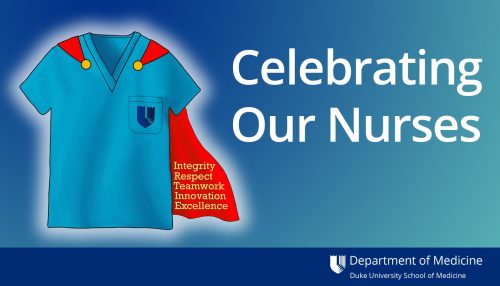 Registration Open for Friends of Nursing Gala, May 15
The Duke Friends of Nursing Board of Advisors cordially invites you to attend the 32nd Gala Celebration of Excellence! Hundreds of nurses, friends, supporters and community members attend the Gala each year to honor all Duke Nurses, and to recognize the nominees and winners of the Excellence Awards. While we can't celebrate in-person this year, we are preparing for a very special virtual celebration. Join us for a virtual program celebrating our spirit of innovation, unwavering compassion, clinical excellence, and significant impact across Duke Health. We hope you will attend. There is no fee for this event. To learn more or to register, please visit: https://www.dukefriendsofnursing.org.
COVID-19 Updates:
All the latest official DUHS information regarding coronavirus/COVID-19 response at the following locations:
Upcoming Opportunities/Save the Date:
Virtual Town Hall
Do you have questions regarding the new clinical practice model that is being formed by the PDC, SOM, and DUHS? Join us for a virtual town hall for all members of the Duke Health community on May 3, from 5 to 6 p.m. Leaders will answer your questions about the planning process for this new clinical practice model. Panelists will include Ted Pappas, Tom Owens, and John Sampson who will share their perspectives on why change is needed now and their expectations for the path forward.
Monday, May 3rd from 5 to 6 p.m. Join the Zoom here
The Zoom link is one-click entry, however if prompted to enter a passcode it is 505478. Access to the webinar series requires authenticated access with your NetID and password. If prompted to sign in, please select to 'Sign in with SSO' and enter 'duke' when prompted for the company domain. You will be directed to log in with your NetID and password.
Submit questions in advance to DukeFP@duke.edu. A recording of the town hall will be posted on the website the next day.
Have news to share?
If you have news to share with the Pulse readership, please contact Tracey Koepke, director of communications for Duke Heart at tracey.koepke@duke.edu. We would love to hear about your latest accomplishments, professional news, cool happenings, and any events or opportunities that may be of interest to our Duke Heart family. Please call with any questions: 919-681-2868. Feedback on Pulse is welcome and encouraged.
Duke Heart in the News:
April 22 – Rob Califf
Club Industry
COVID-19 Patients Could Develop Chronic Health Conditions, Causing Possible Onslaught For U.S.
https://bit.ly/3gP52i5
April 27 — Duke University Hospital
WRAL
Colorful mural captures contributions of health care heroes at Duke Hospital
https://bit.ly/3vrpEkh
April 27 — Yuichiro Yano (Family Medicine)
Medpage Today
USPSTF Prioritizes Office Measurements in Hypertension Screening
https://bit.ly/3sZjMNB
April 30 — Duke Hospitals are mentioned
News & Observer
Which Triangle hospitals are the safest? Watchdog group releases latest report cards
https://bit.ly/3gQ1c86
April 30 — W. Schuyler Jones
Healio/Endocrinology
Predictive model identifies risk factors for major adverse limb events in diabetes
https://bit.ly/3xBicF3