Updates from the week:
Passings: Richard L. McCann, MD, Vascular Surgeon
The loss of a colleague is never an easy one to share, particularly when the news comes so unexpectedly. The following was announced late Friday afternoon by Mary E. Klotman, MD, Dean, Duke University School of Medicine and Allan D. Kirk, MD, PhD, Vice Dean, Section of Surgical Disciplines.
"It is with great sadness that we write to inform you that Richard Lucas McCann, MD, passed away on Friday, February 5.
Dr. McCann was a Professor of Surgery in the Section of Surgical Disciplines. He began his nearly five-decade career at Duke University in the 1970s as an intern under the direction of Dr. David C. Sabiston Jr. During his surgical training at Duke, he spent three years as a cardiovascular research fellow in addition to his general surgery training. His reputation as a talented surgeon led to his hiring as Assistant Professor at Duke after completion of his general surgery training in 1983.
During his tenure at Duke, Dr. McCann became recognized as a superb surgeon in every domain. Technically, he mastered the anatomical exposure of vascular structures in all areas of the body with exceptional technical speed and efficiency. Dr. McCann participated in the first liver transplant at Duke with Drs. William Meyers and R. Randal Bollinger. In the late 1990s, he implanted the first aortic endograft at Duke for the treatment of abdominal aortic aneurysm. He pioneered complex aortic surgery, using an array of both open and endovascular techniques.
Dr. McCann mentored an entire generation of surgical residents and fellows. Beyond Duke, as an ambassador and humanitarian, he donated his medical and surgical talent to care for patients in Saudi Arabia, Vietnam, and Haiti. In 2016, Dr. McCann was honored as a Duke Surgery Master Surgeon.
Our thoughts go out to the family and many friends of Dr. McCann. The family requests that anyone who wishes to honor Dr. McCann do so by donating to Hôspital Albert Schweitzer. Hôspital Albert Schweitzer, PO Box 110091, Pittsburgh, PA, 15232."
For those of us in Duke Heart, the loss is significant. McCann has worked over the years with many of our current faculty and a significant number of former trainees. We've pulled together a series of remembrances to honor him:
Dan Mark, MD, Professor of Medicine, Duke Division of Cardiology, (via Twitter):
"He was not only a master vascular surgeon, he was a critical partner for the cardiac team in the early formative years of our interventional program."
Chad Hughes, MD, Director, Duke Center for Aortic Disease and Surgical Director, Duke Center for Structural Heart Disease, Division of Thoracic and Cardiovascular Surgery
"When I came on faculty, I knew him well because I had trained here. I reached out to him and asked him to help mentor me, which he certainly didn't have to do. But he was generous enough to bring me along. And we worked together until he retired from Duke and moved over to the VA; we did hundreds and hundreds of cases together. I have spent more time with McCann than anyone else outside of my family.
"He was the man from Maine, a man of few words. We'd do a case together and he might not say five words to me. If you were going into either vascular surgery or cardiac surgery, that's the person who taught you how to sew. I can hear him yelling, "Put the needle in the direction you want it to go!" When you would go to clinic with him, he would always say the same thing whenever he'd enter the room of a new patient, 'I'm McCann. How do you spend your days?'
For any new patient, this is what he asked because he wanted to get an understanding of their activity level and this is how he learned about them. He was just an amazing guy; the patients always came first. It didn't matter if he was on call, he'd come in if anyone had a problem. He was the go-to guy if any one of us got into a rough spot during a case. Sometimes he just had a sense of when to show up. He was pretty incredible and he touched us all. In fact, even people he had never met have been touched by him. With my trainees, I teach techniques McCann taught to me, and I talk about Dr. McCann while doing so… and in this way, he has touched their lives."
Sunil Rao, MD, Section Chief, Cardiology at the Durham VA Medical Center:
"The loss of Dr. McCann is a huge one for all of us. When I was a medicine resident I knew of Dr. McCann only by his reputation as one of the best surgeons at Duke. His laconic manner made him seem intimidating, but when I formally met him during my interventional fellowship it was apparent that he was a very nice person, outstanding clinician, and excellent teacher. I remember when he allowed me to observe him in the operating room performing complex vascular surgery. The few sentences he said to me at each step were more educational than anything I could have read in a textbook. He was a nearly constant presence at the VA in recent years and our veterans were better off because of it. There is a small group of people who define the greatness of Duke and Dr. McCann is one of them. He will be greatly missed."
Bradley Collins, MD, Duke Transplant Center; Medical Director, Animal Research, Duke Dept. of Surgery:
"Dr. McCann was the most technically gifted surgeon I have ever encountered. During a case when I was chief resident on his service, I witnessed him innovate in the operating room as options for a successful outcome in this particular patient continued to disappear, one after another… Dr. McCann won that day.
"Another thing that stands out for me is something I observed in his clinic. He treated his poor, Black patients with the same level of respect and dignity that he did his VIP's… long before equity in healthcare was 'a thing.'  His patients adored him. I was privileged to learn why."
Ashish Shah, MD, Alfred Blalock Endowed Director and Chairman, Department of Cardiac Surgery, Vanderbilt University Medical Center:
"Dr. McCann looms large as a surgical educator for a group of surgeons particularly Duke trained cardiac surgeons. He taught us how to sew blood vessels together, how to be efficient in the operating room and frankly to do difficult things. He was fearless, tireless and devoted to even the most complicated patients.
"But I spent some time outside the operating room with Dr. McCann and consider it one of the great professional blessings in my life. He was a quiet man, with a volcanic temper at times, but when he laughed — or made you laugh, it was but always genuine. I cherished those moments. I loved being in his orbit. What do you do when you have an impossible problem? "Call McCann." For a surgeon, that is the ultimate honor. Many of us have borrowed his lines with patients, "How do you spend your days?" It really will tell you everything you need to know when you're assessing a patient's fitness for surgery.
"For me, however, his sudden passing brings a difficult kind of grief. A reminder of what a life well-lived looks like, but also how much of our own life as teachers, physicians, and citizens is unfinished. In his quiet, deeply thoughtful, and technically brilliant way, Dr. McCann will always be the aspiration."
Personally, I came to know Dr. McCann during my interventional fellowship when he would do endovascular cases with me in the cath lab.  He then asked me to go to the OR to do vascular hybrid cases.  He was a man of few words, great patient care, and a role model for a generation of physicians at Duke.  He will be missed.
Duke Heart Celebrates Wear Red Day
Great job, Duke Heart! So many of our team members helped promote awareness of cardiovascular disease by sporting some red on Wear Red Day (Friday, Feb. 5). Thanks to all who submitted photos to     us for this weekend, including Jill Engel, Rebecca Yapejian, Vanessa Blumer, Ashley Barba, Laura Dickerson and to those who shared them in your Twitter feed. Way to represent! Reminder: We will accept photos all month long of any activity you take on to celebrate Heart Month. Keep up the great work, everyone – thanks for all you do!
A very special shout out to Mary Martin, COO of Duke University Hospital for sporting red in support of Wear Red Day, and for her overall support and advocacy for Duke Heart! Thank you!!! – the faculty & staff of Duke Heart
The DPC staff at GC Lot COVID Testing Tent joined me today in wearing red to show our support for the awareness of heart disease and women's heart health! – Rebecca Yapejian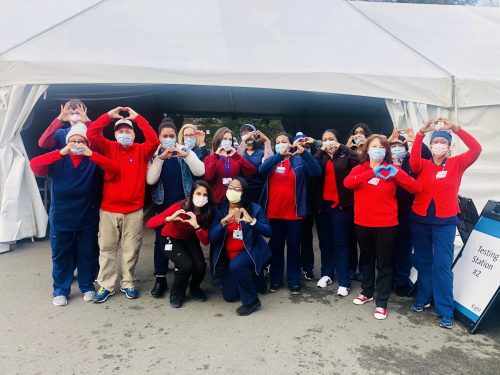 CT surgery step down APPs – Ashley Barba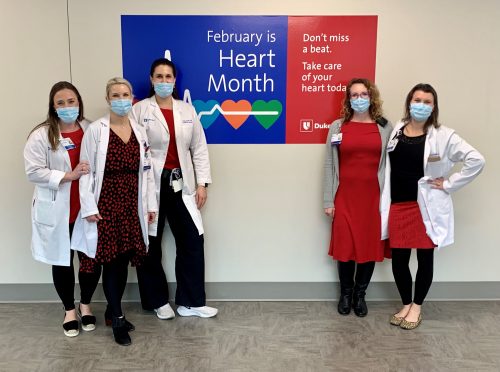 Heart Leadership sporting red kicks & putting in some steps! – Jill Engel and Manesh Patel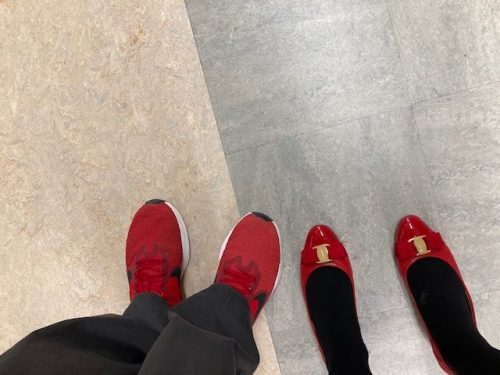 Team shot from Clinic 2F/2G – Vanessa Blumer
Duke Heart nursing leadership – Laura Dickerson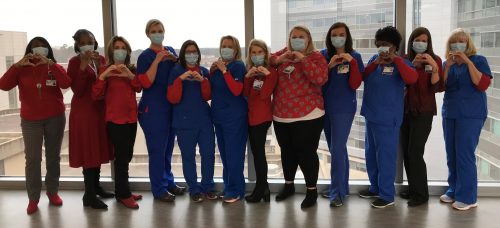 Congenital Heart Disease Awareness Week, Feb. 7 – 14
This week is designated as Congenital Heart Disease Awareness Week – a big shout-out to our team members working to support and care for our patients and families who are impacted by congenital heart defects.
One way to participate this week is via a free Facebook event on Friday, Feb. 12 at 7:30 p.m. called The Gio Project Recital: Robert Young & Polina Khatsko, a benefit concert. Robert Young and Polina Khatsko will share an evening of music for saxophone and piano to raise awareness of congenital heart defects. All donations from this event will go to Mended Little Hearts of the Triangle, a non-profit organization that supports and advocates for families and children that have been impacted by congenital heart defects. To learn more, visit: http://bit.ly/3aMNvm1.
ICYMI: Shah Featured on WRAL for #WearRedDay
Congratulations to Svati Shah – she was interviewed live by WRAL anchor Debra Morgan on Friday evening in recognition of Wear Red Day and Heart Month; Shah was able to promote the safety and importance of getting the COVID-19 vaccine when people become eligible, and gave WRAL viewers a number of important suggestions and health tips around cardiovascular disease. (Unfortunately, we do not yet have a link to share with you; we'll provide once available.)
Earlier in the week Shah joined Nancy Brown, CEO of the American Heart Association, for a YouTube live stream event called Heart to Heart: Why losing one woman is too many (you can view it here: http://spr.ly/6016HjN3E). The event also featured Tamron Hall and Star Jones; discussions focused on heart disease in women and included testimonials from survivors. Shah again joined AHA's Nancy Brown on Friday for a "coffee break" event that further promoted heart disease awareness.
Shah is a member of the AHA Board of Directors and is a strong advocate for not only helping increase awareness around CVD and prevention, but for encouraging and mentoring women in STEM careers while continuing to further her own research into the underlying genetics of heart disease.
Recent Faculty Promotions, Division of Cardiology
Congratulations to the following faculty members in the Division of Cardiology for their recent promotion within the Duke Department of Medicine:
Maria Price Rapoza, PhD, to Associate Professor of Medicine (as of Feb. 1); Rapoza is the executive director of the Duke Cardiovascular Research Center. She provides executive management for cardiovascular research and has worked throughout her career to strengthen systems for conducting basic research.
Gerald Bloomfield, MD, to Associate Professor of Medicine with tenure (as of Jan.
1); In addition to his appointment in the DOM, Bloomfield holds a faculty appointment within Duke Global Health Institute and is a member of the DCRI; He has launched a clinical research program at Moi University in Eldoret, Kenya to determine the causes of heart failure among East Africans.
Michel Khouri, MD, to Associate Professor of Medicine (as of Jan. 1); Khouri's work is in the emerging field of cardio-oncology, researching better ways to identify cancer patients at higher risk for developing heart disease and heart failure during and after cancer therapy.
NC ACC FIT Jeopardy Team Advances
Wondering how the NC chapter fared in yesterday's ACC FIT Jeopardy competition? They put in a strong performance, earning a spot at ACC FIT jeopardy nationals! The NC chapter's team was comprised of a trio of Duke cardiology fellows: Kevin Friede, Zak Loring and JD Serfas. Great job!!! We anticipate that the ACC FIT Jeopardy nationals will take place during the ACC Scientific Sessions in May.
ACC Announces Full List of Distinguished Awardees for 2021
The American College of Cardiology last week announced the full list of those selected to receive distinguished awards during Convocation at the Scientific Sessions in May. The announcement states
that the "ACC's list of 2021 Distinguished Awardees represents a diverse group of individuals from around the globe who are tangibly helping to transform cardiovascular care and improve the heart health of patients worldwide."
Honorees with Duke ties include:
Douglas P. Zipes, MD, MACC, Distinguished Young Scientist Award: Marat Fudim, MD, FACC
Distinguished Scientist (Clinical Domain): Christopher M. O'Connor, MD, MACC
The ACC will also award the annual Pamela S. Douglas Distinguished Award for Leadership in Diversity and Inclusion to Quinn Capers, IV, MD, FACC, of UT Southwestern. The award was named in Douglas's honor last year; she was the first recipient.
To see the full list, please visit: http://bit.ly/2YTQdjT. Congratulations to all receiving honors this year!
Reminder: Speaking of the ACC Scientific Sessions… Advanced registration ends March 31. Sign up now, save some $$.
Shout-out to EP, Echo Teams!
Jill Engel, associate vice president for Duke Heart Services, received a note of thanks earlier this week from Robert "Hap" Zarzour, executive director of Athletic Medicine at Duke, who wrote to thank several members of our team for their quick attention to and care of one of the athletic coaches last weekend. Engel shared the note with Pulse.
"I want to send this quick note to say thank you to you and your amazing team. One of our assistant coaches came in the training room this afternoon and was in A-Fib. I talked to Dr. Jeff Bytomski, and his fellow met him at Duke Sports Science Institute, took an EKG, labs and performed an exam. They sent the EKG to Dr. Jim Daubert for his review. He, as always, responded right away. I then called to schedule an echocardiogram and the staff really went above and beyond, seeing our coach immediately for the echo. I talked to Maggie Gordon and Kenny Walters who both were understanding and accommodating, particularly late on a Friday afternoon during a pandemic. This is only possible under your leadership. I was blown away at how great everyone was in the care of this patient. Duke is a great place but, as you know, sometimes we can get in our own way — but not in Duke Heart. Your team is the best example for patient healthcare. I am thankful and grateful to be able to work with your amazing staff.  Coach Cutcliffe walked in when I was on the phone with scheduling and he could not believe how exceptional it went." — Hap
Well done, team!! Keep up the great work!
Wofford Guest Presenter at Conemaugh GR
Brian Wofford, Duke Vice President of Heart Operations for Durham County, was a presenting speaker on Wednesday, Feb. 3 at Grand Rounds with Conemaugh Health System, a member of the Duke Life Point network. Wofford spoke on understanding the value and power of diversity, inclusion, and belonging; the importance of hearing first-hand experiences of personal success and failures, and encouraged self-reflection, deeper thinking, and conversations among audience members. Wofford has been involved in Duke's Moments to Movement initiative and with the National Association of Health Services Executives (NAHSE) to encourage greater diversity, inclusion and belonging efforts. Great job, Brian!

DukeHeart On The Go Launches PAD/CAD CME Series
In collaboration with the Society for Vascular Medicine and Society for Vascular Surgery, Duke Heart has developed a certified 4-program educational series on PAD/CAD that appears on DukeHeart On The Go and MedEd On The Go, two platforms that provide micro-learning education in single learning objective episodes.
Two of the programs are available now:
Two more programs will launch in February: Translating the Evidence to Practice Gaps (Case-based Session) and Improving Clinical Outcomes in Patients with CAD/PAD – A Case-based Review on Discharge Planning, Compliance and Adherence in the Ambulatory Patient. We will provide links once the programs are available.
DukeHeart On The Go modules are free once you sign up for an account. If you have any questions about the DukeHeart On The Go CME platform, please direct them to Christy Darnell.
COVID-19 Updates:
All the latest official DUHS information regarding coronavirus/COVID-19 response at the following locations:
Upcoming Opportunities/Save the Date:
Cardiology Grand Rounds
Feb. 9: The Dye Don't Lie: The Evolution of Invasive Lesion Assessment from Contrast to Physiology to Contrast with Rajesh Swaminathan. 5 p.m., Webex.
Feb. 16: Coronary Disease Revascularization with Bernard Gersh of the Mayo Clinic. 5 p.m., Webex.
Feb. 23: Extravascular Targets in PAH: Metformin to Mobile Health with Evan Brittian of Vanderbilt University Medical Center. 5 p.m., Webex.
Scientific Leadership in a Public Health Crisis: A Conversation with Dr. Anthony Fauci and David M. Rubenstein
Feb. 10, 4:30 – 5:15 p.m., this is the 2021 Victor J. Dzau Distinguished Lecture in Global Health, which is the highest-profile annual event organized by the Duke Global Health Institute. The event is supported by a gift from Victor J. Dzau, former chancellor of health affairs at Duke, to encourage education and discussion of interdisciplinary challenges to global health.
Event is free and will be streamed live on YouTube. Sponsored by Duke Global Health Institute. To learn more, visit: http://bit.ly/3q0UtKe.
ASE Live Webinar: Sonographer Professional Development
Feb. 18, 12:00 – 1:00 p.m., ET. Attendees will get a brief overview of five important professional development topics from eight experts in the cardiac sonography field with different backgrounds and career paths. The goal will be to help guide early career sonographers to growing within the field of echo and within ASE. The other goal is to gain feedback from the audience about which topics sonographers want to hear more about so that future webinars can be tailored to audience needs.
Moderators: Kristen Billick, BS, ACS, RDCS (AE, PE), FASE; Ashlee Davis, BS, ACS, RDCS, FASE
Speakers: Peg Knoll, RDCS, RCS, FASE; Elizabeth McIlwain, MHS, ACS, RCS, FASE; Jennifer Tresness, RDCS (PE, AE), RDMS(FE), FASE; Colin Dunbar II, RDMS, RDCS (AE, PE, FE), FASE; Ken Horton, RCS, ACS, FASE; Richard Palma, BS, RDCS, RCS, ACS, FSDMS, FASE
This activity is FREE for ASE Members, $25 for non-members. This activity does not offer CME credit. This webinar will be posted for on-demand viewing on the ASE Learning Hub in the weeks following the live broadcast.
Have news to share?
If you have news to share with the Pulse readership, please contact Tracey Koepke, director of communications for Duke Heart at tracey.koepke@duke.edu. We would love to hear about your latest accomplishments, professional news, cool happenings, and any events or opportunities that may be of interest to our Duke Heart family. Please call with any questions: 919-681-2868. Feedback on Pulse is welcome and encouraged.
Duke Heart in the News:
February 2 — Tracy Wang
Everyday Health
Gestational Diabetes Tied to Artery Damage Years After Pregnancy
http://bit.ly/3q33hzD
February 2 — Oliver Jawitz
Practical Cardiology
Women Less Likely to Undergo CABG Than Men, Despite Inclusion in Guidelines
http://bit.ly/3oPfPJs
February 3 — Oliver Jawitz and Brittany Zwischenberger
tctMD
Surgeons More Likely to Stray From CABG Best Practices in Female Patients
http://bit.ly/2NYYil4
February 3 — Oliver Jawitz
HealthDay News
Women Less Likely to Undergo Guideline-Concordant CABG
http://bit.ly/3oPmMtO