Highlights of the week:
Sondej Departs Duke Heart; Headed to OneMedical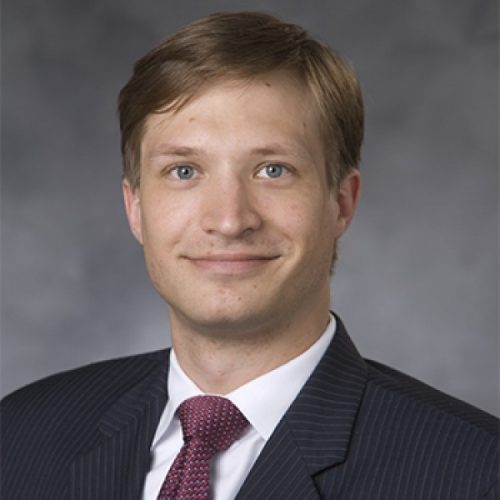 Sean Sondej, Vice President of Heart Services for Duke University Health System, spent his final week with Duke Heart wrapping up his transition period and receiving well-wishes from colleagues. Sondej has joined the team of OneMedical, a membership-based, technology-driven primary care organization. The company is headquartered in San Francisco, CA and New York, NY, but has launched locations in 15 metropolitan areas throughout the U.S, including Raleigh. In August, 2020, the company announced their intention to launch services in North Carolina through a partnership with Duke Health. Sondej will serve as their Vice President of Strategic Partnerships.
Sondej probably didn't realize it at the time, but his start as an administrative fellow at Duke in 2003 would lead to a career in healthcare administration at Duke that would span just over 17 years. Not all of that time has been with Duke Heart; Sean has also worked with Med/Surg/Critical Care, Psychiatry and Emergency Services, and worked as a member of Strategic Operations.
As noted by William Fulkerson, MD, in a December 2020 announcement that Sean would leave Duke at the end of January, "[Sean's] talents were quickly recognized, and he advanced here to fulfill many important roles, including partnering with physician and nursing leaders to lead our Heart Center CSU during a critical period of growth. Instrumental in creating our Heart Care Plus collaboration with WakeMed and working with many other local hospitals to expand high quality care in their communities, Sean is admired as a relationship-builder, a strategic thinker and an effective leader of great character. Throughout his career at Duke, he has mentored many colleagues and developed the people around him, including sponsoring our MINDS affinity group to support our young professionals."
During his time with Duke Heart his accomplishments were recognized with several awards, including a Triangle-area Healthcare Hero Award in 2017, an honor given annually by the Triangle Business Journal. He was also recognized by Modern Healthcare in 2013 as an Up & Comer.
Sean has helped Duke Heart in so many ways – not the least of which were efforts taking place behind the scenes in advocacy and support. For those who have worked most closely with him, we know him as a genuinely caring, hard-working and dedicated colleague who not only advocates for others but who is willing to take on whatever job is needed in order to get our team beyond the finish line. Whether lending a hand to a unit move in the hospital, or to pitch in on community events such as Heart Walk, he is a team player.
We spoke with Sean late this past week to get his thoughts on his time at Duke. Here is what we learned:
"Being able to say that I've been a part of Duke Heart has always made me so proud, and at the same time I'm so appreciative that I've always been made to feel a part of the team and to be seen as someone who can help. Watching what our people and teams are capable of each day has inspired me and driven me, and is something I will miss a lot," he said. "I know this is something that is always said, but I was always struck by what each person was willing to do at all hours of the day in order to make sure the right thing happened. That's special, different, and something to be cherished and to be thankful for."
As for his experiences and how they have shaped him, Sondej added:
"I'm the person I am because of the people at Duke, especially in Heart. I've been with this team for more than half of my time at Duke; that's more than with any other team by a factor of two. The people of Duke Heart mean so much to me, have helped me in so many ways, and have shaped who I am as a person. I owe all of you so much.
"While so many things are changing around us, it will always be true that doing the very best for others will be the right path. Duke, and the Heart Services team, are capable of both setting the standard and continuing to aspire to more. I wish you all the best, but know that you're already on the way."
Sean, thank you for all you have done to support the Duke Heart team over the years. You will be missed! We wish you all the best at OneMedical and beyond.
ICYMI: Rajagopal's Latest Appears in Current Issue of Science
Congrats to Sudarshan Rajagopal of the Duke Cardiovascular Research Center and his co-authors! Their paper, "Noncanonical scaffolding of Gαi and β-arrestin by G protein-coupled receptors," has just been published online, ahead of print, in Science. A link to the article is here: https://pubmed.ncbi.nlm.nih.gov/33479120/.
Way to go!!!
COVID-19 Updates:
All the latest official DUHS information regarding coronavirus/COVID-19 response at the following locations:
Upcoming Opportunities/Save the Date:
Cardiology Grand Rounds
Jan. 26: DCD Heart Transplantation with Adam DeVore, Ben Bryner & Sharon McCartney. 5 p.m., Webex.
Feb. 2: Clinical Pathologic Conference with David Nafissi. 7:15 a.m., Webex.
Feb. 9: The Dye Don't Lie: The Evolution of Invasive Lesion Assessment from Contrast to Physiology to Contrast with Rajesh Swaminathan. 5 p.m., Webex.
Feb. 16: Coronary Disease Revascularization with Bernard Gersh of the Mayo Clinic. 5 p.m., Webex.
Feb. 23: Extravascular Targets in PAH: Metformin to Mobile Health with Evan Brittian of Vanderbilt University Medical Center. 5 p.m., Webex.
Conversations with Colleagues
It's not too late to talk with your colleagues about recent events in Washington, D.C. The recent violence at the U.S. Capitol has left many of us feeling strong emotions, including sadness, anger, and grief. If you would like to process your emotions together with your fellow team members, Conversations with Colleagues is holding a special series of Zoom meetings – beginning January 20 – dedicated to the topic. The gatherings are guided by a Duke social worker and participants agree to offer one another a supportive environment. Each discussion can include up to 30 people, and seats are available on a first-come, first-served basis. To see the topics and to sign up, please visit: bit.ly/CwCDCEvents.
February is Heart Month!
It's hard to believe, but January is nearly over and we're getting ready to celebrate Heart Month:
Feb. 5: Wear Red Day. Share your spirit with colleagues working in the cardiovascular and cardiothoracic space, as well as your support of all those living with and experiencing cardiovascular diseases: wear some red and wear it proudly! (Take pics & share them with Pulse!)
Have news to share?
If you have news to share with the Pulse readership, please contact Tracey Koepke, director of communications for Duke Heart at tracey.koepke@duke.edu. We would love to hear about your latest accomplishments, professional news, cool happenings, and any events or opportunities that may be of interest to our Duke Heart family. Please call with any questions: 919-681-2868. Feedback on Pulse is welcome and encouraged.
Duke Heart in the News:
January 13 — Manesh Patel
TheHealthy.com
What Is Acute Heart Failure? Here's What You Need to Know
http://bit.ly/35Y7j3U
January 18 — Joseph Rogers
CBS17.com
Signs of improvement appear in NC's still-high COVID-19 numbers
http://bit.ly/3sH4Dl6
January 18 — Joseph Rogers
WRAL.com
Could NC be moving past post-holidays spike in coronavirus cases?
http://bit.ly/35YOmhJ
January 20 — Renato Lopes
Medscape
ACEIs, ARBs Safe to Continue in COVID-19: Trial Published
https://www.medscape.com/viewarticle/944439
January 20 — E. Magnus Ohman
Healio/Cardiology
Evolocumab may reduce likelihood of future revascularization in established ASCVD
http://bit.ly/3phMPuM
January 21 — Renato Lopes
Physician's Weekly
RAAS Inhibitors Don't Affect Covid-19 Outcomes in Hospitalized Patients
http://bit.ly/3a2rQ8K
January 21 — Michael Pencina
CNN.com
'Fat but fit' is a myth when it comes to heart health, new study shows
http://cnn.it/2KINmqH
January 21 — Joseph Rogers
CBS17.com
With some of NC's COVID numbers improving, now comes the wait for drops in lagging indicators
https://bit.ly/3pdH01s
January 22 — Stephen Greene
TheHealthy.com
These Are the 4 Stages of Heart Failure
Division of Cardiology Publications Indexed in PubMed Jan. 14 – 20, 2021
Beijnink CWH, Thim T, van der Heijden DJ, Klem I, Al-Lamee R, Vos JL, Koop Y, Dijkgraaf MGW, Beijk MAM, Kim RJ, Davies J, Raposo L, Baptista SB, Escaned J, Piek JJ, Maeng M, van Royen N, Nijveldt R. Instantaneous wave-free ratio guided multivessel revascularisation during percutaneous coronary intervention for acute myocardial infarction: study protocol of the randomised controlled iMODERN trial. BMJ Open 2021;11(1):e044035. PM: 33452200.
Califf RM, Curtis LH, Harrington RA, Hernandez AF, Peterson ED. Generating evidence for therapeutic effects: the need for well-conducted randomized trials. J Clin Invest 2021;131(2):10.1172/JCI146391. PM: 33270604.
Fanaroff AC, Lopes RD. Antithrombotic Regimens in Low-Risk Patients Undergoing Transcatheter Aortic Valve Replacement: Trials Evaluating Patient-Centered Outcomes Needed. Circ Cardiovasc Interv 2021;14(1):e010331. PM: 33423539.
Kaur S, Chen Y, Shenoy SK. Agonist-activated glucagon receptors are deubiquitinated at early endosomes by two distinct deubiquitinases to facilitate Rab4a-dependent recycling. J Biol Chem 2020;295(49):16630-16642. PM: 33453899.
McCarthy J, Patrinos G, Ginsburg G. Welcome to the 18th volume of Personalized Medicine. Per Med 2021;18(1):1-3. PM: 33459576.
Navar AM, Wang TY, Li S, Mi X, Li Z, Robinson JG, Virani SS, Peterson ED. Patient-Perceived Versus Actual Risk of Cardiovascular Disease and Associated Willingness to Consider and Use Prevention Therapy. Circ Cardiovasc Qual Outcomes 2021;14(1):e006548. PM: 33435730.
Nelson AJ, Ardissino M, Haynes K, Shambhu S, Eapen ZJ, McGuire DK, Carnicelli A, Lopes RD, Green JB, O'Brien EC, Pagidipati NJ, Granger CB. Gaps in Evidence-Based Therapy Use in Insured Patients in the United States With Type 2 Diabetes Mellitus and Atherosclerotic Cardiovascular Disease. J Am Heart Assoc 2021;10(2):e016835. PM: 33432843.
Pakharukova N, Masoudi A, Pani B, Staus DP, Lefkowitz RJ. Allosteric activation of proto-oncogene kinase Src by GPCR-beta-arrestin complexes. J Biol Chem 2020;295(49):16773-16784. PM: 33453910.
Polcwiartek C, Atwater BD, Kragholm K, Friedman DJ, Barcella CA, Attar R, Graff C, Nielsen JB, Pietersen A, Søgaard P, Torp-Pedersen C, Jensen SE. Association Between ECG Abnormalities and Fatal Cardiovascular Disease Among Patients With and Without Severe Mental Illness. J Am Heart Assoc 2021;10(2):e019416. PM: 33432845.
Rodriguez-Homs LG, Hammill BG, Ryser MD, Phillips HR, Mosca PJ. Relationship Between HCAHPS Scores and Survey Response Rate Is Linked to Hospital Size. J Patient Exp 2020;7(6):1543-1548. PM: 33457612.
Samei E, Richards T, Segars WP, Daubert MA, Ivanov A, Rubin GD, Douglas PS, Hoffmann U. Task-dependent estimability index to assess the quality of cardiac computed tomography angiography for quantifying coronary stenosis. J Med Imaging (Bellingham) 2021;8(1):013501. PM: 33447644.
Sparks MA, Rianto F, Diaz E, Revoori R, Hoang T, Bouknight L, Stegbauer J, Vivekanandan-Giri A, Ruiz P, Pennathur S, Abraham DM, Gurley SB, Crowley SD, Coffman TM. Direct Actions of AT (Type 1 Angiotensin) Receptors in Cardiomyocytes Do Not Contribute to Cardiac Hypertrophy. Hypertension 2021;77(2):393-404. PM: 33390039.
Xu H, Farmer HR, Granger BB, Thomas KL, Peterson ED, Dupre ME. Perceived Versus Actual Risks of 30-Day Readmission in Patients With Cardiovascular Disease. Circ Cardiovasc Qual Outcomes 2021;14(1):e006586. PM: 33430612.