Chief's message:  RBG and Resilience
I try not to interrupt my kids (13-year-old daughter and 15-year-old son) as they tell me about their day during dinner time.  They go first so they get the most time, then my wife, and then me. This has become an even more important ritual during COVID-19 times and is one of the few things that we have fought hard to ensure we have time for.  Given the stressful times for kids and parents, the ability to sit and hear the joys and struggles of each member of the family's day has brought us even closer together if not sometimes led to other frustrations.  It is with this backdrop that I was hesitant to interrupt my "daughter's day" on Friday when I got the news at dinner that Ruth Bader Ginsburg has passed away.  Both kids over the last two years for some reason had read the "Notorious RBG", and shared with the parents her empowering statements, her writing through the night, the way she picked cases, and even making people like Bill Clinton cry. All politics aside, I knew she meant a lot to the country and she meant a lot to my children.  So, I interrupted and said I had some bad news for the family to hear and told them that Ruth Bader Ginsburg had passed away surrounded by family and friends.  Both kids, and my wife, and my daughter in particular were saddened and took a moment.  We shared some of the impact and accomplishments, and unfortunately were worried that this would further divide an already polarized community and country.  As we cleaned up and started to plan what we might do for a "fun" Friday night, my daughter and son both asked if they could go use their cell phones to text and discuss her death with friends.  My wife started getting texts from her high school girlfriends.  An hour later we settled into watching a series we have been watching on Netflix, and my kids described ways in which they and their friends will try to carry on the lessons and legacy of RBG.
I share the story as I was struck by how much the Duke Heart community has had challenges and similar responses in 2020.  We have faced as a community and group,  the COVID-19 pandemic, continued evidence of racial injustice and health inequity, and other innumerable challenges in the ways in which we care for our patients and each other.  These have included at times, some of our most trusted colleagues and partners getting sick, operational struggles in care delivery and research, limitations in how we can share and discuss both clinical care and our ongoing "days" and lives, and in some instances our colleagues taking important roles at other institutions.  Through all of this, we are blessed to have the Duke Heart community – the people that every day support and work to carry out the mission and legacy of our group to discovery and deliver better health.  2020 is not over by any stretch and we will all be challenged more as we work to improve the structure and manner in which we care for patients and conduct science.  But, I remain encouraged by the resilience of  you all who support and continue to push our collective desire to for clinical and research excellence forward.
A few quotes from Ruth Bader Ginsburg – known for her Resilience
"Fight for the things that you care about. But do it in a way that will lead others to join you."
"Real change, enduring change, happens one step at a time."
"I would like to be remembered as someone who used whatever talent she had to do her work to the very best of her ability."
Highlights of the week:
Atwater Named Director, Cardiac Electrophysiology at Inova
We are excited to announce that Brett D. Atwater, Associate Professor of Medicine with Tenure in the Division of Cardiology will assume the role of Director of Cardiac Electrophysiology and Electrophysiology Research at the Inova Heart & Vascular Institute in Fairfax, VA, a position that is effective December 14, 2020.
Brett graduated from the Pritzker School of Medicine at the University of Chicago, completed his internal medicine training at Duke, and completed his cardiology training at the University of Wisconsin. He returned to Duke for his electrophysiology fellowship and joined the faculty in 2010. Brett has been dedicated to patient care, education, and research. He has many accomplishments during his time here at Duke. He has served as the Director of Electrophysiology at the Durham Veterans Administration Medical Center. He has also served as the Director of the EP Lab at Duke University Medical Center and led Duke's Electrophysiology Services in Wake County. He has a great track record for helping to build and grow robust clinical programs. Moreover, through his leadership, he has also established new programs at Duke University Hospital, including the physiologic His pacing program and our clinical service line at Wake Med.
He is an internationally recognized clinical investigator in cardiac resynchronization therapy and electrocardiography and has co-authored more than 70 peer reviewed articles during his time at Duke. Recently, he performed the first in-man use of the His-Pro sheath for conduction system pacing lead implantation here at Duke. He has also served as a valuable teacher and mentor to many medical students, residents and fellows. He is leaving Duke to lead a talented EP section where he will work alongside several notable Duke alumni.
"This is a bittersweet moment for Duke EP," said Jon Piccini, Duke's director of Cardiac Electrophysiology. "While we will miss working with Dr. Atwater and learning from Dr. Atwater, we are extremely excited and thrilled so see him take on this important leadership opportunity in cardiac electrophysiology. Inova will be poised for exceptional success and innovation under his leadership."
Atwater says he is especially grateful for the mentorship, partnership and friendship he has enjoyed with members of the Duke faculty and staff.
"I have thoroughly enjoyed all of the opportunities to work with the exceptional physicians, fellows, APPs, nurses and staff," said Atwater. "Duke is and will remain a very special place because of the talented, caring people who choose to work here."
Atwater and Piccini are both looking forward to opportunities to strengthen collaboration between Inova and Duke.
Congratulations, Brett – you will certainly be missed at Duke!
Bonadonna Named Chief Perfusionist, Effective Oct. 1
Duke Heart is pleased to announce that Desiree Bonadonna has been named Chief Perfusionist for Duke Health. Bonadonna has led the Extracorporeal Membrane Oxygenation program (ECMO) at Duke for the last seven years, and most recently has served as the Director of Extracorporeal Life Support (ECLS) for Duke University Hospital and Duke University Health System. In her director role, she coordinated medical center resources to efficiently deliver high quality respiratory and cardiac extracorporeal support — neonatal through adult — throughout the health system and our referral network.
She has provided clinical expertise and oversight of patient care for more than 250 ECLS cases per year and managed ECLS continuing education and care delivery training for 40 ECMO specialists and 34 perfusionists, as well as multidisciplinary teams serving four intensive care units, the operating rooms, and emergency services. She has built and maintained the relationships necessary to conceive and establish an inter-hospital ECMO transport program inclusive of ground, rotor, and fixed wing aircraft, which have supported more than 100 inter-hospital ECLS transports annually. Her collaborations with internal data and quality experts have allowed us to better benchmark outcomes, as well as identify and implement performance improvement and research opportunities, all of which have led to quality improvements.
Under her leadership, the ECMO Program has received an ELSO Award for Excellence in Extracorporeal Life Support and she will continue to support the ECLS program in her Chief of Perfusion role.
We welcomed Bonadonna to the Duke team in 2007 when she started as a perfusionist; she maintains clinical competence in both pediatric and adult cardiothoracic surgery and is actively involved in multiple perfusion societies, including the American Academy of Cardiovascular Perfusion, to which she was nominated as a Fellow earlier this year. She is widely published in the perfusion and ECMO literature, and has been an invited speaker regionally, nationally, and internationally.
Bonadonna earned a Bachelor of Science in Engineering from the University of Pittsburgh; she holds a Certificate in Cardiovascular Perfusion from the Center for Allied Health at Cooper University Health Care, and a Master of Perfusion Science degree from University of Nebraska Medical Center.
Congratulations, Desiree! We are very excited for you and for our Perfusion program!
Shout-Out to Wofford!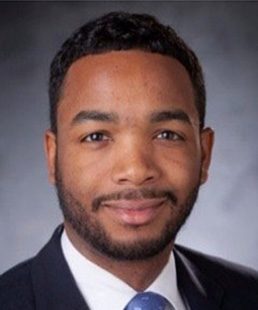 Brian Wofford, vice president of heart operations for Durham County, recently had the opportunity to plan and organize a special event featuring Ibram X. Kendi, author of How to be an Antiracist and director of the Center for Antiracist Research at Boston University.
The event, A Conversation with Professor Ibram X. Kendi, was held Sept. 16 during the General Session of the National Association of Health Services Executives (NAHSE) 2020 Virtual Educational Conference, which Wofford co-chaired. NAHSE is a non-profit association of Black health care executives founded in 1968 for the purpose of promoting the advancement and development of Black health care leaders, and elevating the quality of health care services rendered to minority and underserved communities. (Fabian Stone, associate vice president of revenue cycle and health information management at DUHS, currently serves as President of NAHSE. Rhonda Brandon, chief human resources officer and senior vice president for the Duke University Health System, and Adia Ross, chief medical officer for Duke Regional Hospital also spoke at the event.)
Way to represent Duke Health and Duke Heart, Brian! Thank you for the work you are doing to support Duke Heart as well as the Moments to Movement initiative at Duke. To read more about Duke's ties to NAHSE and our sponsored event with Kendi, please visit the Inside Duke Health story.
BBQ – Lunch
Thank you to Grateful cardiology patient and Duke fellow alum, Dr. Bob Bauman, cooked us an amazing pork barbeque pork lunch this week. Rich Krasuski noted "It was the best barbeque I've ever had!"
Important Reminders
Please get your Flu Vaccination: All team members must get their vaccination or otherwise demonstrate policy compliance by Tuesday, Nov. 10. Details and resources all available on the Duke Health Influenza Resources site (NET ID required): https://influenza.dh.dukehealth.org.
Moments to Movement wearables are available
All members of the Duke University and Duke University Health System community are encouraged to register and vote in the 2020 election. For the most up-to-date information and resources on voting, visit the Duke Votes website: duke.edu
DHTS has issued additional details related to the new Zoom meeting security requirements that are going into effect on Sept. 27. Please look these over, particularly if you are planning upcoming Zoom events. Attached is a PDF summary, if you can use it.
Upcoming Opportunities/Save the Date:
Cardiology Grand Rounds
Sept. 22: ESC Wrap-Up and Overview with the Experts. Christopher Granger and Bernard Gersh of the Mayo Clinic, 5 – 6 p.m.
Funding Opp: Translating Duke Health – CV Initiative – COVID-19
Duke Health has announced a request for innovative pilot project proposals for high risk/high impact research in the area of the heart disease and COVID-19. The intent of this RFP is to support one to four pilot projects that help us better understand how to prevent the transition from cardiovascular health to disease and/or facilitate the return to health.
We are especially interested in:  (1) proposals that span multiple dimensions from basic to clinical to populations, (2) proposals that build new collaborations and/or new teams, and (3) proposals that might lead to extended productive and NIH-funded collaborations.
Applications are due TOMORROW, 9/21. Click here to see the full RFP and to find additional details about eligibility, funding, proposal requirements, selection process and review criteria.
Conferences & Symposia  
Sept. 21: Duke Orthopaedic and Rehab Seminar. 4:30 – 5:30 p.m. Guest speaker is Shane Phillips, PT, PhD, FAHA, Professor and Associate Head of PT and Senior Associate Dean for Clinical Affairs, College of Applied Health Sciences, University of Illinois-Chicago. His topic is Microvascular Function and Cardiac Rehabilitation: A Canary in the Coal Mine? Zoom seminar:  https://duke.zoom.us/j/93436455711
Sept. 29: COVID-19 and the Telehealth Transformation, with Jedrek Wosik and Shijing Si. Noon – 1 p.m.
COVID-19 has led to the rapid adoption of telehealth strategies in order to maintain continuity of care. As compared to in-person visits, important changes in patient characteristics were seen in telephone and video visits as well as clinician ordering patterns. In addition, MyChart patient portal usage increased dramatically. We present select initial Duke clinic utilization data before and during COVID-19. To better understand the increasing number of unstructured MyChart messages, we apply both unsupervised and supervised machine learning tools to patient-generated messages. Specifically, 1) we utilize dynamic topic modeling to gain insight into message meaning and monthly trends for patients with (+) and (-) COVID and Flu results; 2) we leverage the state-of-the-art machine learning model (Bidirectional Encoder Representations from Transformers or BERT) to construct an automatic message triaging algorithm or classifier that outperforms other baseline methods.
Registration required to receive link and meeting information. To register, visit: https://training.oit.duke.edu/enroll/common/show/21/175250. This event is co-hosted by the Duke Center for Computational Thinking and Duke+DataScience.
Oct. 5 – 8: Research Week. Sponsored by Duke School of Medicine. Series will be held virtually, via Zoom: https://duke.zoom.us/j/92060873004. More information and a full agenda can be found here: https://medschool.duke.edu/research/research-week
Nov. 13: 12th Annual NC Research Triangle Pulmonary Hypertension Symposium. Noon – 4:30 p.m. For more information, please visit this page. This event will be held virtually and is co-sponsored by Duke and the University of North Carolina in partnership with the Pulmonary Hypertension Association through the Building Medical Education in PH program. Please join us!
Nov. 13–17: AHA Scientific Sessions 2020, a virtual experience. Registration is now open. See the website for details.
COVID-19 Updates:
All the latest official DUHS information regarding coronavirus/COVID-19 response at the following locations:
Have news to share?
If you have news to share with the Pulse readership, please contact Tracey Koepke, director of communications for Duke Heart at tracey.koepke@duke.edu. We would love to hear about your latest accomplishments, professional news, cool happenings, and any events or opportunities that may be of interest to our Duke Heart family. Please call with any questions: 919-681-2868. Feedback on Pulse is welcome and encouraged.
Duke Heart in the News:
September 14 — Manesh Patel
Becker's Hospital Review
The most concerning disparities in heart care outcomes: 2 cardiologists discuss
https://bit.ly/2HeAp5
Division of Cardiology Publications: September 10-16, 2020
Aberra T, Peterson ED, Pagidipati NJ, Mulder H, Wojdyla DM, Philip S, Granowitz C, Navar AM. The association between triglycerides and incident cardiovascular disease: What is "optimal"? J Clin Lipidol 2020;14(4):438-447. PM:32571728
AbouEzzeddine OF, Kemp BJ, Borlaug BA, Mullan BP, Behfar A, Pislaru SV, Fudim M, Redfield MM, Chareonthaitawee P. Myocardial Energetics in Heart Failure With Preserved Ejection Fraction. Circ Heart Fail 2019;12(10):e006240. PM:31610726
Al-Bawardy R, Vemulapalli S, Thourani VH, Mack M, Dai D, Stebbins A, Palacios I, Inglessis I, Sakhuja R, Ben-Assa E, Passeri JJ, Dal-Bianco JP, Yucel E, Melnitchouk S, Vlahakes GJ, Jassar AS, Elmariah S. Association of Pulmonary Hypertension With Clinical Outcomes of Transcatheter Mitral Valve Repair. JAMA Cardiol 2020;5(1):47-56. PM:31746963
Bach RG, Cannon CP, Blazing MA. Interpreting the Benefit of Simvastatin-Ezetimibe in Patients 75 Years or Older-Reply. JAMA Cardiol 20201;5(2):235-236. PM:31895449
Bae JA, Curtis LH, Hernandez AF. National Hospital Quality Rankings: Improving the Value of Information in Hospital Rating Systems. JAMA 2020;324(9):839-840. PM:32730574
Bennett AV, Jonsson M, Chen RC, Al-Khatib SM, Weinfurt KP, Curtis LH. Applying patient-reported outcome methodology to capture patient-reported health data: Report from an NIH Collaboratory roundtable. Healthc (Amst) 2020;8(3):100442. PM:32919581
Choi AY, Mulvihill MS, Lee HJ, Zhao C, Kuchibhatla M, Schroder JN, Patel CB, Granger CB, Hartwig MG. Transplant Center Variability in Organ Offer Acceptance and Mortality Among US Patients on the Heart Transplant Waitlist. JAMA Cardiol 2020;5(6):660-668. PM:32293647
Daubert MA, Sivak J, Dunning A, Douglas PS, Coyne B, Wang TY, Mark DB, Velazquez EJ. Implications of Abnormal Exercise Electrocardiography With Normal Stress Echocardiography. JAMA Intern Med 2020;180(4):494-502. PM:31985749
DeVore AD, Braunwald E, Morrow DA, Duffy CI, Ambrosy AP, Chakraborty H, McCague K, Rocha R, Velazquez EJ. Initiation of Angiotensin-Neprilysin Inhibition After Acute Decompensated Heart Failure: Secondary Analysis of the Open-label Extension of the PIONEER-HF Trial. JAMA Cardiol 2020;5(2):202-207. PM:31825471
Ding EY, Svennberg E, Wurster C, Duncker D, Manninger M, Lubitz SA, Dickson E, Fitzgibbons TP, Akoum N, Al-Khatib SM, Attia ZI, Ghanbari H, Marrouche NF, Mendenhall GS, Peters NS, Tarakji KG, Turakhia M, Wan EY, McManus DD. Survey of current perspectives on consumer-available digital health devices for detecting atrial fibrillation. Cardiovasc Digit Health J 2020;1(1):21-29. PM:32924024
Fanaroff AC, Peterson ED, Kaltenbach LA, Cannon CP, Choudhry NK, Henry TD, Anstrom KJ, Cohen DJ, Fonseca E, Khan ND, Fonarow GC, Wang TY. Agreement and Accuracy of Medication Persistence Identified by Patient Self-report vs Pharmacy Fill: A Secondary Analysis of the Cluster Randomized ARTEMIS Trial. JAMA Cardiol 2020;5(5):532-539. PM:32129795
Fanaroff AC, Peterson ED, Kaltenbach LA, Cannon CP, Choudhry NK, Henry TD, Anstrom KJ, Cohen DJ, Fonseca E, Khan ND, Fonarow GC, Wang TY. Association of a P2Y12 Inhibitor Copayment Reduction Intervention With Persistence and Adherence With Other Secondary Prevention Medications: A Post Hoc Analysis of the ARTEMIS Cluster-Randomized Clinical Trial. JAMA Cardiol 2020;5(1):38-46. PM:31721978
Fiuzat M, Ezekowitz J, Alemayehu W, Westerhout CM, Sbolli M, Cani D, Whellan DJ, Ahmad T, Adams K, Piña IL, Patel CB, Anstrom KJ, Cooper LS, Mark D, Leifer ES, Felker GM, Januzzi JL, O'Connor CM. Assessment of Limitations to Optimization of Guideline-Directed Medical Therapy in Heart Failure From the GUIDE-IT Trial: A Secondary Analysis of a Randomized Clinical Trial. JAMA Cardiol 2020;5(7):757-764. PM:32319999
Fudim M, Ali-Ahmed F, Parzynski CS, Ambrosy AP, Friedman DJ, Pokorney SD, Curtis JP, Fonarow GC, Masoudi FA, Hernandez AF, Al-Khatib SM. Periprocedural Risk and Survival Associated With Implantable Cardioverter-Defibrillator Placement in Older Patients With Advanced Heart Failure. JAMA Cardiol 2020;5(6):643-651. PM:32211811
Harskamp RE, Alexander JH, Lopes RD. Clinical Considerations Prior to Transition From Triple Antithrombotic Therapy to Dual Antithrombotic Therapy-Reply. JAMA Cardiol 2020;5(1):111-112. PM:31799984
Inohara T, Kohsaka S, Spertus JA, Masoudi FA, Rumsfeld JS, Kennedy KF, Wang TY, Yamaji K, Amano T, Nakamura M. Comparative Trends in Percutaneous Coronary Intervention in Japan and the United States, 2013 to 2017. J Am Coll Cardiol 2020;76(11):1328-1340. PM:32912447
Kelsey MD, Newby LK. In older patients with NSTE-ACS, clopidogrel safely reduced bleeding compared with ticagrelor at 1 year. Ann Intern Med 2020;173(6):JC28. PM:32926825
Kendsersky P, Krasuski RA. Intensive Care Unit Management of the Adult with Congenital Heart Disease. Curr Cardiol Rep 2020;22(11):136. PM:32910318
Khan MS, Shahid I, Siddiqi TJ, Khan SU, Warraich HJ, Greene SJ, Butler J, Michos ED. Ten-Year Trends in Enrollment of Women and Minorities in Pivotal Trials Supporting Recent US Food and Drug Administration Approval of Novel Cardiometabolic Drugs. J Am Heart Assoc 2020;9(11):e015594. PM:32427023
Liu Y, Baker O, Schuur JD, Weiner SG. Effects of Rescheduling Hydrocodone on Opioid Prescribing in Ohio. Pain Med 2020;21(9):1863-1870. PM:31502638
Lopes RD, Hong H, Harskamp RE, Bhatt DL, Mehran R, Cannon CP, Granger CB, Verheugt FWA, Li J, Ten Berg JM, Sarafoff N, Vranckx P, Goette A, Gibson CM, Alexander JH. Optimal Antithrombotic Regimens for Patients With Atrial Fibrillation Undergoing Percutaneous Coronary Intervention: An Updated Network Meta-analysis. JAMA Cardiol 2020;5(5):582-589. PM:32101251
Lowenstern A, Alexander KP, Hill CL, Alhanti B, Pellikka PA, Nanna MG, Mehta RH, Cooper LS, Bullock-Palmer RP, Hoffmann U, Douglas PS. Age-Related Differences in the Noninvasive Evaluation for Possible Coronary Artery Disease: Insights From the Prospective Multicenter Imaging Study for Evaluation of Chest Pain (PROMISE) Trial. JAMA Cardiol 2020;5(2):193-201. PM:31738382
Madhavan M, Holmes DN, Piccini JP, Freeman JV, Fonarow GC, Hylek EM, Kowey PR, Mahaffey KW, Pieper K, Peterson ED, Chan PS, Allen LA, Singer DE, Naccarelli GV, Reiffel JA, Steinberg BA, Gersh BJ. Effect of Temporary Interruption of Warfarin Due to an Intervention on Downstream Time in Therapeutic Range in Patients With Atrial Fibrillation (from ORBIT AF). Am J Cardiol 2020;132:66-71. PM:32826041
Mahmoudi M, Nicholas Z, Nuttall J, Bresser M, Maishman T, Berry C, Hlatky MA, Douglas P, Rajani R, Fox K, Curzen N. Fractional Flow Reserve Derived from Computed Tomography Coronary Angiography in the Assessment and Management of Stable Chest Pain: Rationale and Design of the FORECAST Trial. Cardiovasc Revasc Med 2020;21(7):890-896. PM:31932171
Mahmud E, Dauerman HL, Welt FGP, Messenger JC, Rao SV, Grines C, Mattu A, Kirtane AJ, Jauhar R, Meraj P, Rokos IC, Rumsfeld JS, Henry TD. Management of Acute Myocardial Infarction During the COVID-19 Pandemic: A Position Statement From the Society for Cardiovascular Angiography and Interventions (SCAI), the American College of Cardiology (ACC), and the American College of Emergency Physicians. J Am Coll Cardiol 2020;76(11):1375-1384. PM:32330544
Marquis-Gravel G, Roe MT, Robertson HR, Harrington RA, Pencina MJ, Berdan LG, Hammill BG, Faulkner M, Muñoz D, Fonarow GC, Nallamothu BK, Fintel DJ, Ford DE, Zhou L, Daugherty SE, Nauman E, Kraschnewski J, Ahmad FS, Benziger CP, Haynes K, Merritt JG. Rationale and Design of the Aspirin Dosing-A Patient-Centric Trial Assessing Benefits and Long-term Effectiveness (ADAPTABLE) Trial. JAMA Cardiol 2020;5(5):598-607. PM:32186653
Nanna MG, Peterson ED. Translating the Secondary Prevention Therapeutic Boom Into Action. JAMA Cardiol 2020;5(2):215-216. PM:31895445
Nathan AS, Xiang Q, Wojdyla D, Khatana SAM, Dayoub EJ, Wadhera RK, Bhatt DL, Kolansky DM, Kirtane AJ, Rao SV, Yeh RW, Groeneveld PW, Wang TY, Giri J. Performance of Hospitals When Assessing Disease-Based Mortality Compared With Procedural Mortality for Patients With Acute Myocardial Infarction. JAMA Cardiol 2020;5(7):765-772. PM:32347890
Navar AM. Questioning the Benefit of Statins for Low-Risk Populations-Medical Misinformation or Scientific Evidence?-Reply. JAMA Cardiol 2020;5(2):233-234. PM:31876926
Navar AM, Mehran R. High Rates of Off-label Prescribing and the Urgent Need for a Randomized Clinical Trial. JAMA Cardiol 2020;5(6):692-693. PM:32319997
Nelson AJ, Navar AM, Mulder H, Wojdyla D, Philip S, Granowitz C, Peterson ED, Pagidipati NJ. Association Between Triglycerides and Residual Cardiovascular Risk in Patients With Type 2 Diabetes Mellitus and Established Cardiovascular Disease (From the Bypass Angioplasty Revascularization Investigation 2 Diabetes [BARI 2D] Trial). Am J Cardiol 2020;132:36-43. PM:32773223
Olivotto I, Oreziak A, Barriales-Villa R, Abraham TP, Masri A, Garcia-Pavia P, Saberi S, Lakdawala NK, Wheeler MT, Owens A, Kubanek M, Wojakowski W, Jensen MK, Gimeno-Blanes J, Afshar K, Myers J, Hegde SM, Solomon SD, Sehnert AJ, Zhang D, Li W, Bhattachar. Mavacamten for treatment of symptomatic obstructive hypertrophic cardiomyopathy (EXPLORER-HCM): a randomised, double-blind, placebo-controlled, phase 3 trial. Lancet 2020;396(10253):759-769. PM:32871100
Ortega RF, Mehran R, Douglas PS. The Conundrum and Opportunity of Gender Equity for Evidence Generators. JAMA Cardiol 2020;5(6):623-624. PM:32267464
Pandey A, Keshvani N, Khera R, Lu D, Vaduganathan M, Joynt Maddox KE, Das SR, Kumbhani DJ, Goyal A, Girotra S, Chan P, Fonarow GC, Matsouaka R, Wang TY, de Lemos JA. Temporal Trends in Racial Differences in 30-Day Readmission and Mortality Rates After Acute Myocardial Infarction Among Medicare Beneficiaries. JAMA Cardiol 2020;5(2):136-145. PM:31913411
Prabhakaran D, Perel P, Roy A, Singh K, Raspail L, Faria-Neto JR, Gidding SS, Ojji D, Hakim F, Newby LK, Stępińska J, Lam CSP, Jobe M, Kraus S, Chuquiure-Valenzuela E, Piñeiro D, Khaw KT, Bahiru E, Banerjee A, Narula J, Pinto FJ, Wood DA, Sliwa K. Correction: Management of Cardiovascular Disease Patients With Confirmed or Suspected COVID-19 in Limited Resource Settings. Glob Heart 2020;15(1):54. PM:32925986
Prabhakaran D, Perel P, Roy A, Singh K, Raspail L, Faria-Neto JR, Gidding SS, Ojji D, Hakim F, Newby LK, Stępińska J, Lam CSP, Jobe M, Kraus S, Chuquiure-Valenzuela E, Piñeiro D, Khaw KT, Bahiru E, Banerjee A, Narula J, Sliwa K. Management of Cardiovascular Disease Patients With Confirmed or Suspected COVID-19 in Limited Resource Settings. Glob Heart 2020;15(1):44. PM:32923338
Reynolds HR, Shaw LJ, Min JK, Spertus JA, Chaitman BR, Berman DS, Picard MH, Kwong RY, Bairey-Merz CN, Cyr DD, Lopes RD, Lopez-Sendon JL, Held C, Szwed H, Senior R, Gosselin G, Nair RG, Elghamaz A, Bockeria O, Chen J, Chernyavskiy AM, Bhargava B, Newman J. Association of Sex With Severity of Coronary Artery Disease, Ischemia, and Symptom Burden in Patients With Moderate or Severe Ischemia: Secondary Analysis of the ISCHEMIA Randomized Clinical Trial. JAMA Cardiol 2020;5(7):773-786. PM:32227128
Rudski L, Januzzi JL, Rigolin VH, Bohula EA, Blankstein R, Patel AR, Bucciarelli-Ducci C, Vorovich E, Mukherjee M, Rao SV, Beanlands R, Villines TC, Di Carli MF. Multimodality Imaging in Evaluation of Cardiovascular Complications in Patients With COVID-19: JACC Scientific Expert Panel. J. Am. Coll. Cardiol. 2020;76(11):1345-1357. PM:32710927
Samsky MD, Lin L, Greene SJ, Lippmann SJ, Peterson PN, Heidenreich PA, Laskey WK, Yancy CW, Greiner MA, Hardy NC, Kavati A, Park S, Mentz RJ, Fonarow GC, O'Brien EC. Patient Perceptions and Familiarity With Medical Therapy for Heart Failure. JAMA Cardiol 2020;5(3):292-299. PM:31734700
Soloveva A, Fedorova D, Villevalde S, Zvartau N, Mareev Y, Sitnikova M, Shlyakhto E, Fudim M. Addressing Orthostatic Hypotension in Heart Failure: Pathophysiology, Clinical Implications and Perspectives. J Cardiovasc Transl Res 2020;13(4):549-569. PM:32748206
Soloveva A, Fudim M. A Contemporary Picture of Congestion in Heart Failure: from Dropsy Impression to Multifaceted Reality. J Cardiovasc Transl Res 2020;13(4):507-508. PM:32367342
Song Y, Zhou X, Zhang M, Zhao W, Liu Y, Kardia SLR, Roux AVD, Needham BL, Smith JA, Mukherjee B. Bayesian shrinkage estimation of high dimensional causal mediation effects in omics studies. Biometrics 2020;76(3):700-710. PM:31733066
Sumarsono A, Vaduganathan M, Ajufo E, Navar AM, Fonarow GC, Das SR, Pandey A. Contemporary Patterns of Medicare and Medicaid Utilization and Associated Spending on Sacubitril/Valsartan and Ivabradine in Heart Failure. JAMA Cardiol 2020;5(3):336-339. PM:31738371
Tahhan AS, Vaduganathan M, Greene SJ, Alrohaibani A, Raad M, Gafeer M, Mehran R, Fonarow GC, Douglas PS, Bhatt DL, Butler J. Enrollment of Older Patients, Women, and Racial/Ethnic Minority Groups in Contemporary Acute Coronary Syndrome Clinical Trials: A Systematic Review. JAMA Cardiol 2020;5(6):714-722. PM:32211813
van de Hoef TP, Lee JM, Echavarria-Pinto M, Koo BK, Matsuo H, Patel MR, Davies JE, Escaned J, Piek JJ. Non-hyperaemic coronary pressure measurements to guide coronary interventions. Nat Rev Cardiol 2020;17(10):629-640. PM:32409779
Wang TY. Lowering Dietary Sodium Intake-Implementing and Studying the Effectiveness of Public Health Interventions. JAMA Intern Med 2020;180(6):887. PM:32338702
Waweru-Siika W, Barasa A, Wachira B, Nekyon D, Karau B, Juma F, Wanjiku G, Otieno H, Bloomfield GS, Sloth E. Building focused cardiac ultrasound capacity in a lower middle-income country: A single centre study to assess training impact. Afr J Emerg Med 2020;10(3):136-143. PM:32923324
Yancy CW, Fonarow GC, Hernandez AF. Does Guideline-Directed Medical Therapy for Heart Failure Offer Benefits After LVAD Placement?-A Call for a Randomized Clinical Trial. JAMA Cardiol 2020;5(2):183. PM:31738365
Yano Y, Reis JP, Lewis CE, Sidney S, Pletcher MJ, Bibbins-Domingo K, Navar AM, Peterson ED, Bancks MP, Kanegae H, Gidding SS, Muntner P, Lloyd-Jones DM. Association of Blood Pressure Patterns in Young Adulthood With Cardiovascular Disease and Mortality in Middle Age. JAMA Cardiol 2020;5(4):382-389. PM:31968050