It's February! National Heart Month
February is national Heart Month. Here are the key dates:
7th: Wear Red Day. If you're on social media and interested in posting, please tag our local AHA affiliate by using #goredtriangle.
7th –14th: Congenital Heart Defect Week
9th – 15th: Heart Failure Awareness Week (#HFWeek2020)
28th: Triangle Heart Ball, Raleigh Convention Center
Duke Heart Grows by Four
Just in time for Heart Month!!! We are delighted to share the newest members of our Duke Heart family. Please join us in welcoming the following babies – all of whom were born in January to Duke Cardiology fellows:
Emily Black-Maier, born Jan. 11th to Eric and Allison Black-Maier. (upper left)
Amelia Grace Carnicelli, born Jan. 19th to Anthony and Ashli Carnicelli. (upper right)
Arya Loungani, born Jan. 19th to Rahul and Leena Loungani. (lower left)
Layton Paul Rehorn, born Jan. 27th to Michael and Laurel Rehorn. (lower right)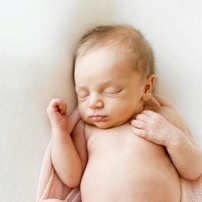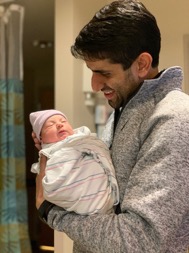 All babies and parents are doing well. Congratulations to all!
Kisslo to Receive ASE Award for Outstanding Achievement
Joseph Kisslo will receive the Outstanding Achievement in Perioperative Echocardiography Award at the American Society of Echocardiography (ASE) Foundation's 11th Annual Research Awards Gala on Sunday, June 21, at the Gaylord Rockies Resort & Convention Center in Aurora, CO.
Kisslo was the first to use phased array ultrasound imaging in the human body and the first to describe most of the disease for which the technique is now commonplace. Not only has his work shaped the field of echocardiography, it helped establish Duke Heart as one of the premier cardiovascular treatment centers in the world. Congratulations, Dr. Kisslo!
Agarwal Named to ABIM Writing Task Force
Richa Agarwal has been named to the American Board of Internal Medicine (ABIM) Writing Task Force for Advanced Heart Failure and Transplant Cardiology beginning March 1. Way to go, Richa!
STS 2020 Held in New Orleans
The Society of Thoracic Surgeons 56th Annual Meeting and Exhibition was held Jan. 25th to 28th at the Ernest N. Morial Convention Center in New Orleans, LA.
Duke Heart presenters included Jill Engel; Betty Tong; G. Chad Hughes; Julie Doberne; Matt Hartwig; Brittney Zwischenberger; Jatin Anand, and Oliver Jawitz.
Great job, everyone — the CT Surgery team has had a tremendous year!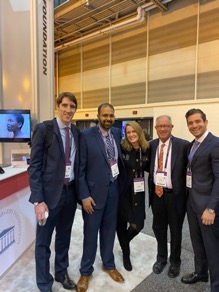 Michos Visits Duke Heart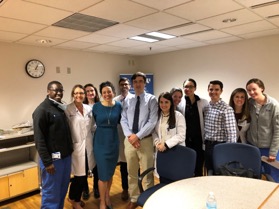 We welcomed Erin Michos, director of Women's Cardiovascular Health at Johns Hopkins as our Cardiology Grand Rounds presenter this past week. The title of the talk was "Sex and Gender and their Impact on the Cardiovascular Health of Women."
Thanks to everyone who joined us!
Shown here are Michos and those who joined for the visiting professor luncheon.
Hamill Named Medicine CRU Associate Director
Jennifer Hamill, RN, MSN will become the Medicine Clinical Research Unit (CRU) Associate Director effective March 2. Hamill has been with the Duke Heart Center CRU for the past nine years, initially as a clinical research coordinator, then as Research Practice Manager and most recently as Director of Research Development. She has been instrumental in leading efforts to streamline processes in the Heart Center and across Duke, collaborating with both the Duke Office of Clinical Research to standardize hiring in clinical research, and the Duke SOM Office of Regulatory Affairs and Quality and DUHS to improve patient access to investigational new drugs via an Expanded Access service program created at Duke.
Congratulations, Jennifer! They are lucky to be gaining your expertise. Thanks for all you've done for Duke Heart and our CRU!
Shout-outs for Coniglio, Arps
Anna Lisa Crowley shared a note with us that she received this week from Jordan Pomeroy regarding Amanda Coniglio:
"I wanted to send out some kudos to Amanda Coniglio for helping me greatly on my last CICU shift (Jan
25th-26th). Amanda was the overnight hospitalist who helped with several floor related RRT/Codes…she continued to provide outstanding care for the Code Blue patient once transitioned to the CICU. This occurred as we had simultaneous Code Blues in the CICU requiring all hands on deck to provide care. Furthermore, she assisted with a new patient admission to the CICU while the residents were rounding and I was placing emergent central/arterial lines.  Amanda exemplified dedication to her patients and extraordinary support for her fellow. Please let folks know how appreciative I am!"
In another great note Anna Lisa Crowley shared with us, Nazish Hashmi (Cardiothoracic Anesthesiology and Critical Care Medicine) recognized Kelly Arps:
"I wanted to send you a quick note recognizing Dr. Arps. She was the fellow on EP and was consulting on a
few of my patients last week while I was on 7W. We had a particularly tough patient together and she went above and beyond to help us manage her. She helped us brainstorm and think outside the box to determine this patient's etiology for shock. I really appreciated the time she took to go through this patient's history and made suggestions beyond the cardiovascular system. All your fellows are excellent, but Dr. Arps stands out. Just wanted to give her a shout out for a job done with so much care and pride."
We have incredible fellows and a terrific fellowship program and it shows!!! Many thanks to Amanda Coniglio and Kelly Arps for representing Duke Heart so beautifully this week.
Speaking of Trainee News…
Congratulations to Dennis Narcisse, Jr. and to Jessica Regan for being named Chief Residents for 2021-2022. Narcisse will join the Duke Cardiology fellowship program in July; Regan is the Duke Cardiovascular Research Center's 2020 Mandel Fellow.
Three Chief residents are selected in their final year of residency and typically complete one year of fellowship before returning to start their chief resident year. The three are:
Dennis Narcisse, MD, MS, Durham VA Medical Center
Dennis is a graduate of Mississippi State University and The University of Tennessee College of Medicine. He will be a fellow in Cardiology in 2020-21.
Jessica Regan, MD, Duke University Hospital
Jessica is a graduate of the University of Arizona and Virginia Commonwealth University School of Medicine. She will be completing the R38 Research Pathway for residents in 2020-21.
Nancy Yang, MD, Duke Regional Hospital/Ambulatory Medicine
Nancy is a graduate of Duke University and The Icahn School of Medicine at Mount Sinai. She will be a fellow in Gastroenterology in 2020-21.
ICYMI
Congratulations to Melissa Daubert, Joseph Sivak, Allison Dunning, Pamela Douglas, Brian Coyne, Tracy Wang, Dan Mark and Eric Velasquez for their article, Implications of Abnormal Exercise Electrocardiography With Normal Stress Echocardiography, published January 27th, online, in JAMA Internal Medicine. You can view the article online and/or download the PDF here: https://jamanetwork.com/journals/jamainternalmedicine/article-abstract/2759744
**Novel Coronavirus/University Requirement**
The U.S. Department of State has issued a Level 4 – Do not Travel to China advisory and the U.S. Department of Health and Human Services has declared a public health emergency due to the spread of the novel coronavirus. As a result, all individuals returning to the U.S. from mainland China are asked to self-isolate for 14 days. In addition, all foreign nationals (other than immediate family of U.S. citizens and permanent residents) who have been to mainland China in the last 14 days are temporarily banned from entering the country.
All Duke University/Duke Health students, faculty and staff who will return to the U.S. from China after 12 p.m. on Sunday, February 2, 2020, are expected to immediately self-isolate and complete the following survey: http://duke.is/P6zI4D. (All information provided on this survey will be secure and kept confidential.)
All members of the Duke community are encouraged to monitor the Duke coronavirus website for the latest updates.  Please share this information with others as appropriate. Thank you!
Upcoming Opportunities/Save the Date:
Cardiology Grand Rounds
This week, Duke Cardiology fellow Titus Ngeno will present on central line-associated bloodstream infections. Please join us on Tuesday, Feb. 4. 7:15 a.m., DN 2003.
Upcoming Grand Rounds:
February 11: Cary Ward
February 18: Chris Longenecker, Case Western
March 24: Carolyn Lam, Duke-NUS
April 14: Ryan Tedford, MUSC
May 12: Michelle Kittleson, Cedars Sinai
Upcoming Duke Heart sponsored CME Events:
February 22: Third Annual Cardio-Oncology Symposium: Improving Cancer Outcomes and Optimizing Cardiovascular Health. Washington Duke Inn & Conference Center, Durham, NC.
April 18:  Seventh Annual Duke Sports Cardiology Symposium. Trent Semans Center, Duke University School of Medicine, Durham, NC. Registration coming soon.
May 2: Twentieth Anniversary Andrew G. Wallace Symposium in Preventive Cardiology: My How Times Have Changed. Washington Duke Inn & Conference Center, Durham, NC. Registration available: https://medicine.duke.edu/education-and-training/continuing-medical-education/events/20th-anniversary-andrew-g-wallace
July 8: Heart Safe Choices. Trent Semans Center, Duke University School of Medicine, Durham, NC. Registration available: https://duke.qualtrics.com/jfe/form/SV_9SMO19RPQRIlD5r
August 19: Heart Safe Choices. Trent Semans Center, Duke University School of Medicine, Durham, NC. Registration available: https://duke.qualtrics.com/jfe/form/SV_cZloVF33mF9IeYl
September 19: Third Annual Duke Heart Symposium for Advanced Practice Providers. J.B. Duke Hotel & Thomas Executive Conference Center, Durham, NC. Registration coming soon.
November 11: Heart Safe Choices. Trent Semans Center, Duke University School of Medicine, Durham, NC. Registration available: https://duke.qualtrics.com/jfe/form/SV_byjHXJyNzeulaJv
November 13: Twelfth Annual NC Research Triangle Pulmonary Hypertension Symposium. Sheraton Imperial Hotel, Research Triangle Park, NC. Registration coming soon.
Have news to share?
If you have news to share with the Pulse readership, please contact Tracey Koepke, director of communications for Duke Heart at tracey.koepke@duke.edu. We would love to hear about your latest accomplishments, professional news, cool happenings, and any events or opportunities that may be of interest to our Duke Heart family. Please call with any questions: 919-681-2868. Feedback on Pulse is welcome and encouraged.
Duke Heart in the News:
January 27 — Melissa Daubert
Healio/Cardiology Today
Positive ECG, negative echocardiography may identify patients with elevated cardiac risk
http://bit.ly/38S7tZG
January 28 — Duke University is mentioned
The Philadelphia Inquirer
Tips to be fit: Is your doctor treating your issues or age?
http://bit.ly/2GLbbZ2