Diversity Statement
The Silva lab is committed to provide a diverse, inclusive, and supportive environment for underrepresented minority groups. This view is fully supported by the Dean's office and the Trinity College of Arts & Sciences, in which excellence in Research, Teaching, and Service allied with excellence in Leadership and Mentoring can only be sustained by championing efforts in Diversity and Inclusion. Active and designed efforts in Diversity and Inclusion will allow us to:
Stimulate and share multiple ways of thinking, fostering creativity and innovation
Recruit talents from distinct groups
Exercise dialogue and respect among distinct groups
Value multiple stories and deconstruct stereotypes
Foster and advance leadership and mentoring
Represent the interests of multiple groups
List of diversity resources
Duke Graduate School
Duke Summer Research Opportunity Program
Mary Lou William Center for Black Culture
NIH IMSD Program - BioCoRE
Chemistry Department
Office for Institutional Equity at Duke
Professional Societies (Minority Affairs Committees)
ASBMB (American Society for Biochemistry and Molecular Biology)
ASCB (American Society for Cell Biology)
---
Diversity in 2018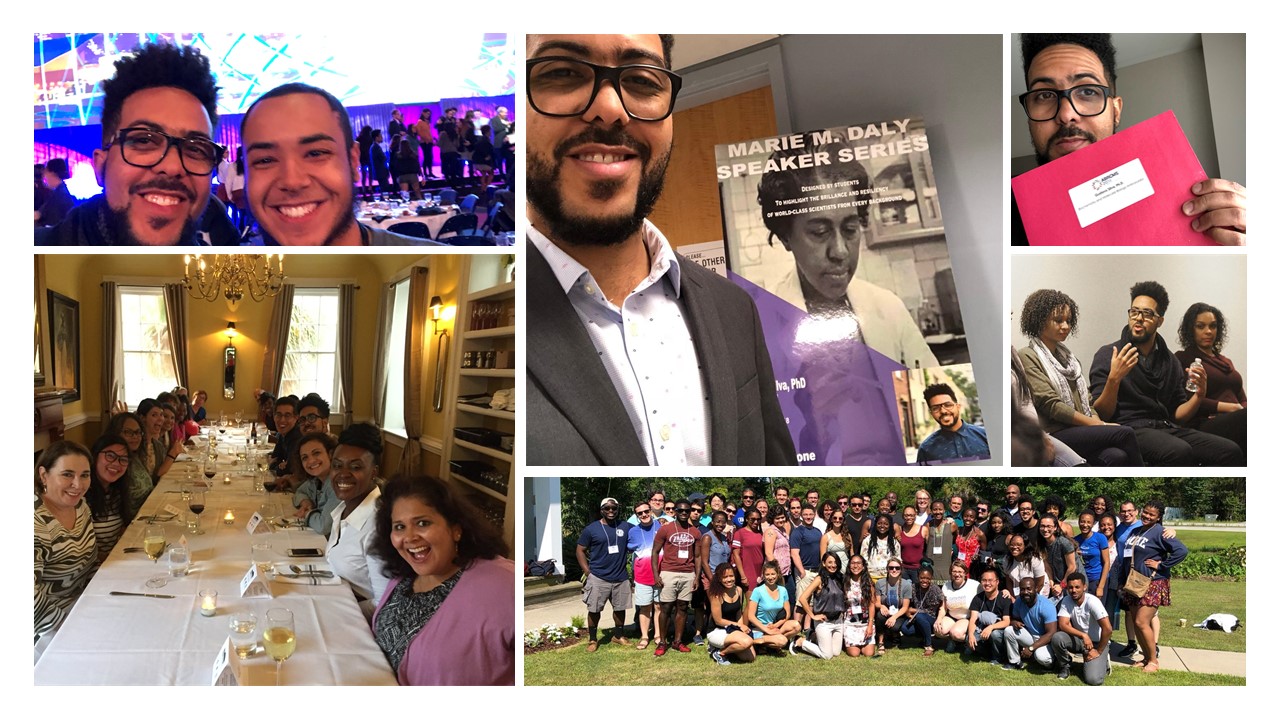 It was such an incredible and humbling opportunity to meet, learn from, and support many of you this year. Currently serving in the Minority Affairs Committee for the ASBMB, acted as ABRCMS Ambassador for Molecular Biology & Biochemistry, attended the IMSD BioCoRE retreat, was invited to give the inaugural lecture for the Marie Daly Speaker Series (I even had a poster!), invited to discuss research opportunities for undergrads at Duke and many other amazing experiences. Looking at you 2019!
---
Duke delegation at 2017 Annual Biomedical Research Conference for Minority Students (ABRCMS) in Phoenix, AZ. 
Undergraduate students: ABRCMS and SACNAS are incredible research conferences for minority students. Attending these conferences would provide not only an amazing opportunity to present and get feedback on your research but also to network, to watch great lectures by the keynote speakers, to develop your career with a variety of workshops, and to learn about summer, PREP, PhD, MD programs, and more. You are all welcome to stop by our booth and learn more about our programs!  
---
In 2016/17 we are celebrating 50 years of Black Faculty Scholars in The Trinity College of Arts & Sciences at Duke University. 

We are commemorating the achievements and contributions of our Black faculty members and honoring the legacy of Dr. Samuel DuBois Cook, the first African-American professor to hold a faculty appointment at Duke.
Read more at http://trinity.duke.edu/50-years-black-faculty-celebration