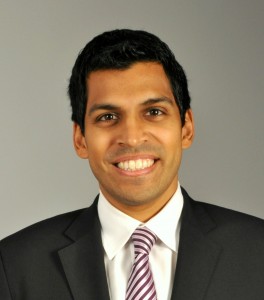 Aaron "Ronnie" Chatterji, Ph.D. Associate Professor The Fuqua School of Business, Duke University 100 Fuqua Drive, Box 90120 Durham, NC 27708 Tel: (919) 660-7903 ronnie (at) duke.edu      

Aaron Chatterji, Ph.D. is an Associate Professor (with tenure) at Duke University's Fuqua School of Business and Sanford School of Public Policy. He previously served as a Senior Economist at the White House Council of Economic Advisers (CEA) where he worked on a wide range of policies relating to entrepreneurship, innovation, infrastructure and economic growth. Chatterji has also been a visiting Associate Professor at Harvard Business School.
Chatterji's research and teaching investigate some of the most important forces shaping our global economy and society: entrepreneurship, innovation, and the expanding social mission of business. He has received several awards, including the 2017 Kauffman Prize Medal for Distinguished Research in entrepreneurship, the Rising Star award from the Aspen Institute for his contributions to understanding the intersection of business and public policy, and the Strategic Management Society Emerging Scholar award for his research in strategy. He is also a Research Associate at the National Bureau of Economic Research.
His research has been published in leading academic journals and been cited by The New York Times, CNN, The Wall Street Journal, and The Economist. He has authored several op-ed pieces, including in the New York Times and the Wall Street Journal, appeared on national TV and radio, and has been profiled in The Financial Times and Fortune. Chatterji has also testified as an expert witness at the House Committee on Small Business and the U.S. Department of State and previously served as a Fellow at the Center for American Progress.
Chatterji serves as a board member for Durham Communities in Schools, an education-focused non-profit, and advises private, public and social sector organizations on innovation and strategy.
Chatterji is a term member of the Council on Foreign Relations and previously worked as a financial analyst at Goldman Sachs. He received his Ph.D. from the Haas School of Business at the University of California at Berkeley and his B.A. in Economics from Cornell University.