The one-day Robotic Material Workshop is in collaboration with Step Up to STEM.
We thank Duke Material Initiative for their generous sponsorship.
Please feel free to contact the organizer Prof. Xiaoyue Ni and Kyle Yuxin Pan for further information.

Group photo of the day: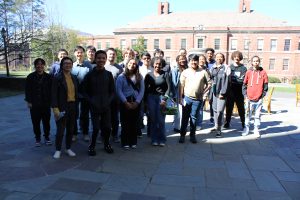 Check out more photos in the gallery.

The Ni Group at Duke University (website linked below) has partnered with the North Carolina School of Science and Mathematics to host a series of materials science workshops geared towards high school students.
Description of event
The outreach event taking place on the 4th of March will include a long list of activities aimed at showing interested high school students what kind of research Dr. Ni's lab goes over, tours and demos of various labs, and talks on the information used daily at said labs. The main goal of this outreach event is to excite high school students about coming to Duke to look into different research labs or show them possible areas of research that piques their interest. After the event there will be a quiz to see how much of the information the students have retained.
An example of the self-evolving robotic material at Ni Lab:

Optical Exhibit
One of the events taking place will be an exhibit of the Duke Optical Club. Students will get to see alternative paths in Duke Engineering that they might be interested in outside of the main event. Various demos will be shown, for example they will get to work with disappearing glass, rainbow creation, microwave speed of light, and much more. Through the exhibition of disappearing glass, the students will get to learn about refractive index and get to see what happens when materials have a matching refractive index.