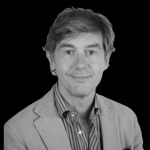 Dr. Giovanni Zanalda is the Director of the Duke Rethinking Diplomacy Program and co-founder of the Space Diplomacy Lab.  Zanalda is an economic historian specialized in the history of the international economy, finance, globalization and development. Zanalda teaches courses on financial crises, emerging markets, international economy (1850-present), space economy/economics, and history of globalization. He serves as Professor of the Practice in the Social Science Research Institute (SSRI), Department of Economics, and Department of History and is the Program Director of the Fulbright-Hays DDRA at Duke University, Senior Advisor to the Office of Global Affairs (OGA), Faculty Director of the Karsh International Scholars Program (2018-Present), and Director Graduate Studies of the Interdisciplinary European Studies Graduate Certificate Program.  
Dr. Zanalda is a member of the Board of Directors of Venice International University (2016-Present), the Duke Global Travel Advisory Committee (GTAC), the Office of University Scholars and Fellows Office (OUSF) Faculty Directors' advisory team, and an affiliated faculty of the Duke Center for International Development (DCID-Sanford School of Public Policy), Duke Center for the History of Political Economy (HOPE), American Grand Strategy Program (AGS), and Asian/Pacific Studies Institute (APSI).
He is the former director of the Duke University Center for International & Global Studies (August 2015-September 2022), of the Asian/Pacific Studies Institute (August 2015-December 2017), and former chair of the Duke Global Priorities Committee (2019-2020).
Zanalda served as a consultant in the Office of the Vice President, Development Economics and Chief Economist at the World Bank. He taught and conducted research in Europe, East Asia, Africa, Argentina, and the US. He holds a B.A. from the University of Turin, an M.A. from the School of Advanced International Studies (SAIS – Washington, DC), and a Ph.D. from the Johns Hopkins University.

Contact: giovanni.zanalda@duke.edu