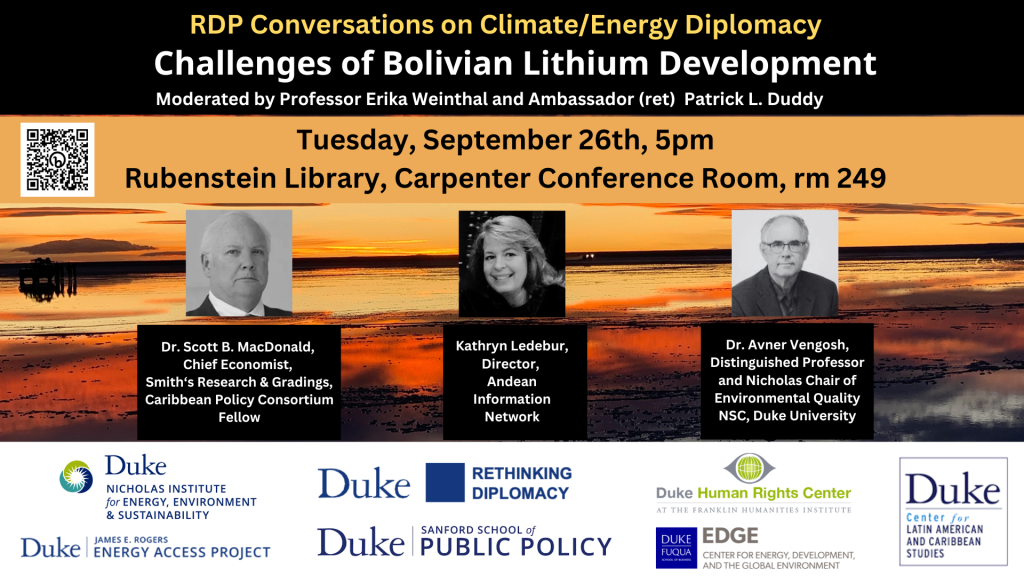 On September 26th, 2023, at 5pm in Rubenstein Library's Carpenter Conference Room (rm 249) the Duke University Rethinking Diplomacy Program (RDP) will host a panel discussion on The Challenges of Bolivian Lithium Development. Our guests are Kathryn Ledebur, director of the Andean Information Network (AIN) in Cochabamba, Bolivia (1999-present), Dr. Scott MacDonald, chief economist at Smith's Research & Gradings and a Caribbean Policy Consortium Fellow, and Dr. Avner Vengosh, Distinguished Professor and Nicholas Chair of Environmental Quality, Nicholas School of the Environment (NSOE), Duke University.
The discussion will be moderated by Dr. Erika Weinthal, Professor of Environmental Policy and Public Policy (NSOE), Duke University, and Ambassador (ret) Patrick Duddy, RDP Senior Fellow and former director of the Center for Latin American and Caribbean Studies (CLACS), Duke University. This is the first in a series of discussions on climate and energy diplomacy focused on the challenges and opportunities of mining and development in South America's Lithium Triangle. The event is open to the public and will be live-streamed for those who cannot make it. The live-stream will begin at 5pm ET. Access the livestream for this event here.
About the Panelists:
Kathryn Ledebur is the director of the Andean Information Network (AIN). Working closely with grassroots and civil society organizations in Latin America and in the United States, AIN promotes policy dialogue and the development of pragmatic alternatives that address the underlying economic, social, political, and cultural needs of Bolivia and its neighbors. Ledebur works with human rights and advocacy organizations, journalists, and policymakers and affected communities, while maintaining a strong rapport with key actors in the lithium and drug policy communities. This enables her to play a unique role in educating policymakers, advocates, and the public about complex Bolivian political and social dynamics, as well as implications of energy, development, and drug policy in Bolivia. Ledebur is a graduate of Oberlin College and studied Andean history at FLACSO in Quito, Ecuador.  
Dr. Scott B. MacDonald is the Chief Economist for Smith's Research & Gradings and a Caribbean Policy Consortium Fellow. Prior to that he worked for Mitsubishi Corporation, Aladdin Capital Management, LLC, KWR International, Credit Suisse, Donaldson, Lufkin & Jenrette as well as the Office of the Comptroller of the Currency in Washington, D.C. His time in the corporate sector was largely oriented to global macroeconomics and sovereign and credit analysis, with an emphasis on banks and commodity companies, including energy and mining companies. He is also a Global American Research Fellow and a fellow at the Caribbean Policy Consortium. MacDonald holds a Ph.D. in Political Science from the University of Connecticut and MA in Asian Studies from the University of London's School of Oriental and African Studies. He has written over 20 books, with his latest being The New Cold War, China and the Caribbean (Palgrave Macmillan 2022). He is currently working on a new book on the geopolitics of critical metals and climate change.
Dr. Avner Vengosh is a Distinguished Professor of Environmental Quality at Duke University. He is also the Chair of the Division of Earth and Climate Sciences at the Nicholas School of the Environment. Professor Vengosh and his team have studied the energy-water nexus, conducting pioneer research on the impact of hydraulic fracturing and coal ash disposal on the quantity and quality of water resources in the U.S. and China. He has also investigated the sources and mechanisms of water contamination in numerous countries across the globe. Currently, his team is engaged in studying phosphate rocks and fertilizers impact on the environment, as well the environmental effects of lithium mining and other critical raw materials. He is a Fellow of the Geological Society of America (GSA) and International Association of Geochemistry (IAGC). In 2019, 2020 and 2021 he was recognized as one of the Web of Science Highly Cited Researchers. He serves as an Editor of GeoHealth and on the editorial board of Environmental Science and Technology. He has published 175 scientific papers in leading international journals. His recent cross-disciplinary book "Water Quality Impacts of the Energy-Water Nexus" (Cambridge University Press, 2022) provides an integrated assessment of the different scientific and policy tools around the energy-water nexus.
Moderators:
Dr. Erika Weinthal specializes in global environmental politics and environmental security with a particular emphasis on water and energy. Current areas of research include (1) global environmental politics and governance, (2) environmental conflict and peacebuilding, (3) the political economy of the resource curse, and (4) climate change adaptation. Dr. Weinthal's research spans multiple geographic regions, including the Soviet successor states, the Middle East, South Asia, East Africa, and North America. Dr. Weinthal is author of State Making and Environmental Cooperation: Linking Domestic Politics and International Politics in Central Asia (MIT Press 2002), which received the 2003 Chadwick Alger Prize and the 2003 Lynton Keith Caldwell Prize. She has co-authored Oil is not a Curse (Cambridge University Press 2010) and co-edited Water and Post-Conflict Peacebuilding (Earthscan Press, 2014) and The Oxford Handbook on Water Politics and Policy (Oxford University Press 2018). She is a member of the UNEP Expert Group on Conflict and Peacebuilding and a co-editor of Global Environmental Politics. In 2017 she was a recipient of the Women Peacebuilders for Water Award under the auspices of "Fondazione Milano per Expo 2015.".
Ambassador (ret) Patrick Duddy is the former director of Duke University's Center for Latin American and Caribbean Studies. He teaches in both Duke's Fuqua School of Business and the Sanford School of Public Policy. From 2007 to 2010 he served as the U.S. Ambassador to the Bolivarian Republic of Venezuela for both President Bush and President Obama. In 2011 he retired from the U.S. Department of State after nearly three decades in the Foreign Service.
Prior to his assignment to Venezuela, Ambassador Duddy served as Deputy Assistant Secretary of State (DAS) for the Western Hemisphere. In that capacity he was directly responsible for the Office of Economic Policy and Summit Coordination, which included the hemispheric energy portfolio, as well for the Offices of Brazil/ Southern Cone Affairs and of Caribbean Affairs.
Our Partners

This series is being organized by the Duke Rethinking Diplomacy Program with co-sponsorship from the Sanford School of Public Policy, the Duke Center for Latin American & Caribbean Studies, the Center for Energy, Development and the Global Environment at Duke University's Fuqua School of Business, the Duke Human Rights Center, the Nicholas Institute for Energy, Environment & Sustainability and its Energy Pathways USA project, and the James E. Rogers Energy Access Project. This event is in alignment with the Duke Climate Commitment.
The Duke Rethinking Diplomacy Program is grateful for the longstanding support of the Josiah Charles Trent Memorial Foundation.