January: Liberia
Duke materials resource technician Amos Kai,  coordinated shipments of supplies to clinics and hospitals in Liberia to assist with the Ebola outbreak
February: Dominican Republic
Colin Penrose, Duke medical student
February:  Haiti
Shelia Rittgers, Duke Pediatric Social Worker
St. Stephens Methodist Church, Durham outreach in Haiti.
http://ststephensdurham.dionc.org/Outreach/outreach-home.html
February: Guatemala
Luke Rhyee, MD, Clinica Medica Bethesda, Quetzaltenango, Guatemala
February: Tanzania
Simone Pitre, Duke undergraduate '16
Duke Global Health Institute's SRT Tanzania Program
http://globalhealth.duke.edu/education-and-training/undergraduate/student-research-training-program
April:  Nicaragua
Barbara Neto, Duke nursing student, clinical rotation, Mangua and Nawawasito, Nicaragua
April:  Barbados
Megan Limbert, Duke nursing student clinical rotation in community health, Christ Church, Barbados
April: Uganda
Kristin Schroeder, MD, Duke Global Health Institute; malaria research in Uganda
April:  Cuba
Jeni Hauver, Duke RN; volunteer health work in Havana
May:  Guatemala
Four undergraduate Duke students volunteered with Primeros Pasos in Xela, Guatemala from March 7-14.   They went as part of the Benjamin N. Duke Scholarship Program through the Office of Undergraduate Scholars and Fellows.  Primeros Pasos improves the quality of life of rural communities in Guatemala through integrated health education programs and access to medical services.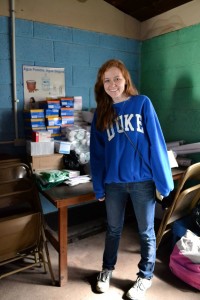 June:  Nigeria
Temini Ajayi; Faith Rialem
July:  Haiti
Family Health Ministries
http://familyhealthministries.org/
July:   Kenya
Don Ellis, Duke MD; Africa Rising, Ogata Rongai, Bissil, Sultan Hamud, Kenya
July:   Peru
Nathan Schenkman, medical student; volunteering at Santa Clotilde Mission, Peru
http://doctorsinperu.blogspot.com/
July:  Mexico
Joe Reardon, Duke MD; Proyecto Puentes de Salud, Guanajuato, Mexico
July:  Tanzania
Dorothy Dow; Matthew Rubach; Kilamnjaro Christian Medical Center -Duke Global Health Institute collaboration in Moshi, Tanzania
https://globalhealth.duke.edu/media/news/kcmc-duke-collaboration-revolutionize-medical-education-tanzania
August:  Ukraine
Olena Kozlova-Pates; medical relief for hospitals and clinics in central and eastern Ukraine affected by war
http://www.thefishermenrelief.org/
September:  Durham, NC
Ishaq Winters, Duke medical student; Duke Refugee Health Initiative
http://www.dukedavisoncouncil.org/?p=1618
October: (misc)
Project CURE  https://projectcure.org/
November:  Nicaragua
Irene Felsman, RN Duke School of Nursing
November:  Haiti
Family Health Ministries  http://familyhealthministries.org/
November:  Honduras
Duke Medical Brigades http://dps.dukegroups.duke.edu/duke-global-brigades/
November: Ghana
David Goodman, MD, MPH is a Duke OB/GYN Global Health Fellow working in Ghana through the
Duke Hubert-Yeargan Center for Global Health.