Regeneration Next is pleased to announce the 2018 – 2020 Regeneration Next Postdoctoral Fellows. This group of outstanding scientists was chosen from a competitive pool of applicants. Now in our second year, the RNI Postdoctoral Fellows program identifies promising young researchers who will have a key role in shaping and growing the tissue regeneration community at Duke. Please join us in congratulating our four new RNI Fellows!
Valentina Cigliola, Ph.D.
Valentina Cigliola received her PhD in Biology at the University of Geneva, in Switzerland, where she worked on mechanisms of islet cell fate changes during pancreas regeneration in diabetes, under the supervision of Dr. Pedro Herrera. She also was involved in characterizing a variant form of the human connexin 36 protein altering β-cell function and survival, under the supervision of Dr. Paolo Meda. She recently started a postdoctoral fellow position in the laboratory of Dr. Kenneth Poss, in Duke's Cell Biology department. As an RNI fellow, she aims to characterize the cellular and molecular basis of heart regeneration, whose discovery is highly relevant to human disease such as ischemic myocardial infarction and heart failure.
Bri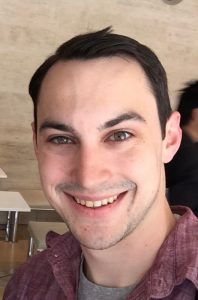 an Cosgrove, Ph.D.
Brian recently started as a postdoctoral fellow in Duke's Department of Biomedical Engineering, where he works in Dr. Charles Gersbach's lab. During his PhD training at the University of Pennsylvania, Brian developed new biomaterial platforms that better recapitulate the developmental mesenchymal microenvironment in order to more precisely interrogate how multiple mechanobiological signals are integrated by stem cells. As an RNI fellow in Dr. Gersbach's lab, he hopes to further understand how mechanical cues can influence the epigenetic state of stem cells and utilize this information to better direct and maintain stem cell fate decisions in therapeutic applications.
Abdelhalim Loukil, Ph.D.
Halim recently started a postdoctoral fellowship in Dr. Sarah Goetz's laboratory in the Department of Pharmacology and Cancer Biology at Duke's School of Medicine. He has focused his efforts on studying the biogenesis of a fascinating tiny organelle called "primary cilium." He recently published exciting results on the critical role of the daughter centriole in cilia formation. The primary cilium acts as a specialized organelle that regulates several developmental signaling pathways. Disrupting cilia structure or function causes numerous hereditary human diseases commonly called ciliopathies. These disorders are generally accompanied with a range of neurological impairments and neurodegeneration. With the support of the Regeneration Next Fellowship, he will investigate the in vivo roles of primary cilia in neural function. He aims to dissect the molecular mechanisms by which cilia mediate neuronal function and homeostasis in adult brain.
WenXiu Ning, Ph.D.
Wenxiu completed her doctoral work at the Chinese Academy of Sciences. Her previous work uncovered a novel crosstalk between microtubule and F-actin which contributes to wound healing of epithelial cells. To extend her studies from cultured cells to understand how tissues are made, she has joined Dr. Terry Lechler's lab in Duke's Department of Dermatology as a postdoctoral fellow. With the support of RNI fellowship and resources in the Lechler Lab, she plans to determine the functions of intermediate cells and their proliferation in epidermal development and to uncover cell intrinsic and extrinsic pathways that promote intermediate cell proliferation in order to better understand how the skin stratifies and how epidermal cells influence and communicate with each other to achieve homeostasis and wound healing.
The next call for applications for Regeneration Next Postdoctoral Fellowships will be released in September 2017. Read about last year's inaugural cohort of Postdoctoral Fellows here.