Mission
To offer an in-depth experience in the management of pediatrics across the continuum.
Commitment
One year program from August 1st through July 31
st
; The resident may choose to also combine the program with the LEND fellowship at the Carolina Institute for Developmental Disabilities at the University of North Carolina (
www.cidd.unc.edu
). This unique opportunity allows for a vast array of learning opportunities, utilizing the expertise of clinicians at both entities.
Work Hours
If the resident does participate in the LEND fellowship, he/she will work 20 hours a week and one weekend day a month as a PRN Duke Employee. The LEND fellowship has a stipend to supplement the Duke stipend and to purchase benefits.
Job Responsibilities
The setting for employment at Duke will vary depending on the needs of the department. Potential work settings are pediatric acute care, outpatient, or school system. The monthly work on the weekend is in pediatric acute care.
Mentorship Activities
The resident will receive mentorship in acute care, outpatient, and school pediatric physical therapy. The resident will receive mentorship with hands on patient evaluation and treatment in each setting as well as casting/splinting, equipment evaluation, teaching, administration, and potentially research. Learning opportunities will include one on one mentorship; journal article review; lecturing; TA pediatric elective course, powerpoint presentations; attending pediatric grand rounds; observing surgery; various other learning experiences.
 Mentorship Hours:  20 hours a week.
Requirements for admission
The therapist must have graduated from an accredit physical therapy program and be licensed in the state of North Carolina by the start of the residency. The therapist must also have a strong desire to work in the area of pediatric physical therapy. If the therapist is interested in the LEND fellowship, he/she must be a US citizen due to federal funding requirements for the LEND program.
Requirements for successful completion of residency program
The resident will have successfully demonstrated clinical and didactic pediatric physical therapy competencies consistent with the Pediatric Physical Therapy Description of Advanced Clinical Practice of the American Board of Physical Therapy Specialties by achieving an overall cumulative grade point average of 80% or higher on written and practical exams in the acute care, outpatient and school settings prior to completion of the residency.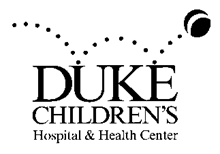 Mail together completed application, essays, transcripts, recommendations and twenty-five dollar application fee made out to the Duke Department of Physical Therapy and Occupational Therapy in one envelope to the following address:
Daniel Dore, PT, DPT, MPA
Pediatric Physical Therapy Residency
Department of Physical Therapy and Occupational Therapy
Duke University Medical Center
DUMC 3965
Durham, NC 27710
Telephone: (919) 684-1844
Completed Application Packets must be received by December 1, 2019 
For the August 1, 2020-July 31, 2021 Residency