Long Handles
Individuals with decreased strength or who have difficulty with reaching will benefit from items with long handles. A variety of self-care products have been adapted to incorporate long handles, including hairbrushes, toe nail clippers, razors extenders.
Built Up Handles
Items with built up handles will assist individuals who have decreased grip strength. Some items are available in department stores or grocery stores, such as large handled hair brushes or make up brushes. Other items, such as tweezers, may be ordered with enlarged handles. To prevent purchasing new self-care tools, foam tubing may be added to handles to increase the circumference. This is particularly effective on items such as manual toothbrushes, razors, and small makeup brushes.
Cuffs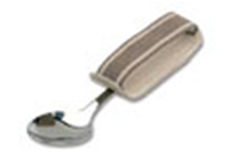 Individuals who are unable to grasp smaller items and do not have the strength to hold a self-care tool with a built up handle may utilize a cuff. Cuffs may be placed around the palm of the hand to accommodate a variety of self-care tools. The universal cuff will hold items such as small makeup brushes and toothbrushes. When ordering a universal cuff, they are frequently located in the dining section of catalogues. Cuffs with larger pockets are also available to accommodate electric razors.
Tools for One Handed Use
Some tools have been altered to accommodate users who only use one hand. Brushes with suction cups will assist with washing your hand. Similarly, nail clippers that suction will enable independent use. A hair dryer stand will also simplify drying hair and will cause less fatigue.
Electronic Devices
Electronic devices such as electric toothbrushes and razors require less dexterity than manual objects. Electric razors are also safer than manual razors as they are less likely to cut an individual. Electronic devices, however, also weight more than manual tools and cause vibration. Ensure that the user can maintain a safe grip on the tool despite these two features.