For over 75 years Duke University Health System has built a reputation of innovation and excellence. Duke University Medical Center is ranked as one of the nation's top ten health providers in 15 adult specialties per US News and World Report. Duke University hospital is Magnet and JACHO certified with specialty certifications from JACHO in Stroke and Ventricular Assist Devices. We are a CF certified center and Level I trauma center. Our highly skilled and trained staff is committed to providing outstanding care in combination with your primary care and specialty care providers. We work closely to address your needs and to incorporate your goals in developing a customized treatment program to maximize functional independence and facilitate recovery.
Duke is a teaching hospital with the vision and mission of promoting excellence and innovation in clinical service, teaching and research. We support this mission as we continually host 4-6 physical and occupational therapy students throughout the year. Our department offers the nation's first APTA credentialed residency in Cardiovascular and Pulmonary physical therapy.
Our physical and occupational therapists specialize in the diagnosis, treatment, and management of a variety of medical conditions and diagnoses that may require improvement in the following areas:
Gross motor coordination
Fine motor coordination
Balance
Strength
Endurance
Eating or feeding
Activities of daily living
Cognitive processing
Functional mobility
Gait
Treatment Areas
Cardiovascular
Our inpatient cardiac therapists focus on patient education for exercise prescription, endurance training and pacing activities of daily living. We integrate basic cardiac rehabilitation techniques with special tests, such as the 6-minute walk, to determine intervention strategies. Our primary patient populations include:
Status post myocardial infarction (heart attack)
Heart arrhythmias (irregular heart beat)
Congestive Heart Failure
Pacemaker implantation
General cardiac conditions
Cardiothoracic Surgery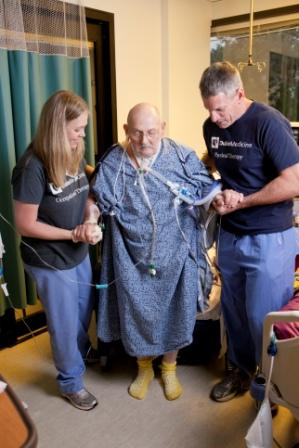 Rehabilitation is a key part of the thoracic surgery program at Duke Heart Center. Therapists provide patients with the precautions and exercise/activity guidelines to recover from major chest surgery and return to independence with their daily living skills. We are consulted to provide care to patients who have had:
LVAD implantation (left ventricular assist device)
Heart and lung transplantation
Valve replacement
CABG (bypass)
General Medicine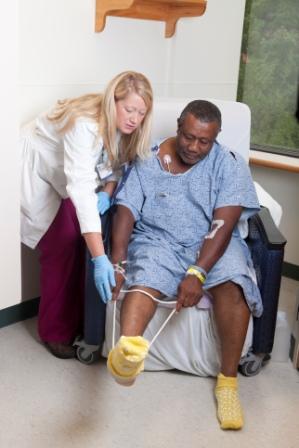 General Medicine therapy services integrate a team approach to the medically complex patient. Our therapists take into account the patient's various health problems and create an individualized intervention plan specific to each patient's goals. We provide care in the intensive care unit as well as the general medicine intermediate units. Some of the patient diagnoses include:
COPD (chronic obstructive pulmonary disease)
Gastrointestinal bleeding and inflammation
Liver cirrhosis
Peripheral vascular disease
AIDS/HIV
General de-conditioning
Dementia
Orthopedics
The orthopedic service provides care to patients with a wide variety of conditions including:
Bone and joint infections
Sports injuries
Bone Cancer
Orthopedic trauma
Arthritis
Orthopedic surgery including total joint replacement
Duke's Total Joint Program focuses on the rehabilitation of patients after hip or knee replacement. Care begins with an interdisciplinary pre-operative educational class. The class helps prepare patients for their surgery, hospital stay, and discharge. Total Joint patients are often seen on day of surgery to begin rehabilitation process to expedite their return to independent daily living.
Free-vascularized fibular graft (FVFG), a procedure for the treatment of avascular necrosis (AVN) of the hip, was pioneered by a Duke surgeon.
Trauma
Duke Physical Therapists and Occupational Therapists provide Level I trauma care. Patients are admitted to the trauma service with injuries from:
Motor vehicle collisions
Assaults
Gun shot wounds
Falls
Our therapists are trained to evaluate and treat multi-system trauma which may include:
Traumatic Brain Injury
Spinal Cord Injury
Multiple bone fractures
Internal Organ injury
Skin grafts
Skin Flap procedures
General Surgery
General surgery at Duke Hospital includes primary abdominal surgery. Our therapy intervention places an emphasis on mobility and ADLs to aid in the return of gastrointestinal motility. Therapists instruct patients in precautions to prevent abdominal strain. The types of patients we see are:
Colo-rectal cancer
Pancreatic cancer
Liver, kidney, pancreas transplantation
Vascular
Duke is also one of the few places where Isolated Limb Perfusion is performed to treat Malignant Melanoma. After this procedure, Occupational Therapy and Physical Therapy will help you regain use of the leg or arm to avoid potential complications.
Duke Hospital performs various vascular surgeries such as:
Lower Extremity bypass graft
AV Fistula placement for Dialysis access.
Carotid Endartectomy
Abdominal aneurysm repair
Amputation: Therapy plays an important role in the care of the amputee to avoid joint tightness, resume mobility and ADLs in preparation for eventual prosthetic fitting.
Pulmonary
Pulmonary care touches a broad range of diagnoses including:
Pulmonary hypertension
Sarcoidosis
Cystic Fibrosis (CF)
Chronic Obstructive Pulmonary Disease (COPD)
Pre and post lung transplantation
Pneumonia
Acute Respiratory Distress Syndrome (ARDS)
Therapy places an emphasis on exercise tolerance and instruction in compensatory strategies for energy conservation. We also incorporate other airway clearance techniques such as the therapy vest, acapella, and active cycle breathing. We have a daily pulmonary rehabilitation group for pre and post lung transplant patients as well as a relaxation and stretching class twice a week to aide in stress management.
The physical therapy team at Duke Hospital is one of a handful in the nation that continues to perform manual chest physical therapy (CPT) for the management of pulmonary secretions.
Neurology/Neurosurgery
Physical and Occupational Therapists play an active role in the Neuroscience Center at Duke. Many of the patients admittied with neurologic impairments are in need of ongoing rehabilitation. Our team is trained to provide intervention to a vast array of patients with the following conditions:
Traumatic brain injury
Brain tumors (operative and non-operative)
Neuromuscular diseases such as Parkinsons and Multiple Sclerosis
Spinal Cord Injury
Spinal Surgery including fusions and discectomy
Stroke
Guillain–Barré syndrome
Chronic Inflammatory Demyelinating Polyneuropathy
Myasthenia Gravis
Tranverse myeliti
Duke Hospital is an accredited Stroke Center. Our therapists have been trained to apply the NIH stroke scale into their practice and implement standardized tests such as the Short Blessed Test, Tinetti, and Berg to guide treatment intervention strategies.
Oncology Services
Increasing mobility and performing activities of daily living are proven means for increasing the physical, spiritual and psychological well-being for patients undergoing cancer treatment. Oncology strategies may encompass:
Energy Conservation Strategies
Active Range of Motion exercise
Ambulation
Active participation with activities of daily living
The Oncology Therapy Services provide care for patients with:
Solid tumors
Leukemias and lymphomas
Stem cell (bone marrow) transplantation
Cancer related fatigue
Tumor cord compression
Recovery from curative and palliative surgeries
Pulmonary and balance disease or treatment side effects
Steroid myopathy
Patients on our Bone Marrow transplant unit have access to their own personal gym and are closely supervised by our team. We have an incentive C.O.R.E. program (controlling our rehabilitation through exercise) that encourages our patients to engage in their rehabilitation on a daily basis in order to promote an increase in self care activity as well as physical exercise both during and after a bone marrow transplant.
Speciality Interventions
Wound Management
Duke Hospital Wound Management Center provides wound care services to all specialty areas and units of the hospital. Our team partners with vascular, orthopedic, diabetic, pain management, and plastic surgery specialists to identify standards of care, develop more effective wound therapies, and improve patient outcomes.
Our physical therapists are certified wound specialists who provide bedside pulsed lavage for wound irrigation and debridement, dressing changes, excisional debridement, and therapeutic interventions.
Lymphedema Management
Lymph node disruption can occur as a side effect of surgical and/or radiation treatments which can cause excessive swelling in the extremities and genitalia.
Hypberbaric Lung Lavage
Duke's Center for Hyperbaric Medicine has been in the forefront of research and treatment over the past thirty years. It also has a unique partnership with the Diver's Alert Network, which provides emergency assistance and evacuation after diving accidents.
Physical Therapists are involved in the hyperbaric chamber to assist with the treatment of patients with Pulmonary Alveolar Proteinosis (PAP). Treatment may entail a whole lung lavage, where one lung is repeatedly washed with a mild salt solution while the other lung is ventilated with oxygen. During the lung lavage, a therapist performs focused chest percussion to loosen any surfactant. Afterwards, the therapist will follow-up and instruct on airway clearance techniques.
Splinting and Casting
Occupational Therapists at Duke Hospital provide care in joint positioning and protection. Therapists fabricate protective and positional devices with low temperature plastic materials. Customized splints are created to support extremities after major trauma or extensive plastic or orthopedic surgery. Duke inpatient therapists also have direct access to our certified hand therapy team for consultation with more advanced dynamic splinting.
Early Mobilization/Critical Care
Our physical and occupational therapists provide intervention and early mobilization to patients in the ICU to expedite recovery and maximize long term physical and cognitive abilities. Early ICU mobility is associated with statistically significant shortened days in bed, reduced ICU and hospital length of stay for hospital survivors, without increasing hospital costs. Early Intensive Care Unit Mobility: Future Directions Morris PE, et al. Crit Care Med 2008; 36:2238–2243.
Contact Us
2301 Erwin Road
Durham, NC 27710
Physical & Occupational Therapy is located on the 6th floor
Phone (919) 681-2030
Fax # (919) 684-3431