Link to Oxford Encyclopedia of Reformation
Meet Argula Von Grumbach
Argula Von Grumbach is known as a Bavarian noblewoman and outspoken supporter of Martin Luther's teachings. Von Grumbach was married to  a knight, Friedrich von Grumbach who was a faithful Catholic, and bore four children.  In 1522, the Dukes of Baravia decreed that their subjects were strictly forbidden to accept Luther's teachings, to read his treatises, or to discuss their content.
At the age of ten she was given her first bible which was written in German.  She began to frequently read it after the passing of her father.  After, hearing the teachings of Martin Luther she began to form her own interpretations of the scriptures and decided that she as well agreed with " sola scripture" which meant the Holy Scripture is the only criterion in the matters of faith.
At the age of 18, Argula married Fredrick Von Grumbach of Lenting and Bruggrumbach. During their marriage they birthed four children.  In 1515 Duke Louis appointed Fredrick to be an administrator in Dietfort and Altmannstein where they resided in Dietfort. Fredrick passed away in 1530.
Argula  challenged the Catholic Church on a public platform which was unheard of as a woman. Von Grumbach came to public attention when she protested in writing the dismissal and imprisonment of Ingolstadt instructor Arsacius Seehofer, who was accused of being a Lutheran. Her letter to the University of Ingolstadt challenged the faculty to debate her publicly regarding the exegesis of the Holy Scripture. On 20 September 1523 she addressed the theologians of the University of Ingolstadt, calling Seehofer's evangelical beliefs correct. She offered to appear before them and defend Luther's and Philipp Melanchthon's teachings further. On the same day she appealed to William IV, duke of Bavaria, to intervene: "God's Word should and must govern all things." Although her outreach was received she was not worthy enough to receive  response.  Within a short period of time her works had been printed in thirteen editions during a time where only Martin Luther's teachings were being distributed.
After 1524 Argula von Grumbach wrote no more for public consumption, but because of her, her husband lost his post. She held to her evangelical convictions, went to Coburg in 1530 to dine with Luther, and in 1563 was imprisoned briefly for presiding at burial services. She died in 1568.
Photo Credit
G. Pfeilschifter
Sources
http://getitatduke.library.duke.edu/?
https://www.bloomsbury.com/uk/argula-von-grumbach-9780567097071/sid=sersol&SS_jc=TC0000354996&title=The%20Oxford%20encyclopedia%20of%20the%20Reformation
Argula Von Grumbach: A Woman's Voice in the Reformation by Peter Matheson
Argula von Grumbach (1492-1554/7): A Woman before Her Time by Peter Matheson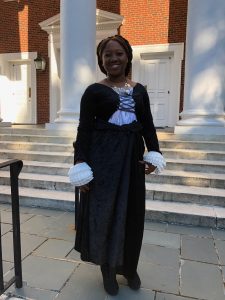 Myself as Argula von Grumbach