Chapel Climbs
We sponsor Chapel climbs throughout the semester. We give students the opportunity to climb the 239 stairs to the roof of the tower at the iconic Duke Chapel. It is the highest point on campus and offers an amazing birds-eye view of the entire campus, downtown Durham, and beyond. This opportunity is not open to the general public, and many students consider the climb to be a "bucket list" item.
Snack Chat
Our GCIP team sponsors Snack Chat on a weekly basis throughout the semester. This is an opportunity for students to enjoy some snacks while chatting with others and doing an activity or playing a game. Our activities in the spring semester included rock painting and blanket making
Rock Wall Climbing –January 27, 2023

Several engineering master's students came to the climbing wall in Wilson Recreation Center for some lessons and some climbing. Climbing wall employees gave instructions on knot tying, safety, and the basics of wall climbing. Students then tested their new skills and their strength by climbing the 35-foot wall.
The wall is open and free for experienced climbers.
Media Club Light Painting event — Feb 24, 2023
On an unseasonably warm night in late February, the Engineering Master's Media Club hosted a "light painting" event near the Duke Chapel. Light painting uses moving lights and long exposure times to create amazing effects. Over 40 graduate students, staff members, and a player from the Duke men's basketball team showed up to enjoy the event!
Dance Club  Salsa Dancing event — February 24, 2023
On February 24, the Engineering Master's Dance Club hosted a Valentine's-adjacent salsa dancing event. Andres Caicedo (MS ECE '23) provided instruction, followed by music, food, and salsa dancing.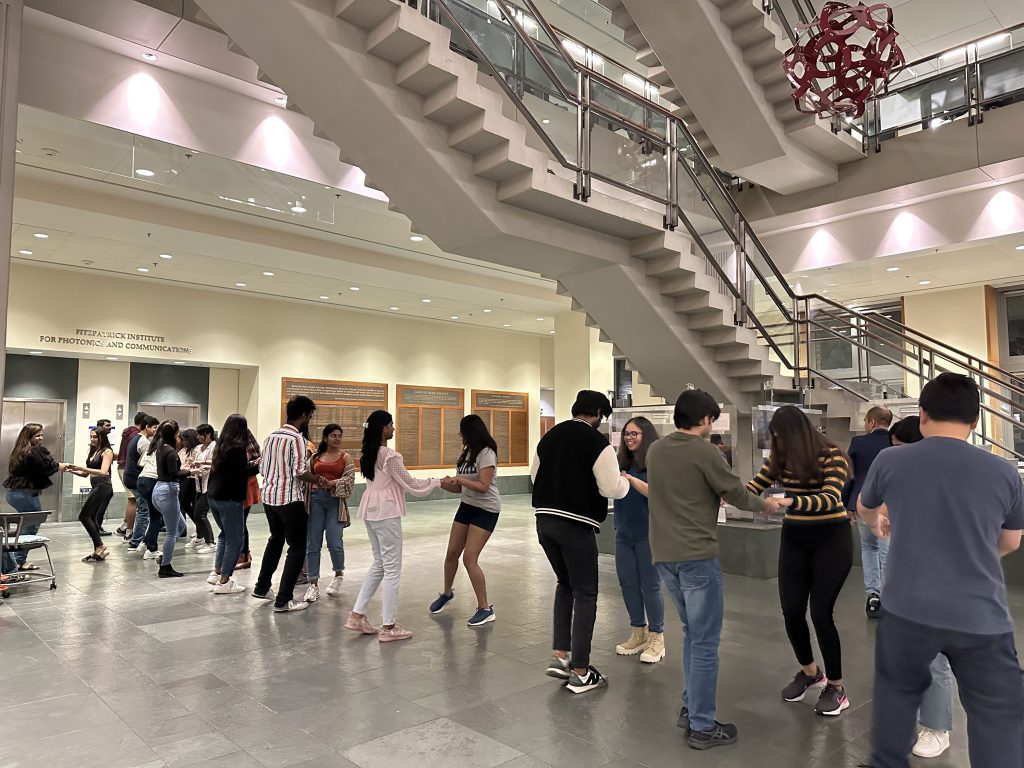 Diversity and Culture Club Israeli Dancing event — March 2, 2023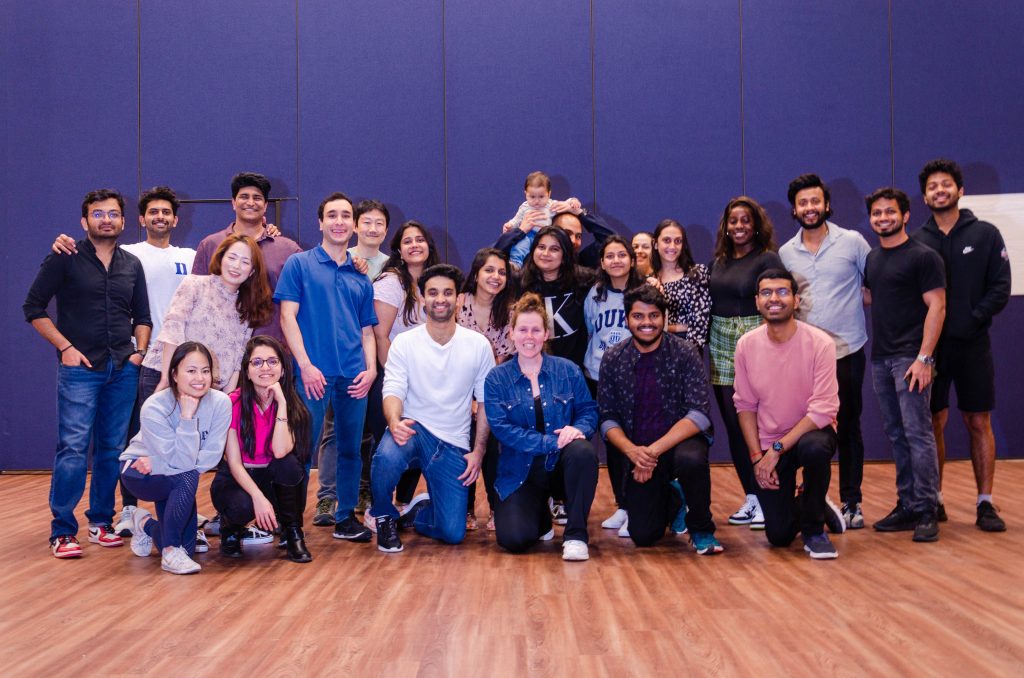 Engineering Master's Programs Holi Celebration — March 8, 2023

On a beautiful afternoon just before Spring Break, dozens of Engineering Master's students gathered in the Harrington Quad to celebrate Holi and the triumph of good over evil. There was music, dancing, smiling, hugging,  LOTS of color.
Music Club Silent Disco — March 8, 2023
The Engineering Master's Music Club hosted a "silent disco" on Wednesday March 8 to cap off a day-long celebration of Holi. 60 students came to the Fitzpatrick Atrium (and the plaza outside) to dance the night away. Unlike most dances, there was no amplified music. Each participant wore headphones which could tune to one of three different music sources, giving everyone their own listening experience.
Badminton Bash — April 1, 2023
The Engineering Master's Badminton Club hosted a day-long "badminton bash", featuring friends, food, prizes, and lots of badminton. Players of all skill levels participated, and everyone had a great time.
Pop to the Quad for Popcorn event — April 3, 2023
Students came to the Harrington Quad on a Monday afternoon for a study break. They got to enjoy some gourmet popcorn from The Mad Popper, plus music, and lawn games.
Pop to the Quad for Loco Pops event — April 10, 2023
Students came to the Harrington Quad for another study break. This time, they got to enjoy gourmet ice pops from Loco Pops along with some ice cream treats. Our Student Advisory Board and our club presidents played lawn games and mingled with students and passers-by to make it a fun mid-afternoon break.
Diversity and Culture Club discussion about diversity in STEM — April 21, 2023
Dr. Aaron Kyle spoke with a group of students about his efforts to support groups that are traditionally marginalized or underrepresented in STEM. Dr. Kyle has done a lot of work to empower disadvantaged high school students in New York and North Carolina.

Sports Club kickoff event — April 21, 2023
The Sports club hosted a post-LDOC fun day with lots of games, activities, prizes and snacks.  There was tug-of-war, 5v5 soccer, spikeball, and lots of other games. They also gave away some Duke merch and Duke Dining gift cards as prizes. In the fall of 2023, the club plans to host a wide variety of events to encourage an active lifestyle.