SCIENCE AT THE INTERSECTION OF GENETICS, IDENTITY, & HEALTH WORKSHOP
Friday November 4, 2022: 8:15am-5pm
JB Duke Hotel on the Duke University Campus

Hosted by the Evolutionary Anthropology Department at Duke University
To register for the workshop, please  CLICK HERE or scan the QR code below.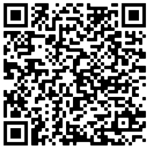 In-person registration will be limited and offered on a first-come first-serve basis, but the workshop will also be accessible virtually via Zoom! For those attending in-person, there will be catered coffee/light breakfast and lunch available.
CLICK HERE to view a pdf of the current program.
---
CURRENT SCHEDULE
FRIDAY, NOVEMBER 4
JB DUKE HOTEL – 230 Science Drive, Durham, NC 27708
8:15 – 8:45
Coffee & Light breakfast
8:45 – 9:00
Welcome, Dr. Amy Goldberg, Duke Univ.
9:00 – 9:40
Dr. Maria Nieves-Colón, Univ. Minnesota – Using Ancient DNA to Interrogate the Colonial History of Latin America
9:40 – 10:00
Discussion
10:00 – 10:10
Break
10:10 – 10:50
Dr. Sean Kimbro, NC Central Univ. – Ancestry and Health Disparities: African Americans Out of Context
10:50 – 11:10
Discussion
11:10 – 11:20
Break
11:20 – 12:00
Dr. Krystal Tsosie, Arizona State Univ. – Articulating Diné (Navajo) DNA, Identity, Genetic Ancestry, and Health
12:00 – 12:30
Discussion
12:30 – 1:30
Lunch @ J.B. Duke (provided)
1:30 – 3:00
Discussion: Community Involvement & Data Sovereignty

Dr. Carter Clinton, Penn State Univ. – Digging up DNA: The Importance of Studying Historic Burial Soil

3:00 – 3:15
Break
3:15 – 4:45
Discussion: Identity & Race in Public Discourse, Medicine & Teaching

Dr. Joseph Graves Jr., NC A&T State Univ. – Racism, Not Race: Embedded Racism in Health and Disease.

4:45 – 5:00
Closing, Dr. Herman Pontzer, Duke Univ.
---
INVITED SPEAKERS
Assistant Professor of Biological Anthropology, Department of Anthropology, University of Minnesota
Professor, Biological and Biomedical Sciences, North Carolina Central University
Presidential Post-Doctoral Fellow, School of Life Sciences, Arizona State University
Post Doctoral Scholar, Department of Anthropology, Penn State University
Professor of Biological Sciences, North Carolina A&T University
---
SPONSORS
The Evolutionary Anthropology Department at Duke University
The Triangle Center for Evolutionary Medicine (TriCEM)
The Duke University Population Research Institute (DUPRI)
---
More Information: If you're interested in attending, or in receiving further updates regarding workshop, email Dr. Zane Swanson (zane.swanson@duke.edu).