Bibi Gnagno, J.D.
Director of Academic Engagement, Global & Civic Opportunities
Pronouns: she/her/hers
Email: bibi.gnagno@duke.edu
Working on gender equity at the intersections of race, social economic class, and sexual orientation brought me to Duke as a Student Development Coordinator at the Women's Center. During my time at the Women's Center, I created experiential programming and training that focused on community engagement, civic involvement, women's empowerment, men's engagement and activism. Prior to coming to Duke, I worked in the legal field in Atlanta, Georgia, Paris, France, and Abidjan, Ivory Coast on issues pertaining to social justice. My focus has included looking at how policy affects the society we live in, depending on our identities.
I hold a B.A. in French and Political Science from Smith College. As a student, I held various leadership positions in student organizations such as the Smith African and Caribbean's Students Association, Black Student Association, and Delta Sigma Theta Sorority Inc. I studied abroad during my junior year in Paris, France. I also speak fluent French. Upon my return to the U.S. I matriculated law school and earned a Juris Doctor from North Carolina Central University School of Law.
I am deeply fascinated by how the concept of identity can shape people's experiences, specifically students' experiences within the realm of higher education, which I've explored through filmmaking. Also, using my experience as a mindfulness teacher, I teach students each semester through the Koru Mindfulness Program. As a DAE for Global and Civic Opportunities at the Academic Advising Center, I am excited to help students as they navigate their time at Duke, helping them tie together their various interests both academic and co-curricular, while also building meaningful and intentional relationships.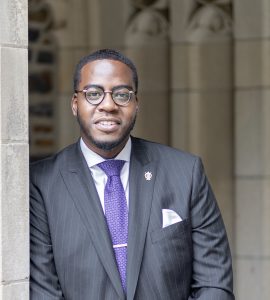 Nicholas Irion, M.Ed., M.Div.
Learning Consultant and Student Engagement Coordinator
Pronouns: he/him/his
Email: nicholas.irion@duke.edu
Nicholas is a native of Buffalo, New York. He earned a BA in Music Education from SUNY Buffalo State. He also earned a Master of Educational Leadership from Michigan State University, with a concentration in school leadership and student development. Nicholas most recently earned his Master of Divinity from Duke University. He has experience working and teaching on the K-12 and Undergraduate levels. These experiences have led him to have a passion for critically evaluating scholarship, policy, and practice to promote equity, access, and social justice. His interests also include student success, motivational strategies, and students of color experience in higher education. Before coming to Duke, Nicholas worked in several leadership capacities at SUNY Buffalo State, where he focused on educational pipeline programs, career development, and mentoring. Outside of the office, you can find with his Church family, mentoring one of his mentees, hanging with close friends, and/or on his grill at home.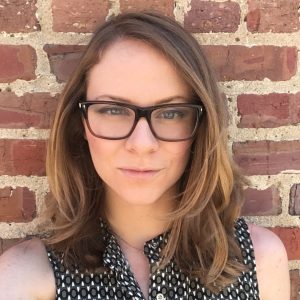 Maggie McDowell, Ph.D
Academic Guide for Edens Quad
Pronouns: she/her/hers
Email: margaret.mcdowell@duke.edu 
An unusually proud native of South Bend, Indiana, I graduated with a BA in the Great Books from the University of Notre Dame. In 2016 I fled the Midwest to begin a Ph.D. in English and GSF here at Duke and absolutely fell in love with Durham. While completing my dissertation on asexual representation (or lack thereof) in contemporary fiction, I held various positions as a TA, instructor of record, and Thompson Writing Studio Consultant here at Duke.
Working with students in varied capacities across the university has taught me that students are each other's best resources for navigating the institution, and I'm excited in my capacity as an Academic Guide and PSL coordinator to facilitate more avenues for Duke students to support each other. I'm passionate about making the university more accessible to all students and to normalizing conversations about and use of the many support systems that are already in place.
When not at work, I'm running the Ellerbee Creek trail, relearning how to read for pleasure, and hanging out with my two cats, Artemis and Apollo.