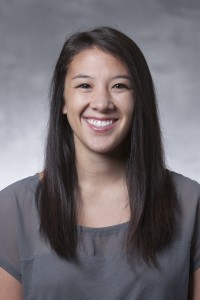 We would like to congratulate Class of 2016 Doctor of Physical Therapy student, Samantha Van Gorder, SPT, who has received the APTA Minority Scholarship: Physical Therapist Student Award. Samantha is the first DPT student to receive this honor, which is awarded annually to physical therapy students in their final year of physical therapy education to acknowledge and reward:
Demonstrated participation in minority affairs, activities, and services
The potential for superior achievements in the profession of physical therapy
Appropriate display of professionalism as a future physical therapist
Academic excellence
About Samantha
Samantha grew up in Ramona, CA (near San Diego), where she started playing soccer at around five years old:
You know, I wanted to be just like my big brother. I think playing soccer and being active, in general, really peaked my interested in learning about how the body moves and functions. I went on to receive my Bachelor's in Exercise Science at California Lutheran University, where I continued to play soccer. When I tore my ACL in my third year, going through the rehabilitation process really sealed the deal for pursuing a doctorate in physical therapy.
After college, Samantha chose to come to Duke for her DPT education because she, "…loved the concept of Team-Based Learning and how that flowed into clinical practice, or STEPs, showcasing how essential teamwork is in healthcare. The phenomenal faculty and incredible opportunities outside of the classroom didn't hurt either."
What's Next
Currently, Samantha is interested in becoming an Orthopedic Clinical Specialist and working with young athletes. Eventually, she would like to enter the academic arena as well.
When asked what receiving this scholarship means to her, Samantha explained:
First and foremost, I am proud to be part of a professional organization that continually demonstrates how much it values and promotes diversity and community involvement. The award was great validation and reinforcement that the work I was doing outside of the classroom was important. It has definitely motivated me to continue being involved in the community and find a workplace that values community service as well.
Congratulations to Samantha and we wish her the best of luck in her future endeavors.