Nurses across the world have had many common experiences. The uphill battle of professionalizing a job that women had long done inside homes for free and that required intimate contact with putrid and decaying bodies.Institutionalized patriarchy that associated nursing with feminine care work and locked nurses into lower pay and less respect than male doctors. The grueling demands of a job that pushed nurses to care for others far more than for themselves.
This conference acknowledges these nearly universal experiences, but also pays close attention to the unique conditions of Confucian patriarchy, nation-building in an era of empire, caregiving in a time of war, and the imperative to provide medical care for a largely rural population that influenced the development of nursing in East Asia.
Participants from Korea, China, Taiwan, Japan, Israel and the United States will discuss these issues in a two-day conference held at the King's Daughters Inn (across the street from Duke's East Campus), the Classroom Building (Duke East Campus) and the Rubenstein Library (Duke West Campus).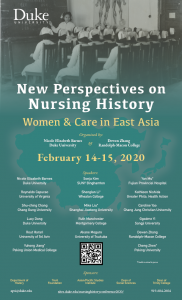 Conference Organizers
Nicole E. Barnes, Assistant Professor, History, Duke University
Dewen Zhang, Assistant Professor, History, Randolph-Macon College
Conference Supported by
Duke University History Department
Asian/Pacific Studies Institute
Josiah Charles Trent Memorial Foundation
Dean of Trinity College, Duke University
Dean of Social Sciences, Duke University