Category Archives:
Special Events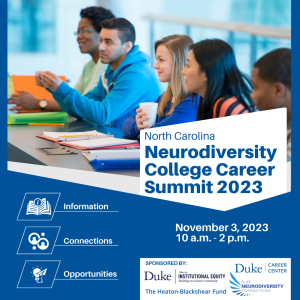 The virtual 2023 NC Neurodiversity College Career Summit connects NC college students pursuing degree-related (paid) internships and full-time opportunities with employers who are seeking to establish or maintain work environments supporting neurodiversity. The event includes a keynote session and time for students to engage with employers to discuss interests and opportunities.
Friday, November 3, 2023
Agenda:
10 AM – 11 AM:  Keynote speaker Eric Garcia
Eric Garcia is a senior Washington correspondent at The Independent and a columnist for MSNBC. He is the author of We're Not Broken: Changing the Autism Conversation. Previously, he was an assistant editor at the Washington Post's Outlook section and an associate editor at The Hill, as well as a correspondent for National Journal,MarketWatch, and Roll Call. He has also written for the Daily Beast, the New Republic, and Salon.com. Garcia is a graduate of the University of North Carolina at Chapel Hill.
11 AM – 2 PM:  1:1 meetings with employers
Register for more details!