Winter Storm Leon moved into Durham last night, dumping several inches of snow along with plummeting temperatures.  When I woke up this morning I noticed our feral cats, Sunshine and Gracie, weren't at their usual spot waiting for me to come out and feed them.  I saw their footprints in the snow and followed them to the edge of the pond.
Farthing Pond had completely frozen over for the second time this year.  The goldfish  were hunkered down at the bottom of the pond, chilling until the next warm spell.  I'm sure they'll surface again if we get any sunshine in February.  I decided to bust up the ice so the cats could have a little drinking water.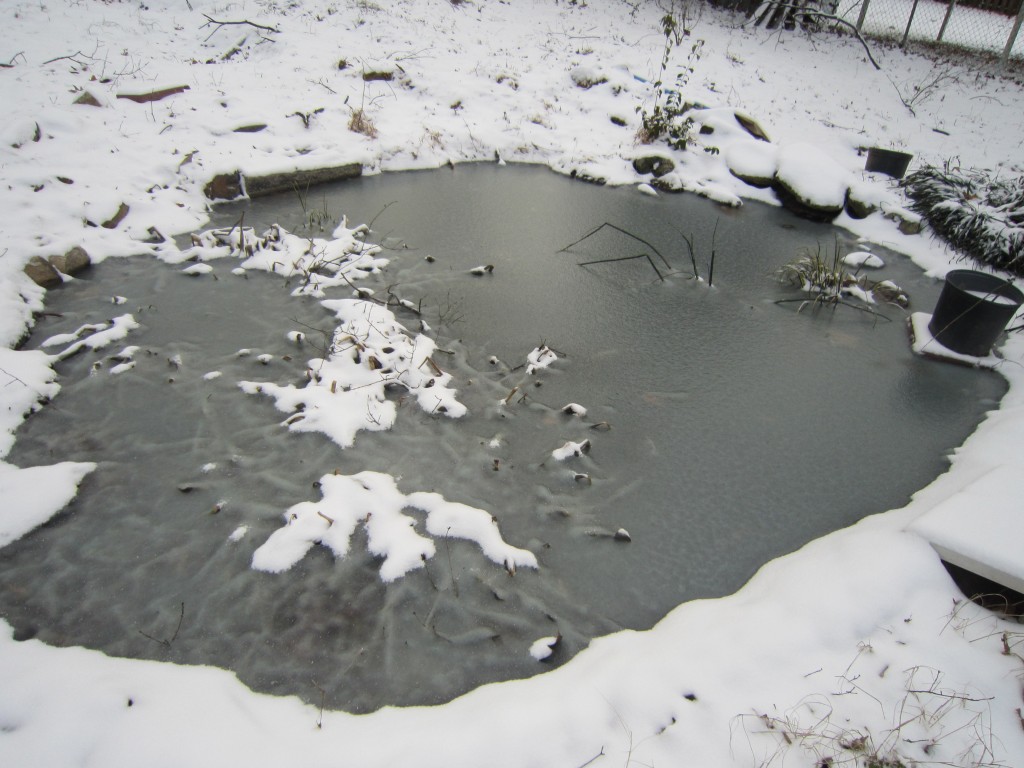 After a few minutes Gracie decided to come out of her hiding place and have breakfast.


By the time I'd gotten back inside, Shawnna was checking out the bird scene in the front yard.  The chickadees, cardinals and wrens were taking advantage of her squirrel-proof bird feeder.  Franklin, our indoor tabby, could barely contain himself as he watched behind the screen door, making that funny chattering sound cats make, known as the kill-bite reflex.
We've finally decided to join Project Feederwatch, the winter-long survey of birds sponsored by  The Cornell Lab of Ornithology.  They say that 292 species of birds have been spotted in the Durham area. Our favorite bird from today was a red-bellied woodpecker, who is just a little bit big for the bird feeder, but nevertheless decided to take a stab at it  before giving up.  Here he is   hanging out on the trunk of  the big oak tree in the front yard.