Hello, everyone! My name is Norma De Jesus, and I am a rising senior at Duke University double majoring in Public Policy and Cultural Anthropology with a certificate in Latinx Studies in the Global South. I am pursuing these academic interests because of my desire to better understand the world around me and to explore further how our identities are expressed, policed, governed and ultimately, socially constructed. These are also reasons for why I decided to apply to DukeEngage NYC and participate in an 8-weeklong learning adventure where I will have the opportunity to further explore feminism and social justice while interning at the National Domestic Workers Alliance.
I was born and raised in Edinburg, TX a predominantly Latinx small town where I wasn't introduced to feminism until my senior year of high school when my literature teacher mentioned how our society was patriarchal. At that time, I reduced feminism to a label that described our society and not so much as a label that I could claim as my own. Feminism to me was this very basic literary term which I registered as a lens through which we can view and understand our society. It wasn't until I got to college and explored this term in its all-encompassing glory that I finally understood the importance of claiming it and applying it to our everyday lives.
Chimamanda Ngozi Adichie's Ted Talk We Should All Be Feminists was the impetus that fueled my desire to better understand feminism. In her Ted Talk, Adichie offers a compelling rendition of the female gender and of the importance of feminism. She also offered one very specific description of the socialization of girls that resonat
ed with my upbringing. She stated that in our society, "We teach girls shame… We make them feel as though by being born female they're already guilty of something. And so, girls grow up to be women who cannot see they have desire. They grow up to be women who silence themselves." This silence is then encouraged and praised, especially when society labels unspoken and unapologetic women as too loud, too ambitious, and just too much. Adichie was the very first woman who gave me the courage to claim the word feminism, and she was the one who fueled my desire to help dismantle prescribed norms that this patriarchal society imposes upon our bodies.
Additionally, as I began to delve deeper into feminist frameworks and explore the waves of feminism that helped shape our United States society, I later learned of intersectional feminism. Intersectional feminism acknowledges the overlapping identities that women possess. It helps individuals understand how race, class, ethnicity, and sexual orientation shape women's experiences. As a Latina, I personally feel more inclined to claim intersectional feminism because it helps me adopt a wider view on social issues and it allows me to see how each specific identity is policed in our society.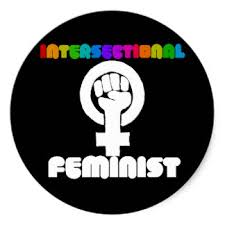 Thankfully, I will have the opportunity to continue exploring intersectional feminism as I engage in social justice work during my 8 weeks in New York City. At National Domestic Workers Alliance, an organization that works to advocate for better working conditions and labor rights for domestic workers, the topics of race, class and gender are some of the many intersections that I hope to explore during my time there as an intern. I am excited to be able to learn more about NDWA's role and impact in advocating alongside domestic workers.