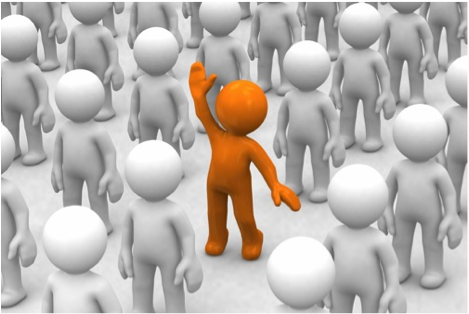 Since I was a child my mom always warned me about being aware of my attitude, the way I spoke, and how I behaved. She knew that I was a very-strong willed and outspoken child and now that I look back on this advice I think I can finally view it with a more open mind and understand that she was only trying to help me, she wasn't trying to attack my personality. I fought my mom on this idea of "how people perceive me". One, she's my mom and for some reason I always want to challenge her and 2. Not to sound too blunt, but I didn't really care what people thought of me. I believed that perceptions were these destructive ideas that, if I took them into consideration, would change who I am as a person, deconstruct my core values and turn me into a fake.  Why should I act a certain way for anyone else? Why can't I just be myself, if I change for others wont I lose the true me?
This attitude had a few positive outcomes.  It developed me as a proud, confident and assertive young women, which I believe is important in the culture that we live in, which tries to break all of these characteristics down in women. I felt as if I was a more genuine person, because I left everything out on the table and didn't hold back. Unfortunately, it played against me in many instances as well.  Whether it created tension between friends and coaches, or presented me as someone who was dismissive, this lack of acknowledgment and lack of awareness of how others perceived me did not play to my favor in developing myself as an understanding, compassionate and empathetic individual.
So why bring up perceptions now, why am I finally looking at them as beneficial? This past week, through both a personal experience with another Moxie girl and after analyzing our readings on the "non-profit industrial complex" I found that understanding others perceptions is not only essential to the development of personal relationships, but to the impact that individuals and organizations can have on creating purposeful change on social issues…
Here is what I have learned, and how we can all benefit, if we pay more attention to our perceptions and others perceptions before we decide to dismiss them.
1.    Communication:  When we evaluate how someone perceives us, or how we perceive others we are ultimately dwelling on assumptions. We all know the old phrase; "when you assume you make an ass out of you and me," so stop dwelling and start communicating.  Perceptions can lead to conversation, which can create growth and understanding in relationships.
2.    Individual Growth and Development: Asking for feedback is difficult to do and not everyone handles criticism well.  However, in the end, understanding how you come across to others and reflecting on ways to improve your presentation will be both beneficial and rewarding.  If your goal is to come off as more reserved and observant rather than "in your face", having an open mind about others perceptions can help you achieve this personal attitude goal.
3. Working within the system, and getting ahead: I have learned a lot about non-profit work within the last 3 weeks, and if there is one thing that continues to stick with me it is that they do not necessarily have the freedom that I understood them to have. There are limitations, rules and government standards that they must adhere to, sometimes these restrictions can even get in the way of an organization executing their mission and following through with their values.  Sometimes we can't play by the rules. When we are engulfed in a system that is still stuck in the traditional, patriarchal ways, we have to frame and present our ideas differently.  I used to think this was being fake — but it is not. It is adjusting to the situation, where being upfront and totally open will never get you to your goal, and reshaping your requests can get you much further.
4. Everyone is unique: Everyone has a different identity marker that affects the way they experience the world.  The way we perceive the world around us and how others perceive us is unique to the individual, therefore as much as I would like all people to address issues, such as breaking down gender and racial constructions through individual radical actions the repercussions for one individual may be very different than the repercussions of another.  By trying to understand how different individuals are perceived by the outside world it not only reminds us that we can not place our own beliefs and ideals on others, but it also allows us to work on being more empathetic to others experiences.