Pioneering Protocols Critical to the Evaluation of Vesicle Production and Function
Characterizing Physiological Benefits of Bacterial Vesicle Production to Bacteria
Vesicle Composition and Engineering
Host Response to and Inflammatory Bacterial Vesicles
Pioneering Protocols Critical to the Evaluation of Vesicle Production and Function
The Scientific Question
We asked the question, "Are these bacterial vesicles really secreted discrete entities, or just products of bacterial lysis?" In 1998, OMVs had been scarcely recognized as secreted entities. As a result, most studies were based on vesicles isolated from simple sedimentation of culture supernatants, which were found to contain bacterial debris, fimbriae, phage, and other non-vesicle material. Although the premise of vesicle-mediated secretion by bacteria remained attractive, using such an impure preparation contaminated the field. 
The Discovery
The Kuehn Lab developed "gold-standard" protocols involving density-gradient purification, biochemical lipid and protein analysis, and cell lysis controls that are critical to the genuine evaluation and characterization of vesicle production and function. As pioneers in this field, we used the model gram-negative organism, E. coli, to identify genes important in regulating and producing vesicles. Through our genetic screening studies, we discovered several envelope features that influence vesicle production (LPS length, Lpp-peptidoglycan crosslinking, NlpI, NlpA, envelope protein overexpression) and revealed that bacterial outer membrane vesicle production is important for bacterial survival under stress.  
Supporting Publications
Characterizing Physiological Benefits of Bacterial Vesicle Production to Bacteria
The Scientific Question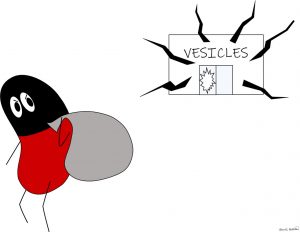 We wanted to understand how pathogens utilize vesicles to distribute virulence factors within the host and how they modulate the immune system—with another less obvious question of why vesicles are produced by non-pathogens.
The Discovery
The Kuehn Lab identified that vesicle production is critical to alleviating lethal envelope stress and that it can improve bacterial survival upon exposure to envelope-acting
antibiotics and bacteriophage. We found that bacterial vesicles facilitate and maintain OM LPS remodeling that occurs due to environmental shifts. We also discovered that bacterial vesicles can carry cargo that reduce biofilm stability for both the producing strain and for unrelated bystander bacteria.
Supporting Publications
Vesicle Composition and Engineering
The Scientific Question
We wanted to understand the incorporation of cargo and how host interactions are determined by vesicle cargo. This type of knowledge could benefit the development of vesicles as antigen vectors for vaccines. Vesicles are enriched and depleted in particular populations of both lipid and protein molecules, probably by cargo selection events occurring in the cell envelope. Using molecular hybrids, we gained insight into vesicle cargo selection, and using engineered vesicles that also carry fluorescent cargo, have recorded the trafficking of soluble and membrane-bound vesicle cargo once the vesicles interact with host cells.
The Discovery
The Kuehn Lab has used biochemical methods to investigate the association of heat-labile enterotoxin (LT) with the vesicle and bacterial surface molecule, lipopolysaccharide (LPS). We have also manipulated the composition of vesicles to investigate their function and adaptive immune response to vesicle antigens.
Supporting Publications
Host Response to Toxic and Inflammatory Bacterial Vesicles
The Question
By definition, outer membrane vesicles are complex mixtures of proteins and lipids. It was anticipated that their ability to stimulate a host response would be more complex, and perhaps synergistic, compared with simply a mixture of soluble, independent components.
The Discovery
The Kuehn lab was the first to formally evaluate this hypothesis, using vesicles isolated and biochemically analyzed from the culture supernatants of a variety of pathogens such as P. aeruginosa, enterotoxigenic E. coli, and H. influenzae. From this, we found that membrane context is critical for the attachment and trafficking of vesicles within the host endocytic pathway, as well as for the consequent toxic and/or innate immune response from the host cell.
For instance, P. aeruginosa vesicles, produced by a strain that was cultured from the lungs of a Cystic Fibrosis patient, adhered better to the lung than to gut epithelial cells. Conversely, a strain isolated from sera showed no such preference for lung cells. It seems that the vesicles stimulate epithelial cells and macrophages, to elicit a cytokine response that is distinct from that of LPS (a major component of the vesicles) alone. We also found that heat-labile enterotoxin (LT)—an important virulence factor of ETEC—is exported from the cells bound to the external surface of vesicles. Presented in this context, the cell is able to mediate the entry of the entire ETEC vesicle into human colorectal tissue culture cells.
Supporting Publications