Master an exciting and useful method of practicing history, and make a lasting contribution to an interdisciplinary conversation.
Five graduate students annually will receive support to teach and mentor undergraduates in the lab and to train in microhistorical methods for their own research and writing.
All graduate students are welcome to take part in lab activities.  Want support, fresh ideas and an opportunity to discuss methods that help with a seminar paper, conference paper or dissertation chapter?  Join a research group.  If the one you're imagining doesn't exist, talk with the lab conveners and organize one.
2019-2020 Graduate Student Fellows
Sarah Pillman Amundson, Department of History, is interested in the intersection of race, class, gender, and sexuality in American history. Broadly, her dissertation utilizes the lens of prostitution to analyze the ways that selling sex in Charleston, South Carolina not only affected human interactions, but also led to the construction of legal codes, societal norms, and even the city itself via the regulation of space through personal property and businesses. She is excited to work with undergraduate students who show interest in the use of narrative and who wish to dig deeply into the lives of individuals, two important microanalytical aspects of her own work.
Martha L. Espinosa, Department of History, is interested in the study of reproductive justice, contraceptive technologies, feminism, gender, and sexualities in Latin America. In broad terms, her dissertation analyzes the interconnections between eugenics, family planning, and demography in 20th century Mexico. She asks how the experts who represented these movements were vital to define both the "desirable" and the "undesirable" populations in Mexico, as the knowledge they produced was based on class, racial, and gender-based conceptualizations of "fit" Mexicans. She is looking forward to mentoring undergraduate students who have an interest in studying gender and sexuality using microhistorical methods.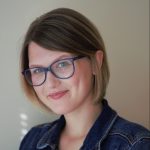 Jessica Hauger, Department of History, is broadly interested in race, space, and medicine in modern America. Her dissertation will ask how members of the Kiowa tribe built communities through their healing practices on the Kiowa, Comanche, and Apache Reservation from the late-nineteenth to the early-twentieth-century. Jessica is excited to work with undergraduates on projects that take local and community history seriously.
Shahrazad A. Shareef, Program in Literature, studies Italian intellectuals of the 1950s with a focus on technocratic culture, the emergence of Italian sociology, and the Italian economic miracle. She is interested in how Italian intellectuals historically acquired leadership and prestige, and the quotidian mechanisms by which their claims acquired generality. Her dissertation examines the projects these intellectuals organized in the context of industrial manufacturing. Analyzing their methodologies and key ideas, such as "the survey" and "development", she reconstructs conceptions of the world and considers that gave these intellectuals agency at local and national levels. As a Microworlds fellow, she is excited to talk with undergraduates in collaborative, group settings about the central questions and quandaries of archival research and narrative, historical writing. Originally from Brooklyn, NY, she carried out undergraduate studies at Duke where she majored in Economics.
Kristina Williams, Department of History, is researching the British West Indies, with a particular emphasis on the intersection of race, gender, and labor under slavery and freedom. Her dissertation examines the legal, political, and social implications of emancipation on enslaved and free people in Barbados during the early and mid-nineteenth century. As a 2019-2020 MicroWorlds graduate fellow, she is excited to join forces with undergraduates who are interested in learning how to incorporate microanalytical methods in the study of Caribbean history.
2018-2019 Graduate Student Fellows
Jacqueline Mercier Allain, Department of History
Anderson Hagler, Department of History
Jordan Sjol, Program in Literature
Nick Smolenski, Department of Music/Medieval & Renaissance Studies
Katarzyna Stempniak, Department of Romance Studies