Ashley Barry – Lab Manager
I am a NC native, born and raised outside of Charlotte, NC. I received my BS in Biology from UNC-Chapel Hill in 1994, and my MS in Physiology in 1997. As an undergraduate, I was an epee' fencer on the UNC Varsity Fencing Team, and studied EBV in Nancy Raab-Traub's lab. After receiving my masters, I moved over to Duke joining Michael Greenberg's at HIV research lab. After getting married in 1999, I relocated to Atlanta to work with with Jeff Safrit and then Mark Feinberg at Emory University studying HIV, SIV, and the role of the innate immune system in tolerance of SIV in natural hosts. After seven years in Atlanta, I found my way back to NC working first on fusion inhibitors of HIV at Trimeris, and then on novel cancer therapeutics at b3 bio, inc. In 2013 I came full circle back to studying EBV joining the Luftig lab where I have been the lab manager ever since.
Outside of the lab my life is enriched by my husband, two daughters, and two very spoiled mutts. My favorite physical activity is tap dancing (a passion shared with my daughters); and I try to never miss adult tap class. I also enjoy sewing clothing primarily for my girls, but occasionally for myself. Cooking and baking is a passion shared by both my husband and me. The neighborhood book club is a gathering that I always look forward to and expands my love of reading.
Alexandria Bartlett – MGM Graduate Student
I completed my B.S. in Biology at Northeastern University in Boston, Massachusetts. During my time as an undergraduate student, I pursued an interest in food microbiology through positions in the wine and beer industry. I then transitioned into the pharmaceutical industry to explore the human health side of microbiology. I obtained my M.S. in Microbiology from North Carolina State University where I did my thesis work in the lab of Dr. Manuel Kleiner. At N.C. State, I used metaproteomics to study the interactions between dietary protein and the intestinal microbiota. During my time at N.C. State, I took a virology course that prompted me to transition my research focus and ultimately join the Molecular Genetics and Microbiology program at Duke. My current research interests involve combining genome editing and virology. In the Luftig lab I am using genetic approaches to study the role of EBV in Burkitt Lymphoma.
Jana Cable – MGM Graduate Student
I am a graduate student in the Department of Molecular Genetics and Microbiology. Originally from Bowling Green, Ohio I majored in Microbiology at Miami University in Ohio. There, I worked in the lab of Dr. Natosha Finley studying the structure and function of Myosin-Binding Protein-C, a protein that regulates muscle contraction. During my undergraduate studies, I also completed a summer internship in the lab of Dr. Roberto Cattaneo at the Mayo Clinic and in the lab of Dr. Christopf Rademacher at the Max Plank Institute in Potsdam, Germany. I am now studying the role of one of the earliest EBV latency proteins, EBNA-LP, in establishing infection in B cells through regulating transcription and metabolic changes that are required for naive B cell transformation. Outside of lab I enjoy cooking, spending time outdoors, and hiking with my dog. 
Lauren Haynes – UPGG Graduate Student
I am a graduate student in the University Program in Genetics and Genomics (UPGG). I'm originally from Clearwater, FL and I went all the way to the University of Alabama for my degree in biology. There I did research with Dr. Laura Reed on natural toxin tolerance in diverse species of Drosophila. I decided to go straight to graduate school and I am now studying the mechanism of a novel cancer treatment called "kick and kill" for treatment of EBV positive lymphomas. When I'm not in lab I enjoy reading, cooking, playing video games, and hiking.
Kaeden Hill – Undergraduate Student
I'm a sophomore, majoring in biology. Planning for a career in research, my main fascination so far is the complex interplay between a pathogen, the immune system, and other microorganisms. Outside of school and the lab, I enjoy hiking, skiing, lapidary arts, collecting minerals, playing piano, going to concerts, and reading.
Gillian Horn – Immunology Graduate Student
I graduated from Converse College (2019) with a B.S. in Biochemistry, minor in Psychology. While at Converse College I conducted research in the lab of Dr. Will Case (2017-2019) focused on developing a novel enzyme-based 1st generation amperometic biosensor with a xero-gel adaptable template to detect biologically relevant analytes. After taking a course in Immunology, I found my passion and interest for the subject leading me to join Dr. Randall Gregg's lab (2018-2019) at the Edward Via School of Osteopathic Medicine (VCOM). My research concentrated on detailing how simulated microgravity states induced reversion of murine lymphoma immune evasion.
After graduation, I joined the lab of Dr. Georgia Tomaras at the Center for Systems Immunology at Duke University (2019-2022). While in the Tomaras Lab, I studied antibody dynamics of Malaria vaccine-induced and laboratory optimized antibodies to characterize epitope specificity, antibody affinity, and how these characteristics correlated to protective immunity. I also worked as a part of the Coronavirus Immunotherapy Consortium (CoVIC) to study and discover potential therapeutic antibody candidates against SARS-CoV-2.
I joined the Duke Immunology Ph.D. Program in Fall 2021 and affiliated with The Luftig Lab in March 2022. My research now focuses on elucidating the role of atypical memory B cells in EBV related disease states such as Multiple Sclerosis and Burkitt's Lymphoma. I am also interested in studying the relationship of B cell receptor antigen specificity to Burkitt's Lymphoma pathogenesis and maintenance. Besides research, I enjoy planning Luftig Lab Fun events such as cocktail hours, tie-dying, cookie competitions, and Lab Olympics.
Outside of the lab I love attending concerts, baking, exploring new restaurants and bars, Pilates, and golfing.
David Kong – Undergraduate Student
I'm a senior undergraduate student originally from New Jersey studying Biology (Cell & Molecular Concentration) with a global health minor. My academic interests are in cellular pathway regulation and cell signaling mechanisms — however, my broader interests in both cell biology and public health have converged on their intersection in medicine. Outside of the classroom and lab, I'm an avid sports fan and I enjoy playing basketball and tennis, listening to new music, and reading/writing.
Camille Krejdovsky – Undergraduate Student
I'm a sophomore planning to study biology and French. My interest in biology started after taking AP Bio in high school, and I discovered a love for research after my first exposure one summer at the Buck Institute for Research on Aging. I'm broadly interested in how the immune system functions, both in cases where it succeeds and in cases where over/under-activity contributes to various diseases. Outside of the lab, I perform with a student ballet group on campus and enjoy hiking, yoga, and baking with friends.
Marc Leazer – Research Technician
I am from Frederick, Maryland and attended Auburn University for my undergraduate studies where I received a BS in Biochemistry. As an undergraduate I worked in the lab of Dr. Evert Duin studying metalloenzymes in methanogenic archaea. I joined the Luftig Lab as a research technician in 2021, where I assist various projects around the lab. Outside of the lab I volunteer as an EMT with South Orange Rescue Squad in Orange County. I am currently pursuing my AEMT certification as well as my Private Pilot's License. I enjoy spending time with my fiance and our dog Zuko, as well as movies, TV, books, music, and video games.
Micah Luftig – Principal Investigator
I graduated from the Louisiana State University with a B.S. in Microbiology in 1998. During my undergraduate career, I worked on herpesvirus glycoproteins and virus entry. I then moved to Boston as a graduate student in the Program in Virology at Harvard Medical School. Initially, I worked in Dr. Don Wiley's lab continuing the biochemical study of herpesvirus glycoproteins. My thesis research was in Dr. Elliott Kieff's lab studying Epstein-Barr virus (EBV), where I identified the genetic requirements of NFkB activation by the viral oncoprotein, latent membrane protein 1. I received my Ph.D. in Virology in 2003, and went on to join the group of Dr. Andrea Carfi in the Department of Biochemistry at the Istituto di Ricerca di Biologia Molecolare (IRBM) "P. Angeletti" in Pomezia, Italy (outside of Rome). I was awarded an EMBO Long-Term Postdoctoral Fellowship for my structural studies on viral glycoproteins, and later solved the crystal structure of the HIV gp41 protein bound to the cross-neutralizing antibody D5 while at IRBM. In 2007, I began my independent laboratory as an Assistant Professor in the Department of Molecular Genetics and Microbiology at Duke University Medical Center. In 2017, I became co-Vice Chair of MGM with a purview including research and innovation efforts in the department, and in 2018, I was named Director of the Duke Center for Virology. Click here for a full biography.
Nico Reinoso – Postdoctoral Fellow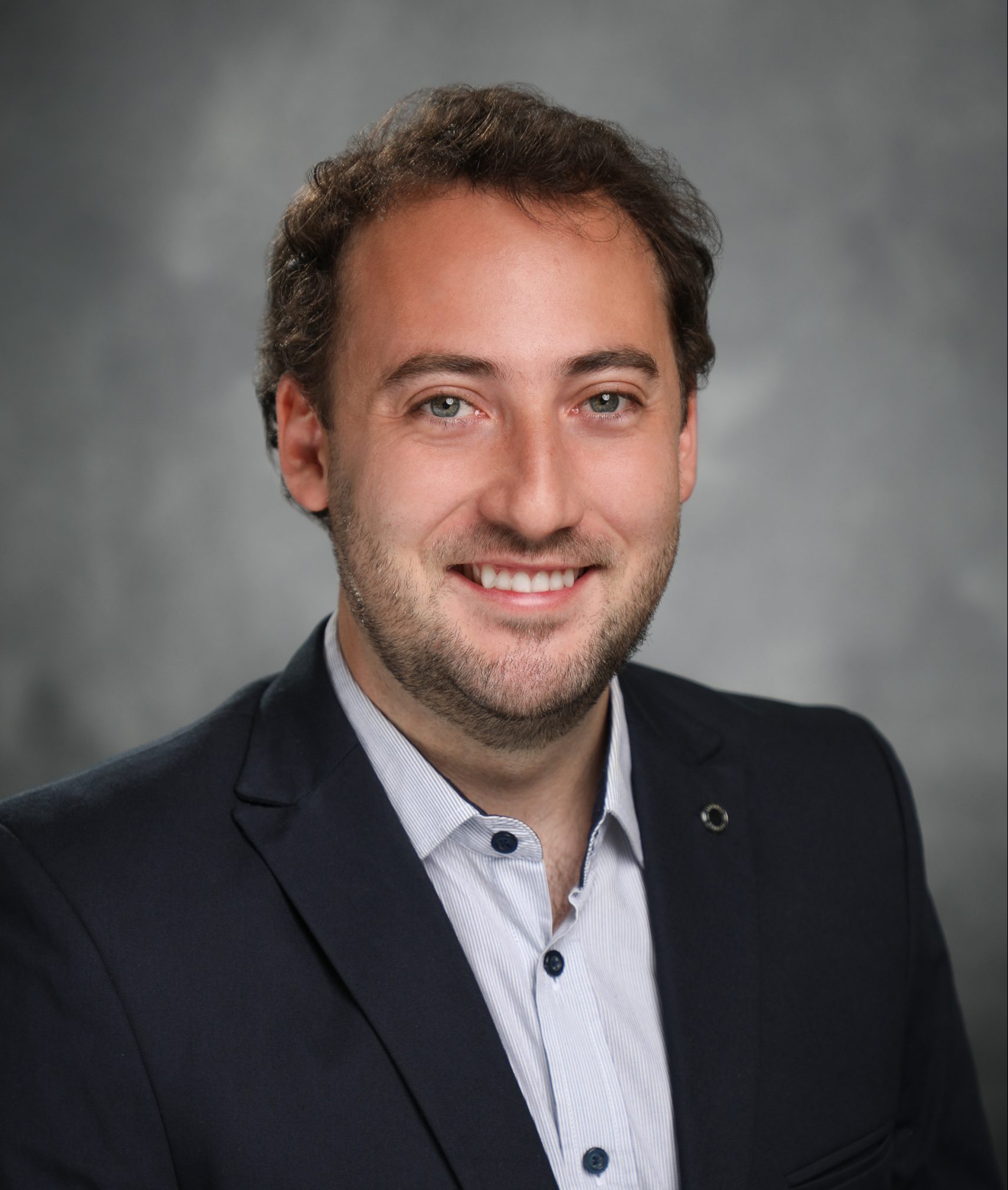 I was born and grew up in San Juan, Argentina. I moved to Córdoba to attend at the National University of Cordoba (UNC), where I got my M.S. in Biochemistry and my PhD in Chemical Sciences. During my graduate studies at the Echenique Lab, my thesis project focused on revealing molecular mechanisms that explain the cooperation between Influenza A Virus and Streptococcus pneumoniae to cause pulmonary infections.
I joined Luftig Lab in 2020. My research primarily focuses on two main projects: 1- Identify new host factors in B cells that could modulate the transformation process at the early stages of EBV infection, and 2- study the dynamic distinct subset fractions within LCLs previously reported by scRNA-seq analysis performed by our lab. I am really interested in applying reverse genetic approaches to reveal molecular mechanisms that control the transition toward particular cell fates such as atypical memory B cells (atMBC) that could explain the role of EBV in certain autoimmune diseases.
Outside of the lab I enjoy playing video games, running, playing soccer and watching series. I am mad about sports and music. Specially, I am a huge fan of River Plate (Argentina) and never miss a match.
Elliott SoRelle – ACS Postdoctoral Fellow
My research in the Luftig Lab focuses on the heterogeneous fates of EBV-infected B cells that arise in distinct biological and disease contexts. I am especially interested in using single-cell sequencing and flow cytometry techniques to resolve 1) B cell activation and germinal center dynamics induced by EBV latency in lymphoma models; 2) EBV-mediated pathogenicity of autoimmune-associated B cell niches; and 3) the role of lytic reactivation in oncogenic reprogramming of host cells. I hope these projects will support future basic science research to investigate the role of oncogenic viruses in rewiring host cell identity at multiple gene regulatory levels. Additionally, I plan to pursue clinically relevant high-resolution studies of EBV-driven diseases and explore the use of EBV-immortalized lines for patient-matched cellular engineering applications. In the future, I hope to start my own lab that uses these and other experimental approaches to better understand the profound ways in which EBV shapes numerous human diseases.
I grew up in Texas and attended Rice University, where I received undergraduate degrees in Biochemistry and Cell Biology (B.S.) as well as Visual Arts (B.A.). I received a PhD in Biophysics from Stanford University, where I studied under Dr. Adam de la Zerda to develop new technologies for high-resolution, contrast-enhanced in vivo molecular imaging. After graduate school, I worked in research and development for two and a half years at Nautilus Biotechnology to help develop a next-generation proteomics platform. In early 2020, I moved to Durham and began my postdoc in the Luftig Lab to study viral oncology using single-cell approaches, bioinformatic techniques, and computational methods.
When we're not doing research, my wife and I enjoy cooking together, checking out our favorite food and drink spots around downtown Durham, and generally spoiling our dog (Sadie) and cat (Sydney). We also like traveling to visit friends and family and exploring the mountains and beaches of North Carolina. In my spare time, I enjoy reading, curating playlists, playing golf, and watercoloring on occasion.
Lyla Stanland – MGM Graduate Student
I am originally from Old Lyme, a small coastal town in Connecticut. Growing up on the ocean, I developed an early passion for marine biology. During high school I completed a summer marine science program at UConn Avery Point and volunteered at the Mystic Aquarium. I attended the University of North Carolina Wilmington for undergrad and received a B.S. in Biology and a minor in Spanish Language. While at UNCW, I completed an honors research thesis in the lab of Dr Joseph Covi studying seasonal variation of molting hormones in blue crabs. I also had the opportunity to spend a semester studying Spanish at the University of Sevilla in Sevilla, Spain.
I moved to the triangle in 2016 and joined the Luftig lab as a research technician where I began my research on EBV-associated gastric cancer. This work has primarily been focused on better understanding the role of viral infection in driving tumorigenesis in the gastric epithelium, and identifying cellular restriction factors of infection. Since joining the lab as a PhD student in 2018, my research has evolved to also include a project focused on elucidating mechanisms of drug resistance in PIK3CA mutant gastric cancers.
Outside of lab I am very active and love to hike and camp, rock climb and play beach volleyball. I play ultimate frisbee competitively and am on the Raleigh Phoenix, a women's club team, and the Raleigh Radiance, a women's semi-professional team. I have a black lab/corgi mix named Summer who joins me and my partner on a lot of our adventures and travels. I also enjoy cooking, baking, reading (both fiction and nonfiction), and playing board games with friends.
Katie Willard – MGM Graduate Student
I am from Atlanta and attended the University of Georgia for undergrad where I received bachelors of science degrees in genetics and microbiology. After undergrad, I remained at UGA as a research technician in Melinda Brindley's lab where I worked on Zika and lassa viruses. I decided to stay in the virology field and began graduate school in the Duke MGM program in 2018. I eventually joined the Luftig Lab to study diverse EBV strains and their viral phenotypes.
Outside of lab, I like hanging out with my pets as well as hiking, camping, and gardening. During football season, I enjoy making my friends cheer on the Dawgs with me. I also spend a lot of time on more artistic projects like pottery, crochet, and other crafts.
Former Lab Members
Graduate Students
Pavel Nikitin (MGM)                                                                                                                                                                                 2007-2012
Degree: Ph.D. (December 2012)
Project: DNA damage response suppresses Epstein-Barr virus-driven proliferation of primary human B cells
Current Position: Director, Immunome, Philadelphia, PA.
Jason Tourigny (UPGG)                                                                                                                                                                           2007-2009
Degree: M.A. (2013)
Project: The role of NFkB signaling in EBV-mediated B-cell transformation
Alex Price (MGM)                                                                                                                                                                                     2010-2016
Degree: Ph.D. (July 2016)
Project: Delayed kinetics of LMP1-mediated NFkB activation during primary B-cell infection by EBV
Current position: Postdoctoral Fellow, Weitzman Lab, University of Pennsylvania, Philadelphia, PA.
Nick Homa (MGM)                                                                                                                                                                                    2010-2017
Degree: Ph.D. (March 2017)
Project: Virus-host interactions during Epstein-Barr virus latent infection of B cells
Current position: Project Management and Clinical Pharmacology Specialist, Nuventra Pharma Sciences, Durham, NC.
Amy Hafez (MGM)                                                                                                                                                                                    2012-2018
Degree: Ph.D. (May 2018)
Project: Establishment of oncogene-induced senescence by the host DNA damage response after EBV infection
Current position: AAAS Legislative Fellow, Washington, DC.
Joshua Messinger (MGM)                                                                                                                                                                        2014-2019
Degree: Ph.D. (December 2019)
Project: Metabolic and gene regulation by EBV during primary B-cell transformation
Current position: Research Scientist, IconOvir, San Diego, CA.
Joanne Dai (MCB)                                                                                                                                                                                    2013-2019
Degree: Ph.D. (December 2019)
Project: Mechanisms of cell survival in B cells
Current position: Postdoctoral Fellow, Amgen Oncology, South San Francisco, CA.
Emma Bonglack (Pharmacology)                                                                                                                                                             2017-2022
Degree: Ph.D. (April 2022)
Project: Role and Regulation of Host Metabolism during EBV-Driven Immortalization
Current Position: Schmidt Science Fellow
Post-Doctoral Fellows
Eleonora Forte                                                                                                                                                                                          2008-2010
Project: Studies of EBV-regulated host miRNA and mRNA expression following primary B cell infection
Current Position: Research Assistant Professor, Northwestern University, Evanston, IL
Alessio Bocedi                                                                                                                                                                                          2008-2009
Project: Temporal characterization of the EBV-induced DNA damage response
Current Position: Research Associate, University of Tor Vergata, Rome, Italy
Gyorgy Fenyofalvi                                                                                                                                                                                     2014-2015
Project: Defining the molecular source of DNA damage in EBV-infected primary human B cells
Current Position: Genetic Variant Scientist, Integrated Genetics, Durham, NC
Karyn McFadden                                                                                                                                                                                      2011-2016
Project: Defining the molecular effectors of the DDR in EBV transformation of primary human B cells
Current Position: Scientist, Amgen, Vancouver, Canada
Brent Stanfield                                                                                                                                                                                          2017-2019
Project: Regulation of LMP1 in EBV transformation
Current Position: Research Assistant Professor, Louisiana State University, Baton Rouge, LA
Research Scholars
Kim Ng, Attending Physician, Pediatrics, Children's Hospital of Philadelphia
Undergraduate Students
David Tainter (independent study), Orthopedics Resident, Duke University Medical Center                                                                   2007-2010
Jing Guo, Implementation Director, Worldpay                                                                                                                                          2008-2010
Katherine Hu (independent study), Surgery Resident, Medical College of Wisconsin                                                                             2009-2010
Shaan Puri (independent study), Owner, Stealth Co.                                                                                                                                        2009
Christina Chang (independent study and honors thesis), Director of Applications, Stealth Mode Startup Company                              2009-2010
Lisa Grossman Liu (independent study and honors thesis), MD/PhD Student, Columbia University                                                      2009-2012
Vu Phan (independent study)                                                                                                                                                                   2011-2012
Thera Lee (independent study), Technical Advisor, Ropes & Gray LLP                                                                                                  2011-2012
Darrin Lim, Director of Data Engineering, Upfront Healthcare Services                                                                                                           2012
Frank Cai (independent study), Consultant, Boston Consulting Group                                                                                                    2012-2014
Maximillian Staebler                                                                                                                                                                                           2013
Cristina Salinas (independent study), Medical Student, Alix Medical School at the Mayo Clinic                                                             2013-2014
Chris Chang (independent study), MD/PhD Student, University of California, San Francisco                                                                 2014-2018
John Lu (independent study and honors thesis), MD/PhD Student, Stanford University                                                                         2014-2018
Azum Beg                                                                                                                                                                                                 2016-2017
Olivia Pennoyer, Paralegal, Federal Trade Commission                                                                                                                          2016-2020
Lindsay Lovitt                                                                                                                                                                                           2017-2018
Anuk Dayaprema                                                                                                                                                                                              2018
Michael Shu  (independent study)                                                                                                                                                            2019-2020